Meet Valentin: A day in the life of an ExoClick Advertiser Account Manager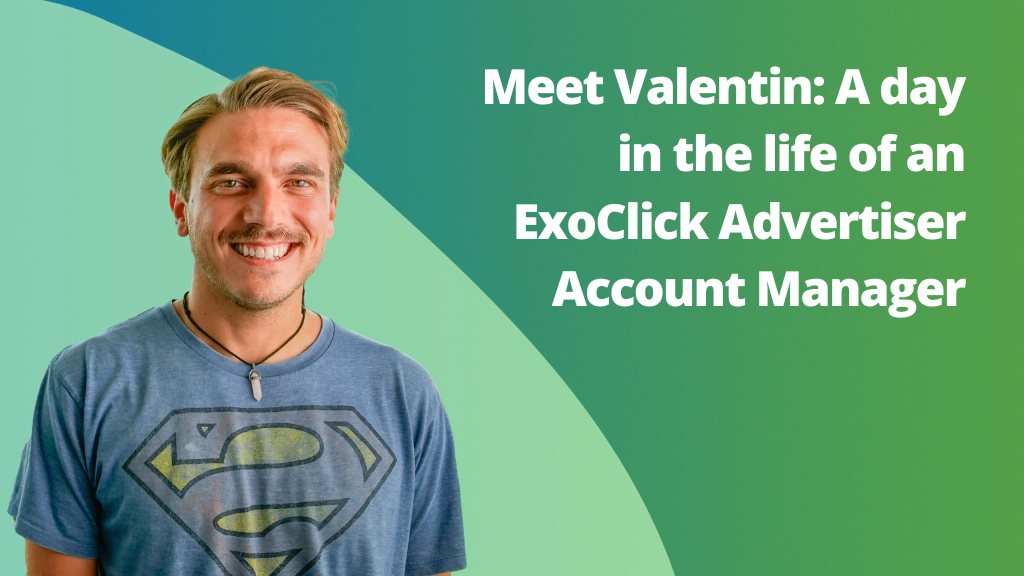 Meet Valentin Bugallo, Advertiser Account Manager in ExoClick's Advertising Team, within the Sales Department! As an Advertiser Account Manager, Valentin's role is key to developing strong relationships with ExoClick's global Advertiser clients. His responsibility is to help them achieve their Advertising objectives and sharing expert advice based on his knowledge of the ExoClick platform and its features, what verticals are popular with consumers and how to market online offers for maximum conversions. To give you an overview of a day in the life of an ExoClick Advertiser Account Manager and why ExoClick is potentially the best ad tech company to work for, we have asked Valentin to walk us through the necessary skills to become an accomplished Advertiser Account Manager, his daily responsibilities, and his experience working within the Advertising Team and at ExoClick!
#1 What are the most important parts of your job as an Advertiser Account Manager?
As an Advertiser Account Manager, my responsibility is to be in direct contact with our Advertiser client base and help them with the creation, management, and optimization of their online campaigns using ExoClick's platform and network. When approaching my clients, I make sure that I am personable and empathetic, giving them great advice and providing the best possible experience, helping them make the most of the ExoClick's Network and Advertiser tools – And of course, meet their ROI goals! My working day is very active and often last minute tasks come in, all depending on what my Advertiser clients might need from me that day – It could be anything! Maybe they need advice on optimizing a specific campaign, or want help launching a new Video campaign, or need advice on which are the best GEOs and verticals for their offers.
In any case I always make sure that I devote the necessary time to help them and inform them about which ExoClick tools and features might be best to suit their needs. Or also if new features or new ad formats have been added to their Admin Panel! This means that one of the most important aspects of my job is knowing how to prioritize what is urgent over what can wait for a little bit longer. The possibilities of action and tasks are endless, and the difference in the end result will depend on each person's ability to prioritize which task to do above others.
#2 What qualities and what skills make a good Advertiser Account Manager?
There are many skills involved in successfully becoming an ExoClick Advertiser Account Manager. As stated above, I am constantly juggling several tasks at once from different Advertiser clients: Aside from advising them I have other tasks relating to strategy. For example, providing enough data about their campaigns' performance to make informed decisions through detailed reports, which means that I need to be fairly strong at data analysis. I also need to know the ExoClick platform inside and out so that I can tell them about the right tools for them, such as Conversion Tracking to better monitor their campaigns, the best pricing model for their strategy, etc. Lastly, but by no means less important, I need to make sure that I have built a relationship of trust with each one of my clients, where they know that they will be listened to and helped with any issue or concern they may have.
As you can see, there are many skills that make a good Advertiser Account Manager. So, to ace a day in the life of an ExoClick Advertiser Account Manager, I need to be:
Extremely organized so that I can tend to each one of my Advertiser client's needs.
Knowledgeable of the ExoClick platform and the ad tech industry and its latest trends.
Proactive, with very polished communication skills, and solution driven.
Have a strong analytical mind and be good with calculations and statistics.
Have a good eye for growth and improvement opportunities.
I work within a team where we all help each other, so I need to be a strong team player!
#3 What is your approach when talking to your clients? How do you build a relationship with them?
There is no general answer to how to build a successful relationship with Advertiser clients. The key is to ask questions, listen attentively and above all, observe. Paying attention to what my clients are communicating to me is key. But it is also important to pay attention to what they are not saying, since sometimes there exists a gap between what clients know about ExoClick and and the real potential of the platform. So I need to tap into my observation skills so that I don't miss a crucial need or opportunity! If I applied the same cookie-cutter communication method with every client I start working with, a disconnect would very quickly arise that would completely ruin the relationship, since everybody is different. And also, I have clients from around the world! They all come from very different cultural backgrounds, meaning that different approaches are needed. Listening and adapting my communication style to each client is the best way to generate fertile ground from which to harvest a good long-term relationship!
#4 Can you describe a day in the life of an ExoClick Advertiser Account Manager?
Creating, monitoring and optimizing campaigns, identifying new opportunities, finding the best Publisher websites for each client, keeping up to date with market news and industry trends, finding new potential Advertiser clients who could benefit from using the ExoClick Network… There is so much ground to be covered each day in order to become a successful ExoClick Advertiser Account Manager! Here's what a day in the life of an ExoClick Advertiser Account Manager looks like:
1. I start by checking my dashboard to find out what is going on with my clients' campaigns and see if anything needs being discussed, fixed, or simply could be improved.
2. I check my Skype and Inbox for client messages to see if anyone needs help with anything.
3. I contact different ExoClick departments and team members to check what's new and what I can share with my Advertisers.
4. I analyze the most relevant campaign data and look for growth opportunities for my clients' business!
#5 What do you enjoy the most about working with your team?
The ad tech industry can be very competitive, and of course some of this competition extends to the ExoClick's Advertising Team. On a day in the life of an ExoClick Advertiser Account Manager there is a lot of challenging each other to smash these KPIs and to do well, increasing our performance every month. It is a very rewarding and supportive environment where we work together and laugh together as a very united family!
#6 What do you like the most about working at ExoClick?
Working at ExoClick challenges me to do better every day and to become the best possible professional that I can be! And aside from adoring my team and really everybody working within ExoClick, this is the first time in my life where I feel that I work to live, and don't live to work! We indeed work hard, but ExoClick offers a great work life balance ratio. With our flexible working schedule I can adapt my working hours to my personal needs (While of course having my international clients' scheduling needs in mind too!) and our Hybrid working model, which allows me to work from home when I need to, and also go visit my family abroad and still be able to work from there.
Conclusions: Why ExoClick is the best ad tech company to work for
Now you know what a day in the life of an ExoClick Advertiser Account Manager looks like! ExoClick is built by every single one of our team members, who are the very heart of the company, which is one of the reasons why ExoClick is possibly the best ad tech company to work for. This is why we do our best to promote a very positive and dynamic work environment, which starts from the very beginning, during each new ExoClick team member's onboarding experience. Would you like to become an ExoClick Advertiser Account Manager or join possibly one of the best ad tech in Barcelona and worldwide? Check out our Career Pages for new job opportunities!