13 Benefits of Conversion Tracking and 5 top Account Manager tips!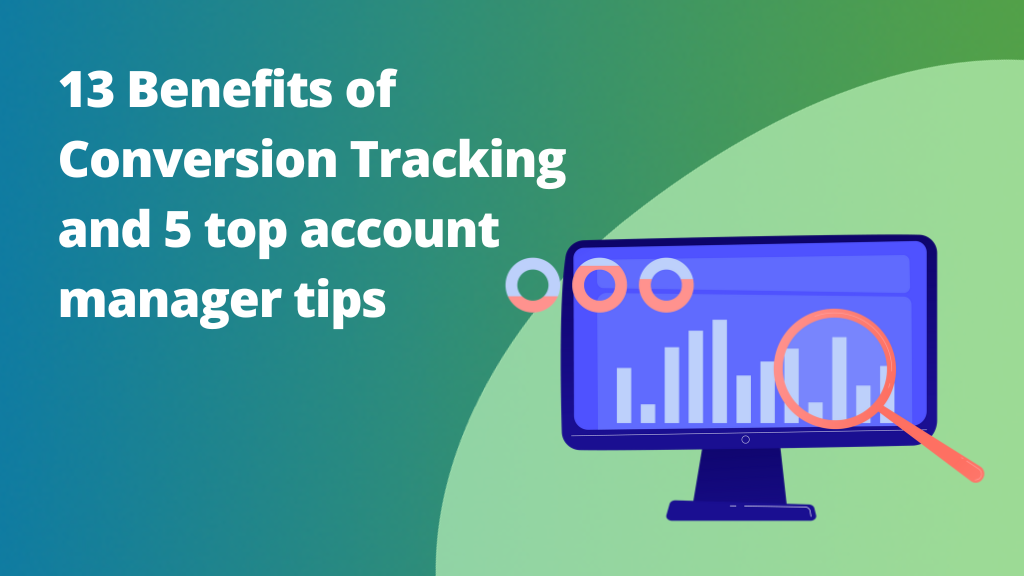 What is conversion tracking?
Conversion tracking allows an advertiser to see how end users have interacted with their campaigns. It measures the effect of specific data points during the ad campaign's sales funnel and then analyzes the data. The generated data allows the advertiser to understand what specific data points triggered conversions. For example, data points could be: when an end user clicks on an ad, the end user's actions on a landing page, newsletter subscription, if they signed up to an offer, made a purchase or downloaded a product. Each data point is called a Goal and advertisers can track several goals at the same time with a good Conversion Tracking tool. Luckily, ExoClick provides advertiser clients with a free to use Conversion Tracking tool within our platform. Additionally you can use third-party Conversion Tracking tools such as Volume, AdsBridge, Thrive Tracker, etc with ExoClick, check out our integration manuals. In this article we will examine the 13 benefits of conversion tracking, not just to see how many conversions a campaign got, but what the data can reveal. Also 5 top tips from account managers to show you how conversion tracking data can bring you a deeper understanding of how your campaigns are performing, in order to optimize current and future campaigns to increase conversion rates.
Benefits of Conversion Tracking: Increased Revenues
What is the number one goal of any advertiser or affiliate marketer looking to monetize an online offer or service? To get as many sales as possible at the lowest promotional cost and gain maximum profit. Let's look at perhaps one of the most important benefits of conversion tracking, how it can increase your revenues:
#1 – Understanding your Return of Investment (ROI) in real-time
The costs for getting a conversion include: the bid price paid for the ad zone, the bid price paid for the click. This is a variable cost. Not only are you competing with other advertisers for the same ad zone, you also have to out bid them in order to win the ad zone to be able to display your ad to an end user. With many bids going on for different ad zones in a campaign, a real-time conversion tracking tool can show you the average price you are paying per conversion while calculating your profitability of your campaign. If you are paying too much for your conversions then the campaign is not profitable. ExoClick's free Conversion Tracking tool will display your ROI per ad zone that you have bid for and won in colors.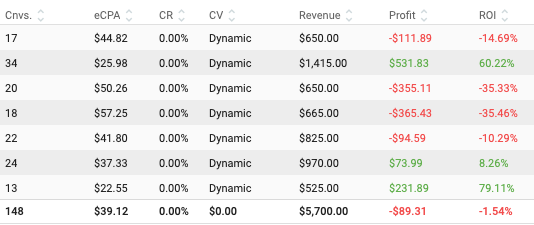 Profitable ROI is in green, negative ROI is in red and break even ROI in black.
#2 – Knowing your cost per lead
The above image can not only tell you the average ROI for specific ad zones, or an overall ROI for all the ad zones targeted in your campaign. By calculating your ROI you can work out how much you are paying per lead. If you see you are overpaying for a lead, or if you are underpaying for ad zones and therefore not generating any leads, you can adjust your campaign accordingly. Without the help of conversion tracking, it is difficult to discover which of your campaigns worked best and at the right price point.
#3 – Maximizing your ROI
ExoClick's Conversion Tracking tool gives you a real-time overview of your ROI depending on what CPA goals you set. The benefit of conversion tracking in real-time lets you instantly see if you are getting a good return on investment, which is also known as ROAS, or return on ad spend for your campaign. The higher the price you pay in a bid for an ad zone is no guarantee of a conversion. Alternatively, a site that may have less premium traffic sources can bring you many conversions at a lower price. The conversion tracking tool allows you to blacklist ad zones that are bringing a negative ROI, or a low profit margin. You can then identify the ad zones that are bringing you a good ROI and create campaign whitelists to maximize your earning potential.
#4 – Better allocation of your marketing budget
Once you know which campaigns are working and which are not you can make better choices for budget allocation. ExoClick's Conversion Tracking tool shows you which campaigns are performing, and which campaigns are not. Rather than continuing to put budget into campaign strategies and hoping that they will convert, you can see what's working and reallocate your campaign funds. Switching your budgets into the high performing ones and stopping funding of underperforming ones. All in real-time.
Benefits of Conversion Tracking: Better Campaign Optimization
Your campaign strategy which includes imagery, messaging, CTA, landing page design and content, campaign targeting, bidding strategies, ad formats, etc. The list is long and these factors can all affect your campaign's success in varying degrees. Let's look at the benefits of conversion tracking for better campaign optimization:
#5 – Testing your campaign strategy
You never know if a campaign strategy will work, the only way to find out is by testing. Because Conversion Tracking is monitoring campaign results, it is vital to see if your test campaign will get traction before launching full campaigns. Conversion Tracking is a vital part of seeing the results of your tests and to help you decide on the next steps.
#6 – Get more conversions
ExoClick's Conversion Tracking tool will show you exactly which ad zones are bringing conversions and how many. This overview can then be compared to conversions on the other ad zones that are being targeted by your campaign. This data allows you to ramp up your targeting of the high converting ad zones, whilst monitoring other good performing ad zones to ensure you get more conversions.
#7 – Clicks versus conversions
Clicks and conversions aren't always in line. Sometimes, high click rates can obscure low conversion rates. The beauty of conversion tracking is that you can see the relationship between click rates and achieving your desired conversion rate.
#8 – Revealing opportunities for campaign improvement
Perhaps you are getting some conversions for a GEO but are expecting more. The Conversion Tracking tool is showing you where the conversions are coming from, but maybe you should fine tune the campaign targeting, instead of targeting the whole country, you could concentrate in specific cities or regions. Perhaps you are targeting all mobile OS, look to see whether you are converting better on Android or iOS and pause the targeting for the least performing OS, putting more effort into the better performing OS. With the great overview conversion tracking gives you, you can hone in on different opportunities for campaign improvement, and see the results in real-time.
Benefits of Conversion Tracking: Fine Tune Ad Creatives and Landing Pages
It's not only targeting optimization that conversion tracking data can reveal, conversions are driven by the ad creatives and landing page content you use for your offer. Let's look at some of these benefits that conversion tracking can reveal:
#9 – Helps you identify the best performing creatives
By testing your ad creatives and marketing messaging, then evaluating the results with conversion tracking, you can identify the best performing ad creatives, tweak the messaging and then re test the results with conversion tracking. Once you have the campaign magic formula, you can focus on the ad creatives that bring actual conversions and not just clicks.
#10 – Repurpose quality content
If you identify success with a particular style of ad and landing page content within the Conversion Tracking tool – use it again for another campaign. Maybe it was the graphics style or maybe it was the story that the ad creative or landing page told to the end user. Look for a way to repeat that success with your next campaigns, then you don't have to continuously invest time and testing in fresh, new content when you have existing creative concepts that can be further exploited.
#11 – Optimize the end user experience
So your campaign might be getting clicks, and when end users arrive at your landing page or product website, check your conversion tracking data. Did they drop off and not make a purchase? Maybe this is because your website is complicated to navigate, maybe there are too many clicks to get to the buy button, maybe you are recommending other products so it makes it harder for the target consumer to decide what to buy. Fix the user experience, get right to the pain point that your product addresses and make it super easy to make the purchase. Then, retest the campaign and check the conversion tracking data, if it is positive, you made the right call!
Benefits of Conversion Tracking: Audience Data Insights
Knowing your audience, finding out what appeals to that audience, and then segmenting the audience are the building blocks to having a captive group of consumers that you can go back to again and again with new products and offers. Again this is all because of checking the conversion tracking data:
#12- Gain insights into your audience
Examining your conversion tracking data related to your audience or segmented audiences, allows you to begin building a base to grow and constantly improve. All data collected about your site visitors from conversions tracking are a gold mine of information. You can learn which ad zones or sites they came from, which ad formats converted them, which products they were interested in the most. You can then use this data to fine tune your future campaigns. Audience tastes change, they get bored with a theme or style, new trends appear, new products and technologies are constantly emerging. Test these against your conversion tracking data to see what is still attractive to them, what is not anymore and what new trends are ripe for exploitation for your campaigns.
#13 – Build upon historical audience data
All data is, well data! So make sure you check out historical data from past campaigns that use similar products or verticals. Reuse those strategies for campaigns for new products and offers. The metrics data you have gained from conversion tracking should all be saved. Checking data from an older successful campaign just might trigger new inspiration for a future campaign.
Benefits of Conversion Tracking: 5 top Account Manager tips
ExoClick's team of experts is always looking for ways to help our Advertiser clients easily reach their advertising and sales goals and maximize ROIs. Continuing on we have put together a few Account Manager expert tips to help you make the most out of ExoClick's Conversion Tracking tool:
Tip #1 Identify your Conversion Tracking Goals
In order to accurately measure your conversions, you need to have a  very clear idea of your conversion goals in mind to effectively place your ad and attract your audiences to your converting page, take action, and accomplish these goals. Plainly put, make sure that you know what you want your audience to do. These Goals could be anything from clicks, to signins, purchases, subscriptions, etc.
Tip #2 Monitor your ROI and ROAS
ROI and ROAS are 2 of the key metrics to monitor to help you optimize your campaigns' performance, as they help you understand if your ads are generating a profit or loss, so it is very important to have these two KPIs in mind when monitoring your ads. Have a look at our blog Why ROI is the most important KPI for campaign success to learn more.
Tip #3 Blacklist non-converting zones
The Conversion Tracking tool allows you to blacklist ad zones that are bringing a negative ROI, or a low profit margin. Make sure to block them in order to focus all of your investment in profitable ad zones.
Tip #4 Use Smart Bid along with Conversion Tracking
Conversion Tracking will be even more effective when you use it in combination with Smart Bid, ExoClick's campaign pricing model that uses machine learning to analyze your campaign data and automatically determine the optimal price in real-time. Read this Advertiser Case Study to learn how Smart Bid can help you turn losing campaigns into winners!
Tip #5  Create whitelists to target specific websites
If a specific website or zone is giving you a lot of conversions and you want to increase your visibility there, you can create a separate campaign targeting those websites' zones, using a higher CPM bid and a lower frequency capping (Still, don't overdo it and bear in mind user experience when setting your capping frequency!) so as to get as much traffic from this specific website as possible.
Conclusion
Maybe it was that small tweak you did on mobile OS targeting that took that campaign to the next level. Maybe just changing that one CTA message doubled your conversions. You will never really know until you take a deep dive into your conversion tracking data, and as you can see there are many, many benefits of conversion tracking data. Luckily for ExoClick advertisers the free conversion tracking tool we provide with our platform gives you everything you need to examine your conversion data in a quick overview. In real-time! We carried out a recent webinar entitled: Everything you need to know about Conversion Tracking, you can watch it here for a deeper understanding of how to use conversion tracking with your ExoClick campaigns.