3 reasons why ExoClick is the best video ad network for Advertisers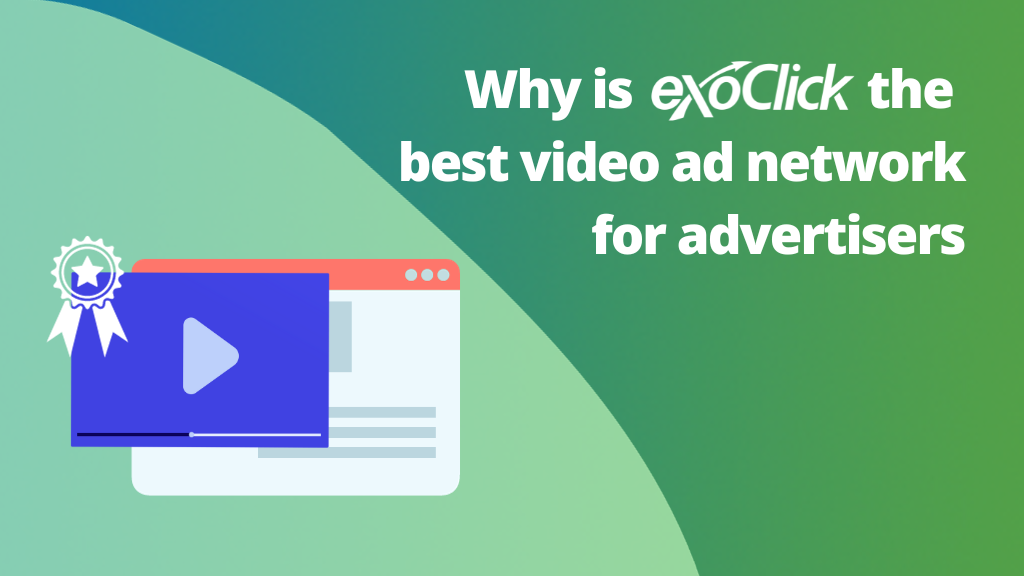 Are you an Advertiser looking for the best ad network to promote your video ad campaigns? ExoClick offers high performing video ad formats which are completely compliant with the IAB and Google, as well as a range of tools and features designed to help you easily and effectively create, promote and track your campaigns to help you reach your advertising and sales objectives. So, why is ExoClick the best video ad network for Advertisers? Keep reading this blog to find out the 3 main reasons why – Also, make sure that you read our blog The fundamentals of video advertising campaigns in order to learn how to successfully launch and optimize video campaigns for success!
Reason #1: ExoClick's high quality video traffic sources and formats
One of the main points to why ExoClick is the best video ad network for Advertisers is our high quality video traffic sources: Premium and Run of Network (RON), including Free Content entertainment and Members Area websites, all handpicked by ExoClick's team of Account Managers. Through them you can promote your offers across different verticals including Dating, VoD, Gaming, Gambling, Nutra, Sports Bettings and eCommerce, amongst others. Also, ExoClick offers 3 high performing video ad formats which are completely compliant with the IAB Standards and Google. Bidding is in CPM, CPC, CPV for the three of them:
-In-Stream Video ads: With an average CTR of 5.9%, this ad format plays inside the video player where the end user is watching a website video of their choosing. Because the end user will probably watch the content in full screen mode, this video ad format is very impactful. Sound is not muted by default, and it features a 'skip ad' button that the end user can click after 5 seconds. So your video ad should really grab the end user's attention within 5 seconds so that they continue watching the res of the video ad. This is the most expensive of all the 3 video formats, however CTRs are also the highest. There are 3 kinds of In-Stream Video ads: Pre-Roll In-Stream video ads, Mid-roll and Post-Roll.
-Outstream Video ads: With an average CTR of 1.1%, these ads are positioned within the content of a publisher's site, inside their own player, like a Banner. As the end user scrolls through the content, an Outstream video ad will expand and appear, as a part of their end user journey. Outstream is a great inexpensive alternative to using Banners for your campaign. Please bear in mind that the end user has to unmute the ad to hear sound, so make sure you have texts on the video creative as well as striking visuals in order to attract their eyeballs!
-Video Slider ads: With an average CTR of 1.8%, this format slides in from the bottom right of a website's page when an end user first visits a website, making this video format extremely eye-catching for your potential buyers! The Video Slider ad format is a small sized format on the screen. It begins to play immediately after sliding in, and on mute by default, but the end user can unmute it. They can also close the ad at any time using a close button on the top right hand side of the ad zone, making it very user friendly and non-obtrusive.
Following you will see the share of global volumes on the ExoClick Network in Q3 2023, per device, per video ad format:
-Mobile: In-Stream 58%, Slider 25.2%, Outstream 16.8%
-Desktop: In-Stream 50%, Slider 37.1%, Outstream 18.9%
-Tablet: In-Stream 53%, Slider 28.7%, Outstream 18.3%
Reason #2: Why is ExoClick the best video ad network for Advertisers? Professional creative video tools
Using ExoClick's network to promote your video offers you will gain access to a number of useful creative video tools and features that will help you attract your potential clients and boost your conversion rates:
ExoClick's Video Ad Making Service 
Need some help with your video creatives because of lack of time or resources? Our free Video Ad Making Service is available for Advertiser clients to use through the ExoClick Network. We produce video ads for Dating, VoD, Nutra, Casino, Gambling and Games, offering a range of premade templates and variations to allow for as many sets of A/B testing as needed, or we can also create them bespoke for you. The video ads include texts and female voiceovers, which we will talk about shortly below. If you would like to use ExoClick's free Video Ad Making Service, contact your Account Manager or a Customer Success Specialist here.
Video ad texts and voiceover service
Your ad messaging is one of your most powerful tools in order to tempt the end user into clicking through to find out more about your offers and hopefully converting into a sale. So, our recommendation is that your video contains well rounded texts as well as compelling voiceovers, which you can easily add with ExoClick's voiceover service! To help you target end users across the world, ExoClick's voiceover service is available in several languages including Dutch, English (American or British), Finnish, French, German, Italian, Norwegian, Portuguese, Romanian, Russian, Spanish, Turkish, Arabic, Hindi, Chinese, and more. Read our blog about ExoClick's voiceover service to find out more!
Friendly CTA and URL features 
Call to actions are key to let the end users know what it is that they are expected to do with your video ad. They are designed to persuade a site's visitor to act quickly, encouraging clicks, sales, signups, or subscriptions, based on the information displayed on your ad. This is why ExoClick offers the Video CTA feature as well as the Friendly URL feature for Advertisers. You can test different CTAs to see which converts the best for your campaign and the Friendly URL lets the end user know the domain they will be taken to, which builds end user trust. Here is how to access these features:
Video CTA feature: In your Admin Panel, you can now use predetermined CTA text overlays on your video ads from a drop down menu, with available options including 'Click for More', 'Click Here', 'Play Game', 'See More', 'Watch Free', and more. Read our blog to find out all of the available options.
Friendly URL feature: This URL will show below the CTA on your ad as a Domain name too, which should be the same as your landing page URL in order to pass through our Compliance team. It requires a maximum of 15 characters.
Reason #3: Video performance and optimization tools for Advertisers
Wondering how to successfully launch and optimize video campaigns? ExoClick offers a wide range of campaign creation, performance and optimization tools for Advertisers that you can access from your Admin Panel in order to target, design, test and optimize your video ad campaigns as needed:
-Smart Bid feature: Test out ExoClick's campaign pricing model Smart Bid, which uses machine learning to analyze your campaign data and automatically determine the optimal price in real-time, based on the following: The likelihood of a conversion, analysis across several data points, and using conversion data for specific dimensions such as zones, countries, device types, and browsers. You can select one of the following two bidding strategies: Target CPA (Cost per Acquisition) or Target ROAS (Return on Advertising Spend).
-Customizable reports for effective campaign tracking: When it comes to ad campaigns of any format, tracking results is key. To help you get the most out of your data, ExoClick's dashboards are fully customizable to let you showcase only the data that is most relevant to your business, helping you to focus on the key metrics and other crucial business indicators in order to help you make better and faster decisions to make your business thrive.
-RTB and programmatic tools: ExoClick offers Real-time Bidding (RTB) tools, which are a way of buying ad spots in real-time on in a per impression basis through a programmatic on-the-spot auction, in milliseconds! Built respecting the IAB's Open RTB protocol, our technology selects the highest bid in real-time and delivers your offer right to the site that your customer is viewing.
-Landing Page Algorithm: Use this tool to test out different landing pages and pick the best performing ones! Choose between three traffic share algorithms to automate testing your landing pages and see which converts the best. Even spreads out the traffic evenly between LPs, Fixed lets you set percentages of traffic share to LPs and Automatic sends more traffic to the LP that is performing the best.
-Conversion Tracking: Conversion tracking is an essential part of advertising. By tracking your conversions, you will be able to see how many sales, leads or installs you are getting from your video campaigns and get an accurate picture of the profitability from the traffic. This tool is specifically useful when used along with bidding and payment models such as Smart Bid, mentioned above.
-Payment methods: Another reason why ExoClick is the best video ad network for Advertisers are our payment methods. To make it easier for Advertisers across the world to collect their video campaigns profits, ExoClick's payment options include UnionPay, Wire transfer, Paxum and Crypto, amongst others.
Account Manager Tips to convert your video offers
To help you make the most out of the video format, we have put together a few Account Manager Tips from our expert team, which is another one of the main reasons why ExoClick is the best video ad network for Advertisers:
Tip! Test out multiple creatives: Add in between 6 to 8 creatives for each of your video campaigns and run A/B testing to see which ones convert best. That way you can remove the lower converting ones and optimize your campaigns. Remember: Different end users connect with different imagery. So, by adding different creatives with some variations to your ad campaigns, you have a better way to learn about and connect with your audience. The differences within your video creatives don't need to be very big: Smaller differences in your creatives and copies can mean large improvements in view rate and cost over the course of a campaign.
Tip! Frequency Capping: Ensure that you enable Frequency Capping, which allows you to restrict the number of times a unique user will see your video ad, to prevent video ad blindness. We recommend a 1/12 frequency rate.
Tip! Outbid your competitors with Smart Bid: When setting up your bidding strategy, make sure to set a bid which is competitive enough to win the ad placement over your competitors. Or you could test out ExoClick's Smart Bid feature: Our campaign pricing model that uses machine learning to analyze your campaign data and automatically determine the optimal price in real-time.
Tip! Separate your campaigns by video format: Remember that the 3 video formats have different bidding prices and performance rates, so when setting up your campaigns, separate them by video format.
TIP! Sound advice: A big portion of your audience will see your ad without sound, so your video should be able to connect with the end user that finds it just with images alone – Incorporate subtitles in different languages so that you can attract audiences around the world.
TIP! Copyright: Make sure you own the copyright or you are officially authorized to use all the content featured in the video to avoid legal problems.
TIP! Combine it with other ExoClick formats: Use other ad formats including Display and Native ads as well as Video to promote the same offer. Between 40- 60% of conversions come from browser type-ins shortly after users have seen a product's video. If you use VAST advertising for your video campaigns you can use Custom Attribution data to evaluate the effectiveness of how the ad formats work together to convert the offer.
Are you ready to start promoting your video campaigns with ExoClick or do you want more information on why is ExoClick the best video ad network for Advertisers? Get in touch with our Customer Success team to learn more about ExoClick's high quality video traffic sources, or why not sign up with ExoClick now?