About
ExoClick, the innovative ad company, provides two channels for advertisers and publishers: An Ad Exchange and an Ad Network.
Our Ad Exchange enables publishers to monetize their traffic not only with ExoClick's ad network, but also with other ad networks and DSPs. Currently ExoClick's ad exchange already has over 30 partners plugged in and the company is adding more demand platforms each day.
Our Ad Network is ranked the 4th largest ad network in the world by W3Techs, serving 7 billion geo-targeted ads a day, to a global network of 65,000 web/mobile publisher platforms.
ExoClick's proprietary software offers 20+ different ad formats, optimized targeting and behavioural retargeting, access to big data statistics and strategic analysis tools to further improve ROI, data refresh every 60 seconds, day parting and 24/7 customer service. Our platform API allows developers to create their own bespoke software add-ons for programmatic processes on our platform.
ExoClick was founded by current CEO Benjamin Fonzé, and he runs the company with his brother Adrien who is COO.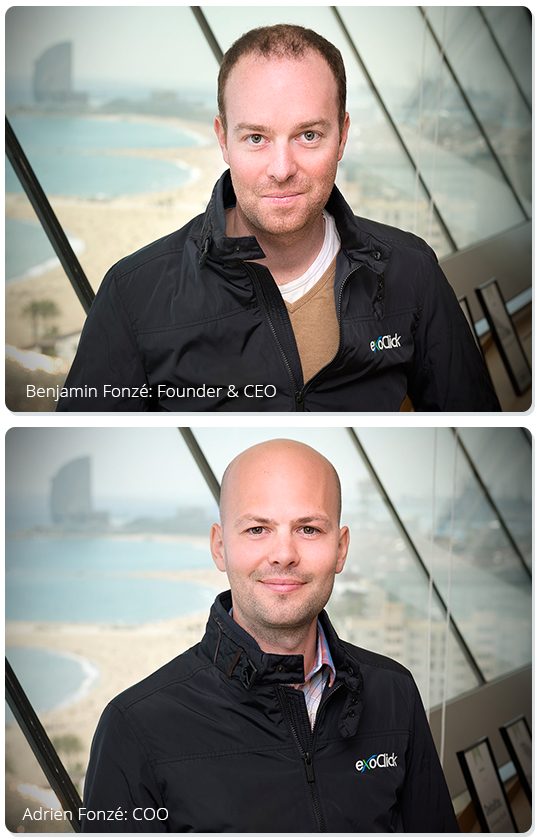 2006

Foundation of ExoClick

2008

ExoClick reaches 100 million daily impressions

2010

500 million daily impressions

2011

New Barcelona office opens

2012

Ranked 8th in Deloitte Fast 500

2013

3.7 billion daily impressions

2014

Reaches 4 billion daily impressions

2015

Ranked 4th largest ad network in the world. Ranked 11th in Spain's Best Work Places. Named Spanish National Champion in the 2015/16 European Business Awards

2016

Reaches 5 billion daily impressions

2016

Doubles size of office space

2016

Wins prestigious Ruban d'Honneur European Business Award. Ranked at no. 812 in the 2016 Inc. 5000 Europe List

2016

ExoClick launches video advertising

2017

ExoClick launches RTB Demand

2017

ExoClick launches native advertising

2017

Reaches 6 billion daily impressions

2017

ExoClick launches its Ad Exchange

2017

ExoClick named as a top company in the 'Ones to Watch' in Europe list (European Business Awards)

2018

Releases the ExoClick Bidder, a brand new automation tool for advertisers

2019

Reaches 7 billion daily impressions
Our Company Values
Innovation

Where people and creativity drive innovative technology.

Trust

We protect our client's interests and deliver on our promises… No excuses.

Leadership

Our vision is changing the industry.

Diversity

Our multi-cultural diversity is our strength.

Passion

Passionate about business because we love what we do.

Openness

Open minded-people, open platform, open communication.