ExoClick launches In-Page Push Notifications Ad Format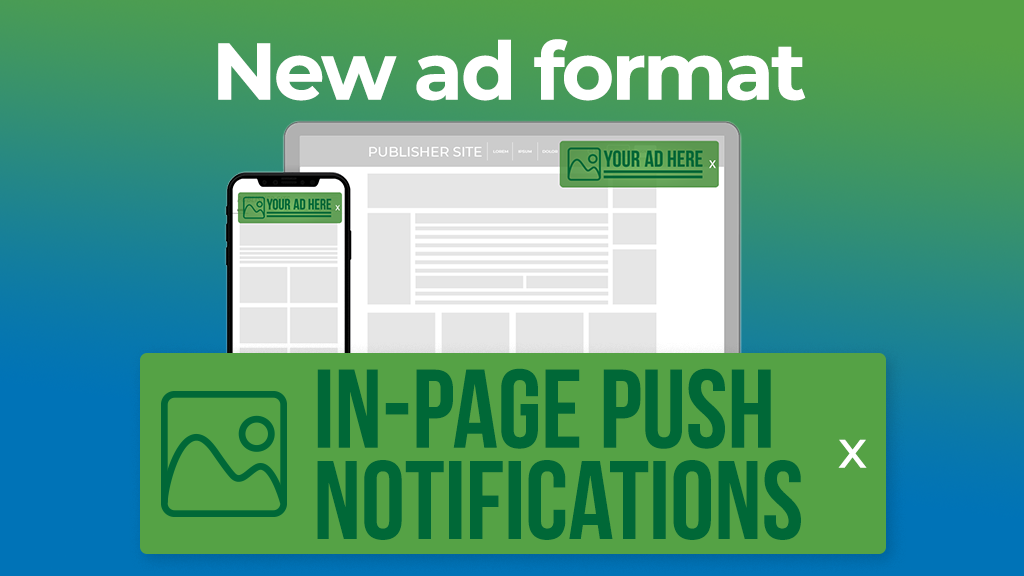 ExoClick has launched a new display ad format called In-Page Push Notifications. Sometimes called Native Push, it is a type of display ad that is designed to look like a Push Notification, however unlike traditional Push Notifications, In-Page Push Notifications ads are not displayed within a website's browser, but directly on the publisher's site, just like banner ads. As an end user views a Publisher's webpage, the ad quickly fades in, to be displayed over the website's content with an opacity, so that the Publisher's content can still be seen under the ad.
Looking like a traditional Push Notification means it consists of an image icon on the left side (jpeg or png) and a title (50 characters) and description (90 characters) on the right, advertisers can also use emojis within the texts. The format is fully responsive across desktop, tablet and mobile. Clicking on the ad takes the end user to the advertisers offers landing page. In-Page Push Notification ad zones have a high CTR and are ideal for Dating, Games, VoD, eCommerce, Casino, Sports Betting offers.
Publishers can have up to two In-Page Push Notifications ads on a web page and can control the timing that each ad is shown to the end user. Additionally the Publisher has a range of different options in ExoClick's admin panel to choose on what part of the page the In-Page Push Notifications will be displayed, this includes on the horizontal Top (Default), Center, Bottom and on the vertical Right (Default), Center, Left. The In-Page Push Notification features a close X button on the right hand side, allowing the end user to dismiss the ad. 
The new format is available on CPM & CPC bidding models.
Evangelos Zirdelis, ExoClick's Sales and Ad Operations Director explained, "For advertisers, this new ad format really stands out to an end user because the In-Page Push Notification fades in while an end user is browsing a page, the format's design, being slightly curved at the edges and featuring an image on the left and text on the right also makes it eye catching in comparison to banner ads. This brings a much higher CTR and avoids banner blindness. The addition of being able to place emojis within the creative's text enables advertisers to further connect with and engage the end user."
Zirdelis continued, "For Publishers this is a very flexible new display format with high control over positioning on desktop and mobile screens, timings for when the ad is triggered and the ability to show up to two In-Page Push Notification ads at different times to the end user viewing their page. This flexibility gives a large scope to Publishers to really experiment with positioning and timings to find the perfect sweet spot. The In-Page Push Notification generates only quality clicks for advertisers because the end user knows that they are viewing an ad, this in turn brings higher, more competative eCPMs for publishers."