Account manager tips to convert Black Friday and Cyber Monday offers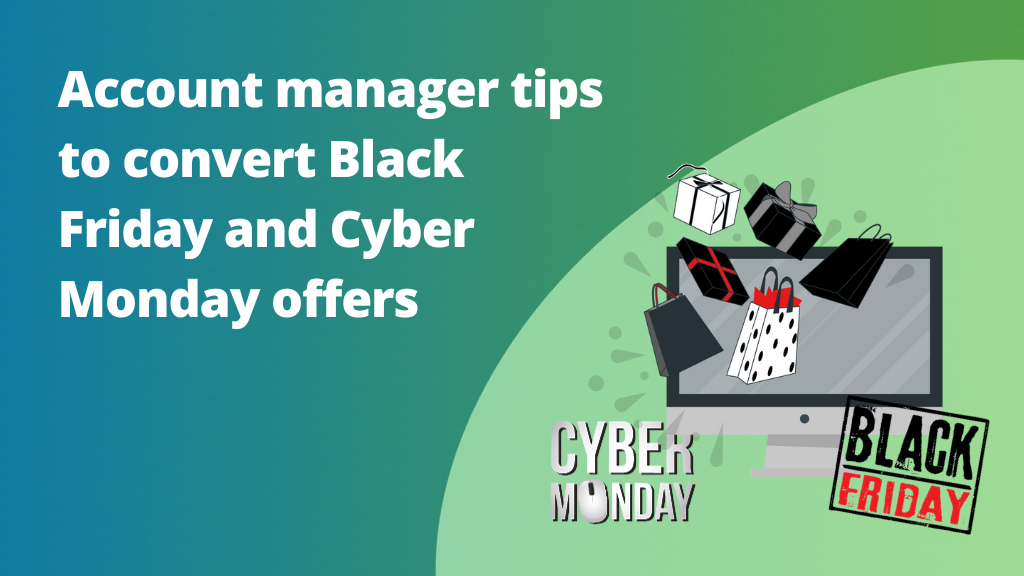 Last year's Black Friday and Cyber Monday we saw a global online sales spend of $1.14 trillion, with an increase of 3.5% on Black Friday sales alone – Everything seems to point out that the shopping season is geared to be highly lucrative in 2023! The days surrounding the 2 international shopping events focus a lot of traffic of highly engaged shoppers who are actively looking for deals and shopping for Christmas. Are you an Advertiser or Affiliate looking to boost campaign conversions and increase your online business' revenues? In today's article we will tell you the most popular devices, GEOs, ad formats and verticals during last year's shopping season. We will also give you expert Account Manager tips to convert Black Friday and Cyber Monday offers with ExoClick's high quality traffic sources!
How to convert Black Friday and Cyber Monday offers with ExoClick's high quality traffic sources
–According to Queue-it, Black Friday online sales grew 3.5% to $65.3 billion globally in 2022.
-US Black Friday eCommerce sales grew 14%.
-Online sales across Cyber Week grew 2% YoY, reaching $281 billion globally.
-Consumers spent $1.14 trillion online globally across the Holiday Season.
-In the US, consumers spent $270 billion online across the Holiday Season.
-In the US, online sales grew 9% YoY to $68 billion across Cyber Week.
We asked ExoClick's Business Intelligence to look at Network stats for the most popular devices, verticals and ad formats in the US and Tier 1 GEOs in the EU from Black Friday and Cyber Monday 2022. Date range is 22/11/2022 to 28/11/2022.
Here you can find the breakdown of impressions per device in the US and Tier 1 GEOs in the EU: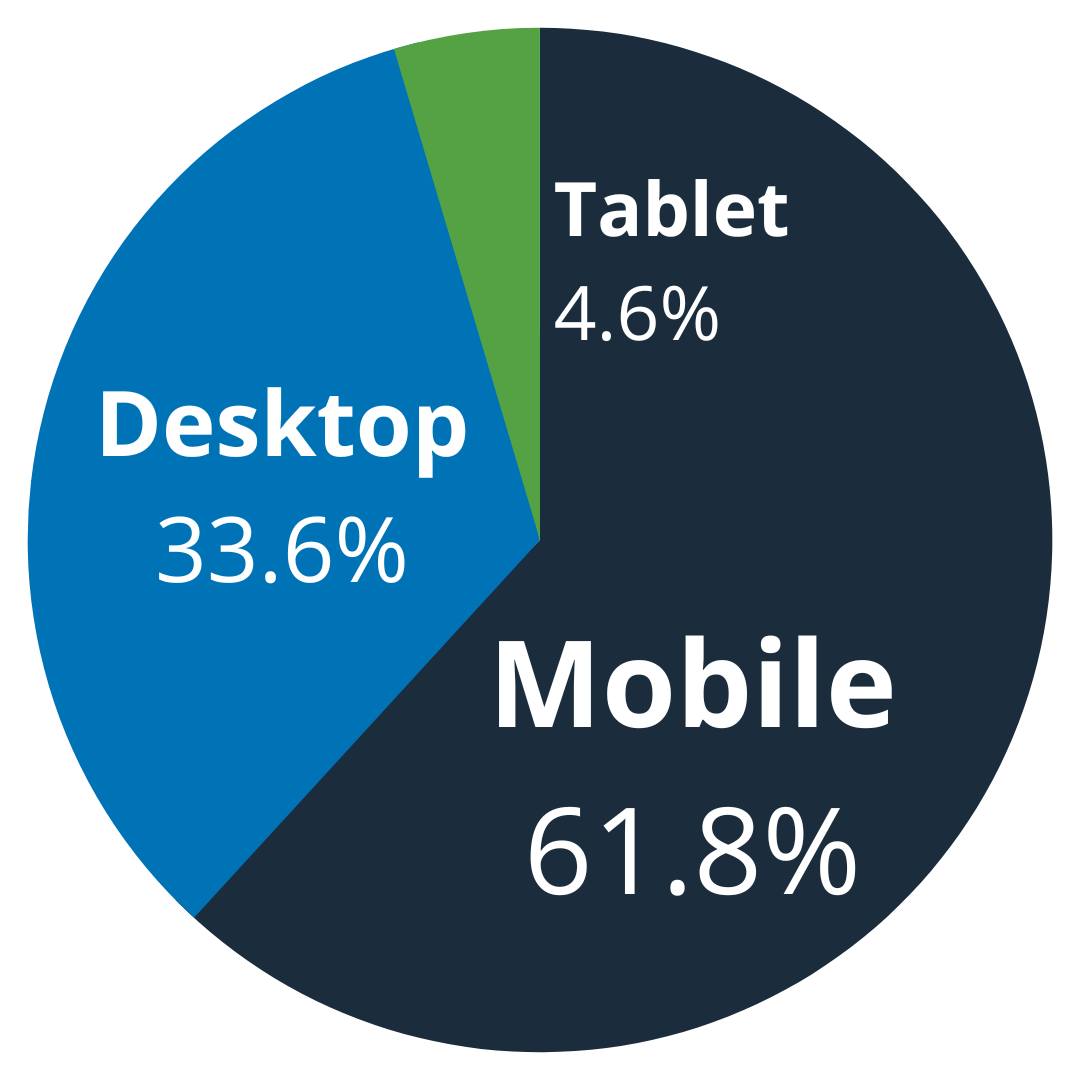 And last but not least we will see the CTRs per ad format per device for 4 popular verticals during Black Friday and Cyber Monday 2022 (eCommerce, online Games, online Dating and Nutra):
#1 Convert eCommerce offers during Black Friday and Cyber Monday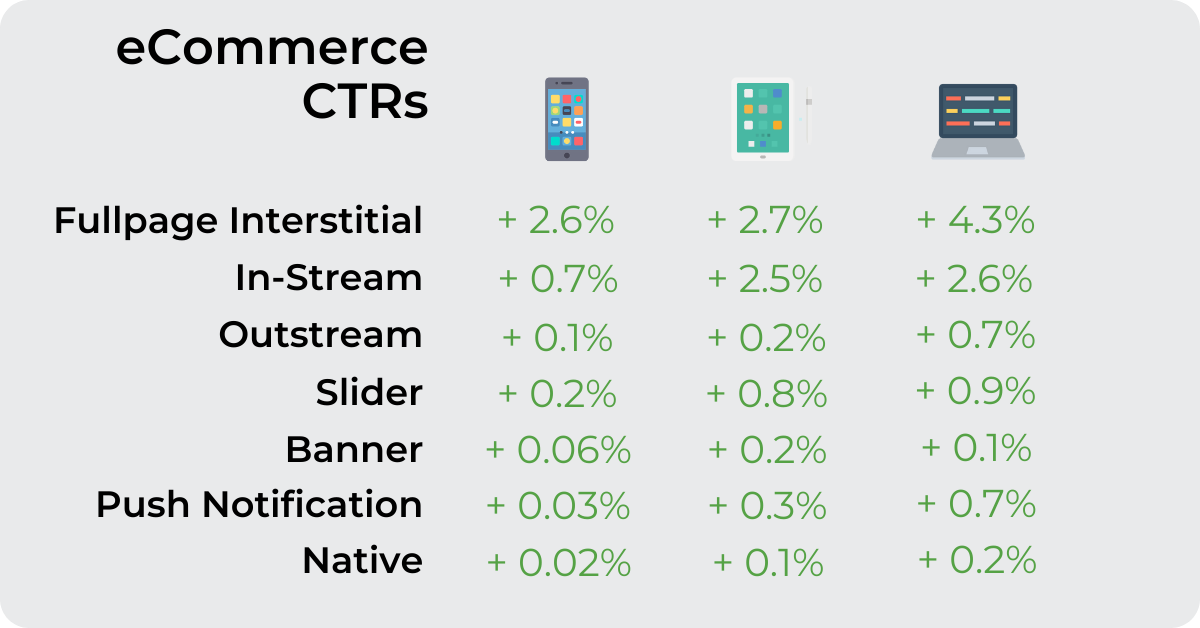 Offering all sorts of items from personal gifts to furniture, eCommerce is the Black Friday and Cyber Monday vertical by excellence. As we can see, the 3 formats that have the highest CTRs for this vertical are Fullpage Interstitial, In-Stream and Oustream – All video formats. This is because video offers a great opportunity to showcase eCommerce products in all their splendor – Selling a phone? Video is a great format to explain all of its amazing features!
Tip! Use the Video CTA feature: The first one of our tips to convert Black Friday and Cyber Monday offers is that if you using video to promote your Black Friday and Cyber Monday deals offers? In your admin panel, you can now use predetermined CTA text overlays on your video ads to make your ads stand out! You can choose from a drop down menu CTAs such as Click for More, Buy Now, Get a Discount, etc.
#2 Convert online Games offers during Black Friday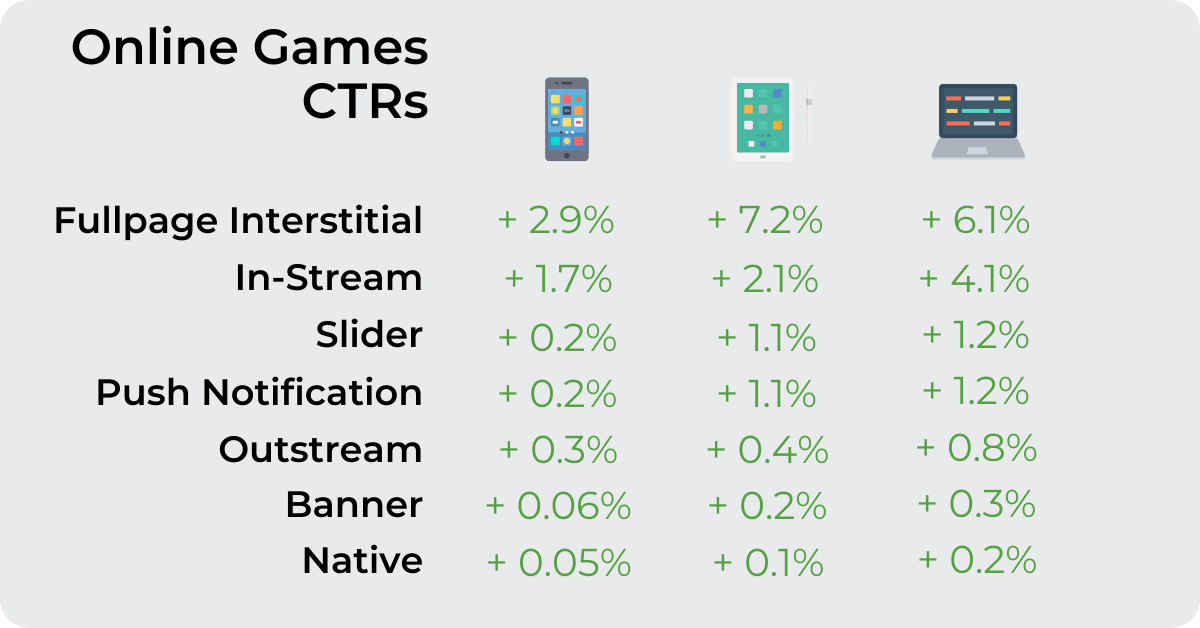 Another great vertical to promote during Cyber Monday and Black Friday: Especially the younger generations absolutely adore playing online Games and the shopping season offers a great possibility to give them offers on new Games, in-app purchases, game extensions and even subscription discounts for their favorite Games! On this occasion, the formats with the highest CTRs are Fullpage Interstitial (FPI), In-Stream and Slider, once again video formats, which are great to show the best moments in a Game, great character design and in-Game features.
Tip! Make the most of Mobile FPI high CTRs! As we can see on the table above, CTRs for FPI on Mobile for online Games offers are massive! This is because FPIs are full screen ads, which look just like the in app gaming ads that appear on end users' devices – FPI mimics this format for web based Games on Mobile. End users are very used to seeing this type of ad, and are more likely to engage with it hence the high CTRs. The other great thing about the FPI is that it can play mp4 video content, so think of it as a full screen video ad in portrait mode on mobile. All this is why this format has such high CTRs.
#3 Convert online Dating offers during the shopping season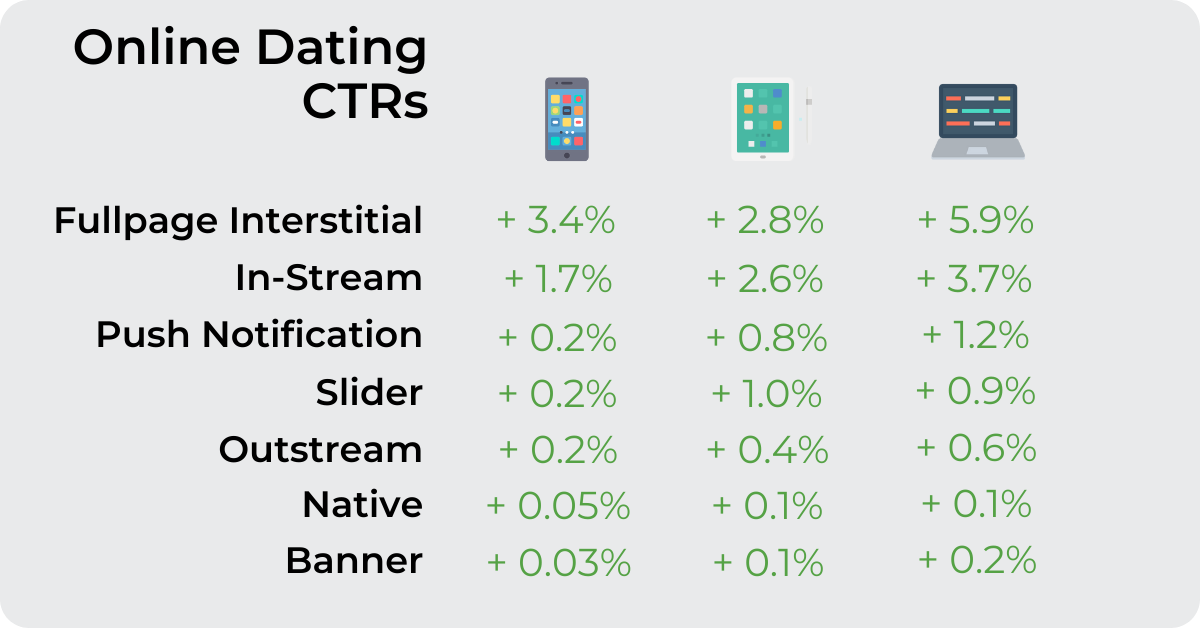 The third most popular vertical during Black Friday and Cyber Monday 2022 was online Dating, with increasingly more generations orbitating towards the online world to find their next romantic interest. Make the most of this popular vertical during the shopping season by offering discounts on your Dating website's Members Page subscriptions or any other Dating product that you might offer! The 3 ad formats with the highest CTRs are once again FPI and In-Stream, and Push Notifications, which is a great format for Dating as it looks just like a phone notification from a potential dater!
Tip! Paid Subscription and Deposit Deals: If you are promoting dating Members Area traffic with paid Subscriptions for premium content, this might be the best time to promote them with Cyber Monday deals, for instance offering the first 3 months half price, or the first month for free, etc. Also, if your offer is around online games that require a First Deposit, you could offer to double the first deposit, paying $20, and they get another $20 to use in the game. Or make their first $10 free – 'Get $10 extra when you make your $20 deposit!'.
#4 Convert online Nutra offers during Cyber Monday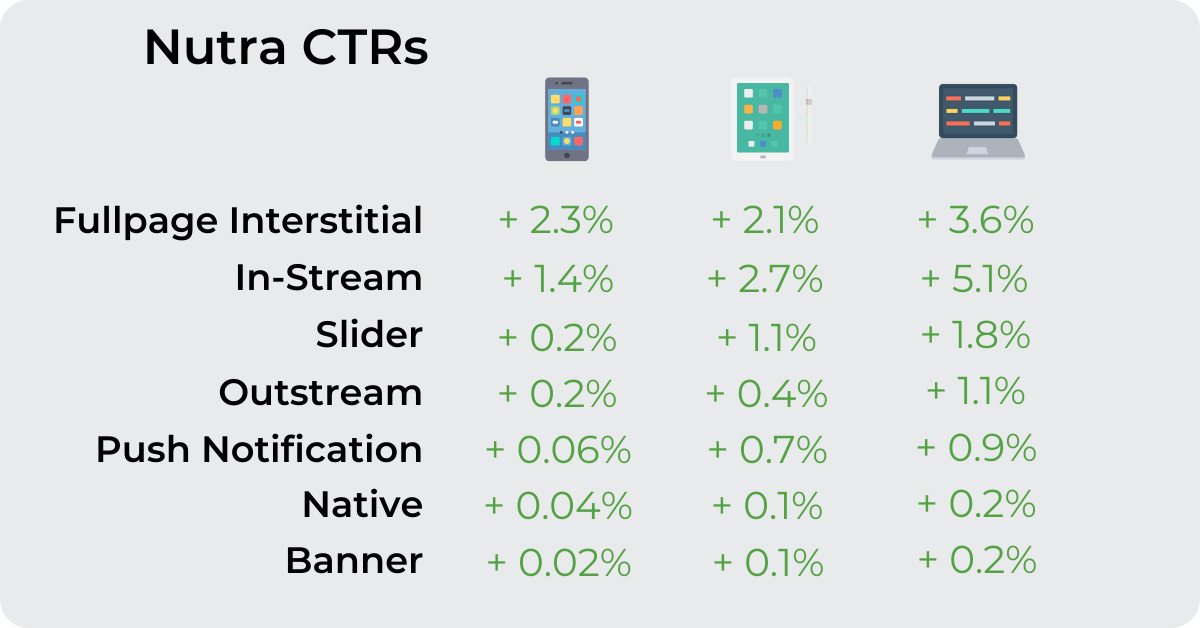 Lastly, we have got Nutra. The online Nutrition industry remains highly popular throughout the entire year which spikes during the shopping season, as consumers look for discounts to purchase their favorite protein powder, supplements and other health and wellbeing products in bulk to save some money on these luxury items. Once again, FPI, In-Stream and Slider showcase the highest CTRs.
Tip! Test out Native: Although video has high CTRs, ExoClick offers a variety of ad formats that are great for the Nutra vertical, including Native, which offers huge volumes. To get the best of both worlds (high video CTRs and massive Native volumes), you could combine the two for your shopping season Nutra campaigns, maybe even as a retargeting method. Continuing on, you will find more Account Managers expert tips to convert Black Friday and Cyber Monday offers!
Expert Account Manager tips to convert Black Friday and Cyber Monday offers!
Have you planned your online campaigns ahead of Black Friday and Cyber Monday yet? To help you get inspired and make the most of the shopping season, we have asked our team of Account Managers for some expert tips to convert Black Friday and Cyber Monday offers:
#1 Create special landing pages and Gift Guides: You will be using the heavy artillery of your best offers and promotions to attract your audience during these shopping events. To promote them, create special landings to upsell a few of your products or services and list each one under a header such as 'Top Black Friday and Cyber Monday deals!' Then you can upsell products that you have to a consumer who has clicked on an ad for one of your other products. You could also create gift guides to point your customers to where they can find packs of your best-selling products and great gifts ahead of Christmas. Create different guides for different segments of your target shoppers.
#2 Refresh all of your ad creatives and copy: A lot of your customers are already familiar with your brand and your offering, so take the chance to give a new look to your landing and ad copies and creatives to appeal to make it more exciting. Also, of course, make sure that the Cyber Monday and Black Friday themes are reflected in them too.
#3 Engage new as well as current customers: Take this opportunity to target current customers who are active but also those who might have not been browsing your offers for a while. Especially if you will be adding new products, this is the best opportunity to re-engage them with killer discounts! And also, of course, make sure to target new potential shoppers who are looking for great online deals and make them pick an interest in your brand.
#4 Launch new products and services and do A/B testing: This could be a great event to launch a new product or service that you have been developing. Because you will be offering great discounts, it is a great chance to test out how these new products are received by a very eager audience, and also to test out the approach when promoting them with your advertising campaigns. Try A/B on 2 or more campaigns to promote the new services to see what works best. For example, you could try and promote them as a Beta / Tester exclusive product at a great discounted price.
#5 Launch shopping season teasers and continue promoting after: You could start promoting both shopping events a couple of weeks before the actual event in the form of teasers. You could even give your shoppers a sneak peek of what products and services they can buy at very discounted prices. This way, you build up interest from beforehand, increasing the number of eyes on your offers and boosting conversion opportunities! Likewise, extend your promotions to after Black Friday and Cyber Monday, launching new campaigns straight after to extend your discounts for another week or two, with texts like, "Did you miss out on our Cyber Monday deals? There is still time!"
#6 Localize your ads and make them culturally relevant: if you are promoting your offers across different GEOs, make sure that they are all in the relevant language and are targeted to your audience! And, of course, make it culturally relevant – research the media and content trends of each GEO as well as trier traditions and cultural cues to make sure that your ads are relevant and also respectful of each location. If you are using push notification ads, remember to use dynamic tokens for GEO targeting to reach specific locations by language, and even region, country, and city name.
#7 Make it time sensitive and a one time opportunity: This is a no brainer but to push potential customers to buy, you can either do a 24 hour discount for Black Friday or maybe you want to run it for 96 hours to include Cyber Monday also.
#8 Offer incentives in exchange for consumer data: your potential shoppers want to get the best deals, which is a great incentive – Use the opportunity to learn more about them, as well as your competition by asking them questions about their shopping habits and preferences. You could also use this data to prepare your Christmas advertising campaigns.
#9 Offer product and service bundles: One way you can get your audience's attention is to bundle your products and services together for the duration of the event. So, offer themed gifts and sets of similar items with a discount. This means that you can sell several products at once, giving your end users a great opportunity to test them out and acquire them at a better price – It is a win-win situation, and a great occasion to increase the average order numbers and upsell products at a slightly higher price.
#10 Free gifts and gift cards: Similar to the product bundles, offer an additional free gift as a deal for customers when they buy one of your services or products. For example, if a consumer signs up for your online game, offer them a discount on another product you are pushing, for example, 1 week free subscription to a VoD site. You could also promote gift cards with a few of your services available to be purchased as a present, or 'buy one, get one for your friend' – This last one could work very well for subscription based sites.
#11 Offer free shipping: Sometimes online shoppers become reluctant to purchase certain products when they see the shipping fees, as these can bulk up the total price. So, increase your sales numbers on Black Friday and Cyber Monday by offering free shipping deals. This offer could work especially well with the product bundles mentioned above.
Do you want to know more about ExoClick's premium quality traffic for eCommerce, Dating, Games, Nutra or any other digital product offers? Want more tips to convert Black Friday and Cyber Monday offers from our expert team? Contact your Account Manager or the Customer Success team here to learn how to convert Black Friday and Cyber Monday offers with ExoClick's high quality traffic sources!