How to create a successful Native advertising campaign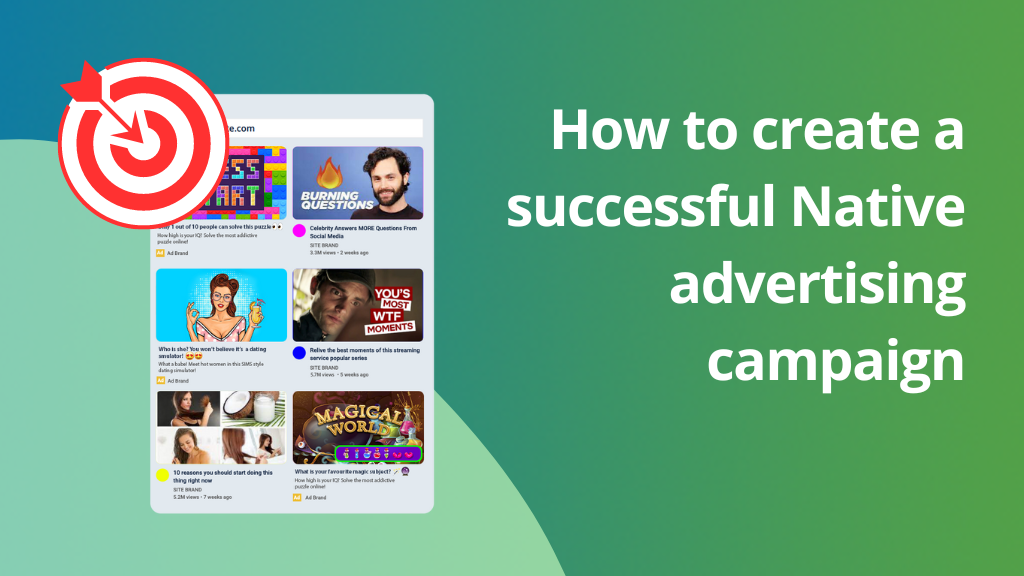 Are you wondering how to create a successful Native advertising campaign? Native ads are a very flexible format where you can get very creative in order to drive conversions. They look like the editorial content on a website – They do not look like ads! They perfectly merge with their environment, inviting the end user to click through to access editorial content that sparks their curiosity and matches their interests. Because of the very broad reach and low prices, they are ideal, not just for test and retargeting campaigns, but full campaigns too. Sounds appealing? Read on to learn how to create a successful Native advertising campaign and the benefits of Native advertising!
Native advertising
Native ads match the form and function of the content on a publisher site. They contain an image, a title (max 50 characters) a description (max 90 characters) and also a brand name (max 30 characters). Publishers can create the ad zones to fit in with the look and feel of their site's content. For example, if they have a video content site featuring video thumbnails, they may set their Native ad zones to look like video content thumbnails too. This form of advertising is fully responsive and displays seamlessly on desktop, mobile and tablet devices.
Native ad zones use different sizes of widgets to display Native ads. For instance, here's the basic 1×1 widget, which is widely popular on Members Area dating sites, where your ad will appear amongst users' dating profiles. Of course Native 1×1 widgets can be used on any kind of website, for any type of vertical.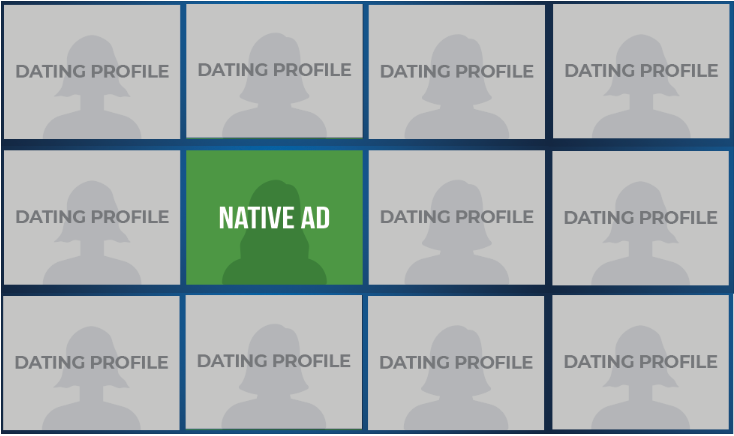 Here's a 1×4 widget, which is also a popular format for desktop website Headers and Footers: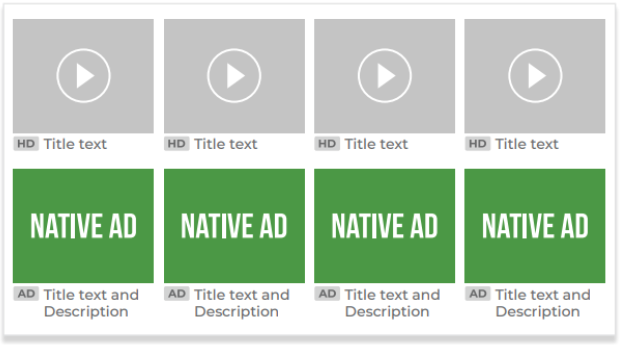 Here's an example of a successful Native advertising campaign for Gaming and Casino on a 1×4 widget on a publisher site: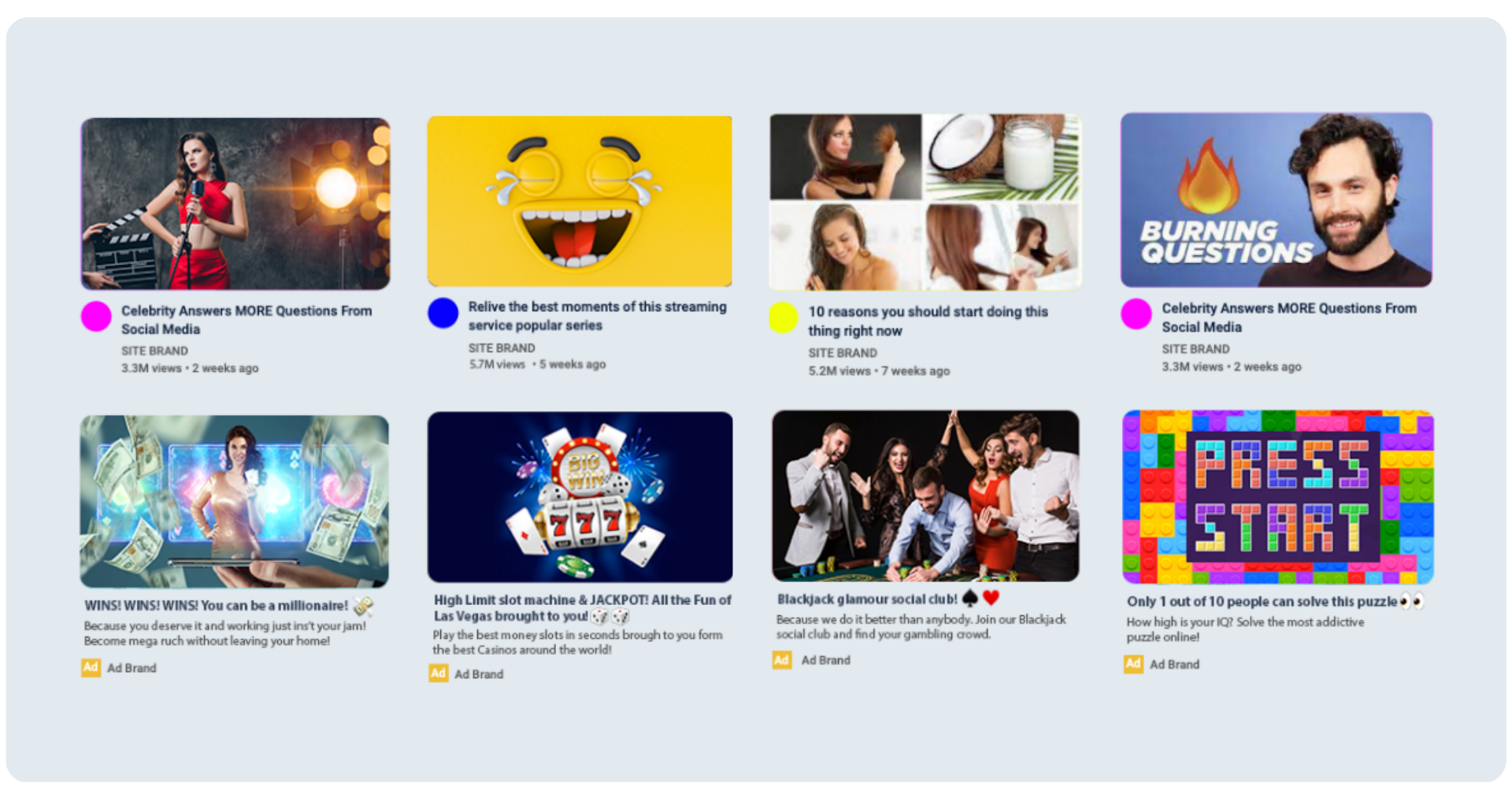 The Native advertising flow
A successful Native advertising campaign requires a different user journey to traditional ads. For example, for a Banner ad the user sees the Banner and knows it is an ad. By clicking on it, they will access a landing page that is generally very sales oriented with strong (and sometimes multiple) CTAs.
Instead, in Native, the user is expecting to see editorial style content, so your landings should not be sales oriented.
Your page should educate or inform the user by giving them facts about a specific topic. Then there will be a CTA to introduce the end user to the service, together with contact details, live chat, or whatever your preference is. So here's the secret to access the benefits of Native advertising: Native advertising brings great results when the story comes before the promotional part. Use the Landing Page as a tool to educate the user about the product, offer or service which should be in the form of an article or tutorial. And your ad itself should illustrate that.
What are the best traffic sources and Verticals for Native advertising?
Native advertising is very adaptable and somewhat chameleonic to fit both advertisers' and publishers' needs and style: It can portray editorial content styles such as stories, tips, funny entertainment, news, etc.
When it comes down to traffic sources, the two main ones that you can use for your successful Native advertising campaign are:
#1 Members Area websites: Members Area traffic is a high quality traffic source that are members of dating sites. It allows you to target active dating site users that have gone through a signup process to become a member of a specific site. 67% of traffic is from English speaking countries, with the remaining traffic from tier 1 European countries. Members Area publishers limit the amount of ads shown to their members, which means your ad will have a much higher visibility as you won't be competing for clicks against lots of other ads. Here are some Members Area specific Native ads:
In Profile Native ads: ExoClick offers a unique opportunity for Dating advertisers to convert Members Area traffic. Advertisers can buy Native ads within the profile selection pages of a website. As said above, Native ads are designed to look like the content of a website, so for In Profile Native ads the Native ad is designed to look similar to a dating profile.
Native Inbox Message ads: This Native format is only available for Members Area traffic. It consists of an image, title and description text and is delivered when an end user logs into their dating site profile. It appears as the top message of the user's message inbox, clicking on the ad takes the user to your offer's landing page.
Our Business Intelligence team looked at what the global CTR averages are for Native across our network for different verticals. Here are the Global CTRs for Members Area sites verticals: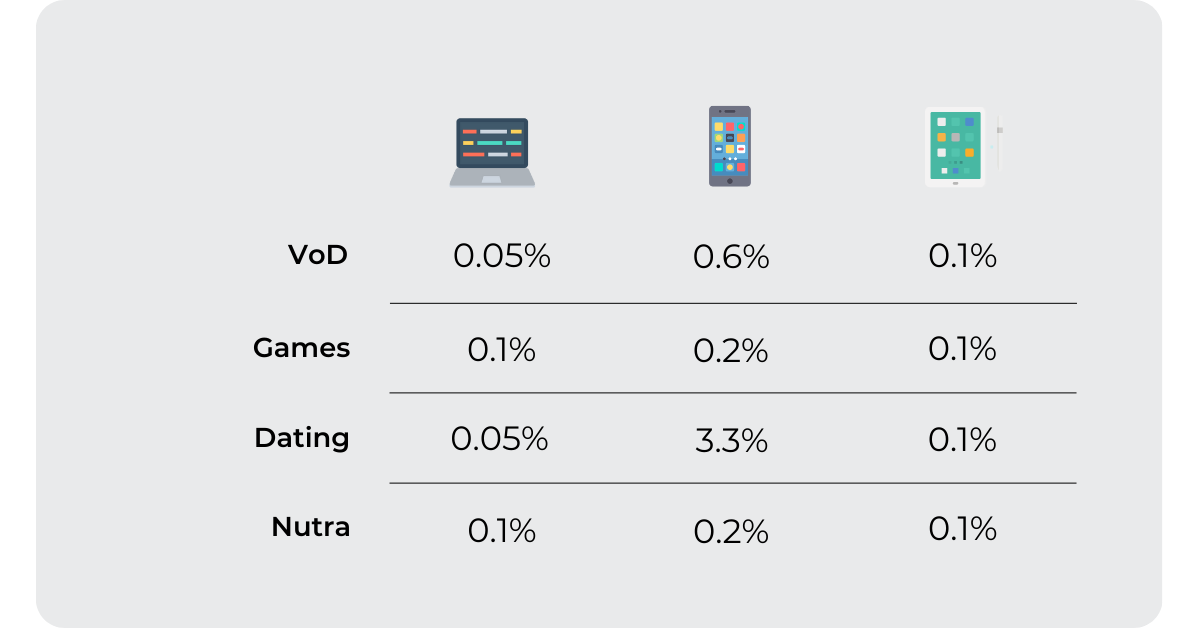 #2 Free Content websites: Free Content sites traffic sources can be viewed by anybody online, without the need of signing up or giving any personal information such as emails addresses. With Free Content sites you can easily achieve global reach, allowing you to target very popular sites either regionally or globally, reaching huge volumes of traffic. Because it operates with wider audiences, it is ideal for testing, full campaigns and retargeting campaigns. It consists of two subcategories:
RON: Run of Network traffic is very affordable, and offers very high volumes. It's the best way to find out new converting traffic sources on a regular basis.
Premium: These are very high quality Free Content sites. They are account managed with verified ad placements, therefore these ad zones that are more expensive to bid on than RON sites.
Here are the Global CTRs for Free Content sites verticals: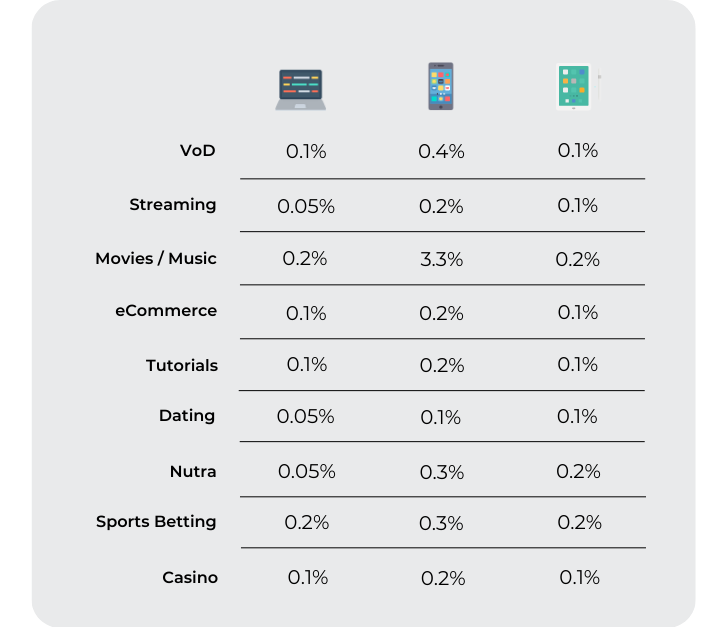 The best device for a successful Native advertising campaign: Mobile, Tablet or Desktop? 
Mobile is the most popular device for Native advertising, both on Free Content sites and Members Area sites. Here you have the global impressions for Native ads, per device: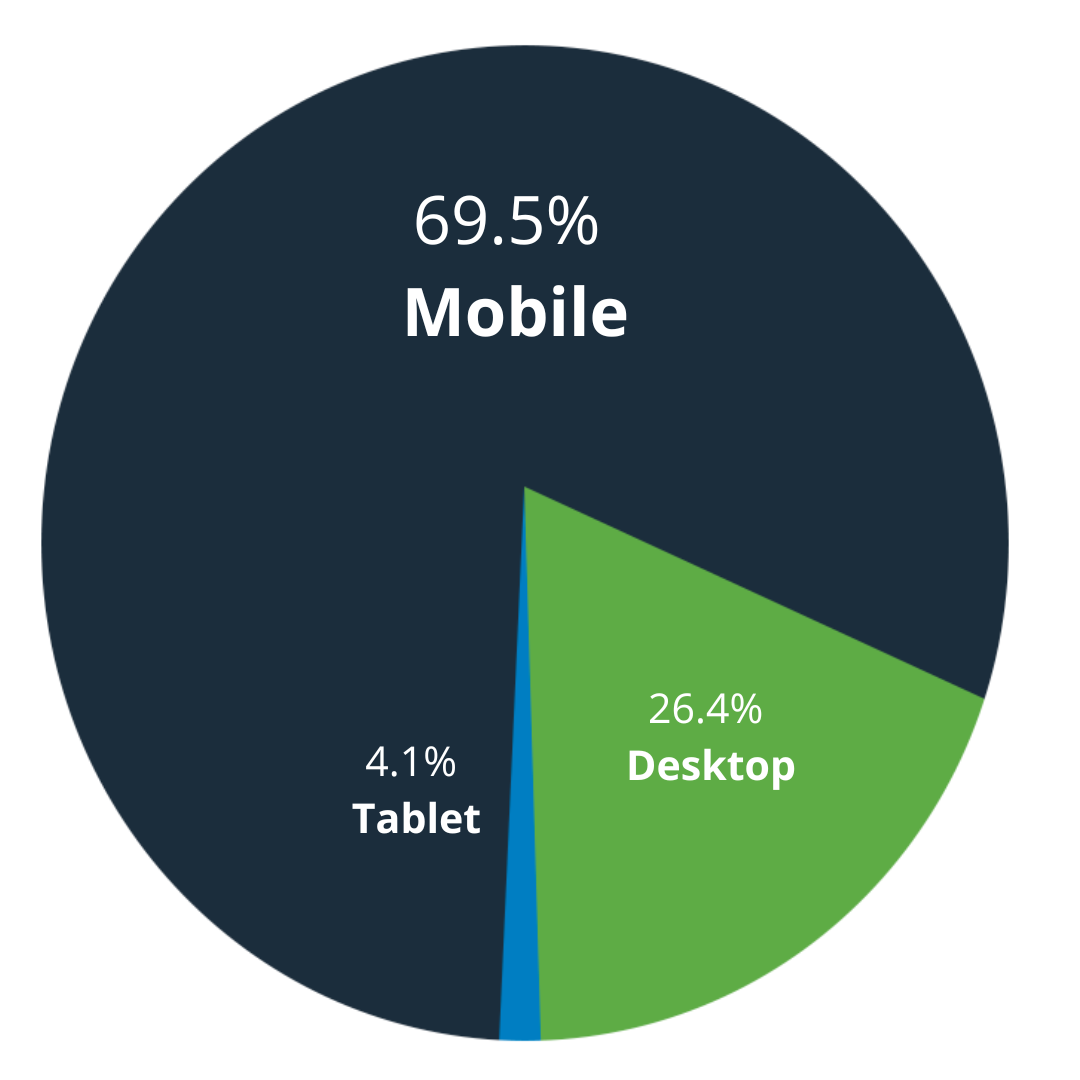 Native Multi-Format ads 
With Multi-Format ads, advertisers can target ad placements that feature Native ad zones and Banner ad zones. This is great news for advertisers, since it gives them the chance to bid for multiple formats, as well as access to previously unavailable inventory.
For instance, imagine that a website you are targeting has a Desktop Footer ad placement, which is a 900×250 larger display format on a Banner zone. If you are an advertiser that has smaller ad formats, you could typically not target this zone. However, if this zone has been set as a Multi-Format ad zone, you can now use it!
ExoClick's new Smart Bid feature is ideal for Native advertising
Smart Bid is ExoClick's new campaign pricing model that works based on machine learning. It is an automated bidding feature that allows advertisers to analyze their campaign data to automatically set an optimal price in real-time, based on the following factors:
The likelihood of a conversion
Analysis across several data points
Using conversion data for specific dimensions: zones, countries, device types, browsers, etc
Native is a very attractive format that can bring a lot of success to advertisers, but because of the large number of Native zones offered on ExoClick's network, Native campaign management can often become time-consuming, making it challenging to set adequate bids per zone manually. That makes the Smart Bid feature ideal for advertisers who are looking to promote their offers with Native ad campaigns.
Check out this advertiser Case Study to learn what results you could achieve using the Smart Bid pricing model!
The benefits of Native advertising
There are plenty of benefits to Native advertising. Let's tackle the main 7:
#1 No Banner blindness: Because the ad looks like the editorial content on a site, it will not be ignored.
#2 Massive reach: ExoClick offers massive volumes on Native advertising across all GEOs!
#3 Prices are low! Like Banners, Native CPM bids are lower than in other ad formats, such as Video ads or Popunders. So they are perfect for test campaigns.
#4 Highly creative: You can play with many different creative tools within your Native ad campaign, for example experiment with the text for messaging or click bait style texts and images. Plus you can get really creative with the Native campaign's landing page, testing out different editorial style content to get conversions.
#5 Emojis: You can use emojis to help you get an emotional response from the end user.
#6 Personalized marketing: Use dynamic keyword insertion tokens to fine tune your messaging to the end user.
#7 Lots of targeting and optimization tools: Advertising Native with ExoClick you can access various targeting and optimization tools, such as dynamic tokens and keyword insertion, or The Bidder. We tell you more about these and more below.
Case Study
Here is an example of a highly successful Native advertising campaign case study. It is the case of this client, who was promoting a mobile Dating offer using the Native ad format, targeting the UK, which is a Tier 1 highly competitive market.
The campaign lasted 23 days, and the offer was Dating, on Android and iOS Mobile devices. Thanks to the implementation of Native advertising, the campaign achieved 10.48% ROI, 131 conversions, and a total income of 917€. Read the Case Study here and find out more about how they set and optimized their Native campaigns for success!
Tips to build a successful Native advertising campaign
Image and Thumbnail Creative Tips
Tip! An attractive image: Attracting the user comes from using a compelling image. Remember that it should look like the image of an editorial story so no animation, just a static image, no texts on the image, and no brand logos.
Tip! Amateur looking pics: You don't need a graphic designer to pull this off, a simple natural looking image that could have been taken with your phone will do. We are used to seeing IG style selfies, which inspire sincerity, intimacy and familiarity. So avoid overly staged pictures and stock images.
Tip! Contextual/Non Contextual: Choose an image that fits into the website you are targeting so that the ad looks natural and integrated. Or choose an image that has nothing to do with the content on the site, so that it will really stand out against the website's content. Test Contextual and Non-Contextual to see which one brings the most clicks!
Tip! Keep it linked: Your image should have an element that relates to the Native title and description so it is not considered misleading and it shows what the user can expect once they click.
Tip! Emotional response: Human facial expressions can have a powerful impact. Happy, sad, flirtatious, funny? All will trigger an emotional response from an end user. Ambiguous and unclear expressions won't generate the same type of response. Also, pictures of people looking directly into the camera are highly engaging for the end user. So are pictures of cute animals!
Text Creative Tips
Tip! Ad zones with titles: In your admin panel when setting up a Native ad campaign, there is a tick box that lets you only target sites where publishers allow titles to be shown in their Native ad zones. Targeting ad zones with titles enabled will lead to a better CTR.
Tip! Use facts, numbers and statistics: Nobody needs fake news! Instead, people love facts as it makes everything more believable: 80% of men…, 9 out of 10 cats…, etc. Also, numbers are easier for a reader to notice. For instance: '7 things you should know about shampoo' works better than 'Seven things…' plus it saves you character space!
Tip! Make it a question: Spark their curiosity by starting your text with sentences such as "Did you know…?" "How can you find…?" "What's the best…?" "Have you ever tried…?" "Are you…?
Tip! Offer a life hack: People love to learn new things to make their lives easier or to learn new tricks e.g. 'How to get the girlfriend of your dreams' 'How to save 3 hours a day'.
Tip! Use emojis: Native ads allow you to use emojis, which bring greater user engagement. They are also great to express emotions to an audience, adding impact value, and acting as a way to shorten the messages so that you can use your character count to full capacity to deliver your message. For instance, use a heart emoji for messages like 'Find the love of your life', or a video game controller emoji instead of the word 'game' in 'A game that will keep you up all night!'
Tip! Be positive… Or negative! One of the main benefits of Native advertising is that you can really play with psychology to make an impact. On the one hand, we are being chased by problems on TV, the news, etc. So the end user is on the internet looking for solutions and a positive title may be more appealing. On the other hand, though, sometimes negative words such as 'worst' gain more clicks than positive ones like 'best.' Negative statements are intriguing and seem more genuine. Test out which option works best!
Tip! Translations: Chances are that you will be targeting different countries, so make sure that you use a native speaker to translate your texts and concepts, never use Google Translate, it will make your Native ad less clickable.
ExoClick optimization tools for a successful Native advertising campaign
Lastly, to help you optimize your Native campaigns to their fullest potential, here are a few useful tools brought to you by the ExoClick platform:
#1 The Bidder: Optimize your campaigns using The Bidder, ExoClick's bidding automation tool, which allows you to automate the optimization of your campaigns by adjusting your bids by ad zone and blocking non-converting ad zones. Read our guide on The Bidder here.
#2 Conversion Tracking: Conversion tracking is an essential part of advertising. By doing conversion tracking, you will be able to see how many sales, leads or installs you are getting from these campaigns and get an accurate picture of how profitable the traffic is. This tool is specifically useful when used along with The Bidder.
#4 Dynamic KW Insertion: This feature lets you dynamically change texts within your Native ad campaigns. It is a really useful feature, particularly for GEO targeting and can really help you increase conversions. It's all down to dynamic keyword insertion tokens, which automatically replace specific texts with keywords relevant to the end user. Read our tutorial here.
#5 Keyword Insertion Language Distribution: ExoClick allows you to automatically translate the Keyword Insertion token in the following languages: English, French, German, Italian, Portuguese, Spanish, Japanese and Chinese. The dynamic tokens will display in the language that you set for the campaign. The language is set in the top right of the Variations list. Choose the language for the tokens from the Ad Text Language drop-down. The default language is English.
#6 Variations Optimization Tool: Try uploading several different images and use ExoClick's Automatic Variations Optimisation Tool. This tool is super useful for Native campaigns because it enables you to automatically optimize your creatives depending on your goal: CTR is good if you want to drive as much traffic as possible to your landing page. Or choose Automatic on Conversion Rate to generate conversions ASAP, and in order to help get your ROI.
Conclusion
As we can see, there are plenty of benefits to using Native advertising, including the ability to reach and charm huge audiences with psychology, as well as the high conversions, given that your ad creatives are strong, engaging and compelling. Are you planning on testing out this format for your ad campaigns or want to learn more of the benefits of Native advertising? Get in touch with your Account Manager or our Customer Success Team here.