Case Study: ROI 10.48% for Mobile Dating offer using Native in UK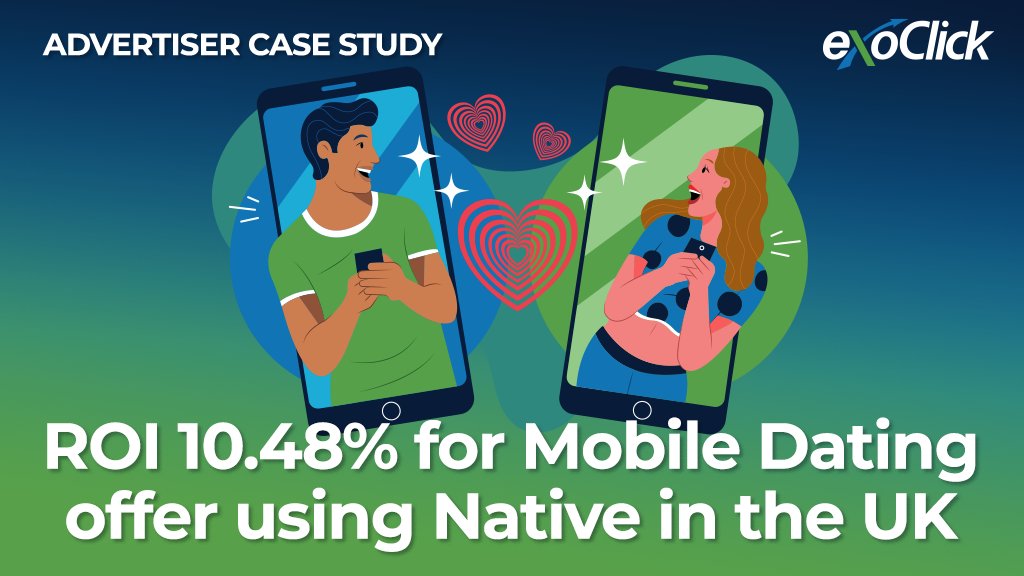 Robin Jaussaud from ExoClick's Performance advertising team shares this case study for a mobile dating offer using the Native ad format targeting the UK. The UK is a tier 1 country and is a highly competitive market. Robin takes you through the process of testing, using automation tools, campaign optimisation and the final campaign results.
Campaign period: 13 May 2021 – 4 June 2021 (23 days)
Offer: Casual dating
Ad Network: ExoClick
Ad format: Native
Device: Mobile Android and iOS
GEO: UK
ROI: 10.48%
Why did I choose Native?
The Native ad format is a creative way to push dating offers because it enabled me to combine a text message with a 300×300 image. It allowed me to get really creative to experiment and find the best possible combination between these two elements to get traffic to my landing page. Native ads are great for user experience because they look like the content on a publisher's site and ExoClick has large volumes available which gives me a great reach at a lower price compared to video formats for example. I also chose Native because being a simple image, it doesn't involve design work like a banner would require, the design can easily be changed with the text messaging to spark interest and seduce the end user into clicking. Also by targeting ExoClick's new Multi-Format ad zones which allowed me to bid for Native campaigns gave me more available Native inventory. Multi-Format ad zones significantly increased my options because more and more publishers are offering these Banner versus Native ad placements for the mobile dating offer.
Introduction
In this case study I will show you how to set up a Native campaign and then optimise it. The goals of this case study are to show:
The value of generating data by first testing

How ExoClick's Bidder and optimisation tools work together

How blocking non-performing ad zones helped me obtain my target CPA in order to win high performing ad zones
Creatives and Landing Pages
I used 7 different creatives for my Native ads showcasing different types of profiles again in amateur selfie photos for my mobile dating offer. 
Texts were personalized text messages that contained two elements:
Firstly I used dynamic tokens to insert the name of the city that was localized to where the end user was browsing from. So the first element read Hi, I live in (city lowercase)

The second element completed the rest of the text and this was made into a question to engage the user, I tried several variations heris an example: Hi, I live in (city lowercase). Are you looking to meet now?
This combination of elements fits really well with dating offers because it makes it way more real for the user. The dynamic token shows the end user there are local profiles, the question part grabs the end users attention, working together to seduce the end user to click. 
I created just one landing page for the mobile dating offer that showed example profiles of some of the users of the site, all images were in the amateur style to make the experience more 'real' for the potential customer and what the end user could expect from the dating site. In order to engage the end user further, below the profiles there were three questions with checkbox multiple choice answers.
After answering the three questions a final CTA button appeared saying JOIN NOW AND HAVE FUN, this led the end user to the site's sign up page.
Targeting and set up – test campaign
Time period: 13-19 May (7 days)
Initial bidding: Smart CPM
Bidder set up: I set the Target CPA at €6, 0.50 cents below "real" CPA target and maximum test budget aligned with the real CPA target. It's a pretty aggressive strategy, but it will help to minimize any loss.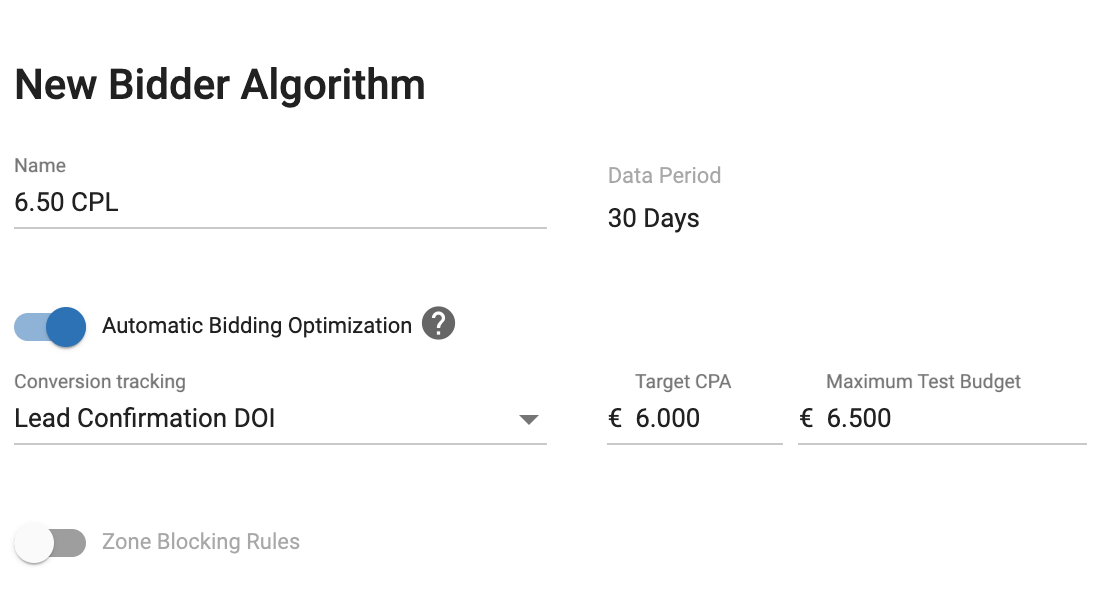 Targeting used: As it was a mobile dating offer I targeted Mobile – Android/iOS – All Browsers – All carriers
Variations optimisation tool: This tool is super useful for Native campaigns because it enables you to automatically optimize your creatives depending on your goal: CTR is good if you want to drive as much traffic as possible to your landing page. But I chose to use Automatic on Conversion Rate, because this helps you to generate conversions ASAP and in order to help get your ROI. 
Frequency capping: The campaign was set up with a Frequency Capping of 1/24 and Smart CPM was set at $0.05 USD. I set up the Bidder to work on adjusting the bids by zone based on the target CPA set up in the rules.
I tested for 7 days including the weekend, the longer time you spend testing the better, because you need to test for at least 1 week to collect a decent amount of data, to help you make the right optimisation settings down the line.
End of test period results (19 May 2021)
Here you can see how the Bidder adjusted the CPM bids and blocked under performing ad zones.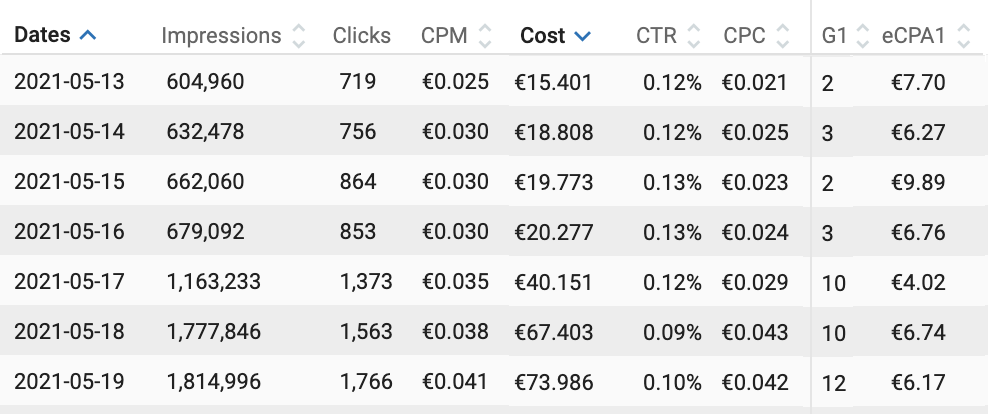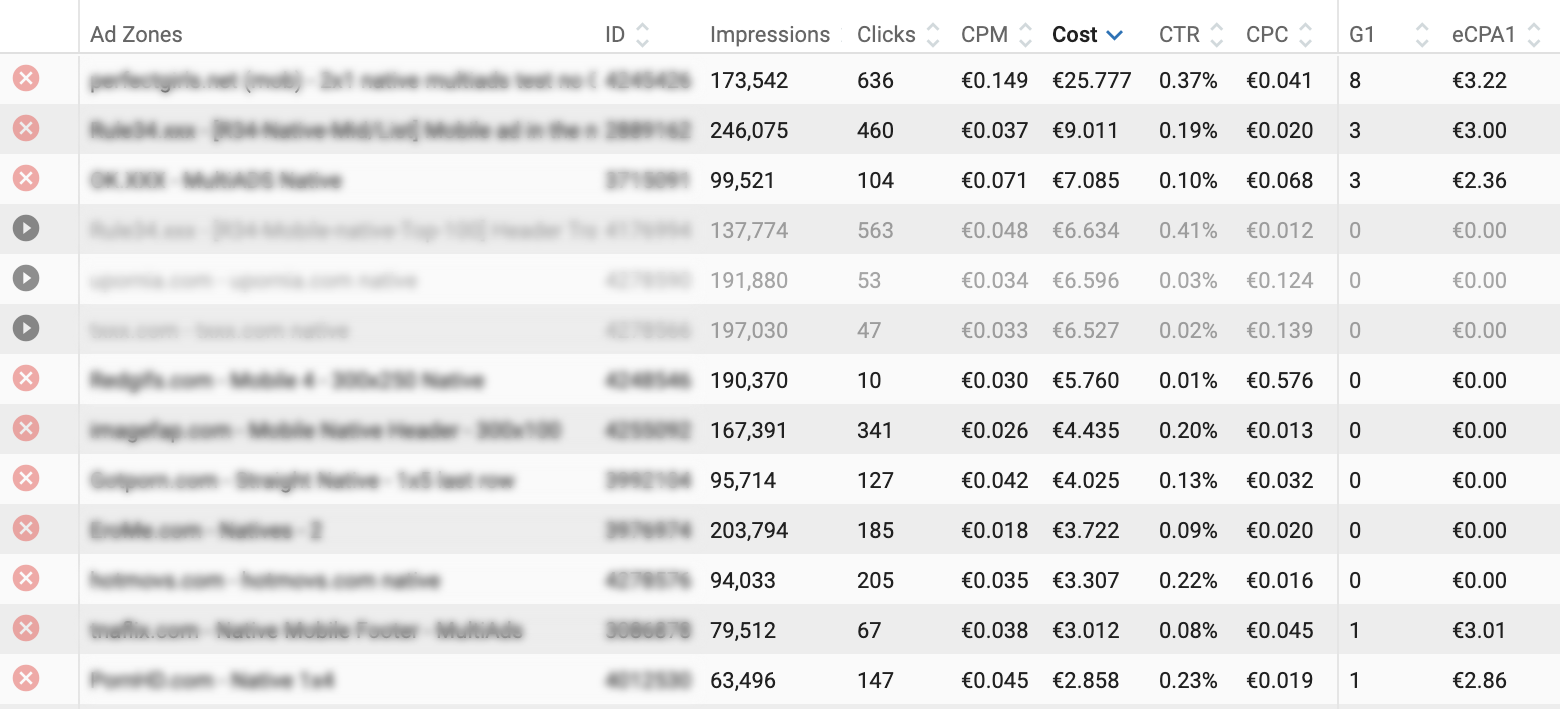 Optimisation Day
After 7 days of testing the mobile dating offer, it's time to look into what has potential and which direction the campaign's settings should follow to maximize the performance and get closer to the CPA target. 
As you can see above, the automatic bidder already did the job for me by taking out some non-converting zones. I made a note of the best converting zones to use them for a dedicated white list for this and future campaigns.
Variations: The first optimisation I took care of were the variations. Because even if the optimisation tool helped to drive more traffic to the best converting creative, I could still maximize this by removing the worst performing ones. As you can below the performance was pretty even for most of the creatives but I removed the last two, because they clearly had small potential compared to the rest. 

Regions: It's always super useful to look into the regions, especially when you are targeting one GEO only. You can see a lot of differences in terms of performance in different parts of a country. Here I decided to remove the "unknown" targeting because it wasn't bringing any revenues.

Devices: Targeting both Android and iOS, we can see that the performance was pretty even and volume was mostly iPhone and Samsung. I decided to remove Android devices that were not converting/exceeding the CPA target. Moreover they didn't represent much volume. 

Browsers: Regarding the browsers I left them as they were and kept a close eye on the performance of Samsung Internet because it was very close to the CPA target but not converting yet.

Carriers: I blocked O2 and closely monitored Vodafone. For my mobile dating offer wifi would likely be my only focus at some point (volume wise).

Follow up day #1 (25 May 2021)
After running for a further 6 days, it was time to optimise again. The volume was steadily increasing thanks to the automatic bidding optimisation offered by ExoClick's Bidder and my optimizations, the CPA target was on point at between €6 and €6.50. However, for the last 2 days the offer had started to not perform as well, so I had to quickly react and pause some variations that were not performing anymore. This is the benefit of having a good roster of creatives and enough data to take relevant actions. Some non-performing domains were also paused, impacting the general volume of the campaign but as you will see later, it enabled me to keep a good balance between the amount of impressions and profitability.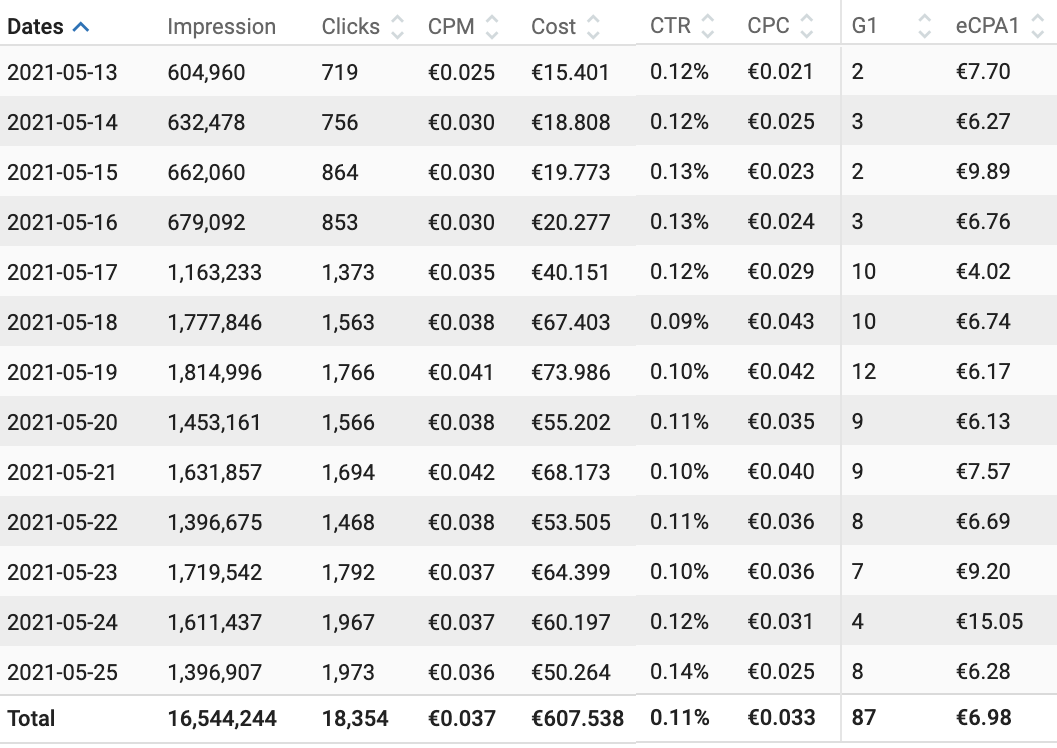 Follow up day #2 (4 June 2021)
Looking at the stats for the campaign which had now been running for 3 weeks, the average CPA was below the CPA target. The campaigns generated leads and a good bunch of data to use for future native campaigns.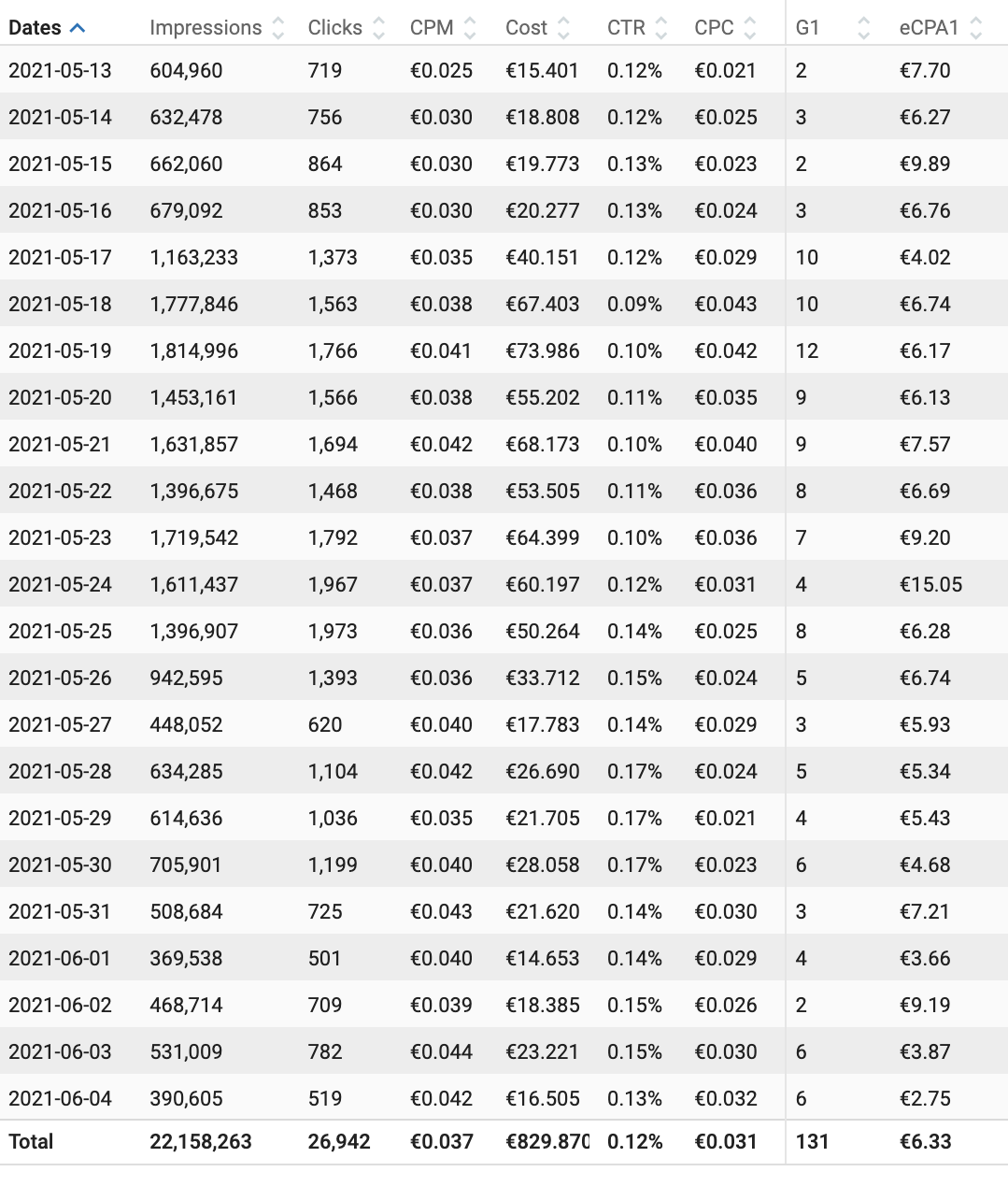 Mobile Dating Offer Results
Conversions: 131
Investment: €830
Total income: €917
Net profit: €87
ROI: 10.48%
Native Campaign Tips 
Native campaigns need to have some work done on the creative and the text messaging before launching. You need to find the best combination possible between the image, the text and your offer. This is key. If you want to run a long term campaign, it can be a good idea to add a new creative or modify your text message from time to time. 
Try carrying out A/B tests with the same image and different texts and vice versa. This will be really useful data because you will see what kind of combination works well with your offer and then you will be able to implement it in all your campaigns from scratch.
Use ExoClick's automation tools such as the Bidder, Variations/Landing Page Optimisation tools, dynamic tokens, etc. They are there to help optimise your campaigns while you work on other things, so the time you work on a campaign just involves you making some optimisation tweaks. Allowing you to build up scale with many campaigns running. Of course you should still check your campaigns every couple of days. 
Let the campaign run a decent amount of time and with enough budget to gather enough data in order to take relevant action, but use Frequency Capping in order to limit the number of

times a unique user will see your ad. I recommend to set it at once every 24 hours. 
Make sure you look into statistics per region, especially for localized dating offers and for big GEOS like the US, there can be big differences from one region to another. This can be a game changer for your campaigns. 
After enough time and (30 days) if you are profitable do not hesitate to whitelist the best converting source and bid higher in order to get more traffic. 
Check out ExoClick's excellent Ultimate Guides to

 

Dating

&

Native Advertising

which are packed full of creative ideas, optimisation ideas and tips from industry experts.