How to convert E-commerce offers with video ads in the United States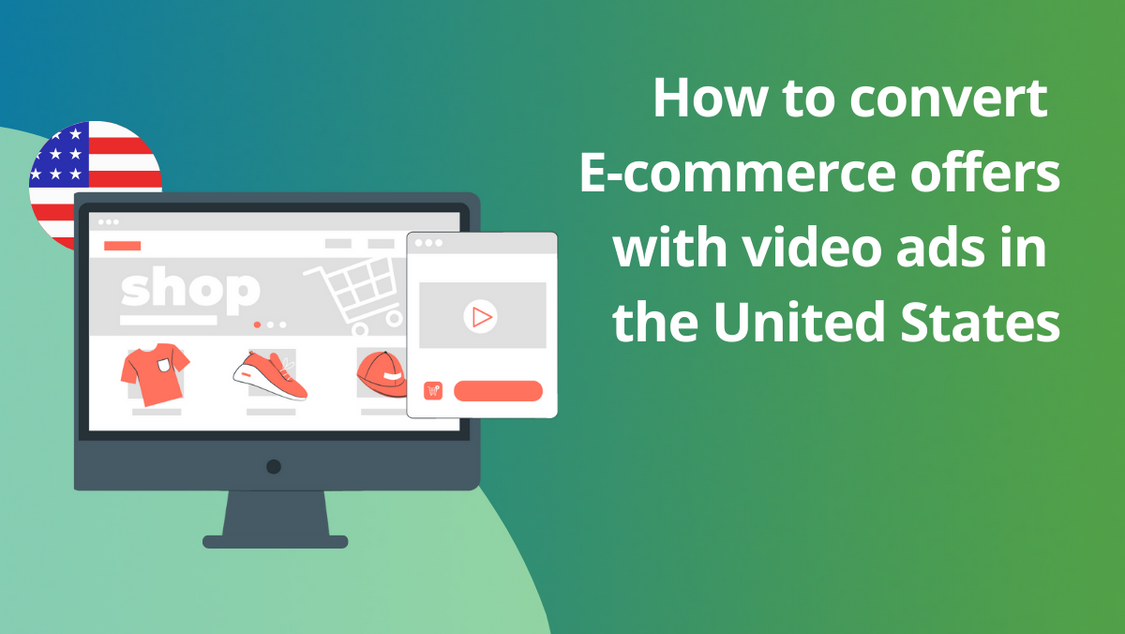 The E-commerce vertical has experienced a significant revenue growth over the last ten years – So much so that the US E-commerce market is estimated to reach 1.4 trillions U.S. dollars by 2027. This means that promoting E-commerce offers in the US is a great opportunity to generate high revenues. And the best format to do so? Video. In order to help you convert your E-commerce offers in the United States with ExoClick's high-converting video ad formats, we will give you exclusive network stats, best practices and expert tips to help you maximize your profits. Read this blog post to learn more!
4 reasons why the E-commerce vertical is growing in the US
E-commerce evolved to be a fundamental part of Americans' day-to-day lives as more and more consumers of all age groups in the US access E-commerce platforms to shop online. Here are the main 4 reasons why E-commerce vertical is growing in popularity in the US:
#1 E-commerce provides personalized and tailored experiences: American consumers are often in search of great product offers with huge discounts or deal prices especially tailored to their personal needs, which means that personalization plays an important role in customer engagement, everywhere, but especially in the US. E-commerce offers the opportunity to advertisers to create tailored experiences through customized campaigns suitable for consumers' interests and needs. 
#2 Mobile device usage continues to increase in the United States: Internet penetration and mobile accessibility have hugely increased over the last years globally, and especially in the US. So much so that a total of 383.4 million cellular mobile connections were active in the United States in early 2023! And, most American consumers do their E-commerce shopping through their phones, whilst on the go, going about their day, which means that you can reach them with your offers anytime!
#3 Americans care where their products come from: Americans prefer online shopping because it offers a large variety of options for retail from American-made products, and also from around the world. In fact, 65% of U.S. adult consumers claimed to enjoy buying "Made in America", however they also love buying some goods made worldwide, as they perceive them as being of higher quality than similar U.S. products. For example, Swiss watches have a reputation for quality and prestige. And with E-Commerce, you have got the chance to advertise all sorts of products from America, and from around the world, to attract the attention from the average American consumer.
#4 A huge Gen Z audience at your disposal: The fast growth of technology since the last decades, E-commerce has grown exponentially to become a part of the present-day shopper who are largely from the Gen Z. As a result, more advertisers and companies are focusing their marketing efforts into social media E-commerce in order to evolve brand awareness, increase engagement and boost product sales. Aside from this, as of January 2023, there were approximately 311 million internet users in the United States. Meanwhile, around 246 million were Gen Z audience members who used social media. 
Why is video the best ad format for the E-commerce vertical?
Video ads and the E-commerce vertical are a match made in heaven because with video you can showcase your product or service in all its splendor, talking to them about its features, benefits, and all that is in it for them. Also, you can position your brand by telling them a compelling and eye-catching story with an approach that is more personal to you and your brand, making your ads more engaging. 
ExoClick's high performing video ad formats, which are fully compliant with the IAB industry standards and totally responsive across all devices and platforms, are perfect to convert your E-commerce offers in the United States. Here are the top 4 benefits of using ExoClick's video ads to promote E-commerce offers:
1# Offer a quick yet in-depth explanation of your product: Video ads are very versatile and allow advertisers to really attract potential consumers by showcasing the highlights of their product's features in a short and easy to watch format. Also, they allow you to convey your brand's personality and thus, have a stronger emotional impact than other ad formats. 
2# Attractive and highly clickable: Video ads are very attractive since they allow you to really tell a story about your product in whichever way you see fit. Which means that they can be very engaging, making them very clickable and shareable across any digital channels. Especially, promoting E-commerce on social media will help you drive more qualified leads to your website or landing page, where the next steps to purchase your product or service are explained.
3# Build brand recognition: Grabbing the attention of your audience is just one of the steps towards generating a conversion. You need to generate trust in you and your product in order to make them purchase. Video ads are an excellent way to build trust and credibility with your audience since it shows that you have the resources necessary to create great quality advertising, and also you are telling a story of your brand!
4# With the ExoClick platform you can easily measure your success: With ExoClick's customized dashboards you can easily track and measure the performance of your video ads in order to optimize and change your campaigns as you see fit for success. Get the most out of your data with ExoClick and reach all your marketing goals!
The best video ad formats to convert E-commerce in the United States
To help you better convert your E-commerce offers with video ad formats in the United States, we will provide you with exclusive network statistics, including impressions percentages, CTR and breakdown by device.
Device breakdown for E-commerce with Video ads in the United States: Mobile, Tablet & Desktop
We asked our Business Intelligence team to look into what devices are the most popular amongst end users in the US. Below you can see the impressions breakdown by device on the ExoClick Network for E-commerce offers in the United States: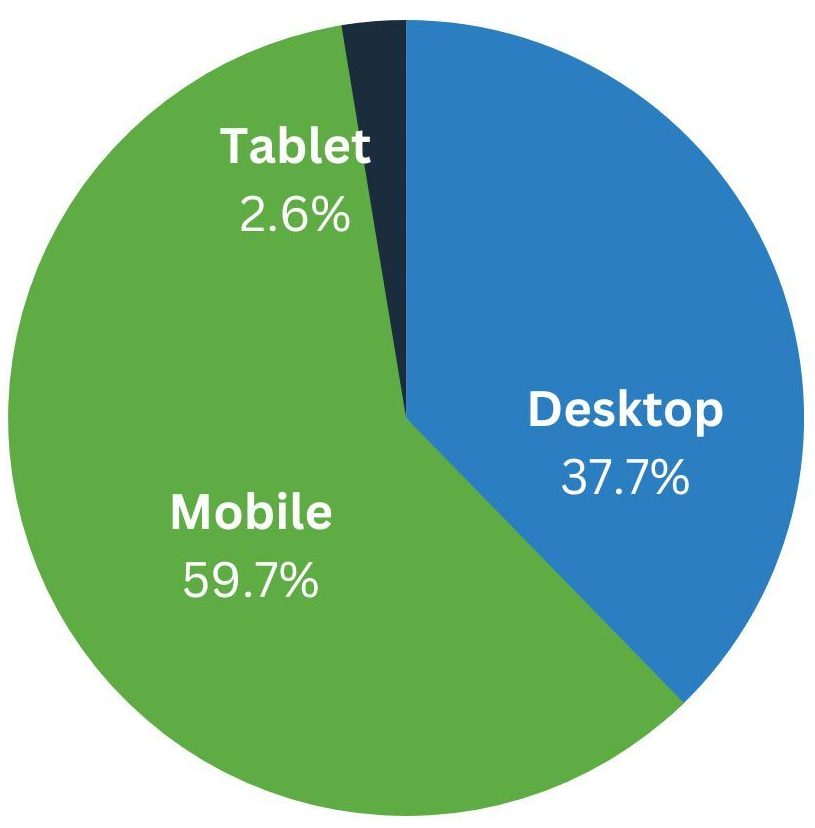 As we can see above, Mobile has the largest number of impressions in the US, followed by Mobile and Tablet. 
Now, let's delve into the best video ad formats in the United States individually:
In-Stream Video format
Here is the ExoClick network's CTRs breakdown for In-Stream video ads for the E-commerce vertical in the United States:

Of the three video ad formats offered by ExoClick, the In-Stream ad format is the one that has the highest CTRs in the United States. In-Stream video ads are placed inside of a website's video player, and they play before, during or after the video that the end user has decided to view, perfectly merging with the streaming experience, making it engaging and appealing to the end user.
Tip! Mind the first 5 seconds: Although this could be true of all video formats, it is specially important for In-Stream, because this format plays within a main video piece of content on a website, and it features a 'Skip Video' button which appears after the first 5 seconds, enabling the end user to skip your ad and continue watching the main video. So, your video must be interesting, attention-grabbing and convey its message in a clear and entertaining way within the first five seconds, so that your end users will continue to watch it and hopefully click through to your landing page!
Outstream Video format
Here is the ExoClick network's CTRs breakdown for OutStream video ads for the E-commerce vertical in the United States:

Triggered wherever the ad zone is placed during the user journey, Outstream videos display and play on mute once 50% of the ad zone is viewable to the end user. As the end user scrolls away the video ad will pause and then resume when they return to the content where the Outstream video ad is located. This makes for a positive user experience and also means your video ads views aren't wasted on people who aren't especially interested in them.
Tip! Video creative: Outstream video ads are shown to the end user as they scroll through a Publisher's website, which means that you really have an opportunity to make an impact there and grab their full attention, like a main video piece of content on the website would. So, get extra creative! For instance, you could design your video as a main website video, to merge with the viewing experience of your potential consumers. You could even make it look like it is shot on your mobile in order to appeal to younger audiences. 
Slider Video format
Here is the ExoClick network's CTRs breakdown for Slider video ads for the E-commerce vertical in the United States:

As the name points out, Slider format slides in from the bottom right of the screen when an end user first visits a website, which makes it highly eye-catching, compelling the end user to click on the ad to go to your offer's landing page.
Tip! Make it Mobile friendly: Ensure that your Video Slider ads are set at the correct screen resolution to ensure the ad shows well across all devices. Also, if you are targeting Mobile, bear in mind that the characters or elements in the creative need to be easily seen on smaller screens, which means that the main elements need to be well centered, big enough, and not be surrounded by way too many more elements.
Top tips to convert E-commerce with video ads in the United States
ExoClick's premium traffic sources are the best way to convert E-commerce offers with Video ads in the United States. In order to help you to maximize your revenues, we provide you a serie of exclusive tips to convert E-commerce offers successfully:
1# Know your audience: Over 200 billion Americans shop online which equates to around 80% of the US population. Then you need to investigate how Americans use E-commerce in order to align your ad campaign with their shopping trends and online behaviors. For instance, Shein.com is leading the Fashion E-commerce market in the United States, followed by macys.com and amazon.com, respectively. Also, the most consumed goods in the US are Clothing, Shoes, Accessories, Fitness products, Cosmetics and perfumes. All these are factors to take into account when setting up your E-commerce ad campaigns!
#2 Americans love shopping events: Americans do LOVE online shopping events, for instance, online shoppers spent $9.12 billion on Black Friday in 2022. American consumers enjoy the thrill of waking up early the day after Thanksgiving to hit up their favorite retailer and score a doorbuster deal. But many customers have decided to skip the chaos and shop online on Black Friday instead. As an online business, it's vital that your website (and storefront if you have one) are in tip-top shape this day. So, make the most of your E-commerce offers by promoting deals or discounts during these online events.
3# Keep Gen Z in mind: Gen Z American shoppers prioritize value and affordability when purchasing online, making sales and discounts particularly appealing. Besides, Gen Z consumers in the United States seek additional information about brands, products or services before making purchase decisions. Then we recommend you to design your video ad formats specially to explain what your product offers and how consumers can benefit from it.   
4# Be creative with your Video: Since the United States is a popular country to target tailored audiences (Americans love bespoke experiences!), you need to get a tad more creative to grab the consumers' attention. This should reflect on your creatives and copy, as well as CTAs – Pay special attention to your CTAs, making sure that they tell your consumers what you expect them to do. So your CTA should stand out from the rest of the slide with a bright color, different font and bold text, and state a very clear intention. 
5# Optimize your Slider ad's speed: Use the smallest image size and compress them before uploading. You don't need to add many transitions or animations because it can slow the whole slider down. Remember to prioritize speed and remember: Less is more!
6# The American Way of Life: Americans are big on pursuing their dreams and high life goals, which means that your creatives need to portray very positive and idealistic imagery. If possible, add happy people using your product in order to create a deeper connection between the brand and your audience, letting them understand what your product or service can do for them in terms of lifestyle. Happy faces can make your audience feel positive emotions with the product you're offering. 
7# Use ExoClick's ad creative and Voiceover services! Contact your account manager to use ExoClick's ad creative service, where we will create your video Sliders for you. Besides that, you can access our Voiceovers to the video ad creatives service. What are you waiting for? Contact our Customer Success team to learn more!
Want to maximize your revenues for your E-commerce offers in the United States? Try now ExoClick's high-performing video ad formats! Contact our Customer Success team and join the ExoClick platform to have plenty of access to high-quality traffic sources.