How ExoClick protects Publishers on our network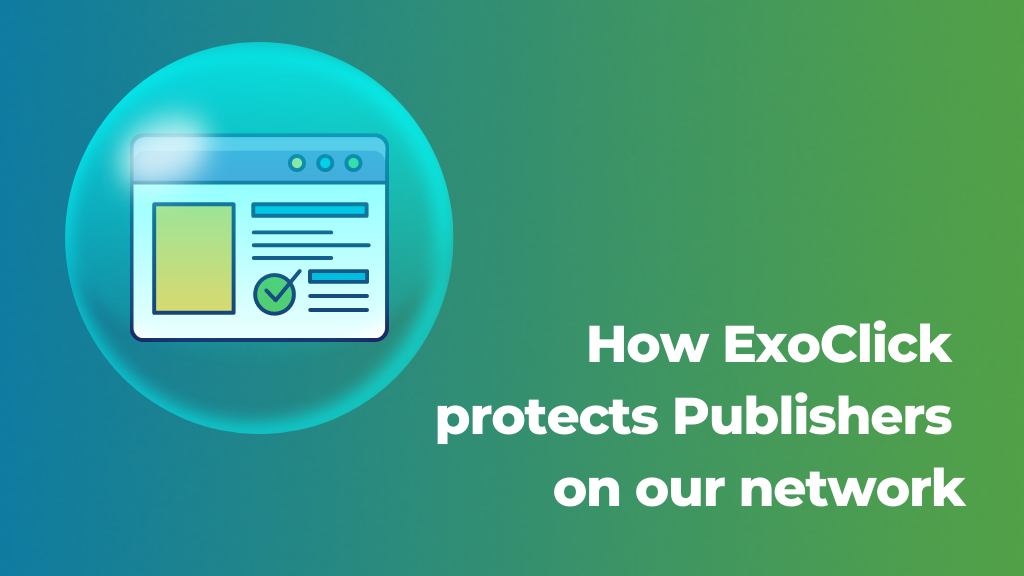 ExoClick's Compliance team is constantly working to guarantee ad chain flow security, ad quality and full industry compliance at all times to protect our Publishers. ExoClick's mission is to ensure a great browsing experience and that all parties within the ad supply chain are protected, we have strict policies and guidelines that govern the kinds of ads we allow on our platform. We also closely monitor our advertisers' campaigns, to make sure that all of our ads are appropriate and aligned with industry regulators including the Interactive Advertising Bureau (IAB), Google Chrome and the Coalition For Better Ads.
ExoClick's Compliance team at work
Our large, dedicated compliance team works 24 hours a day, 7 days a week to manually check all ad campaigns before they go live on our network, that includes the ad creatives, the type of offer being promoted and all relevant landing pages that the ad creatives lead to. Campaigns are also checked while they are running to make sure that advertisers have not made any changes to their originally approved campaigns. ExoClick uses a two pronged review system: Everything is checked manually and we also use advanced crawler technology from AdSecure, the ad compliance, quality and anti malvertising solution. Our eyeballs monitor every campaign constantly whilst running campaign scans in the background to flag anything suspicious. Any campaign that is flagged or breaks our comprehensive Rules and Guidelines, is immediately removed from our network.
Bad actors exist in the online advertising world who are constantly looking for ways to use ad campaigns to deceive or fool end users. They target all ad networks including giants like Google and Amazon. ExoClick has zero tolerance for all forms of malvertising. In the rare occasion that a malicious ad campaign is detected, all of the advertisers campaigns are immediately blocked and removed from our network and often leading to a complete ban of that advertiser. We also operate on a transparency policy and we inform the publisher on whose website the bad ad has been detected and the steps we took to ensure their ad chain has been protected from the campaign with our actions.
Google Compliance
Google and the Coalition for Better Ads have set specific rules and guidelines to ensure that ads do not annoy or mislead end users. ExoClick's Compliance Team will not approve any ad creatives that break these rules. You can read about the types of creatives we block in our blog post: Is your Marketing Material Compliant?
The IAB Standards
ExoClick's Compliance Team also follows the IAB standards, which are a series of comprehensive guidelines that have been put in place by the Interactive Advertising Bureau (IAB) to ensure that ad creatives meet ad quality industry standards. All ads that run on ExoClick's network are checked for the correct ad creative weight and sizing. This ensures that ad zones load in milliseconds when serving ads to end users. This abides by Google's Core Web Vitals ensuring our Publishers sites on our network achieve a great Google ranking. The team also checks that ad creatives fit IAB's ad quality standard, so that ads are displayed correctly and the images are not pixelated or squashed. This not only creates a great end user browsing experience, but also generates higher clicks from end users, who only trust ads that are of a high quality. Read our blog post: Why are the IAB Standards important? for more information.
The Benefits for Publishers using ExoClick's network
Clean ads: All ad campaigns that could be served on your website will be checked and double checked before they launch and while they are running to ensure they are fully industry compliant and free of any form of malvertising.
Positive Google ranking: Because we only accept ads that meet the industry standards for weight and quality, your ads will be served fast to the end user. Additionally if your site uses our

Async code

for your banner ad zones this will improve the speed at which the ads are served also. This has a positive effect on your Google ranking.
Increased revenues: Good quality, compliant ads lead to more and better quality user interaction and clicks. This generates higher CTRs, making your ad zones more competitive and therefore increasing your eCPMs.
Account protection: We provide

Two-Factor Authentication

for every client on our network, protecting your account credentials.
A great ad experience: Your end users can feel confident that clicking on an ad served by ExoClick will be a great experience for them, allowing them to enjoy your content and the ads that you display.
What should I do if I see a non compliant ad on my website?
If you are a Publisher using the ExoClick network, in the rare event that you see an ad that goes against the rules, you can report this via our contact form here, using the abuse of our guidelines option.  The report will come through to our Compliance Team who will prioritize, investigate, identify and eradicate it within 20 minutes, no matter what time of the day.
Do you have any more questions about ad compliance? Get in touch with our Customer Success team or contact your account manager.