ExoClick's Payment & Funding Methods Update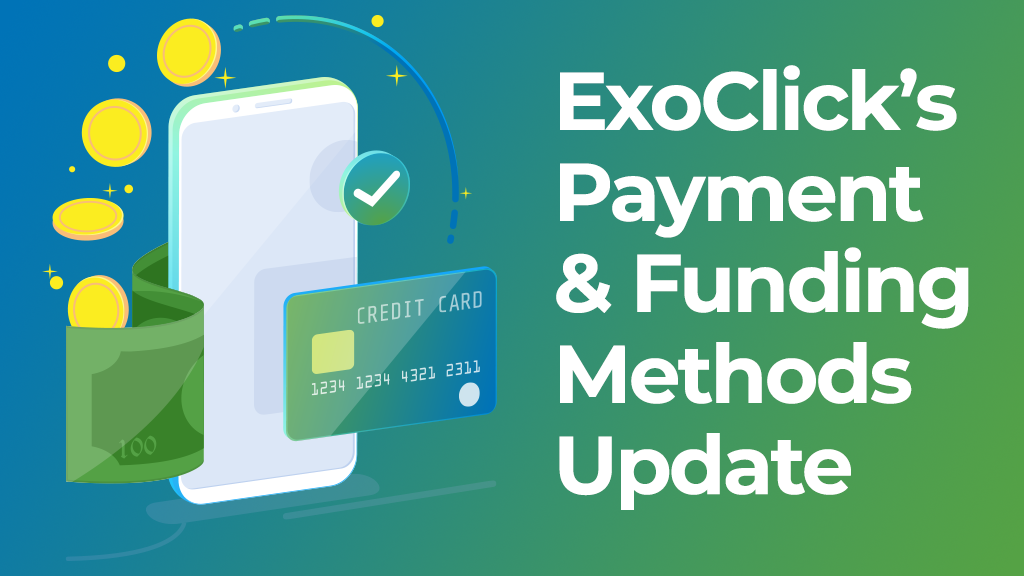 ExoClick offers a range of options for Publisher payments and Advertiser account funding, and we also have some new methods coming soon.
Current Publisher Payment Methods
Paxum, you will need to have a Paxum account where we can transfer your earnings to.  For weekly or monthly payments your minimum earnings must be 20 EUR/USD
Cryptocurrency currently we support Cryptocurrency payments only through the ERC20 network and using USDC currency,  you will need to register your Crypto Wallet in your Admin Panel. Please note: We have some country restrictions in place with the Cryptocurrency in order to be compliant with anti-money laundering and screening regulations across geographies. This payment is not available if the user's account is from any of the following forbidden countries. For weekly or monthly payments your minimum earnings must be 20 EUR/USD
Wire transfer which is currently only available for monthly payments, minimum earnings must be 200 EUR/USD. If you don't have an IBAN, you can use the Account Number instead.
Forthcoming Publisher Payment Methods
ExoClick will be introducing Wire Transfers for Publishers as a weekly payment in the near future.
Current Advertiser Payment Methods
We work on a pre-payment basis only, and the minimum payment for all payment methods is 200 EUR/USD. Funds are added instantly to your account, except there will be a waiting period for Wire Transfers until the bank has cleared the payment.
Debit/Credit Card with Mastercard, Visa or AMEX. You can save your Credit/Debit card information in your Admin Panel for quick funding processing and the Card information is encrypted for your safety. You will find two funding options:
Card Auto Recharge

– This option will automatically top up your balance by the chosen amount when it falls below a set amount of units of currency (Dollars or Euros). Allowing you to keep campaigns running without the need to constantly return to the Admin Panel to deposit funds.

Card Manual Recharge

– Select an amount to top up your account by.
Please note that, if a saved card fails a transaction, the card will not be saved for the next purchase.
Paxum, you will need a Paxum account and you can select a funding amount from the drop-down menu in your Admin Panel
Wire Transfer, this method allows you to send us a notification that you have sent a Wire Transfer payment. Fill in Sender Name, Amount, and Currency. When you add the details, a proforma will be created for you. When the bank clears your funds, it will automatically be changed to an invoice.
Forthcoming Advertiser Payment Methods 
ExoClick will shortly be introducing Cryptocurrency as a new way to fund your account with.