ExoClick rolls out its Pre-Roll In-Stream video ad format and several platform updates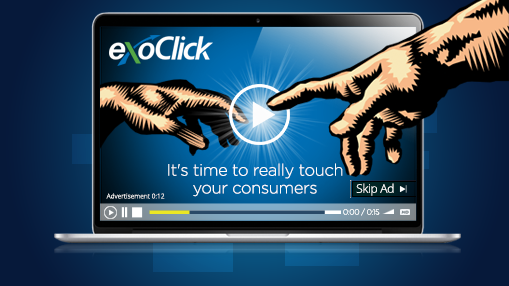 Barcelona, Spain. May 2, 2017: ExoClick, the innovative ad network, today announced that it has taken it's Pre-Roll In-Stream video format out of beta and it is now available across its entire network. Additionally, there is a major update to the company's Admin Panel (version 3.2.0.) which contains some useful new features.
ExoClick's Pre-Roll In-Stream video ad format is inserted at the beginning of existing video content on a publisher's site such as a movie scene or trailer. The video ad automatically plays when a user clicks to play the video content they decided to watch. The ad's content is customizable with clickable calls to action in order to encourage consumers to click through to the product or offer.
For publishers, the ad format places high quality, premium video ads on their site and they have further control over the video format by adding a timed 'skip this ad' button within the advertisement. The ad format works with all major video players and works seamlessly with ExoClick's free HTML video player Fluid Player.
There are two pricing models available for In-Stream ads: CPV (Cost-Per-View), the advertiser sets the cost which is triggered when 10 seconds of the video ad have been displayed to a visitor at normal speed, and CPC (Cost-Per-Click) where the cost is paid when a visitor clicks on the In-Stream ad. Frequency capping is available for effective retargeting and advertisers can access real time statistics.
New features available in the latest version of ExoClick's Admin Panel include:
The maximum number of IP ranges that can be targeted in a campaign has been increased to 1,000.
Advertisers can now search by zone type, such as "NTV A" or "footer", in step 4 of campaign creation.
New icons for products and labels blocking, for quick identification.
It is now possible to not only include specific targeting parameters, but to exclude them also, this is especially useful for larger parameters like languages or ISPs making it easier to select a few options to exclude rather than selecting all the parameters to keep.
Advertisers can now specifically target "Chinese – Traditional" and "Chinese – Simplified" language options which allows them to target more specific communities.
Benjamin Fonzé, founder and CEO of ExoClick commented, "This is a major update for Q2 to further help clients maximise their experience on the ExoClick platform. After several months of successful beta testing, we have finally launching the In-Stream ad format across our network. Publishers can now create in-stream ad zones, and are offered different integration methods, depending on their video player. We encourage publishers to use our own free and open-source HTML video player: Fluid Player."
ENDS
FOR FURTHER PRESS INFORMATION:
Giles Hirst
press@exoclick.com
www.exoclick.com
+34 931810272
ABOUT EXOCLICK
Launched in 2006 and based in Barcelona, Spain, ExoClick is an innovative global ad network serving 165+ billion geo-targeted ads a month to web and mobile advertiser/publisher platforms via its proprietary software.
Founded by current CEO Benjamin Fonzé, ExoClick is ranked as the 4th largest ad network in the world by W3Techs and the #1 ad network for the entertainment market. ExoClick has been ranked three times in the Deloitte Fast 500, it is ranked at 523 in the Financial Times 1000 Fastest Growing European Companies 2017 and it has been featured in the Inc. 5000 Europe list for 2015 and 2016. Other industry awards include the Ruban d'Honneur Award for The Business of the Year with a Turnover of €26-150m in the 2015/16 European Business Awards and the Company was ranked at number 11 in the Top 20 Best Workplaces in Spain in the category of companies with between 20-49 employees (PYMES).