ExoClick launches a set of brand new Google compliant ad formats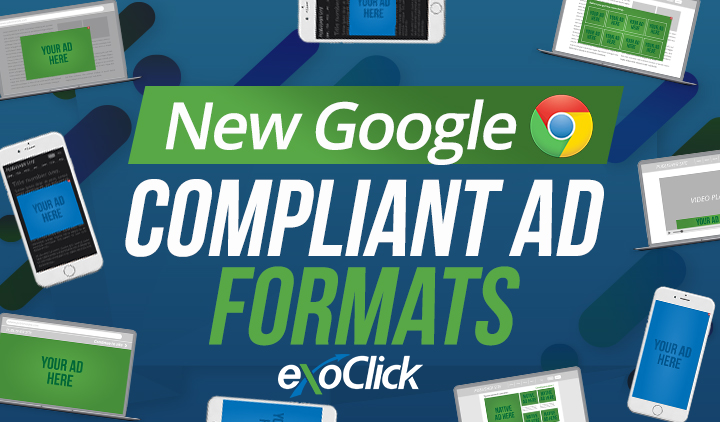 Barcelona, Spain. March 2, 2018: ExoClick, the innovative ad company, today announced that it has launched several new Google compliant ad formats.
Native advertising
12 months ago ExoClick launched its Native ad widget for display, now there are two additional formats available for this responsive ad format:
Native Interstitial – Overlays the page with contextually relevant ads, it appears as a smooth transition from the side of the page and the user can easily dismiss the format.
Native Exit – Triggers when the user moves the mouse outside the page as though the user is going to exit the site. The Exit format can be easily closed by the user.
Rich Media Billboard Banner
This new desktop 970×250 format sits on the top of the publisher site's page and it can be skipped by the user at any time.
Interstitials
ExoClick has created new Interstitial formats in both desktop and mobile specific versions:
Desktop Interstitial Full Page – Available as a poststitial, a full page interstitial appears with a top bar featuring the publisher site's name and a link enabling the user to go directly to the content on the publisher's site.
Desktop Interstitial Overlay – Available as a poststitial this 900×600 iframe is centred as an overlay and features a top right close button.
Mobile Full Page Interstitial – Filling the full screen and fully responsive, the Interstitial appears between page loads on a mobile site and can be skipped by the user at any time.
Mobile 300×250 Interstitial – This 300×250 Interstitial overlays the screen with a smooth transition from the side of the page and can be skipped by users at any time.
Additional and improved in-video ad formats
Now there are two additional in-video sizes 728×90 and 488×60. Both appear just like ads on YouTube within a publisher's video player. The formats are available as Pre-roll / Custom / Post-roll and On Pause.
ExoClick's CEO and founder Benjamin Fonzé commented, "With Google's new restrictions now in full force, we are committed to ensuring that our publishers have the best collection of ad formats available to them so that they can monetize their content while improving user experience. For advertisers we are offering an excellent, wide range of Google friendly ad formats to enable them to reach users and convert their offers. This is just the start, later in March we will providing even more 'user friendly' ad formats for clients on ExoClick's network."
ExoClick will be demonstrating its new ad formats at The European Summit in Cascais at a special presentation: 'Google's restrictions: How to maximise your revenues' Saturday March 3 at 2:00pm. Or visit ExoClick's business lounge 16 at the show for more details.
Visit our ad formats page for more information
ENDS
For further press information contact:
giles@exoclick.com
+34 931 810 272