Euro & Copa América: Sports Betting CTRs and tips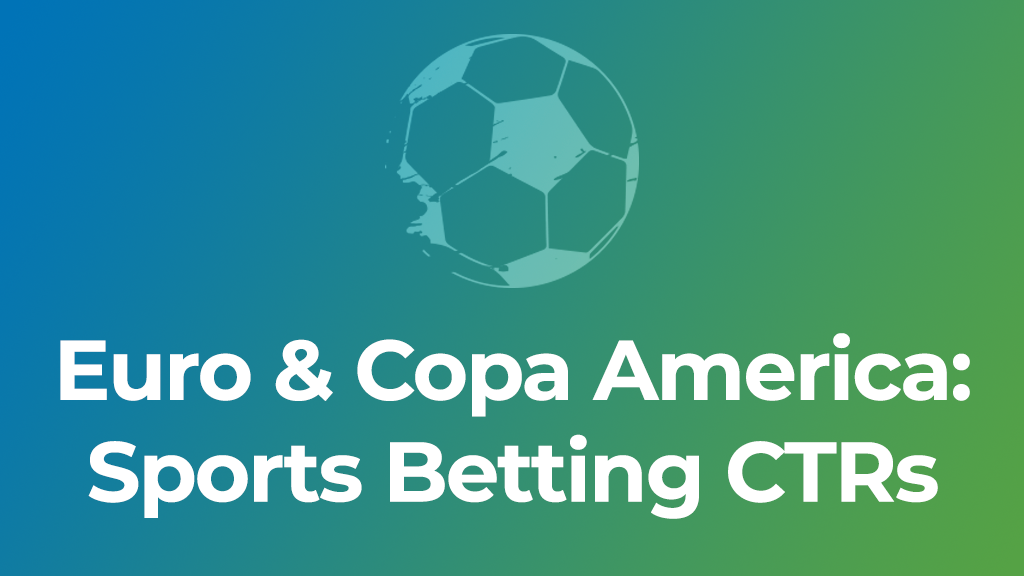 Football tournaments have kicked off, after 18 months of the pandemic, two of the worlds biggest will create a month of football frenzy, UEFA Euro 11 June – 11 July and Copa América 13 June – 10 July, making it the perfect time to promote your Sports Betting offers. This blog post is packed with tips to help you convert your campaigns score big!
Sports Betting CTRs
Our Business Intelligence looked at global CTRs across our network for the Sports Betting vertical. As you will be running campaigns during Euro and Copa America, you can expect these CTRs to increase as football fever grips the world.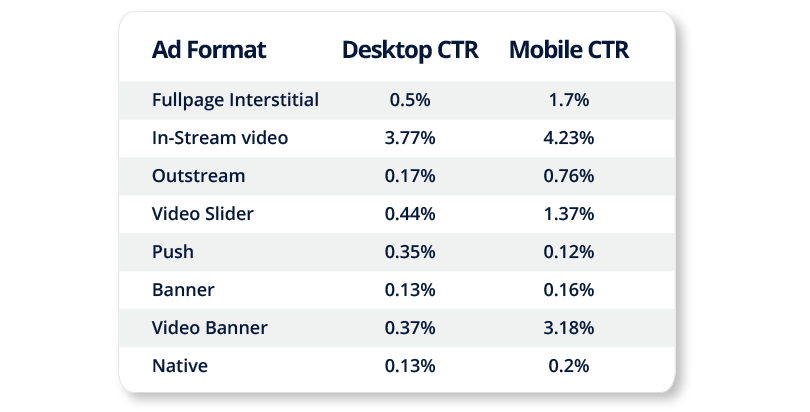 Tips to help you reach your goal
Use branding: Consumers trust a well known brand so if you are the product owner or affiliate make sure branding is prominent in your sports betting ad creative.
Football creatives: If you are targeting football fans, use a football creative. Football fans' ultimate high is the scoring of a goal, or the celebration that team members show when scoring. So base your creative around a win, that way the consumer will also see that their bet will be a win.
Don't just use static images: Use MP4 videos to take your end consumer there! They want to feel like they are in the action. You can use MP4s for the Fullpage Interstitial, video banners, In-stream, Outstream and Video Slider formats.
Texts: Use positive affirmations related to football for your sports betting campaigns, words like score, goal, win can be incorporated. For example if your creative features a striker scoring, use a text like "You too can score big winnings."
What are the odds? Let your consumer know what the potential reward will be if they place a bet on their favourite team, this will increase your CTR.
Promotions: Offer a special sports betting promotion for each tournament such as a cash back to make another bet, or a free bet.
Push notifications: This format is highly successful as you can send them to consumers just before a game to push the user to make their bet before they watch the match. They receive them on mobile even if they are not browsing the internet.
Use a combination of ad formats: Many advertisers use video advertising as part of a wider campaign which can also include using a mix of other formats including Banners and Native to promote your sports betting offers. To better track the results of how your video ad is performing let's look at Attribution. If you are using VAST video ads these metrics can be found out by using custom attribution, and the reason why it's useful is that you can see how video ads work as a support to your overall sales funnel, and from what we have seen, we estimate that this could be contributing to about 30% of your sales.
 Let's look at two scenarios:
What if a user saw your video ad and didn't click on it, but later remembered your product and did a type in search in Google – wouldn't it be good to know that this type in was because the user had previously seen your video ad? Simply add a new pixel conversion tracking goal on your video ad campaign to track the conversions without a click, typically coming for type in and Google search.

What if a user saw your entire video or a high percentage of it and didn't click, if you track video views with a pixel, you can create a retargeting campaign with Banner/Native ads for the same offer. This will help you to measure the increased conversion rate for users after having seen your video ad. Don't forget to attribute some value to the video ad campaign based on your attribution model.
For more information on using VAST and Custom Attribution, contact your account manager or our Customer Success team.
Landing pages: Keep it current, update it with match wins throughout the two football tournaments, that way your landing page will also become a source of news for the end user, driving them to keep coming back to visit your landing page, then feature strong CTAs to push them to make another bet.
Optimise: Use ExoClick's automation tools including the Bidder, Variations Optimisation tool and Landing page Optimisation tool