Advertisers! Here are 11 top tips for video advertising in India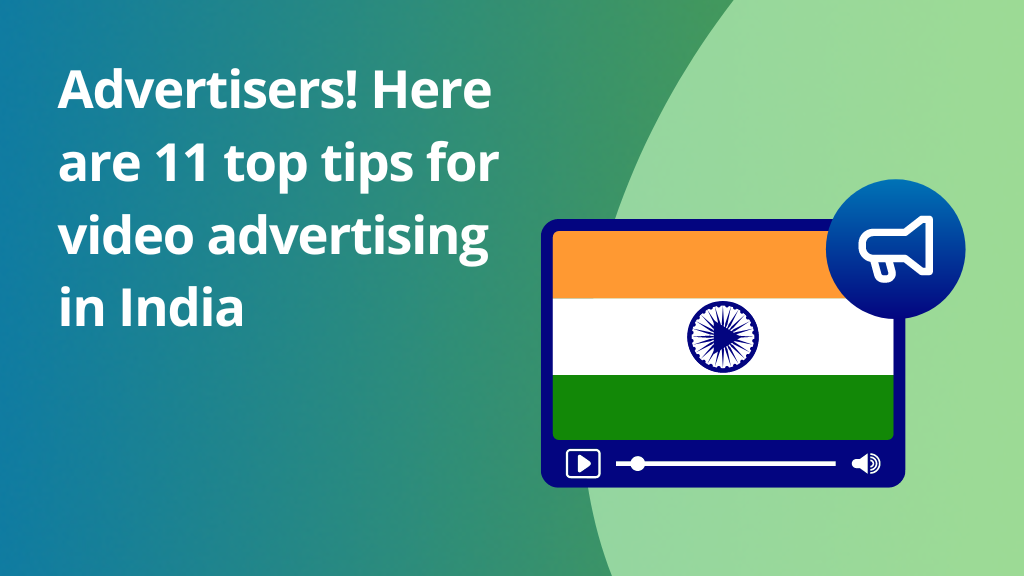 Advertisers! If you are not targeting India with your offers you are missing out on massive potential revenue volumes! With a population of around 1.37 billion people, it is one of the world's largest economies and it is growing fast. As of January 2022, and according to DataReportal, there were 658 million internet users in India, with a penetration rate of 47% of the total population at the start of 2022. This also ranks this country as second worldwide in terms of internet usage, behind China, and after the U.S. And one thing about this very large audience? They love video content, so if you are planning to promote video advertising in India, this is your time to shine!
According to Deloitte's 2022 Global TMT, India had 1.2 billion mobile subscribers in 2021, of which about 750 million were smartphone users, with the smartphone market being expected to reach 1 billion users by 2026. With India being a T3 country, a lot of people cannot necessarily afford to have a personal computer, so they access the internet via phone. These users love short form video content – There are currently many Indian video apps in the market that are more popular than TikTok and Instagram Reels. For this reason, video is a great format to promote your online offers in this country, across verticals. Let's break video advertising in India down!
What are the best verticals to target Indian audiences?
Video advertising in India (mainly Slider, Instream and Outstream video ads) is one of the most important conversion tools for your campaigns, because with video, you can tell a compelling and engaging story to your audience whilst giving a lot of information about your product or service. As we can see in the table below, Indian audiences love Live Streaming pages. Games and eCommerce ensue, followed by Dating, VOD, Nutra and Casino sites.
Video advertising in India: The rise of online entertainment 
With the rise of streaming services and social media, online entertainment is fast becoming extremely popular in India. As of 2023, people in India prefer to enjoy their favorite series and films online, as well as playing their preferred video games. The main reason for this is the rise of digitalization and new and improved technologies arriving in India. Another reason is that online entertainment can be more economically affordable, making it more available to this T3 Country's end users.
Live Streaming and VoD: When it comes to Live streaming, this vertical has also become widely popular in India, as a way to access popular shows, and engage with famous influencers online. Aside from the mainstream popular platforms worldwide, such as Netflix, Amazon Prime and similar, India has got their own streaming and VoD platforms such as VOOT, Hotstar and similar.
Online Gaming and Casino Games: Online Gaming is another vertical that has grown hugely globally in the last few years: Most video games are compatible with online play, allowing people to play with other end users across the world. This is especially true in India, with some of the biggest gaming companies worldwide opening offices in the country. This applies not only to mainstream video games, but also to Online Casino and Gambling sites: Indians love the thrill of gambling, as well as the chance to win some extra cash! So much so that, even though online gambling companies can't operate in the country, Indian players sign up to offshore sites.
Nutra and eCommerce: According to The Times of India, the nutra industry growth in India pushed to 22% from 10% last year, with a scope of growth at 20% per annum till 2030. And as we can see in this Nutra Video advertising case study which targeted India, video advertising in India is high converting for this vertical. Likewise, according to eCommerceDB, eCommerce revenue in India is expected to show a compound annual growth rate (CAGR 2023-2027) of 13.9%, resulting in a projected market volume of US$119,967.0 million by 2027. So both verticals are great to promote.
Dating: This is another vertical which is extremely popular in India, with revenue expected to reach US$70.84m in 2023. This is because more and more young Indian users, even in small towns, are starting to rely on dating apps to find love, choosing video calls over in-person dating to get to know each other, to also meet potential partners around the country, and the world. Video is a very popular format in the Dating vertical because through a video you can show your users potential daters interact and introduce themselves in a more dynamic and 'alive' way than on a still image.
What are the most popular video formats?
Different formats work for different verticals, as we can see below. In-stream seems to be a very popular format across the board, but for instance, as we can see, Slider is quite popular on mobile for the Live Streaming vertical, and in Slider Desktop for Dating. Want to learn more about ExoClick's video formats and how to use them to optimize your campaigns? Read our blog post about The Fundamentals of Video Ad Campaigns.
Devices and carriers: What to use?
India is one of the top 16 countries to spend the most time on their phones, as mentioned above, because a lot of people in India do not have their own personal computers, so they connect to the internet via phone. According to App Annie Intelligence, people in India spend an average of 3 hours on the phone.
It is a similar case when we talk about their internet contracts: As we can see below, desktop users orbitate towards WIFI. However, Mobile users, which as we now know, are a vast majority of users in India, prefer carrier billing, since not everyone in India has got credit cards, and they prefer pay as you go.
Tips for video advertising in India
Tip! Target Android Devices: According to Statista, in 2022, 95.26% of Indian mobile users preferred to use Android. This was followed by Apple's iOS, with 3.92% market share. So it makes sense to target Android devices, as well as testing out WiFi and 3G targeting also, since many Indians pay for subscriptions and products through Carrier billing.
Tip! Short content over long content: Indian consumers love short video apps! In June 2020 India banned TikTok, which led to many new homegrown Indian TikTok copycat apps. The three top apps are MX TakaTak with 195 million downloads, Moj with 192 million downloads and Josh with 166.6 million downloads. The Indian audience is really open to short videos, so make your video ads in a TikTok content style. You don't need to create video ads with high production values, your ads can be shot and edited using a mobile phone. Try to keep the videos entertaining or informative to capture audience interest.
Tip! Use ExoClick's Video ad making service: If you are already an ExoClick client, you can use our Video Making Service for free, where we will create a video ad for you to use for our In-Stream, Outstream and Video Slider ad formats. We even offer Hindu language video voice overs for the video ads! There's no minimum spending commitment! Contact your account manager of our Client Care Team to learn more.
Tip! Speak the right language: There are over 22 official languages in India, with the top ones being Hindi, Bengali, English, Telugu, and Marathi – Make sure to use the regional language of the location you are targeting on your ad creatives and texts! You can use ExoClick's regional targeting tools, such as language keywords.
Tip! Mini Interviews for Dating: There are around 31 million Indian users on dating apps, which makes India the second-largest market for dating apps. As an idea, you could create mini video interviews with 3 or 4 singles. You could ask each dater the same question such as "Why should I date you?" let each one answer then ask the viewer, "Which one would you choose?"
Tip! Tap into Bollywood: Targeting VoD or Games? Bollywood films are incredibly popular in India and worldwide, being watched by 3 billion people yearly – second to Hollywood films, being the most prolific film industry in terms of viewers. They tend to be action packed films with spectacular choreos and colorful outfits that offer a very compelling visual element. Actors and actresses of the genre are idolized and loved by the audiences, so if your game or VoD offer has any Bollywood elements to it, make sure to reference in some ways the actors and actresses, the colors, and its musical aspects.
TIP! Create separate campaigns for each video ad format and device because key metrics and performance between In-Stream, Slider and Outstream formats are completely different and View Ratio, CTR, eCPC and eCPM vary a lot between Mobile and Desktop devices. It is very important to test your video campaigns for at least a week, you need this testing period to gather enough data to then begin optimizing.
Tip! Use the Video CTA feature: Using a good CTA on your video can seriously increase CTRs, pushing the audience to make the final decision, since now they know what they are expected to do with your video! Read this CTA Video advertising case study to see one of our advertisers' results!
Tip! Use The Bidder: Optimize your campaigns using The Bidder, ExoClick's bidding automation tool, which allows you to automate the optimization of your campaigns by adjusting your bids by ad zone and blocking non-converting ad zones. Read our guide on The Bidder here.
TIP! Use Conversion Tracking: Conversion tracking is an essential part of advertising. By doing conversion tracking, you will be able to see how many sales, leads or installs you are getting from these campaigns and get an accurate picture of the profitability from the traffic. This tool is specifically useful when used along with The Bidder.
TIP! Use Variation Optimization: If you are running CPM campaigns, you can enable Variation Optimization so as to send the majority of traffic to the variation that generates the most conversions to increase the user engagement and improve your exposure. Learn about our Variation Optimization algorithms here.
TIP! Use Landing Page Optimizations: Use our Landing Page algorithms so that the best performing landing page gets the most traffic. Remember that native ads, especially within the dating genre, call for editorial style landings pages, blog style, tips and tricks, etc. To make sure that you are catering to your specific audience, test out different landing styles to see what works best. Learn more here.
Do you have any questions about using the Video format to target India with your offers with ExoClick? Get in touch now!