Video slider advertiser tips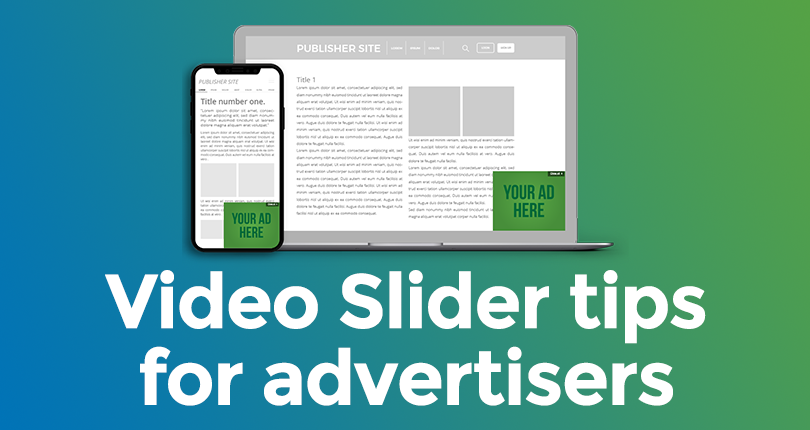 Our culture is driven by the fast consumption of short video content and consumers have become totally accustomed to seeing videos on all their devices from various sources. Hence we have the Video Slider ad format! The Video Slider is a pretty compelling ad format, because it slides in from the bottom right of the page, giving you plenty of eyeball time from potential buyers of the offer you are promoting.
Video Slider advertising tips
Great content – Here is where you can really tell a story and hook the user compared to a simple banner ad. Keep the message tight and offer entertainment value to end users so that they enjoy your ad. Be creative because original content will help you generate better quality leads.
Keep it high quality – Consumers are now exposed to so much video advertising on a daily basis that they have become adept at recognizing when a video is of poor quality and this reflects badly on the product offer or brand, so always ensure you create high-quality content.
Keep it short – The length of the video needs to be a minimum of 15 seconds. Short videos are great for engaging Millennial buyers, whose short attention spans have been shaped by the internet for most of their lives.  So it is imperative to convey the message quickly, incorporate strong calls to action early on in your video and create content that encourages viewers to watch the video ad in its entirety.
Sound advice – Keep in mind that your video ad should be able to connect with the viewer without the aid of sound. Many people browse on silent mode. So incorporate subtitles or texts into your video creative to get your message across.
Be responsive – Ensure that the video ad is set at the correct screen resolutions as required by the ad network to ensure the ad shows well across all devices.
Copyright – Make sure you own the copyright or you are officially authorized to use all the content featured in the video.
Targeting – Use behavioural retargeting to tell your story in parts, for example, your first video could be a basic explanation. If the consumer clicks on your first ad, he has already shown an interest in your offer, so you could retarget the user with a second video explaining a key product feature in more detail, etc.
Statistics and tracking – Use an ad network that gives a good range of statistics. ExoClick offers real time statistics on CPV, CPM & CPC. Ensure that pixel tracking is implemented in order to see where conversions are coming from. This is important because users could have seen your ad, then later type in your offer into a search engine rather than clicking on your ad. With tracking implemented you can keep a track of your potential customers.