Top 5 HTML video players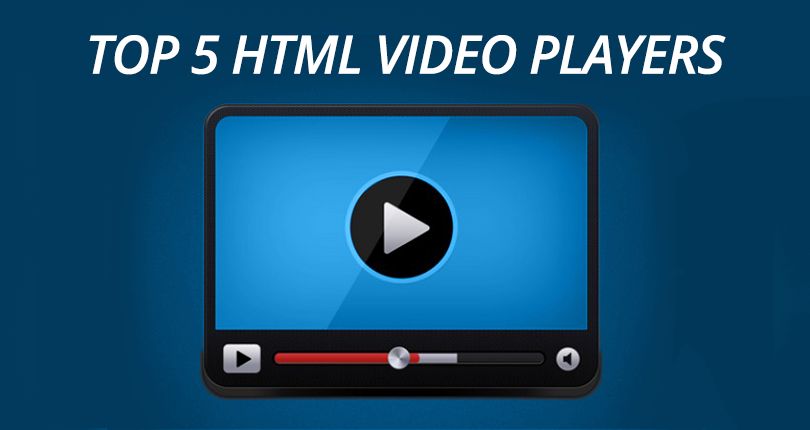 Online video advertising is one of the biggest growth areas in digital advertising, check out the statistics:
'Understanding the Expanding Benefits of Marketing with Video' by Aberdeen Group:
Video marketers get 66% more qualified leads per year.
Video marketers achieve a 54% increase in brand awareness.
Wyzowl's '2017 State of Video Marketing Survey':
83% of those using video think it gives them a good ROI
84% of consumers have bought something after watching a video.
97% of businesses using explainer videos say it helps consumers understand their product better.
Among those surveyed, 81% saw an increase in sales and 53% said support calls were reduced.
90% of consumers watch videos on their mobile devices.
Cisco white paper:
By 2020 82% of all consumer web traffic will be video.
Another factor driving video advertising are Google's recent online advertising regulations. In-stream video advertising is totally Google compliant and with Chrome having the biggest browser market share, it makes sense to start to exploit this format.
In-stream video ad format
In order to integrate video advertising on your publisher site you need to use an ad network that supports video advertising. ExoClick has the in-stream video format that can be placed before your video content plays (pre-roll), within the video (mid-roll and custom) or after the video has played (post-roll.)  The format works with all major video players and automatically plays when a user clicks on a website's video content. It is customisable with clickable calls to action. Publishers can monetise this ad format with CPM or CPV and it has a very high conversion rate for advertisers.
So all you need now is a great HTLM5 video player to incorporate video advertising onto your site. Here we bring you 5 of the best video players, all are fully responsive so they work across all devices.
Fluid Player V2
Recently upgraded to version 2, Fluid Player is easy to fully customise so it fits into the look and feel of your site. Features lots of keyboard shortcuts e.g. space bar control for 'pause video', can be disabled, etc. Timeline seeking allows for better control when searching through a video. You get configurable Skip Ad & CTA buttons and the player is VAST compatible. It comes with excellent documentation and lots of integration options.
Ad support:
Integrates with any ad network, ad exchange or video ad server
Shows pre, mid and post-roll in-stream video ads
Custom HTML banner when the video is on pause, ad text message in the top right corner of the video screen
VAST non-linear banner overlay support which works like an in-video ad allowing insertion of an image (gif/jpeg/png) during video playback
Highlight: Supports multiple resolutions: 480p, 720p, 1080p
Price: Free, open source on GitHub
Get it here
JW Player
JW Player supports almost any widely used video format and delivers high quality video with little to no buffering. JW Player mobile SDKs make it easy to add JW Player to your mobile app and start displaying high resolution video content and advertising. JW Player supports custom HTML/CSS skins, as well as custom JavaScript to control its appearance and user experience.
Ad support:
Supports popular ad platforms like Google IMA, as well as a variety of other networks. It's also possible to use JW Ads, an integrated advertising solution, to integrate with almost any ad network, server or exchange.
Lowlight: Adult content can't be monetised with JW Player
Price: To monetise your video content you will have to purchase the Enterprise version so contact JW Player for a custom price.
Get it here
HTML5 Responsive Video Player & Advertising
This player is customisable via CSS, so you can easily integrate it with colours into your site. It is resizeable so it fits perfectly in any website design. Compatible with all browsers and mobile friendly (iPhone, iPad, android.)
Ad support:
Supports pre-roll in-stream ads and also pop up ads at any time during video playback.
Highlight: Optional share menu for Facebook, Twitter, Myspace, WordPress, Linkedin, Flickr, Blogger, Delicious, email
Price: License $25
Get it here
Video.js
Video.js supports all standard HTML5 video formats; browser specific compatibility can vary based on the browser, device and version. Custom skins are supported via HTML and CSS and since it's an open source application, it can require some tinkering and customization before it works well.
Ad support:
Pre-roll in-stream video ads
Highlight: Open source
Lowlight: Video.js only includes the bare necessities so you will have to find third party plug ins for added support of features.
Price: Free
Get it here
Radiant Media Player
Radiant Media Player is a video player for desktop and mobile. The player's API integrates HTML streaming services into applications. Methods include play, pause, stop, mute, set volume, resize, show captions, and toggle full screen.
Ad support:
Desktop & mobile HTML5 video & audio ads
Highlight: Supports 360 video
Price: From $60 a month for 1 domain
Get it here