The ExoClick Customer Success Team: Your 24/7 Partner for Success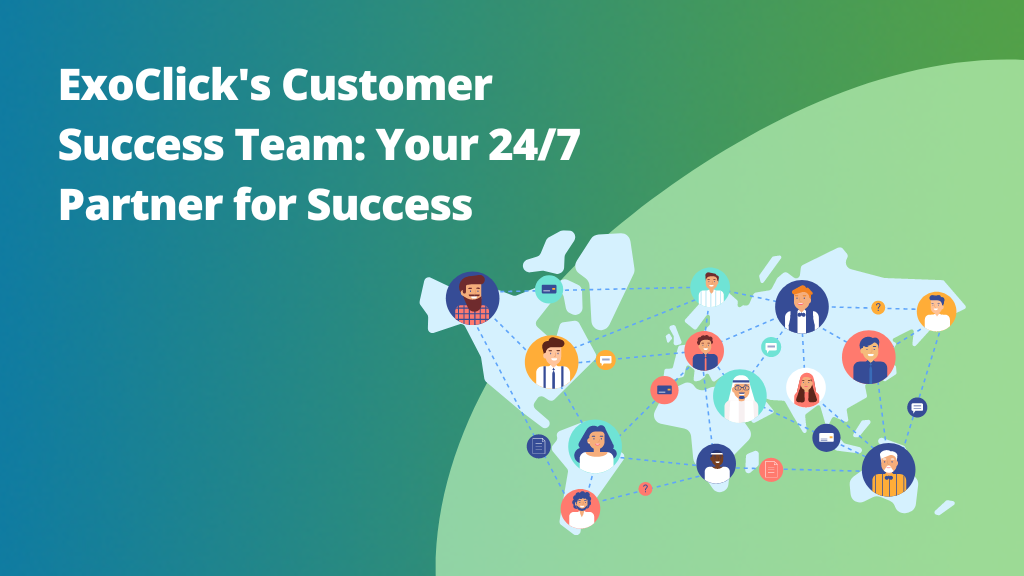 If you are an ExoClick client, you have most likely gotten in touch with the ExoClick Customer Success Team – In the ever-evolving landscape of digital advertising and publishing, having a reliable partner to guide you through the intricacies of the industry is invaluable. ExoClick, a prominent player in the online advertising world, has been providing exemplary 24/7 customer service and dedicated ad tech support since 2013 through its dedicated Customer Success Team. Over the years, this team has turned into a powerhouse of expertise, offering personalized, round-the-clock assistance to customers worldwide. Let's dive deeper into what sets the ExoClick's Customer Success Team apart!
Meet the ExoClick Customer Success Team: Who are we?
An ad network with dedicated customer and tech support is key for success and as the Customer Success Team, we are the vanguard of ExoClick and we provide 24 hours multilingual assistance. Our mission statement is: "Your success is our commitment. We DO care!". Our knowledge ranges from campaign or ad zone set up & optimization to technical support, while our main purpose is to provide excellent and personalized assistance and ad tech support to both publishers and advertisers. The team is organized in two distinct sections:
Customer Success Managers 
Our duty is to make sure that our customers have all of their questions answered as efficiently as possible and you can reach us through live chat and also email. We work closely with the Sales, Marketing, Finance, Compliance and Technical teams to cover all bases and in order to help you with whatever you need, whenever you need it, offering in-depth expertise at all times. Here are our main duties:
#1 Contact our new clients to guide them through the process of setting up their accounts.
#2 Help our clients on scaling up their account activities and getting better results.
#3 Provide assistance with technical issues or implementation measures.
#4 Create awareness regarding the new features and changes in our platform.
#5 Collect feedback and forward it to the relevant departments in order to improve our platform and the services
Ad tech Support Specialists 
The Technical Support Team's duty is to be the bridge between the ExoClick software provider and the customers using the platform. Although we are mainly focused on helping out our customers, we also provide guidance and support within the other ExoClick teams. Here are our main duties:
#1 Guide and provide support to any technical issue to Sales, CS and ExoClick's clients.
#2 Understanding of product lines and roadmap (business & technical).
#3 Knowledge of the ad platform, procedures and implementation.
#4 Internal training sessions.
#5 Liaise with developers and product managers to prioritize, assign, solve or escalate tickets created on Jira.
#6 Provide visibility about the most important issues.
#7 Develop internal Dashboards helping other departments to achieve their goals.
#8 Participate in the creation of Marketing and external educational material Blog – ExoClick
#9 Maintain and improve ExoClick Documentation
What sets us apart from the average Customer Success Team?
ExoClick is an innovative ad network with dedicated customer and tech support – As the ExoClick Customer Success Team we have strong values all oriented towards giving the best possible bespoke service and support to our customers, that is always ahead of current tech innovations and trends within the sector. Here's what our focus, services and evolutive journey looks like:
Evolution and expertise: Always an ad platform with 24 hours multilingual assistance since the very beginning, ExoClick's journey began with a Customer Service team that promptly addressed customer requests. However, the team's evolution has been nothing short of remarkable. Today, the Customer Success Team comprises Customer Success Managers and Ad Tech Support Specialists who possess extensive knowledge across various facets of the industry.
Comprehensive support: ExoClick's commitment to its customers is evident in its 24/7 support in English, ensuring that help is always just a message away. What truly distinguishes this team is its vast expertise in both advertising and publishing, making it a valuable resource for customers regardless of their position in the industry. The ability to offer native assistance in Chinese, Russian, and Spanish further underscores ExoClick's dedication to providing tailored support to a global clientele.
Personalized assistance: Understanding that every customer is unique, ExoClick's Customer Success team tailors its assistance to suit each customer's profile. Whether you're an advertiser or publisher, whether you want to scale up your account activity or clarify payment and technical matters, the team is ready to provide expert guidance.
Monitoring and engagement: The team goes above and beyond by actively monitoring accounts and activities, ensuring that customers are kept in the loop regarding their performance. Furthermore, ExoClick's commitment extends to offering email and live chat assistance, making communication easy and efficient.
Innovative solutions: ExoClick's Customer Success Team doesn't stop at providing support; they actively engage in feature suggestions and implementations. This proactive approach ensures that customers have access to the latest advancements and solutions in the industry.
What are the key strengths of the ExoClick Customer Success Team?
Behind our exceptional services and evolution lay the core strengths of the Customer Success Team:
#1 Multicultural team: A diverse team that understands the nuances of different markets.
#2 Adaptability and flexibility: The team can quickly adjust to evolving industry trends.
#3 Continuous training: Regular training keeps the team updated on technical, sales, and market developments, ensuring top-notch assistance.
#4 Commitment: A dedication to going the extra mile for customers.
#5 Transparency: Open and honest communication at all times.
#6 Highly professional: A team of experts who conduct themselves with utmost professionalism.
#7 Detail oriented: Meticulous attention to detail for a thorough understanding of customer needs.
#8 Proactiveness: Anticipating customer requirements and taking action in advance.
#9 Empathy and customer-focused approach: A genuine concern for customer success.
#10 Problem solving: Adapt at finding innovative solutions to challenges.
What do our customers say about us? Become an ExoClick client!
When thinking of joining an ad platform to advertise your online business, it is key to look for an ad network with great Google ratings, especially when it comes to customer success! ExoClick's Customer Success Team is not just a support service but rather a strategic partner on your journey to success in the online advertising and publishing arena. Whether you are an advertiser or a publisher, whether you have inquiries or feedback, ExoClick's dedicated team is available 24/7 to assist you. Their passion for customer success is palpable, making them the go-to resource for all your needs. This is what our customers say about us, as an innovative ad network with dedicated customer and tech support:


So as you can see, ExoClick is an innovative ad network with great Google ratings. If you're ready to work with ExoClick, one of the best ad platforms with 24 hours multilingual assistance, or have any questions about your account, scaling up your activity, or any other aspect, don't hesitate to contact our Customer Success Managers anytime, day or night. Your success is our priority. Or maybe you are thinking of joining our Customer Success Team as one of our specialists? Join one of the top tech companies in Barcelona!