PR: ExoClick launches its free 'Admin Panel Android App' with Big Data tools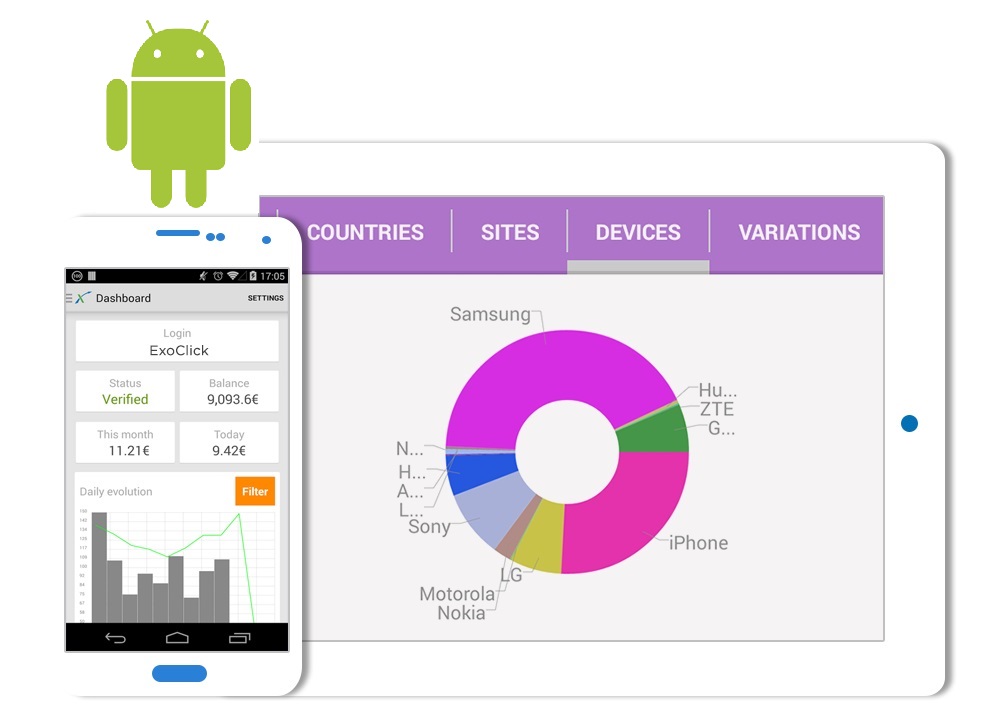 Barcelona, Spain. 30 October 2014: ExoClick, the innovative ad network, today announced that it has launched an ExoClick Admin Panel app specifically developed for Android devices available now on Google Play.
Further to ExoClick's recent launch of their Version 3 Admin Panel, the company has now incorporated Big Data analysis tools in a free Android app which allows advertisers and publishers to access their accounts and view a selection of data from their android devices. After installation of the app clients can log into their account using their username and password and select either advertiser or publisher options; Once logged in, clients can check their account balance, how much they have spent or earned in various time periods along with several sophisticated data analysis tools for campaigns and publisher channels.
The advertisers dashboard page allows clients to view the daily evolution of their campaigns in bar graph format to which they can apply various filters. Filter options include time period, budget, clicks, impressions, CTR, eCPA & goals. There is also an overview of their budget spend over a 6 month time line.
The campaign page gives advertisers access to all of their campaigns enabling them to start and pause them directly from within the app and view conversion data in pie chart format covering several variables including Dates, Hours, Countries, Sites, Devices, Variations, OS, Browsers, Categories, Carriers and Languages.
The publishers dashboard shows if their status is active, how much revenue they have generated today, this month and a comparison with last month's revenue results. The app also offers the publisher an earnings forecast for the current month. Additionally a graph details earnings for the past 6 months, showing the financial evolution of their ad space offerings.
The statistics page allows publishers to see the traffic performance of their web/mobile channels and ad spots. The results can be filtered by Dates, Hours, Countries, Sites, Devices, Variations, OS, Browsers, Categories, Carriers and Languages and viewed in pie chart formats. Publishers can see where their traffic sources are coming from and how their ad zones are performing.
Both advertisers and publishers can access the payment page which shows detailed account information including each dated transaction, payment type, transaction amount and a running account balance.
Benjamin Fonzé, CEO & founder of ExoClick commented, "We have invested tech resources into the development of this application to work in unison with our Version 3 Admin panel update. Now our clients can access their accounts from wherever they are 24/7 from their android devices enabling them to react quickly to incoming data and analyse that data by various segments to increase their ROI. Our in-house development team is currently working on a iOS version of the app."
See how the Android App works here.
Download the ExoClick Admin Panel Android app here.
ENDS
FOR FURTHER PRESS INFORMATION:
Giles Hirst
press@exoclick.com
+34 931810272