Members Area Menu Tabs 101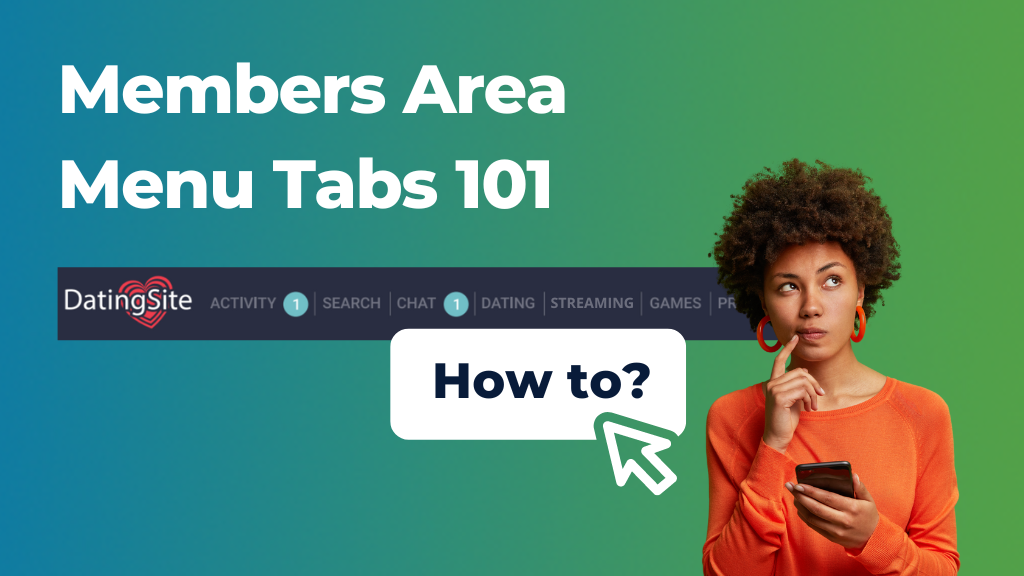 Members Area traffic is a high quality dating traffic source. It consists of members of dating sites who are active users that have gone through a signup process to become a member of a website. 67% of Members Area traffic is from English speaking and tier 1 European countries.
One of the best ways to convert any offer with dating site members is by targeting the Menu Tabs. These appear within the Menu section of said site and are actually Direct Links.
Here is an example of a site's Menu Tabs:

The Activity, Search, Chat and Profile Tabs belong to the website and help the dating site member navigate around the dating sites features. The Menu Tabs Dating, Streaming and Games are Direct Links that the website offers advertisers the opportunity to bid on. So if the member clicks on the Dating tab he will be taken to the landing page of an advertisers Dating offer, if he clicks on the Streaming tab he will be taken to a Streaming site and if he clicks on the Games Tab, he will be taken to the landing page of an advertisers online Games offer.
Members Area Menu Tabs are premium quality traffic sources, with each Menu Tab handpicked and verified by ExoClick account managers to ensure the best quality. Our network Menu Tabs are available for bidding on CPC or on flat/monthly Traffic Share deals and are available on Members Area sites as mentioned, but also Premium and RON free content sites on ExoClick's network.
There are two ways to target Menu Tab ad zones for your offer: setting up Bidding Campaigns to try to win the Menu Tab, or arranging a Traffic Share deal for a specific Menu Tab, which guarantees you the Tabs traffic for a set volume/period of time. As an advertiser, you might be asking yourself which method is better? A Traffic Share deal or a Bidding Campaign? Both have different advantages depending on your needs as an advertiser.
Members Area Menu Tabs: Bidding Campaigns 
All Tabs on our network are labeled with a contextual vertical to allow only one product category to match the Tab's labeled text to an advertiser's offer, for example Tab Dating only allows dating advertising offers. This way advertisers can create bidding campaigns on Tabs for only dating traffic and can be assured that they will receive traffic only from tabs matching their product category. In the admin panel under marketplace select Ad Format > Direct Link and Ad Placement > Tab (Vertical). In the example below we have selected Tab Dating.

Our platform offers the following different Tab selections:
Tab Dating
Tab eCommerce
Tab Gaming
Tab Streaming
Tab Nutra
Tab VOD
Advantages of Bidding Campaigns for Members Area Menu Tabs
Optimization opportunities: Whereas a Traffic Share of this dating traffic is a set price for volumes of a specific Tab, bidding on Tabs allows you to target many different Tabs at the same time. Bidding brings many opportunities for bidding optimization including using the Bidder, using Smart CPM/CPC, budget control, and setting bidding limits and rules. In addition, ExoClick has free optimization algorithms for landing and variation testing. In turn, on bidding we can use the Smart CPC model. Smart CPC works in a similar way to the existing Smart CPM option. Users will set the maximum CPC they are willing to pay, and the system will determine the cost based on the minimum price and the top CPC that is running in the target. All these factors affect the final ROI.
Your budget is flexible: You have full control over your spend for Menu tabs, using the Bidder you can automate bidding for that zone to ensure that you can pause the campaign if it is underperforming for the tab, or you can compete for the tab to ensure you win it.
More testing capabilities: Bidding allows you the freedom to test many different dating tabs to see which ones convert best for your offer.
Pre-test to find the right formula: Once you have tested several Menu Tabs, then you can launch full campaigns targeting the best performing Tabs. You could continue using bidding or you could purchase a Traffic Share for the best performing ones as you know that source is working for your offer. My advice is to use Bidding before securing a Traffic Share campaign to test the performance and find the right price, landing page for this type of traffic. Especially on Tabs, where you have limited ways to optimize.
Menu Tabs: Traffic Share 
Traffic Share deals for this dating traffic are used to sell a fixed percentage of the Menu Tabs traffic, generally between 10%-100% of an ad spot, the traffic share can also be for specific GEOs, so if you have an offer targeting UK traffic, then you can purchase a deal for a set percentage of the UK traffic for a set period of time. Think of Traffic Shares as renting the Tab for a fixed period of time, at a fixed price and volume. Traffic Shares can be arranged by your account manager or a Customer Success specialist here.
Advantages of Traffic Share Campaigns for Menu Tabs
You are guaranteed Premium traffic: Members Area Menu Tabs are high quality traffic sources which you will get access to for the length of the traffic share deal.
Your budget is fixed: Once the deal price is agreed for the Tabs traffic you will not overspend your budget or pay competing prices to out bid other advertisers to win the ad zone, because you have it at a fixed price.
Exclusivity of the Menu Tab: You own the Tab for the length of time and GEOs you have purchased with the deal, therefore you are guaranteed a fixed volume of traffic. A bidding campaign cannot always guarantee a stable volume and price.
Excellent way to test traffic: As you are receiving all of the traffic from the Menu Tab this is an excellent way to test the traffic's performance because it is stable. For example, if you purchase a site's Dating Menu Tab and it converts well for your offer, then you can use the same ad zone for future Dating offers and have realistic expectations of the traffic's performance.
Less optimization: Traffic Shares have less optimization opportunities because once you have purchased the traffic percentage volume, device and GEO,  that is set, however, this frees up your time to spend on A/B test different landing pages to help with getting conversions.
Pre-test to find the right formula: Traffic share is the right way to buy traffic once you have run a test campaign with different landing pages. Once you have the right combination of pre landers, or landers and the best converting landing page creative, you can then launch the full traffic share campaign, knowing that you have the best creatives fully tested for your offer.
Conclusions
There are advantages to both methods, it depends on your needs. For example: do you want a set budget? Then use Traffic Share. Do you want to test multiple Menu Tabs instead? Then use Bidding. The perfect solution is to test with Bidding and then Traffic Share for the best performing tabs, and once you have found ad zones that are working you can then scale up by buying Traffic Share deals for those specific ad zones, until they stop converting for your offer. The results obtained for both kinds of campaigns depend on targeting and optimization. Сheck with your account manager that there is enough traffic in the selected zone for bidding and ask for the Traffic Share offer – Remember that the MA tab is extremely popular and in high demand!
Do you want more information on Bidding and Traffic Share for Menu Tabs for dating traffic? Get in touch with Customer Success or contact your Account Manager!