Make more revenues with less ad formats!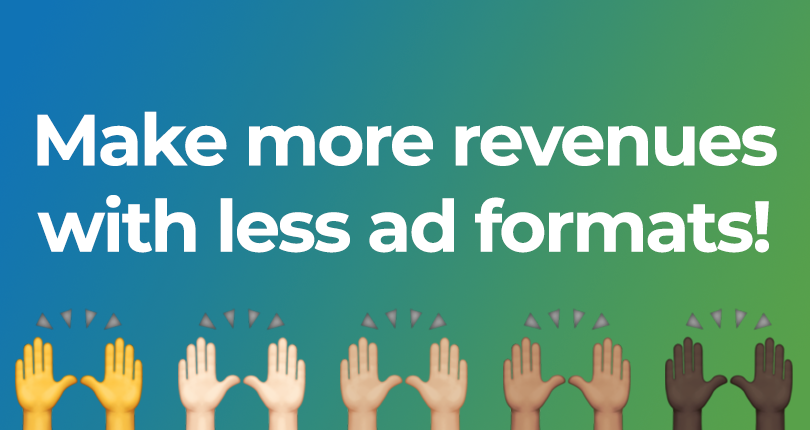 Make more revenues with less ad formats? How is that possible? Well, we have streamlined our banner ad formats by discontinuing some sizes, let's look at what has changed and explain the advantages.
Mobile Interstitial
We have removed the smaller 300×250 Mobile Interstitial. To target mobile users you can use the much larger Mobile Fullpage Interstitial. For publishers this format is much more flexible and features various triggering options and different combinations, read our blog post Publishers! Try our Mobile Fullpage Interstitial & Popunder combinations. Comparing the two mobile interstitials the Fullpage Interstitial generates a +303% higher average eCPM so it makes sense to switch to this larger format. For advertisers the CTR is +94% higher at 3.79% compared with 1.95% for the discontinued 300×250 Mobile Interstitial. Having a fullpage ad format allows advertisers the extra space to create compelling creatives for their offers. Plus the Mobile Fullpage Interstitial is fully compliant with Google and The Better Ads Coalition because it features a 'Close ad' function at the top right hand corner of the ad.
In-video banners
We have removed the 468 x 60 in-video banner and now we offer two in-video banner sizes: 300×250 and 728×90. Additionally, as the majority of publishers have transitioned to the industry standard VAST format, we have removed JavaScript in-video banners. Just to check on those all important CTRs, VAST banners have a +411% higher average CTR at 4.4% compared to the discontinued JavaScript banner average at 0.86% CTR. If publishers still don't have a VAST compatible player we recommend using Fluid Player.
Display banners
These banner sizes, have been disabled:
120 x 600

250 x 250
300 x 50
315 x 300
Billboard Banner (970 x 250)
Which leaves the following banner sizes remaining:
300×100 mobile

300×250
160×600
900×250 large footer banner used as an alternative to the standard three 300×250 banners.
All banners are available as display or sticky banners.
We suggest that both Publishers and Advertisers replace the deprecated banners with the following suggestions in this table:
Better revenue potential
Our Business Intelligence team looked at the 300×100 mobile banner and found that it generates an eCPM 1200% higher than the 300×50 banner, and for advertisers, the CTR has a significant increase from 0.17% for the discontinued 300×50 to 0.27% for the 300×100, that's a jump of +59%.
Similarly the 300×250 desktop banner generates an average higher eCPM of +167. compared to the discontinued 315×300 and the CTR is significantly higher for advertisers at +140%, the 300×250 also generates a +118% higher CTR at 0.27% compared to the 0.12% generated by the discontinued 250×250.
More Publisher advantages
Improved user experience:

Having fewer different banner sizes on your site is better for user experience and will give your site a more sophisticated look and feel. For example, mobile users will know what banner size to expect on your site, uniformed sized advertising banners will make the user journey much slicker and easier to navigate on the small screen.

Easier ad zone control: With less banner sizes it becomes much easier for you to monitor, control and optimise your ad zones.
Industry aligned: All the remaining banner sizes on our network are IAB recommended as the industry standard sizes.
More Advertiser advantages
More standardised sizes for your creatives:

This means less design work and concepts to create for many different banner sizes.

Create more compelling ads: You can really focus on designing an ad that maximises the banner space and will have consistency across all the ad zones you win.
Quicker campaign set up: Easier and faster to set up campaigns with less banner sizes.
Get a better CTR for your offer: Many different size banners on a publishers site can annoy and confuse the end user, by standardising the banner sizes the end user will not avoid ads but click on ads that appeal to him.
Finally…
All current campaigns and ad zones will remain active for the discontinued ad format sizes but publishers won't be able to create new zones and advertisers won't be able to create new campaigns or edit existing ones. So as there will be less and less demand for the discontinued ad formats we recommend that you phase them out as soon as possible.