How to convert your eCommerce offers in China on Singles' Day with Banners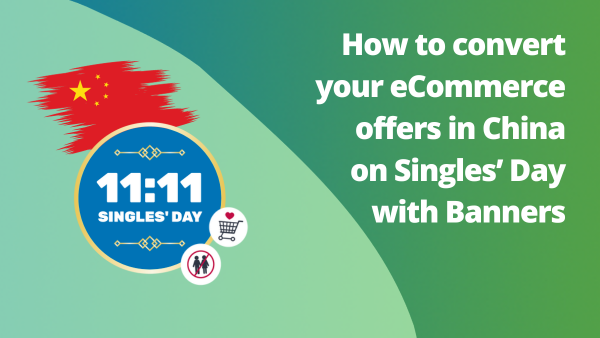 Learn how to convert your eCommerce offers in China from our experts! If you are an advertiser promoting eCommerce offers in China, you have probably heard about Singles' Day, which is one of China's, and recently the world's, biggest shopping events, with sales estimated at $157 billion USD (1.1 trillion yuan) in 2022, according to Queue It. Banner being a great format to promote eCommerce offers, it becomes ideal for your Singles' Day campaigns – And also, by using Banners you can access Responsive Display Ads (RDAs). We tell you how to make the most of this event with our exclusive Network stats and Account Manager tips in this blog. Keep reading to find out more!
How to convert your eCommerce offers in China with ExoClick's Banner format
In order to learn how to convert eCommerce offers in China with Banner ads during Singles' Day, the first step is to know more about the event: Dubbed "Anti-Valentine's Day", Singles' Day is a celebration of single people across China, as well as a huge shopping event. The date, 11 November (11.11), was chosen because the numeral 1 resembles a bare stick, which is Chinese Internet slang for unmarried people. Since Alibaba's CEO Daniel Zhang began to use the day as a 24-hour shopping event back in 2009, the event has grown non-stop, also worldwide:
In 2009,

Alibaba's first Singles'' day sales event included 27 brands

, generating a gross merchandise volume (GMV) of $7.8 million USD or 50 million yuan.
In 2021, Alibaba's Singles'' Day GMV hit $84.54 billion USD. That's up over one million percent (1,083,746%), or 10,000x in just 12 years, with an 8% increase from 2020!
To help you learn how to convert your eCommerce offers in China with Banner ads we have fetched some Network stats for the Singles' Day event in 2022. Let's get into it!
Mobile, Desktop or Tablet?
Which device is the most popular amongst Chinese end users? Let's look at the impressions breakdown per device from the ExoClick Network for eCommerce campaigns in China during the dates surrounding the event (From the 4/11/2022 to the 13/11/2022) to help you learn how to convert eCommerce offers in China with Banner ads: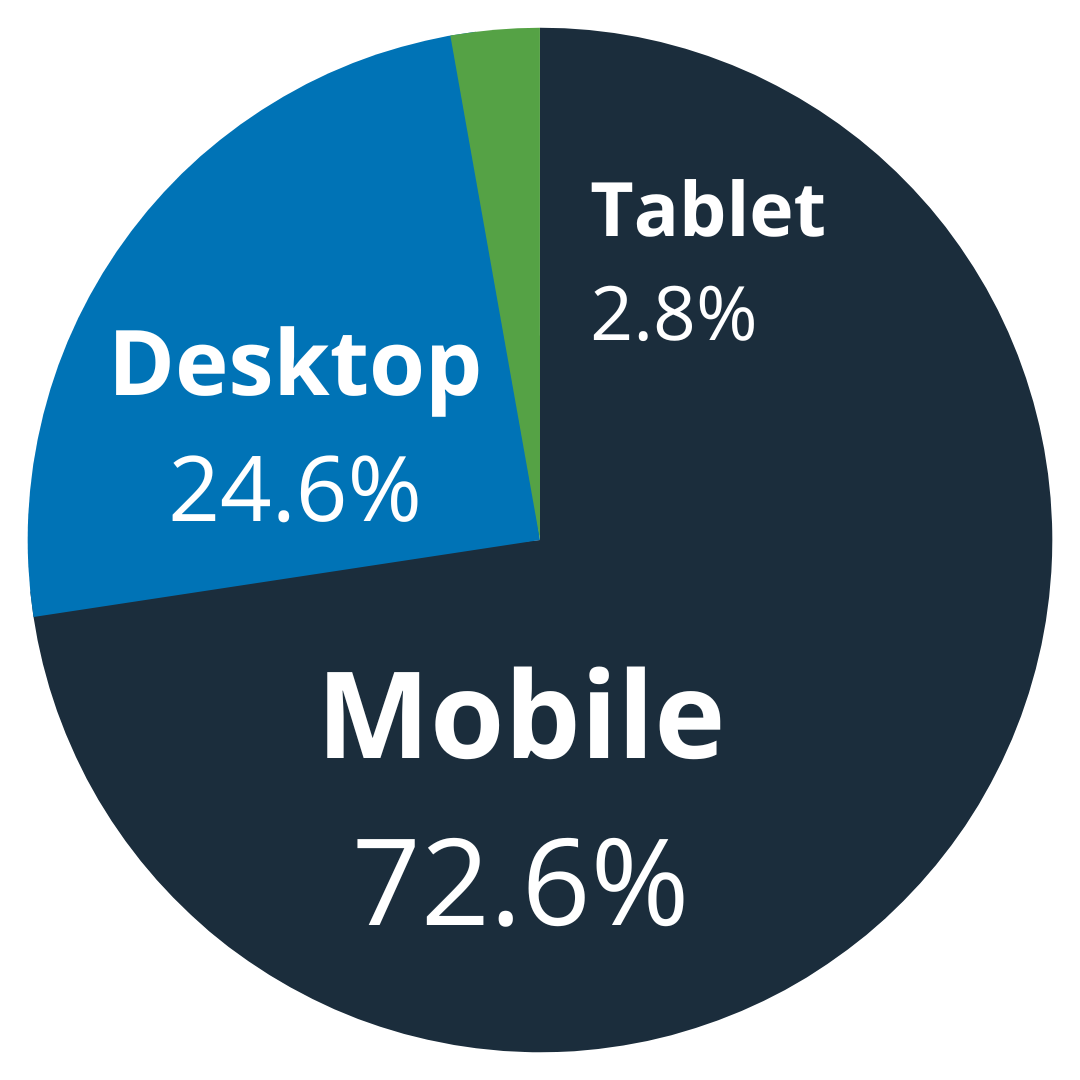 As we can see, Mobile takes the biggest share when it comes to converting eCommerce offers in China during Singles' Day. In fact, according to Statista, as of July 2023, over 1.7 billion Mobile subscriptions were accounted for in China. And according to official government stats, the country had a penetration rate of 99.88% for Mobile internet usage.
Banner: Promote eCommerce offers with ExoClick's high quality Chinese traffic sources
Banners are ideal for eCommerce offers and shopping events because they are a highly visually and appealing ad format that catches the end user's eye and can easily attract more visitors to your eCommerce offer's landing page. They can be a really impactful way to promote your offers, and they offer loads of space to come up with compelling creatives and attention-grabbing copy. Banner creatives can be static images, gifs or even videos, giving you lots of testing opportunities.
Continuing on you can find ExoClick's Network impressions and CTRs breakdown for the Banner format in the eCommerce vertical in China during the Singles' Day shopping event: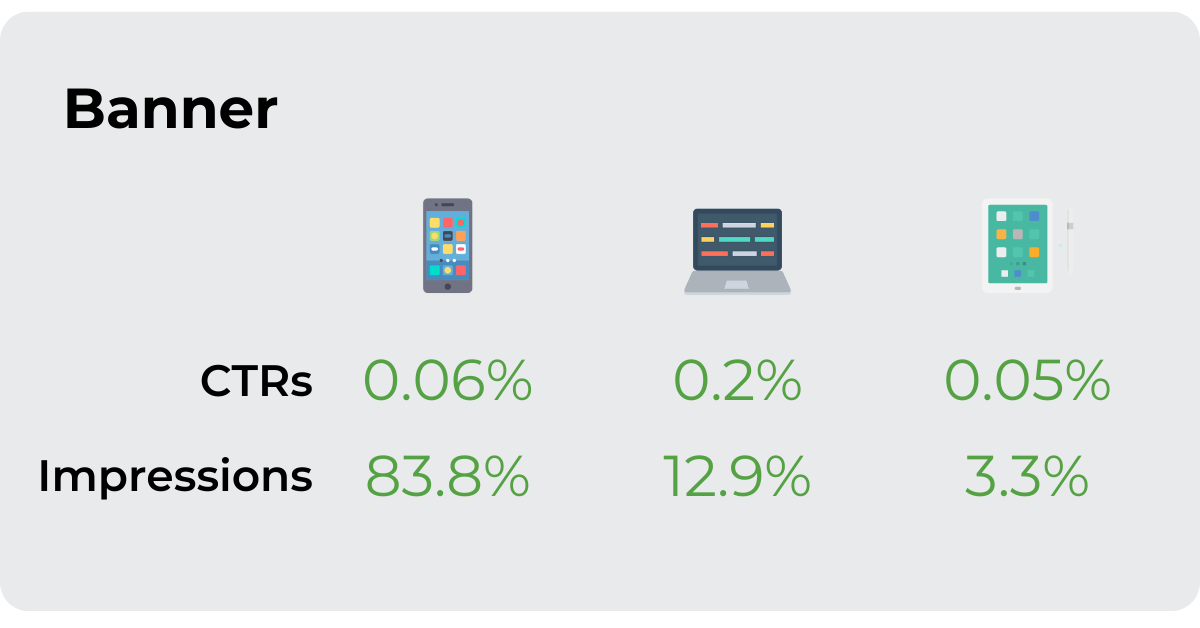 Also, by using Banner ads you can access RDAs, which is a Banner that automatically adapts size, format and appearance to fit any standard IAB Banner display ad placement. RDAs are created automatically from your uploaded assets: Images, videos and texts (title, description and brand), then the ExoClick platform combines and adjusts them so that the final ad creatives fit all of the following Publisher Banner display ad zone specs:
160×600
300×100
300×250
300×500
728×90
900×250
RDAs are great because not only do they open up more bidding opportunities and help you expand your reach, but they also save you time. With one text and image asset, you can bid for multiple ad zones, which also means more exposure across RON and premium traffic sources for your ad and more creative possibilities! Also, you can play with more test data to evaluate and optimize your campaigns. For example if you only have creatives for 300×100 banners and only run campaigns for these sizes, by using RDAs, you automatically have different display sizes that you can also test out.
How to convert your eCommerce offers in China: 11 Top Account Manager tips 
Continuing on you will find 11 exclusive tips to convert eCommerce offers in China from the hands of ExoClick's expert Account Managers:
#1 Diversify your offers and refresh creatives: The Singles' Day shopping event happens mostly online, and Chinese audiences LOVE to buy all sorts of products and services on the internet: Health products, home, beauty, gifts, and fashion, including online services like online fitness programs, eBooks, etc. Make sure that you diversify your offers in order to attract different audiences. Also, give a refresh to your creatives and customize them to reflect the Singles' Days theme, including the number '1' in your texts and creatives. Reflect the holiday and the discounts that your consumers could get!
#2 Understand the context of Singles' Day: Singles' Day is a sign of how traditions have shifted during the last decade or so. Traditionally, being unmarried in their mid-twenties or older was seen with shame for Chinese end users. So, Singles' Day has become very important to the younger generations in China, as they see themselves represented and can even feel proud of their independence and having full control of their lives!
#3 A very independent Gen Z audience: As stated above, your main audience will be Chinese people in their 20s who aren't in a relationship, and who want to celebrate their independence! So, tailor market messages that empathize self-gifting, self-care, and 'me time'. This audience also enjoys social media, especially channels such as Douyin, which is a TikTok style video platform with tons of user generated content: Use Douyin-style creatives, filters and copy in order to target this audience.
#4 Test out Responsive Display Ads: As stated before, one of the perks of using Banner ads is that you can access RDA ads, which can save you a lot of time and expand your bidding options.
#5 Optimize your creatives for Banner: Especially if you are using RDAs, select creatives that look good on a small scale as well as a large one. For example, a picture featuring lots of visual elements will not display well if it is converted into a 300×100 Banner, so before you upload an image, use the CTRL +/- to see that the image has the same impact, large or small. Also, Keep texts short and succinct, if your texts are too long they will not display well on the image.
#6 Test out video against static: Banners and RDAs allow you to use both static and video creatives. Make sure that you use both style creatives to promote each single one of your offers and run A/B testing campaigns to see what works best.
#7 Create special Singles' Day landings: Create Singles' Day specific landings where you can upsell a variety of your products and list each one under the header 'The Best Singles' Day deals and discounts!'. That way you can upsell all your products to a consumer who has clicked on one of your ads. You could create multiple landings and use our Landing Page algorithms so that the best performing landing gets the most traffic.
#8 Use the event to attract new clients: This online shopping event brings you a great opportunity to capture the attention of new customers, attracting the best performing traffic for your eCommerce offers through your Banner ads. Online audiences will be more active than usual, chasing discounts. So this is a great opportunity to give them a trial run to make them want to purchase the full service!
#9 Pick the right language: There's a total of 302 spoken languages in China, including Standard Mandarin, Min Chinese, Wu Chinese, Cantonese (Yue) and Jin Chinese. You could use the Keyword Insertion Language Distribution tool, which automatically translates the keyword insertion token into your preferred language.
#10 Offer Singles' Day free gifts and gift cards: Offer an additional free gift as a deal for customers when they buy one of your services or products during Singles' Days. For example, if a consumer buys an online fitness program subscription, you could also promote a gift card for sports wear, or any of your relevant services to be purchased as a present, or 'buy one, get one for your friend'.
#11 Offer time sensitive discounts before, during and after: You could run Pre-Singles' Day discounts and run them for the week before the event. Then retarget users that showed interest in your pre-event offers during the Singles' Day's event day, and launch new campaigns straight after the event to extend your discounts for another week, using texts like, "Did you miss out on Singles' Day offers? Well we have extended our discounts for another 48 hours!" Lastly, run 24 hours discount offers during the event using the sense of urgency of the online event.
Do you have any more questions about how to convert your eCommerce offers in China or ExoClick's high quality Chinese traffic sources? Or do you want to test out the Banner and RDA format? Get in touch with your account manager, or our customer success team here!