ExoClick's native advertising 50% cash back promotion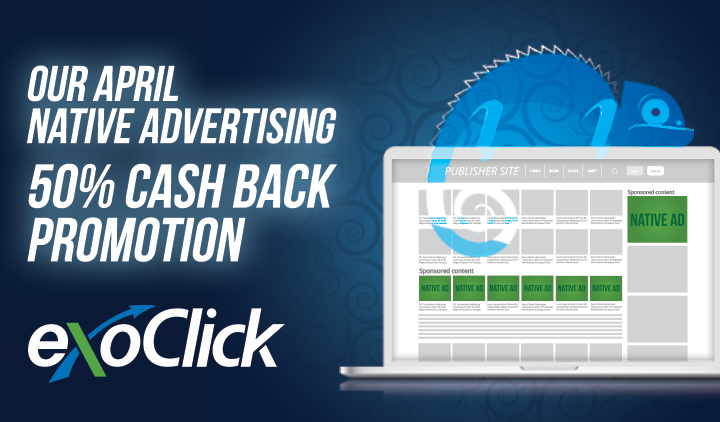 Barcelona, Spain. March 21, 2017: ExoClick, the innovative ad network, today announced that it will launch a month long native advertising promotion. Each advertiser that spends 1,000 USD/EUR or more on ExoClick's native advertising format during the month of April 2017, will receive 50% back of the total amount they have invested, which can then be spent on ExoClick's traffic during May 2017.
ExoClick's founder and CEO Benjamin Fonzé commented, "This is an ideal opportunity for advertisers and affiliates to test out ExoClick's new native advertising format. As with any ad format it is a case of optimising and testing before seeing results. By lessening the financial burden of the initial testing with our 50% cash back promotion, it is an excellent, risk free way to really experiment and learn how to use native advertising, so advertisers can see the benefits this ad format brings to consumer engagement and driving conversions."
Fonzé continued,"ExoClick's platform has many optimization tools available to really help advertisers reach their audience using native advertising. These include deep targeting features, behavioural retargeting, automation processes using our platform API and our 'Offers' feature, which can be used to test different landing pages and optimise traffic distribution for the landing page that converts the best. Specifically for native advertising, when an advertiser uploads several different images, our algorithm will automatically optimize which ones to display based on the best CTR."
For further detailed information about native advertising check out this blog post which includes a full platform walk through and further native advertising tips
Promotion rules
To qualify, an advertiser must spend on native advertising a minimum of 1,000 USD/EUR during 1st to 30th April 2017 from 12 midnight CET.

The advertiser's spend on the native advertising format is the only criteria that will be considered, other ad formats do not qualify for this promotion.

50% of the spend on native advertising will be transferred directly to each advertiser's account no later than Tuesday 9th May 2017.

The credit can only be spent on ExoClick's traffic, for any format.

The advertiser must follow ExoClick's compliance guidelines, any breach of these guidelines will disqualify the advertiser from further participation in this promotion. Our Advertiser Guidelines can be found here.
ENDS
FOR FURTHER PRESS INFORMATION:
Giles Hirst
press@exoclick.com
www.exoclick.com
+34 931810272
ABOUT EXOCLICK
Launched in 2006 and based in Barcelona, Spain, ExoClick is an innovative global ad network serving 165+ billion geo-targeted ads a month to web and mobile advertiser/publisher platforms via its proprietary software.
Founded by current CEO Benjamin Fonzé, ExoClick is ranked as the 4th largest ad network in the world by W3Techs and the #1 ad network for the entertainment market. The Company has been ranked three times in the Deloitte Fast 500. ExoClick won the Ruban d'Honneur Award for The Business of the Year with a Turnover of €26-150m in the 2015/16 European Business Awards and the Company was ranked at number 11 in the Top 20 Best Workplaces in Spain in the category of companies with between 20-49 employees (PYMES).