ExoClick wins prestigious Ruban d'Honneur European Business Award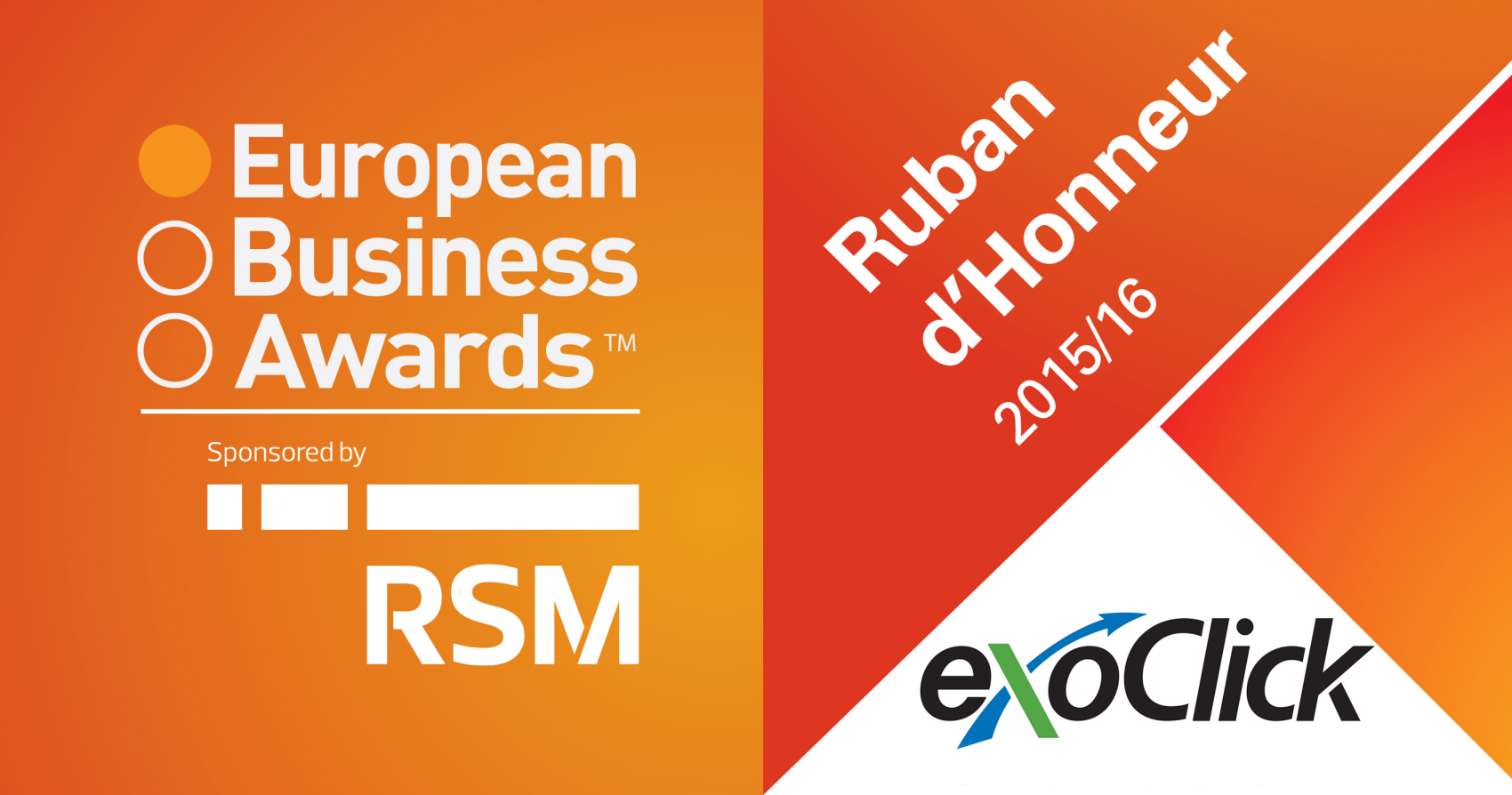 Barcelona, Spain. February 9, 2016: ExoClick, the innovative ad network, today announced that it has been awarded a Ruban d'Honneur award for 'The Business of the Year with a Turnover of €26-150m' in the 2015/16 European Business Awards.
The Ruban d'Honneur is a special award given to European companies that show true innovation, valued ethical standards and excellent financial growth in their field. ExoClick was selected from 678 National Champions by an esteemed panel of judges made up of European business and political leaders, academics and entrepreneurs. The company is one of 110 Ruban d'Honneur recipients chosen from across Europe. A full list of winners can be seen here.
Benjamin Fonzé, ExoClick's founder and CEO enthused, "It is a great honour to be chosen as one of the top companies in Europe and receive the Ruban d'Honneur from the European Business Awards. 2015 was our best year ever, with a 23% growth in revenues compared to 2014. The ExoClick team is continually working to innovate and create industry leading features with our proprietary ad network platform, this linked with the right strategic business decisions and partnerships has enabled us to continue to provide our clients with new opportunities for success and maximising their ROI."
Adrian Tripp, CEO of the European Business Awards said: "To survive in this economic climate is hard enough, so to innovate, prosper and grow in the way this year's Ruban D'Honneur recipients have is truly remarkable. Europe needs more companies like these. Well done to ExoClick."
Running alongside the independent judging part of the competition is a public vote, which will decide the 'National Public Champions' of the awards for each country for which ExoClick has submitted a video. To vote for ExoClick's video entry click here.
The winners of the public vote will be announced on 7th March.
NOTES TO EDITORS
The European Business Awards' primary purpose is to support the development of a stronger and more successful business community throughout Europe.
For all citizens of Europe, prosperity, social and healthcare systems are reliant on businesses creating an even stronger, more innovative, successful, international and ethical business community – one that forms the beating heart of an increasingly globalised economy.
The European Business Awards programme serves the European business community in three ways:
• It celebrates and endorses individuals' and organisations' success
• It provides and promotes examples of excellence for the business community to aspire to
• It engages with the European business community to create debate on key issues
The European Business Awards is now in its 9th year. It attracted over 32,000 businesses to the competition last year and in the public vote generated over 170,000 votes from across Europe. For more information visit www.businessawardseurope.com
ENDS
FOR FURTHER PRESS INFORMATION:
Giles Hirst
press@exoclick.com
https://www.exoclick.com
+34 931810272