ExoClick releases dating traffic statistics for Q4 2018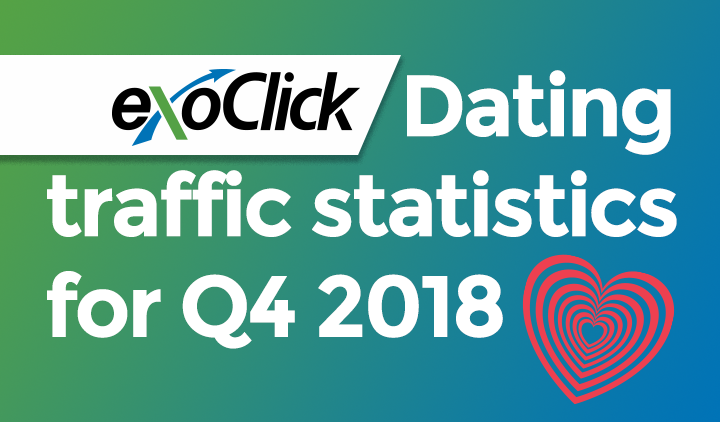 Barcelona, 14 January 2019. Exoclick, the innovative ad network's Business Intelligence department has carried out an analysis of the ad network's Members Area traffic from Q4 of 2018, in order to help advertisers better understand this high quality dating traffic source. ExoClick has exclusivity in monetising dating traffic from WhiteLabelDating.com, Traffic Mansion, Dating Factory. The BI team looked at statistics globally, and also some specific intelligence for the UK market.
Impressions
With the majority of traffic coming from English speaking GEOs, out of the 993 million impressions served during Q4 here is the percentage split across the top 5 English speaking GEOs:
US 62.2%
UK 26.4%
Canada 5.5%
Australia 3.6%
South Africa 2.3%
Verticals
In Q4 advertisers promoted the following offer types at Members Area dating traffic globally:
VoD 28.27%
Games 24.55%
Dating 23.46%
E-Commerce 14.47%
How to tutorials 9.25%
Display positions by CTR
ExoClick then looked at the average CTR of different display ad formats depending on their position on the screen. Members Area sites have higher quality users that generate more clicks compared to non-membership sites:
Top of page
On desktop, top page position ad formats the Cube and Header banner both give a x3 higher CTR for Members Area compared to non-Members Area. On Mobile the Header banner has a x2 higher CTR.
Side of page
On desktop the Skycraper banner positioned on the side of the page yields a massive x10 higher CTR, and NTV A/B/C formats, displayed at the side of a video, have a x2 higher CTR.
Bottom of page
On desktop the Instant Message format has a x2 higher CTR and the Footer banner yields a x5 higher CTR. On mobile the Footer banner has a x2 higher CTR.
Top ad formats by volume Global versus UK
Looking at top ad formats by volume on desktop and mobile, ExoClick compared global impressions and UK impressions, here are the percentages:
Desktop                                          Global          UK
Banner rectangle 300×250           37.29%          43.4%
Banner Leaderboard 728×90       3.05%            8.62%
Full page ads                                   0.39%            0.41%
Mobile                                             Global         UK
Banner 300×250                            41.97%           32.13%
Banner 300×100                            10.69%           19.57%
Banner 300×50                              10.66%           0.89%
Full page ads                                  0.74%             0.56%
Kelan Stone, Head of Members Area Business commented, "These Q4 statistics provide valuable insights for advertisers. By calculating the average CTR of all display ad formats, Members Area traffic does generate more clicks than general web traffic. A typical Members Area user is logged in and browsing inside the dating site, he has already provided the site with his personal data and in many cases, also his credit card details. This makes him a qualified potential user/purchaser of many other similar services and this is why Members Area traffic is so valuable."
Stone continued, "The majority of our dating traffic covers English speaking GEOs which further helps advertisers to monetise their offers as they only have to create compelling messages in one language, making testing less time consuming in order to find the right formula for conversions."
Advertisers can purchase this exclusive Members Area traffic from WhiteLabelDating.com, Traffic Mansion and Dating Factory via self-service from ExoClick's admin panel or by contacting their dedicated ExoClick account manager.
ENDS