ExoClick is about to reach 1 million ad campaigns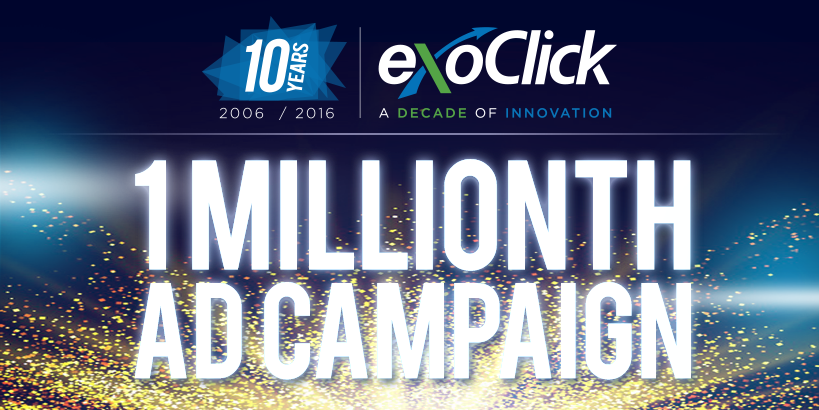 Barcelona, Spain. February 10, 2017: ExoClick, the innovative ad network, today announced that it is about to reach 1 million approved ad campaigns that have run on the company's ad network platform since ExoClick began on 1st December 2006, until now. To celebrate this landmark achievement ExoClick is offering a prize of 1,000 euros of ExoClick traffic to the 1 millionth advertiser.
Mark Westwood, ExoClick's Customer Service Director commented, "ExoClick's Compliance team works 24/7 approving clients campaigns. The team of full-time agents manually evaluate every campaign to ensure that it is compliant with our terms and conditions and is safe for our global network of Publishing sites. The millionth campaign could happen anytime now and we are all very excited."
The winner will be notified by email about being the advertiser who ran the 1 millionth campaign and they will have 1,000 euros transferred to their account to spend on ExoClick traffic.
ENDS
FOR FURTHER PRESS INFORMATION:
Giles Hirst
press@exoclick.com
www.exoclick.com
+34 931810272
ABOUT EXOCLICK
Launched in 2006 and based in Barcelona, Spain, ExoClick is an innovative global ad network serving 155+ billion geo-targeted ads a month to web and mobile advertiser/publisher platforms via its proprietary software.
Founded by current CEO Benjamin Fonzé, ExoClick is ranked as the 4th largest ad network in the world by W3Techs and the #1 ad network for the entertainment market. The Company has been ranked three times in the Deloitte Fast 500. ExoClick won the Ruban d'Honneur Award for The Business of the Year with a Turnover of €26-150m in the 2015/16 European Business Awards and the Company is certified as a Best Workplace in Spain.