ExoClick named as the fastest growing tech company in Spain by Deloitte and ranked at number 11 in the Top 20 Best Workplaces (PYMES) 2014 in Spain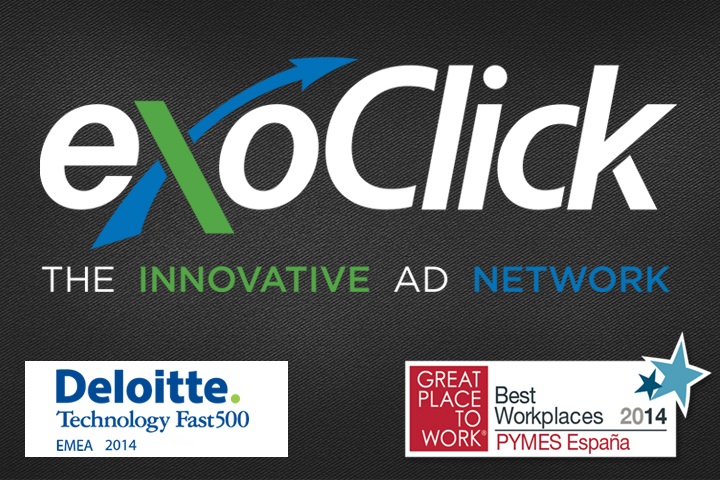 Barcelona, Spain. 11 December 2014: ExoClick, the innovative ad network, today announced that it has been awarded two industry leading accolades: Deloitte has ranked ExoClick at #50 in the 500 fastest growing technology companies in Europe, Middle East and Africa. This is the third consecutive year that ExoClick has been included in the Deloitte Fast 500. With a growth rate of 2642%, once again the company is the only Spanish registered company to be featured.
David Halstead, Deloitte UK partner and partner-in-charge of the Deloitte Technology Fast 500 EMEA programme commented, "All 500 companies are impressive organisations. Achieving a ranking on this year's list proves their commitment and drive to grow innovative companies—a difficult feat in the competitive and fast-moving technology environment."
The company has also been ranked at number 11 in the Top 20 Best Workplaces in Spain in the category of companies with between 20-49 employees (PYMES). The award was given at a presentation ceremony organised by The Great Place to Work Institute® held in Madrid, 10 December at the Sede Deusto Business School. The honour recognizes the company's achievements in creating a positive work environment that attracts and retains employees through a combination of employee satisfaction, working conditions and company culture. ExoClick was one of 8 companies represented in the digital technology sector.
The Great Place to Work scheme uses two metrics in order to determine the rankings; the first is an anonymous Trust Index© survey completed by employees which evaluates their perception of the management, their colleagues and their job. The second is a Culture Audit© questionnaire completed by management, examining how management creates trust through policies, practices and initiatives. The scores from both these evaluations determine whether a company makes the Great Place to Work rankings.
Benjamin Fonzé, ExoClick's founder and CEO commented, "The 1st of December was ExoClick's 8th birthday and we couldn't wish for two better ways to help us celebrate our success. Firstly, we are extremely proud to be continually featured in the Deloitte 500. The reason for our exponential growth is due to platform and industry sector innovation, reinvestment in proprietary technology, strategic business decisions and partnerships and a dedicated team driving our business forward."
Fonzé continued, "It is this dedicated team who have helped position us as one of the Best Workplaces in Spain. Our goal has always been for each team member to believe that they are part of our growing business, that they do make a difference, that they have the opportunities to grow and that their opinions are valued. Additionally via the Great Place to Work initiative our team has given us important feedback on the areas that we can still improve upon and many new ideas that we can implement into our everyday working lives here at ExoClick."
NOTES TO EDITORS
ABOUT DELOITTE TECHNOLOGY FAST 500
Now in it's 14th year, the Deloitte Technology Fast 500 Europe, Middle East & Africa (EMEA) is the pre-eminent technology awards program in Europe, Middle East & Africa (EMEA). Combining technological innovation, entrepreneurship and rapid growth, Technology Fast 500 companies – large, small, public and private – span a variety of industry sectors, and are leaders in hardware, software, telecom, semiconductors and emerging areas, such as clean technology. These companies are transforming the way business is done today.
For further information visit www.deloitte.com
ABOUT GREAT PLACE TO WORK®
For more than 25 years the Great Place to Work® Institute has surveyed millions of employees from thousands of companies all over the world. The organisation has undertaken extensive research into what makes a "great place to work", with many of the best performing companies today having followed these insights, improving not only their financial performance, but benefiting from substantially reduced employee turnover.
For further information visit http://greatplacetowork.es/mejores-empresas/las-mejores-empresas-pymes-espana
ENDS
FOR FURTHER PRESS INFORMATION:
Giles Hirst
press@exoclick.com
+34 931810272