ExoClick launches two new ad formats for desktop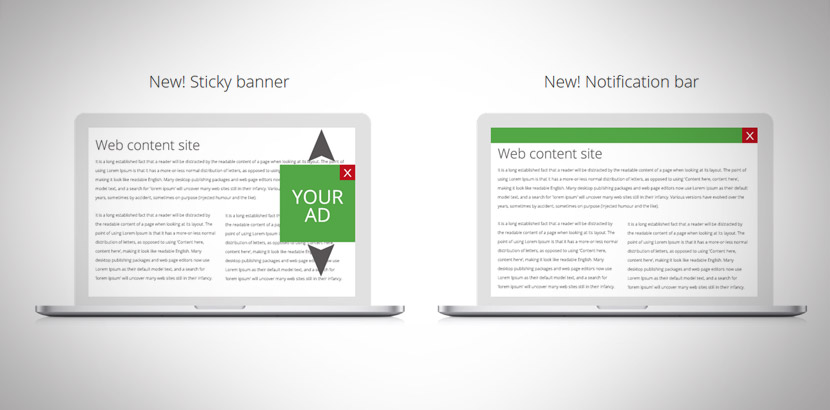 Barcelona, Spain. October 1, 2015: ExoClick, the innovative ad network, today announced that it has introduced two new ad formats for desktop: Sticky Banners and a Notification Bar.
The Sticky Banner is a traditional display banner with the advantage that it can be placed in nine different positions on the screen, as the user scrolls down the page the banner stays in exactly the same position which maximises viewing exposure. Publishers can define the banners sticky positioning with vertical options top, middle or bottom and horizontal options left, centre or right. The Sticky Banner is available in several different sizes including 468×60, leaderboard 728×90, rectangle 300×250, special 315×300, square 250×250 and 3 sizes of skyscraper 120×600, 160×600 and 300×600.
The Notification Bar sits at the top of the desktop screen and is similar to the browser notification bars. The format includes space for marketing text and features a call to action button.
ExoClick's founder and CEO Benjamin Fonzé commented, "We initially introduced the Sticky Banner format earlier this year with our in app Android SDK with great success. We are pleased to offer this format for desktop. Because of it's many different options for positioning and sizing it is a highly flexible ad format for advertisers and for publishers who can work their content around the positioning they have selected. The Notification Bar format is very popular on entertainment sites to promote downloadable products and because it is text and button based it doesn't require a design creative, just a powerful call to action marketing message to drive CTRs. Here at ExoClick we are committed to being continually innovative by creating more opportunities for our publishers to monetize their sites and for advertisers to have new ways of reaching their audiences and increase conversions."
Both new ad formats are available in the ExoClick Admin Panel under Publishers > Ad Zones > New Ad, and Advertisers > New Campaign > Ad Format.
For further information visit our Ad Formats page.
ExoClick will be demonstrating these new ad formats at the following shows:-
RACE 2015, Moscow 8-9 October
Berlin Affiliate Conference 22-25 October
ENDS
FOR FURTHER PRESS INFORMATION:
Giles Hirst
press@exoclick.com
+34 931810272