ExoClick launches high performing Multi-Format Ads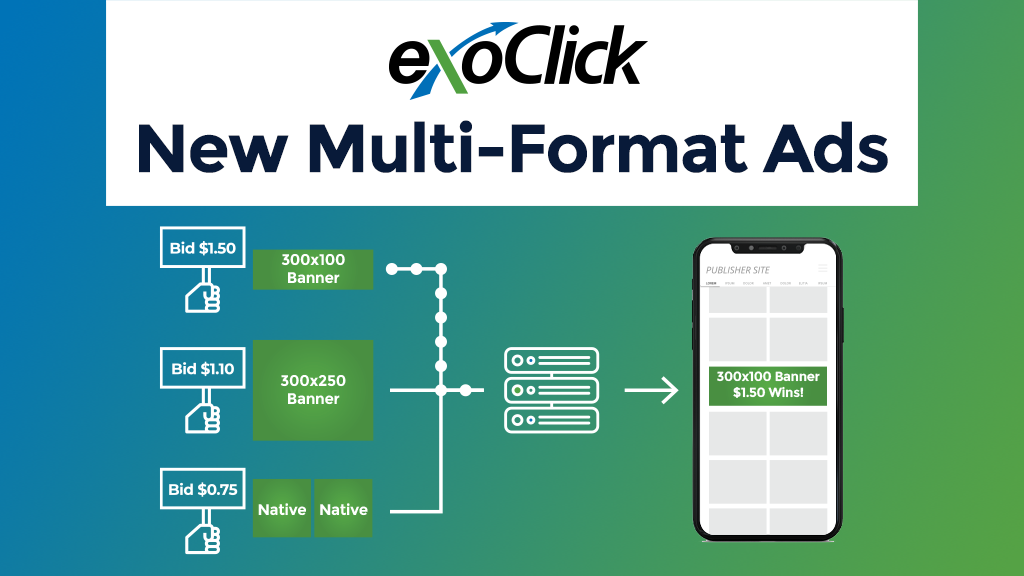 13 May 2021, Barcelona, Spain. ExoClick has launched a new ad placement concept called Multi-Format Ads. The ad placement serves multiple ad formats: banners or native in just one placement, pitching different banner sizes and native ad widgets against each other and serving the highest paying ad in the Multi-Format ad zone. This ability to serve multiple formats can increase the number of eligible bids for a publisher's impressions while giving advertisers access to previously unavailable inventory, opening up a whole new world of possibilities for publishers and advertisers alike. 
Publishers can select different banner sizes and native ad zones by generating a single ad script. They can choose multiple existing ad zones and let them compete against each other, showing only the one with the highest CPM value. 
Publishers can convert several different ad zones into Multi-Format ad zones in their admin panel by using combinations of horizontal or vertical options, allowing publishers to display different banner sizes and native widgets in their existing ad placements.
Looking at one of the Ad placements: Desktop Footer, this is a typical large 900×250 display banner zone. An advertiser can't target this zone with a smaller banner or a native ad, however if the publisher uses the footer as a Multi-Format Ad zone, this opens up new inventory for an advertiser that wasn't previously available. With Multi-Format Ads, the Footer now has different combinations of inventory depending on which won the highest bid for either the whole Footer zone, or parts of the Footer zone.
For example :
1 banner 900×250

1 x banner 728×90

3 x 300×250 banners or 4 x 300×250 banners 100% width

1 x 3 Native widget, 1 x 4 Native widget or 1 x 5 Native widget depending on the website layout.
ExoClick carried out a Publisher case study by testing a Desktop Footer 900×250 against the Multi-Format ad placement using a Native widget 1×3 competing with 3x 300×250 banners and 1 x 900×250 banner. The Publisher saw an increase of up to 215.63% in revenues and a 48.67% increase in eCPM & 93.81% eCPC. The Publisher also tested the Mobile Footer 300×250 against Multi-Format ads using a 2×2 Native widget competing with a 300×250 banner and a 300×100 banner. This ad placement increased revenues by 78.93%, a 97.86% increase in eCPM and a 2.25% increase in eCPC.
ExoClick's Sales and Ad Operations Director Evan Zirdelis commented, "Reaching online audiences on different devices means advertisers can no longer adopt a 'one size fits all' approach when it comes to running campaigns, they need to be able to use different ad formats targeting different website positions to grab an end user's attention just at the right moment. Equally publishers need to provide inventory that is flexible enough to support different ad formats within different ad zone positions to provide new opportunities for advertisers to bid on."
Advantages for Publishers
Effective Monetization: eCPM rates are very competitive in comparison to standard ad zones. The ad format rotation occurs in real time to display the most effective ad format.
You are in control: Choose two or multiple ad formats you want to display on a specific ad placement. Configure each ad formats look and feel and restrictions, individually. Use custom fonts, colors, and styles for your native ads in Multi-Format Ads rotation. 
Seamless visual integration: Set the container of your ad placement to automatically resize with the ad format winning the auction, to achieve a great aspect on your zone size to avoid spaces between your content or cropping advertiser assets.
One script for each Ad placement: Multi-Format Ads are easy to set up, all you need to do is to place the Multi-Format Ad script in your Ad placement, as any other standard Ad Zone.
A/B testing: Test different ideas with native and banners, add in Multi-Format Ads rotation with two or multiple different designs of native to find out the best performing one. 
Advantages for Advertisers
Expand your reach: It's important for Advertisers to reach the relevant user at the right time and place. The introduction of Multi-Format Ad auctions means they can serve multiple ad formats in a single zone. Having all ad formats available means Advertisers can reach users they would otherwise miss if they were not using all available ad formats on the market.
More placement opportunities: Multi-Format ads allow advertisers the opportunity for their ads to appear in different ad zone placements that they might not have had access to before, such as a native ad in a Mobile Footer. 
Save time: Advertisers with limited resources for creative design are now able to participate in all ad placement auctions without the need to create specific ad formats for each placement. Of course, it remains important to determine which is the most competitive ad format in the auction to gain a competitive advantage against other ad formats in rotation.
More ways to test: In our Publisher case study we noticed that certain Multi-Format ad positions bring an increase in CTR, of course CTRs depend on a compelling ad creative/offer to gain clicks. The Desktop NTV showed an overall increase in CTR of +0.14%, with the 2×2 Native widget receiving 50% of the clicks and the banner 50%. The Mobile NTV showed an overall increase of +8.24% in CTR with 34% of clicks going to 1×3 Native widget, 39% to the 300×100 banner and 33% to the 300×250 banner. So it is important for advertisers to experiment and test Native & banner creatives and ad placement positioning to see which brings the highest conversions.
Here is a video explainer of how Multi-Format ads work.
For further information contact your account manager or a Customer Success Specialist here.