ExoClick launches high converting HTML5 video banner ads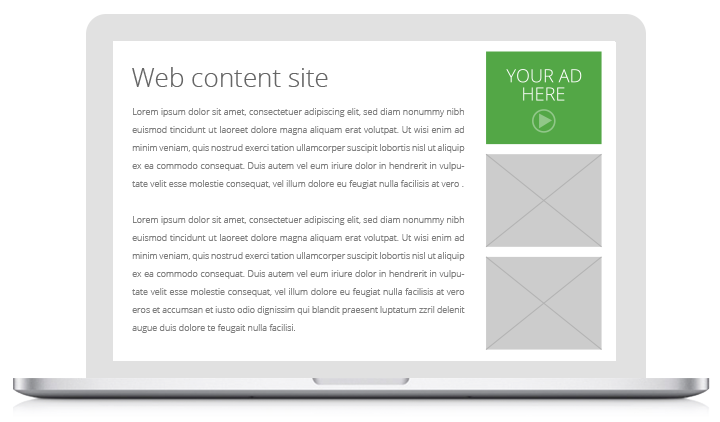 Barcelona, Spain. December 5, 2016: ExoClick, the innovative ad network, today announced that it has launched a brand new ad format: HTML5 video banner ads. This rich media format enables advertisers to create compelling video ads to place on publisher sites on ExoClick's global network. Video ads can be produced for all available banner sizes and the supported format is MP4 with a maximum weight set at 1.5Mb. With the correct compression, videos can be up to 30 seconds in length with video files being displayed using the HTML5 standard.
The new option can be found under Admin Panel > Advertisers > Campaigns. The process is exactly the same as uploading a standard image banner, with clients being given a second option to upload a video banner.
For advertisers, video banners have a much higher CTR than static images and they are the perfect format for content producers, VoD and live cam advertisers. As for publishers, the video ads are automatically displayed on their sites. Security is of paramount importance to ExoClick and all video ads are hosted on ExoClick's CDN which means they are 100% safe, with no harmful script contained within the video banner ads. For the end user, video banner playback has been optimised ensuring that their browser downloads the video file while it is playing for a fast, glitch free experience.
ExoClick's CEO and Founder Benjamin Fonzé commented, "These ads are obviously very interesting, because they allow advertisers and affiliates to produce really creative content for their offers which look much better than standard GIF banners. With playback optimisation, a large range of banner sizes and engaging content, we expect to see a much higher CTR and conversion rate with this new banner format."
"As ExoClick kicks off its 10th year we continue to launch innovative platform features that help our advertiser clients achieve an even higher ROI. In addition, our constant reinvestment in our in-house technology ensures that we protect our publisher clients from malware and non-compliant advertising."
Video banners can be created in the following sizes: 120×600, 160×600, 250×250, 300×50, 300×100, 300×250, 315×300, 468×60, 728×90.
ENDS
FOR FURTHER PRESS INFORMATION:
Giles Hirst
press@exoclick.com
www.exoclick.com
+34 931810272
ABOUT EXOCLICK
Launched in 2006 and based in Barcelona, Spain, ExoClick is an innovative global ad network serving 5.5 billion geo-targeted ads a day to web and mobile advertiser/publisher platforms via its proprietary software.
Founded by current CEO Benjamin Fonzé, ExoClick is ranked as the 4th largest ad network in the world by W3Techs and the #1 ad network for the entertainment market. The Company has been ranked three times in the Deloitte Fast 500. ExoClick won the Ruban d'Honneur Award for The Business of the Year with a Turnover of €26-150m in the 2015/16 European Business Awards and the Company is certified as a Best Workplace in Spain.