ExoClick launches fully customizable native advertising format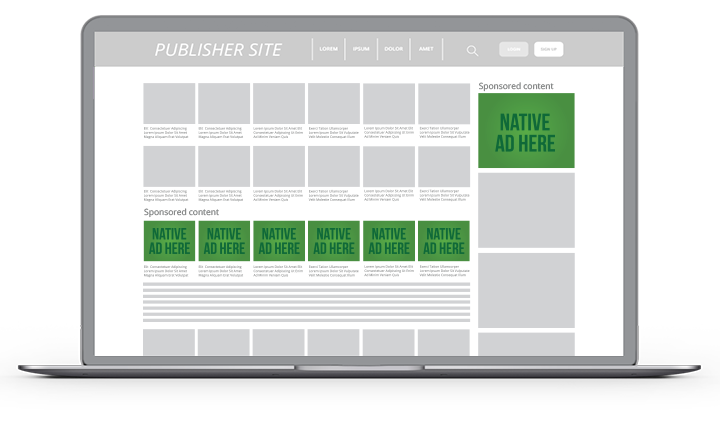 Barcelona, Spain. March 2, 2017: ExoClick, the innovative ad network, today announced that it has launched the native advertising format on its world leading platform. Native advertising is a commonly used ad format in the mainstream industry and because the ad appears just like the editorial content of the publishers site, it has a much higher click through rate compared to standard banner advertising. According to Mediapost consumers interact with native ads 20% to 60% more than they do with standard banner ads.
ExoClick's native ad format is a widget that publishers can easily incorporate into their ad zones. The widget allows images 300 x 300 and a short text. There are various blocks of native ad zones within the widget and they are displayed as row(s) x image(s), the format allows 1×1, 1×2, 1×3, 2×1, 2×2, 2×3, 3×1, 3×2, 3×3, 4×1, 4×2, 4×3, 5×1, 5×2, 5×3, 6×1, 6×2 and 6×3. The widget is fully responsive so it works across all devices: desktop, mobile and tablet and automatically resizes images to fit nicely with the design of each site. Publishers can fully customise the widget to copy the look and feel of the editorial content on their site. Customizable features include font type, size, color, bold and underline, background color, image border size, border color, etc.
ExoClick's native advertising allows publishers to generate revenues with non-disruptive advertising spots that are geared specifically for their audience. This gives an improved user experience and unlocks previously untapped demand for an increased fill rate, additionally native ads are not subject to ad blocking. Advertisers can create meaningful engagement by delivering the right message to the right audience while achieving a higher CTR.
Benjamin Fonzé, ExoClick's founder and CEO commented, "Native advertising provides a valuable transition from a site's regular content to premium advertising spots, which offers much less user resistance compared to a traditional banner ad. After the user clicks on a native ad the key to driving conversions depends on how the advertiser creates their landing page, for example, use the page as a tool to educate the consumer about your product or service, provide customer testimonials, if it is a live cam product try interviews with some of the models. By making the landing page more lifestyle orientated you will increase your conversions because you are engaging the consumer."
For further information about ExoClick's native advertising format please speak to your ExoClick account manager, or email help@exoclick.com.
ENDS
FOR FURTHER PRESS INFORMATION:
Giles Hirst
press@exoclick.com
www.exoclick.com
+34 931810272
ABOUT EXOCLICK
Launched in 2006 and based in Barcelona, Spain, ExoClick is an innovative global ad network serving 165+ billion geo-targeted ads a month to web and mobile advertiser/publisher platforms via its proprietary software.
Founded by current CEO Benjamin Fonzé, ExoClick is ranked as the 4th largest ad network in the world by W3Techs and the #1 ad network for the entertainment market. The Company has been ranked three times in the Deloitte Fast 500. ExoClick won the Ruban d'Honneur Award for The Business of the Year with a Turnover of €26-150m in the 2015/16 European Business Awards and the Company was ranked at number 11 in the Top 20 Best Workplaces in Spain in the category of companies with between 20-49 employees (PYMES).