ExoClick and Dating Factory sign exclusive members area traffic deal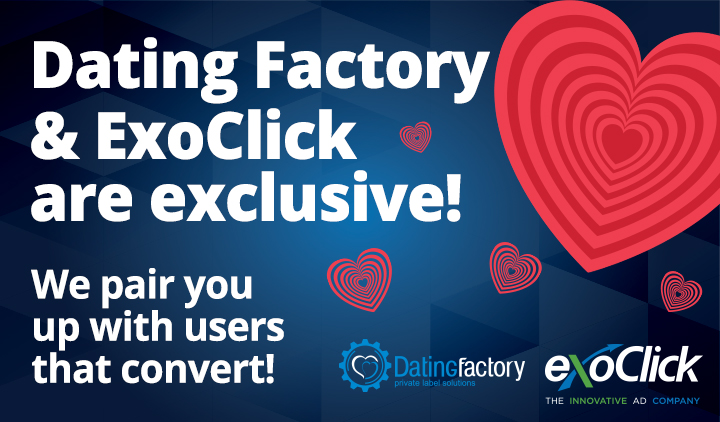 Barcelona, Spain, 4 January 2018. ExoClick, the innovative ad company, continues to grow its members area business with a new exclusive deal signed with Dating Factory. The deal allows ExoClick to give its advertisers exclusive access to Dating Factory's global network of membership traffic.
Dating Factory is the biggest international provider of dating white label sites, their network is available in 22 languages covering over 70 different dating niches worldwide. Dating Factory hosts over 100k dating sites on its platform, allowing ExoClick's advertisers maximum global reach to dating users for non-competing products.
ExoClick's CEO and founder Benjamin Fonzé commented, "As part of their monetization strategy, Dating Factory offers white label owners the ability to generate extra revenues from their member area traffic with ad zones that are exclusively available via ExoClick. Dating is ExoClick's biggest vertical and advertisers generate millions of dollars in revenues from conversions using our platform and its unique features. By exclusively offering Dating Factory's traffic, our advertisers have yet another channel to drive conversions and brand awareness for their offers. No other ad network platform offers this traffic source."
Dating Factory's CRO Jenny Gonzalez added, "As a software provider we understand the responsibility of achieving optimal consumer lifetime value for dating users in our partner's white label sites. With acquisition costs rising year on year it is imperative to monetize every single registration even if the user does not upgrade to becoming a paying member. We take this responsibility very seriously and we are successfully achieving long time value for users that do upgrade, however, we needed to partner with a company that would help us to do the same for our freemium members area space. ExoClick was the clear choice given their worldwide client reach, dating experience and the excellent technological capabilities of their platform."
Advertisers can access all of ExoClick's members area traffic from their admin panel. Additionally advertisers can speak to their account manager or email advertising@exoclick.com for more information about how to convert this exclusive traffic source.
ExoClick and Dating Factory are both exhibiting at Affiliate Summit West, Las Vegas 7-9 January where the two companies are carrying out a special traffic promotion for ASW attendees, please visit booths 338 (ExoClick) and 341 (Dating Factory) to participate.
ENDS
For further press information
giles@exoclick.com
+34 931 810 272