ExoClick breaks a new record, now serving +8.5 billion daily impressions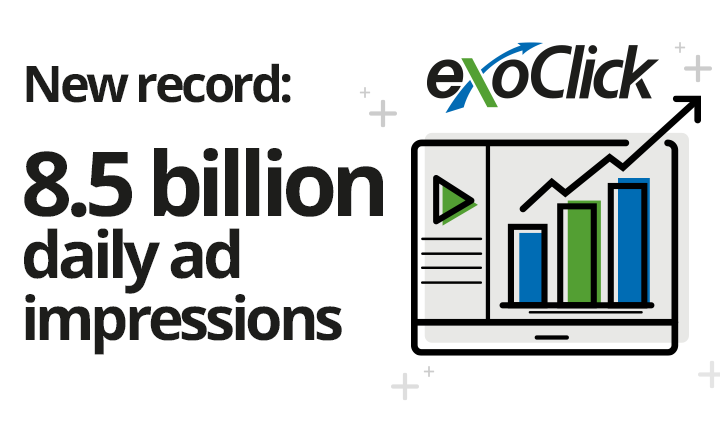 Barcelona, Spain. 13 August 2020: ExoClick, the innovative ad company, today announced that it has broken another record, it is now serving 8.5 billion daily ad impressions across its global ad network of publisher sites.
ExoClick's Sales and Ad Operations Director Evan Zirdelis commented, "This year we added exclusive new traffic sources  and we also saw initial increases in traffic when lockdowns began in March this year, and we have continued to maintain our high impressions after the lockdowns began to end."
Zirdelis continued, "One of the main reasons for this growth in impressions is that we constantly strive to help our global network of 65,000 publishers optimise their websites and ad zones. We have introduced several platform features and tools this year to help publishers create additional inventory opportunities and increase their revenues. We then educated our publishers on how to use these features with tutorials and business advice through blog posts and our recent Ultimate Guides. More inventory gives more volumes for advertisers to target with their offers, which in turn creates more demand for our quality traffic sources."
Publisher optimization features and business tips ExoClick has introduced this year include:
Increased impressions to engaged users

: ExoClick's frequency capping settings of the In-Stream video ad format can be used to increase impressions shown to engaged users while still providing a great user experience as shown in these two

publisher case studies

.

Monetizing ad block traffic

: Publishers can use ExoClick's in-line code which forces popunders to show even if the end user is using an adblocker as demonstrated in these three

publisher case studies

.

Push Notifications

: Publishers have the option to allow two push notification image sizes: 192x192px and the new larger 720×480px. Both sizes now feature Carrier and IP Range targeting which has created additional demand from advertisers for this ad format. Additionally, Firefox 72 blocked publisher website's notification opt-in prompts to end users, Google is also testing this in beta. Firefox demands that a user has spent time on a website and clicked on some of its content before being shown the push notifications opt-in prompt. ExoClick's admin panel allows publishers to toggle on the 'soft-ask option' in the ad zone configuration and to set a timed delay before it is shown to the end user, in compliance with Firefox, which has helped publishers to grow their push notification subscriptions.

New Fullpage Interstitial ad formats

: Available for mobile and desktop, these full page ad formats are a great alternative to Popunders and are fully Google compliant because they feature a close button on the top right hand corner of the ad. Because Chrome blocks some Popunders, Publishers can use various combinations of Popunders and Fullpage Interstitials across different browsers to ensure high CPM, large format ads are not blocked from being seen by end users. The Fullpage Interstitial and Popunder formats also include several different triggering options to montising a user at different stages of his journey to further increase a publisher's inventory. A full tutorial can be read

here

.

Lighter ads

: Chrome has started protecting end users from heavy ads on websites. Back in February ExoClick began to only accept maximum ad weights in line with the

IAB

and Google with static banners and video banners at 150KB, Fullpage Interstitial at 300KB and MP4 videos at 50MB. This ensured Chrome didn't block any ads served by ExoClick while helping publishers with SEO and a higher Google ranking with faster website load speeds while ensuring a great user experience.
ExoClick's Business Intelligence department compared network data from Q1 to Q2 and impressions increased by 13.87% with 72.5% on Mobile, 22.7% on Desktop, 4.1% on Tablet and 0.7% on SmartTV/Consoles. That's up from 68.3% on Mobile in Q1. Members area traffic saw a bigger increase when compared to Q1 at 24%, device distribution was more or less the same with Q2 showing 63.5% on Desktop, 31.9% Mobile and Tablet 4.6%. In addition to serving 8.5 billion daily ad impressions, the company is also now averaging at 14 billion Programmatic queries per day 8.5 billion for advertisers  and 5.5 billion for publishers.