ExoClick announces supersized sponsorship of The European Summit, Sitges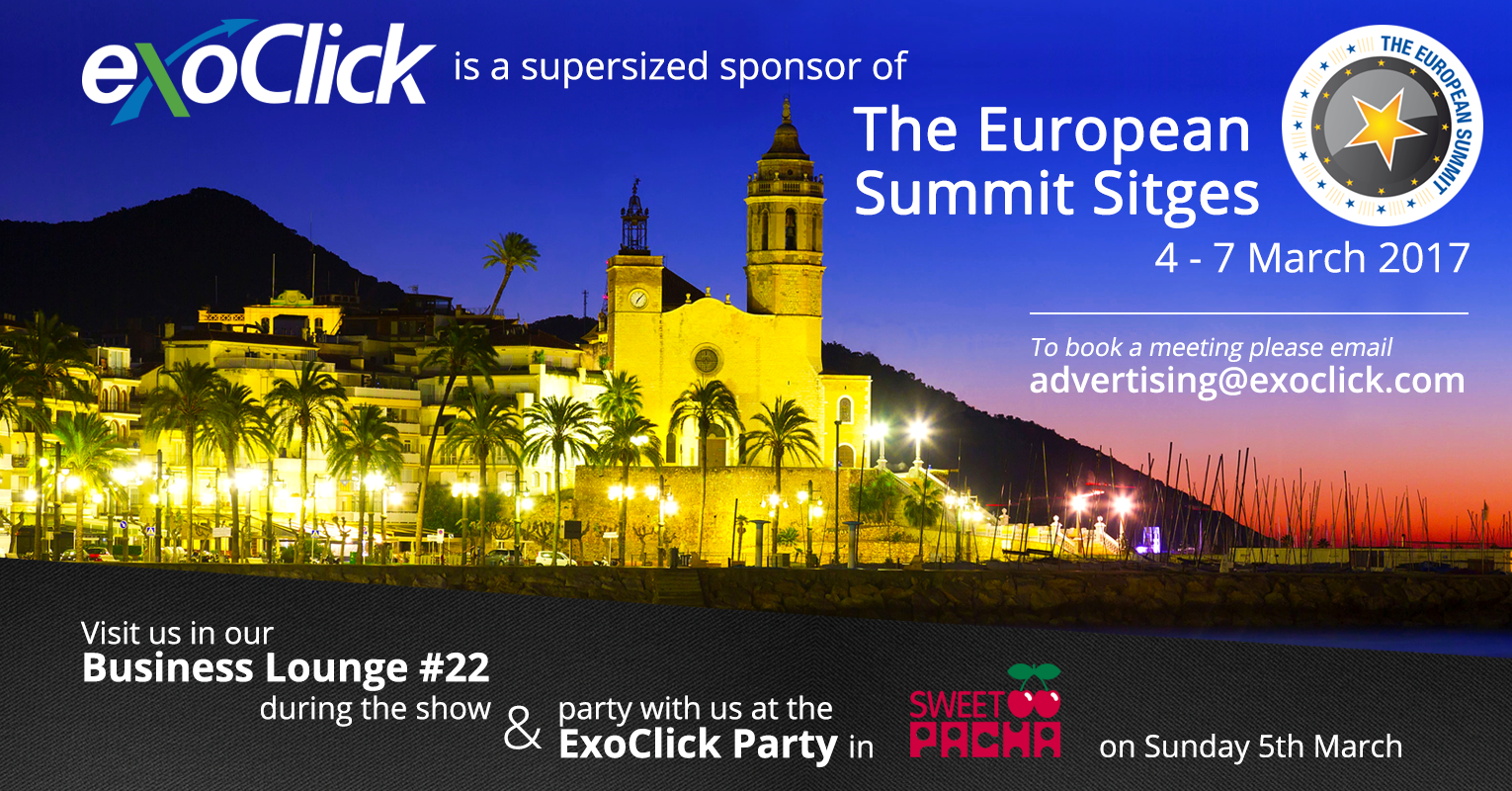 Barcelona, Spain. 1 February 2017: ExoClick, the innovative ad network, is pleased to announce that the company is a supersized sponsor of The European Summit to be held in Sitges, 4-7 March 2017.
The European Summit is one of the main shows for the online entertainment industry, connecting over a thousand digital entertainment professionals to this 4 day networking event.
As part of the sponsorship package ExoClick will be hosting the event's main party to be held on Sunday 5th March at the club Sweet Pacha in Sitges. The party kicks off at 11pm until late and is open to all attendees of the Summit.
ExoClick's Head of Advertising Oliwia Kaluzynska will be speaking on two panels: 'Do's and Don'ts for Sending Traffic Across Verticals' and 'How to Scale Your Campaigns Using Native Advertising.' Senior Advertising Manager Egle Padilla, ExoClick's traffic expert for the North & South American markets, will be speaking on the panel 'Advanced Strategies for Traffic and Media Buying.' Tatiana Grygorieva, Senior Advertising Manager for the Russian and East European markets will be on the panel 'Make Your Display Ads Work Again – Next Generation A/B testing' and Performance Advertising Manager Shayan Pazhohnia will be speaking on the newbie panel 'An Introduction to Performance Marketing.'
ExoClick's CEO and founder, Benjamin Fonzé, commented, "Once again we are very proud to be a supersized sponsor of The European Summit. It is one of the industry's premier networking events and we are looking forward to demonstrate our recent platform updates, talk traffic, share ROI tips and enjoy the fun at our legendary ExoClick party!"
ExoClick will be in the business lounge #22. To arrange a meeting at the event please contact advertising@exoclick.com
ENDS
Giles Hirst
press@exoclick.com
www.exoclick.com
+34 931810272
ABOUT EXOCLICK
Launched in 2006 and based in Barcelona, Spain, ExoClick is an innovative global ad network serving 155+ billion geo-targeted ads a month to web and mobile advertiser/publisher platforms via its proprietary software.
Founded by current CEO Benjamin Fonzé, ExoClick is ranked as the 4th largest ad network in the world by W3Techs and the #1 ad network for the entertainment market. The Company has been ranked three times in the Deloitte Fast 500. ExoClick won the Ruban d'Honneur Award for The Business of the Year with a Turnover of €26-150m in the 2015/16 European Business Awards and the Company is certified as a Best Workplace in Spain.