Billboard Banner: Publisher and Advertiser tips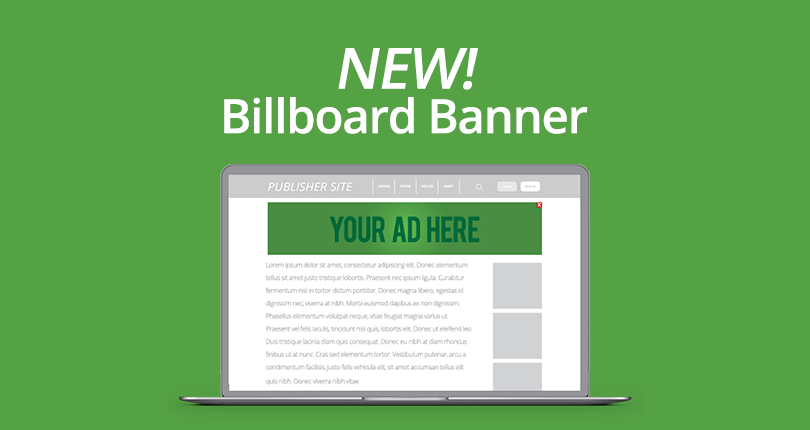 This new format is totally compliant with Google and offers Publishers a new ad zone. The Billboard ad is a rich media ad and is positioned at the top of a website's page. Billboard ads are too big to miss at 970×250 and offer Publishers a great way to monetise their traffic. A Similar format is used on YouTube.com. Here we give some tips for Publishers and Advertisers about this new format:
Tips for Publishers:
Maximum revenue: This format will only display on your website if ExoClick has offers running for that spot, if there are no offers running, nothing will be displayed. We only allow premium offers to advertise on this format, assuring you maximum CPM revenues.
Fully responsive: The banner fully adapts to the screen size, preserving its aspect ratio, ensuring a great experience across all devices.
Closable: The ad displays with a close button on the top right corner, allowing the user to dismiss the ad at any time.
Setting the frequency: A publisher can decide how often the banner is shown to users on their site.
Rich media: Now publishers can have very cool rich media ads running their site.
Tips for Advertisers:
Rich media: Get really creative with this format, advertisers can use MP4, JPG or GIFs to create their ad. Please ensure not to use flashing images for GIFs which are banned by Google in their "Abusive Ad Experience" rules, but a video loop or Boomerang style is acceptable.
Impact: it´s the biggest ad space among all banner formats and a great canvas to showcase a video, some data:

Receives approximately 30% longer viewing time
Receives approximately 2.5 times higher engagement rate
Because the format is at the top of the page, it also has an exceptionally high viewability rate

Exclusive format: about 2% of sites feature this format so sources are limited and come from high quality websites
All ExoClick's new ad formats are fully aligned with Google regulations as well as being carefully designed to follow the Better Ads Standards.