Benjamin Fonzé talks about 10 years of ExoClick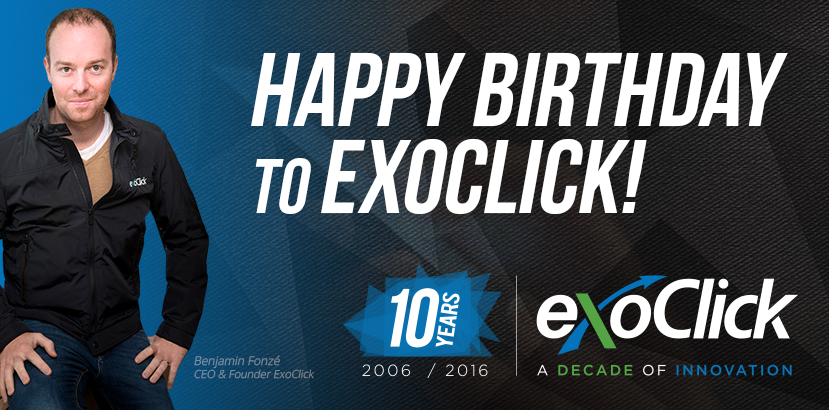 1st of December 2016 marks ExoClick's 10th birthday. From it's humble beginnings the company has become Spain's biggest ad tech company and the 4th largest ad network in the world. ExoClick's Founder & CEO Benjamin Fonzé talks about how it all began 10 years ago…
How was ExoClick conceived?
"Well, it didn't happen overnight. I have always been into technology and back in 2006 there were a few big guys like Google and Yahoo, but not many startups in the online ad industry, especially catering to sites that could not work with those big players. So ExoClick was initially started in order to create a tech platform to help some friends monetise their websites. I wanted to do a proof of concept with these friends which took around 6 months. When I saw it was working and they started generating decent revenues with the platform, I decided it could become a product, so I spent a further 6 months developing it. I got involved with more website partners and started demonstrating the product by talking about it on webmaster forums and boards. Back then I could never have imagined that it would be so successful. The first objective was to make a living out of it myself, although the money was never the prime motive, I was just having fun with it, revenue generation was a side effect, and it enabled me to leave my job and work full time on the platform!"
How did you implement your idea?
"I was a webmaster in the past and I saw other webmaster friends struggling with their inventory. So I made a test with a friend and he made a significant revenue increase, then I knew it was working, but I had no idea it would turn into ExoClick. The implementation was a slow process and I was cautious about hiring people and had many sleepless nights knowing that it had to work out because now I had the responsibility of paying peoples salaries. In fact I was ExoClick's sole developer until 2011!"
Who was your mentor?
"A friend of mine who was an entrepreneur with various online gaming sites, he was using tech and I saw him really grow his business. He helped me out a lot in the beginning, especially with advices on growing ExoClick which really helped to push me, to get me to start taking risks and learn to delegate to people. So he was a great mentor to me."
What is ExoClick's secret sauce?
"We always put tech first, whereas many other companies invest in marketing and sales. At some point, when your tech isn't as good as what your marketing purports it to be then you lose the very foundation of your platform."
"We have grown the company by always reinvesting the profits we have generated, developing our business and expansion in a cautious way. We have never wasted money and only invested in things that we really believe in. No outside investors have been involved, so we haven't been under pressure from outside forces or been pushed to grow the company with the goal of making an exit. This enables us to grow at our own pace."
"We also have a great team of experts driving forward ExoClick's business, our team of talent is made up of 24 different nationalities, each experienced in their own local markets which gives us an edge over our competitors. As we have grown as a company we have created an ExoClick family who all work together as a well oiled machine. Additionally we have introduced 19 employee benefits and created a fun, dynamic and professional company culture to take us into our tenth year."