6 Ways ExoClick Innovated in 2020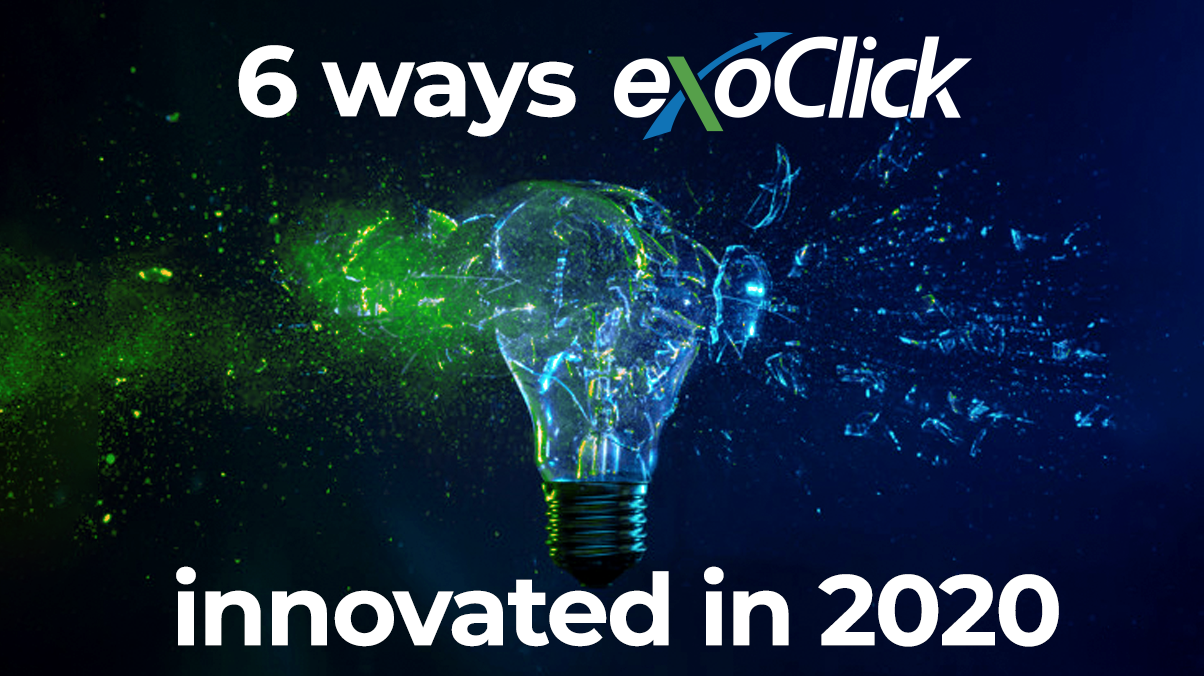 2020, a year like no other, but ExoClick still managed to adapt and innovate. With the help of our Business Intelligence department we have examined the data from 2020 and highlight some of the key platform features, tools and business strategies we provided to our clients to help them maximize their revenues in this unusual year.
1 – Traffic record
2020 was a record breaking year for traffic at ExoClick where we broke many daily records, in August we pushed through the 8.5 billion daily impressions and in early December we hit a high of 9.7 billion daily impressions. Overall network impressions grew by 16% compared to 2019. Part of this can be attributed to a shift in consumer behaviour driven by COVID as more time is being spent online looking for entertainment due to confinements, lockdowns and working from home.
2- Verticals
With this increase in traffic across our network we wanted both advertisers and publishers to maximize their opportunities. As we reported in April with our article Traffic increases and vertical tips during COVID-19, we recommended that advertisers should concentrate their budgets on verticals that performed well during COVID: Dating, VoD, Games and Casino offers. 
Comparing network impression data for 2020 versus 2019: 
Utilities and free software

offers showed the biggest change, jumping a massive 314.64% and especially on desktop which saw a growth of 475%. Offers were targeted at 87.19% desktop versus 12.81% on mobile. With the majority of people working from home, advertisers invested budgets into promoting a range of software tools to consumers.  

Virtual dating

helped connect people during lockdown and advertisers targeted more impressions with their dating offers by an increase of 13.35% compared to 2019, with 64.7% on mobile. Mobile grew from the previous year by 21.9%.

Subscription based digital entertainment

: VoD and music content, 2020 saw a 14.16% increase, with mobile way ahead accounting for 74% of impressions.

Games

offers on desktop fell by 12.5% with advertisers shifting focus slightly to mobile games at 54.65% versus 45.35% on desktop.

Sports betting

dropped the most by 57.08% due to the majority of sporting events being cancelled during 2020. So as we advised, advertisers concentrated their

Casino, Gambling, Poker, Lottery, Bingo

offers on mobile with 83.7% of impressions. This whole sector for desktop and mobile grew 18% overall compared to 2019. 

eCommerce

offers for online retail stores of physical goods showed a slight growth of 2.38% compared to 2019, but the Nutra vertical saw a 1.37% drop. This can be attributed to problems with COD purchases especially in APAC due to lockdown restrictions.
3 – New ad format: The Fullpage Interstitial
This format has seen rapid growth since we introduced it for mobile and desktop this year. Major publishers who implemented the FPI at the beginning of 2020 on Chrome have not been affected negatively since the Chrome update release in March/April, in fact the opposite has happened, and they have won more traffic as a result of not being penalized by Google. 
This large format creative can display static images and video and it is available to bid on via CPM and CPC and demand for the format from advertisers is now higher than ever before. All ExoClick's major advertisers are increasing their spending for the FPI on both mobile and desktop. Our Publisher Case Study: Increase your revenues with the Fullpage Interstitial showed how demand is driving up CPM prices, bringing big value to publishers. For example in the US we saw an 83% increase in eCPMs on mobile in September rising to 187.1% in October, on desktop 87.9% in September and 100% in October. 
With Chrome blocking some popunders being shown we provided workarounds to use different combinations of our Fullpage Interstitial on Chrome and Popunders on other browsers so that publishers could use different trigger methods to ensure that they could still generate revenues with a large format ad zone and recuperate lost popunder revenues due to Chrome blocking.
4 – Video advertising 
The growth of social video platforms like Instagram's Reels, TikTok, Triller, etc, has made consumers adapt to and enjoy watching video content on mobile. Generation Z consumers who use these platforms on a daily basis are one of the factors that are fueling this growth. This has led advertisers to focus much more effort in video advertising, in fact video ad formats have become the star formats at ExoClick seeing a massive 135% increase from 2019. ExoClick offers two formats Video Slider (240.71% growth) and In-stream (71.21% growth). Looking at the mobile desktop split for both formats in 2019 mobile video impressions accounted for 69.41%, this has grown in 2020 to 75.45% versus 24.55% on desktop.
Video advertising needs a different approach compared to display ads so we needed to give advertisers the tools and educate them on how to get these formats to perform well for them. Some clients, especially affiliates who are not product owners, do not have the resources to create video ad content. We addressed this in two ways:
Firstly we created the

Ultimate Guide to Video Advertising

which is packed full of tips, creative ideas, and bidding strategies to give advertisers the confidence to test their campaigns. 

Secondly we introduced our video ad making service for clients to give them creatives for their offers so they could launch campaigns. Once the ads are created an advertising account manager helps them set up their first test campaigns and follows up a week later to help them launch full campaigns.
The key to all video campaigns is to carry out testing for at least a week in order to gather enough data before launching full campaigns. Video advertising is well worth the investment because average CTRs are around 5%. The growth on our network of both the In-stream and Video Slider formats proves that advertisers are finding this a very important part of the marketing mix. 
5 – Native advertising
Native impressions also grew by 9.85% in 2020. This format grew by 3.93% on desktop and 17% on mobile. In 2020 the desktop/mobile split was 38% desktop and 62% mobile. In fact Native was our second most popular ad format with 24.39% of all network impressions in 2020.
According to Statista, Native advertising spend in 2020 was expected to reach $52.7 billion with data from the Native Advertising Institute showing that revenue generation from Native ads is expected to increase by 46% in 2021. Programmatic is a key growth area for the Native ad format, in 2019 Emarketer predicted that 87.7% of all US Native advertising would be purchased programmatically in 2020, and we have seen an increase in advertiser demand for programmatic buying of Native ad zones on our network. 
Native is also a powerfully creative way to reach consumers. We showed publishers that by ensuring that Native ads blended seamlessly into the editorial content of their sites this brings higher CTRs for advertisers which inturn increases demand for higher converting native ad zones leading to higher CPMs, we even created a Case Study: How 3 publishers increased Native ad zone CPMs.
We released Ultimate Guides to Native for Publishers and for Advertisers, both Guides are packed full of optimization tips to boost CPMs and creative and bidding strategies to boost conversions. We also launched an industry first in November with brand new inventory for Native advertising ad spots for a selection of Members Area websites. The Native ads are displayed within the dating profile selection pages making them ideal for LiveCam products. We see a lot of creative potential with this format for 2021. 
6 – Helping Publishers optimize while staying Google compliant
Several business and optimization strategies were communicated to our network of publishers via our account managers and within our Ultimate Optimization Guide for Publishers. Advice included how to increase In-stream revenues by customizing the frequency capping to show more video impressions to end users who spend longer time on a publishers website. Our inline code allowed publishers to gain revenues by showing popunders to ad block users, and many more tips to boost revenues while ensuring a great user experience.
Chrome also focussed on creating a better end user experience with regards to ads by blocking heavy ads which slowed down website load speeds. In February we began automatically compressing heavy display and video ads to meet IAB requirements. This ensured that publishers provided a great user experience, kept their SEO rankings and advertisers would be sure that their ads would be shown to end users.