Publishers: Here's how to monetize social media groups with ExoClick!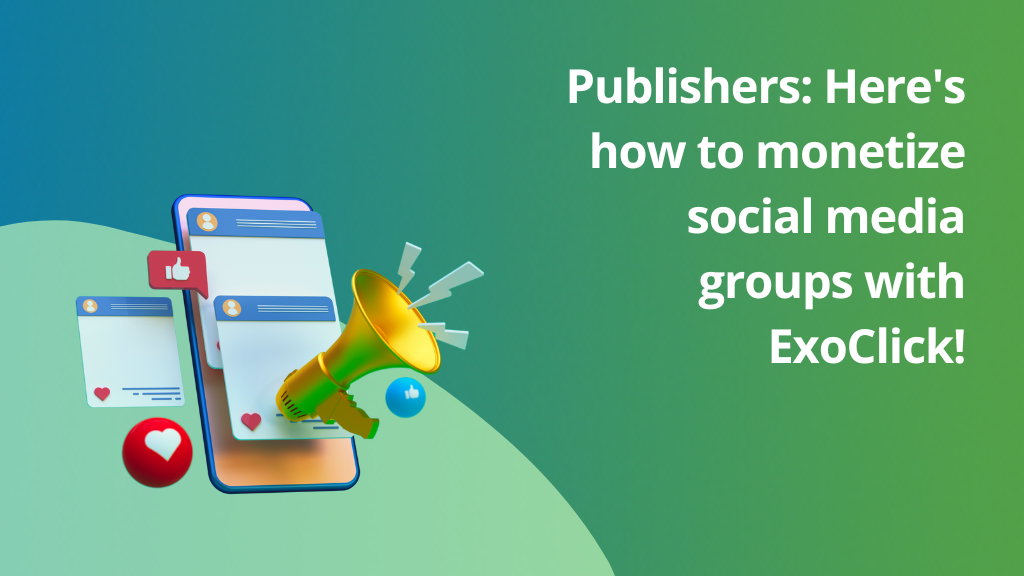 If you are a publisher and manage social media groups and messenger chats, it is definitely time to learn how to monetize social media groups! Your audience is highly active and engaged because your content reflects their hobbies or specific interests. They are always craving new content and entertainment, and by showing them sponsored messages promoting services related to these interests and hobbies, you could bring value to your community while boosting your revenue!
So, why monetize your social media traffic?
Why should you learn how to monetize social media? Simple: As we know, in this day and age, to be a publisher (especially if you are a Social media publisher ), you no longer need a website: Social media apps and messenger groups can be the best space to display your content, because people spend more time on social media than on any other channels- Around 145 minutes daily! Here are a few reasons why you should monetize these audiences that you have built overtime:
#1 Millions of users join and engage every single day: 4.62 billion people across the world use social media. Also, according to Smart Insights, 424 million new users have gone online for the first time within the last 12 months. New audiences are constantly joining social media, which means that your audience is ever-growing and always fresh – That also means that this audience is difficult to burn out and they are craving new entertainment, making its monetization highly profitable at all times.
#2 Plenty of channels for your choosing: You have got hundreds of social media apps to use such as Telegram, Facebook, Instagram, Reddit, Snapchat, Twitter, Groupme, WhatsApp, TikTok, Viber… You name it! If you are playing with more than one social media channel, you have most likely noticed how varied audiences and communication styles can be from one to another. For instance, platforms such as Instagram and TikTok are mostly aimed to Millenials, whilst Facebook is sometimes used by slightly older audiences. That means that social media can cater to very different kinds of offers, creating opportunities to work with advertisers that are a perfect fit for your audience.
#3 Best verticals and niches: Similar to point 2, Social Media messenger apps and platforms are great to target very specific interest groups and niches. A clear example is social media niche dating, with which people can find their ideal partner based on sexual orientation, and background. So advertisers can find the most relevant niche groups to their offers, which means that the sponsored messages that will reach you are highly targeted to your group's or page's subscribers interests, so they will not be regarded as 'spammy' or uninteresting.
#4 Full control of your advertisers' messages: If you are monetizing your social messenger apps traffic with the ExoClick platform, you will receive advertiser's sponsored messages in the form of a direct link to their offer's landing page. From there on, you can personalize these messages with creatives that you know that truly speak to your audience's language, culture, background, interests and preferences in mind. This generates an even higher conversion opportunity, leading to more demand for your traffic – Because nobody knows your audience like you do! It also gives you full control over what goes on your channels, sharing a customized message matching your audience profile.
#5 You can make the most of influencer traffic: According to TheB2BHouse, Influencer marketing spend is projected to grow 23.4% and 15.9% YoY in 2023 and 2024. The total projected revenue by 2024 for influencer marketing spend would be $7.14 billion (vs $4.99 billion in 2022). This growth is happening across most social platforms such as YouTube, Instagram, TikTok, Facebook, Twitter, and others. Working with social media influencers can not only drive higher revenues for you and your advertisers, but also it can increase interest amongst your subscriber base, increasing follower and engagement numbers. That is especially true if these influencers talk about relevant topics and interests to your audience.
#6 Higher revenues for you: The billions of users across social media channels making up the best-performing, most active referral online traffic, highly targeted niches, popular influencers in your vertical, different audiences with different communication styles opening up various promotion opportunities… Advertisers are more than happy to pay for it to promote their offers at your messenger groups and social media platforms! They are after the high CTRs, engagement, reach, and conversions, all ending in high profits and ROI for you!
Top Tips! How to monetize social media groups:
Tip! Enable relevant verticals: One of the first to remember when learning how to monetize social media groups is that, because you can choose what verticals or categories to enable on your social media ad zones, you are in charge of opening up or limiting the options that you will give to your advertisers. Make sure that you enable verticals that are relevant to your group or chat's content so that your audience will be interested in your ad zones' offers.
Tip! Tap into popular demand: Equally, although you still want to keep it relevant to your vertical, remember not to limit your advertisers too much: The more you limit, the less revenue avenues to tap into. Also, there are some coexisting interests within verticals: For instance, if you have a dating group, you can still promote video games, since a big portion of your audiences, especially Millennials, play videogames in their free time, so it is relevant.
Tip! Play around with the design: When customizing your advertisers' sponsored messages, you have plenty of format options to play with: gifs, images, videos, infographics, text, emojis, stickers… Play around with different designs and see what works best for your audience, per channel, and per vertical: For instance, for a gaming offer, a short video of an influencer playing the game and reaction to it could do very well.
Tip! Know your audience and your medium: As stated above, every single channel has a different line of communication and method. For example, Twitter is text based and it limits your messages to 280 characters. On the other hand, Snapchat is almost purely based on visuals. These differences attract diverse types of audiences that use different communication styles. For instance, Instagram is targeted mostly to Millennials, who use plenty of emojis and shortened expressions such as LOL and LMAO. Test these when creating your advertisers' sponsored messages.
Tip! Use ExoClick's reporting system: Get real-time statistics on your ad zones' performance through ExoClick's advanced reporting dashboard. Social Media never sleeps! And your audience constantly could be engaging with your audience at any time of the day or night. This means that you really want to keep on top of how they are interacting with your sponsored messages ad zones, to optimize and/or spruce out as needed.
Tip! Explore our Payment Options: Through the ExoClick platform, you choose your payment timescales and payout methods, gaining full flexibility. Some payment methods available are Cryptocurrency, Paxum, Wiretransfer. Depending on the payout method that you have chosen, you can choose to get paid monthly, bi monthly, and even weekly.
The best option to monetize your social messenger apps traffic is through an ad network that allows you full control of your sponsored messages, and has a vast array of tools to manage your ad zones and campaigns. On the other hand, you also want to make sure that your ad network keeps their publishers protected from non-compliant ads, works with hand-picked, completely trust-worthy advertisers, and has a compliance team that works 24/7 to guarantee ad chain flow security, ad quality and full industry compliance.
Want to learn more about how to monetize your social media traffic through the ExoClick platform? Talk to our Customer Success team here!