ExoClick's traffic sources for Online Dating offers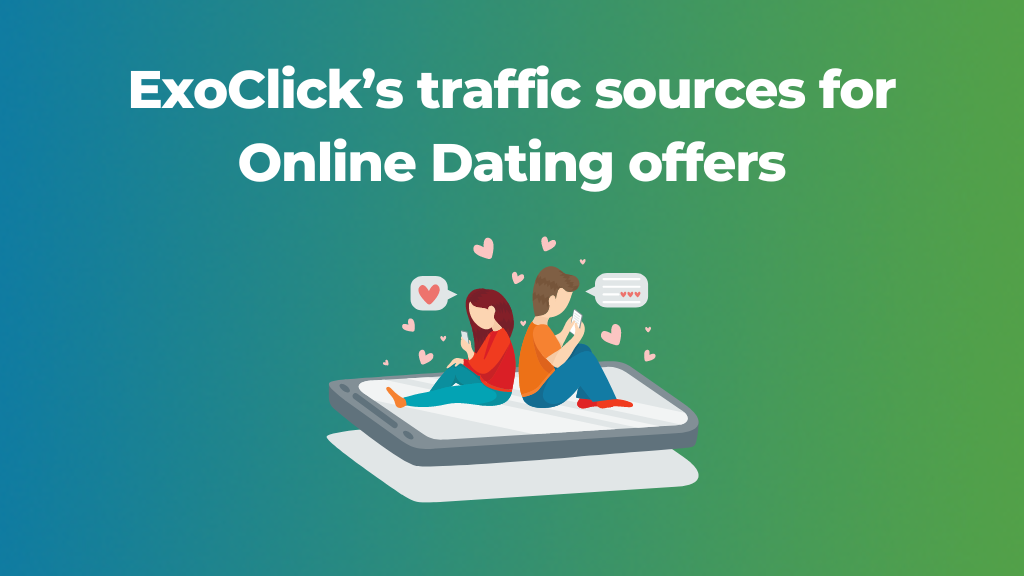 Email Clicks, Members Area, Free Content Sites and, very recently added on our Marketplace, Social Media, are ExoClick's best traffic sources for online dating offers. Which one is the most appropriate for your campaigns will depend on the nature of your product or service, its niche, and what audience you are looking to target – So, if you are ready to jump ahead and buy dating traffic, continue reading to find out what the best traffic sources for dating offers are for you!
Why is online dating a great vertical?
Connecting with others is a basic human need, from friendship to casual dating, to finding true love. The online dating market caters for every possible human interest and hobby, from sports to music, orientation to age groups… There truly is a dating site for every possible group.
Online dating sites generally have localized dating to allow users to find someone in their local area so that they can meet in person for a date. Online daters use filters to find someone who has the same interests as them, along with physical and personality attributes that they are attracted to.
One of the effects of the COVID global lockdown is that online dating and video chat apps have grown to be incredibly popular tools to connect with others through the internet. That means that monetising online dating offers has become even a bigger business! According to Statista, Revenue in the Online Dating vertical is expected to show an annual growth rate of 9.3%, resulting in a projected market volume of US$4,230m by 2024. User penetration will be 4.9% in 2021 and is expected to hit 5.7% by 2024. The average revenue per user is expected to amount to US$8.76.
Download our updated 2022 version of the Ultimate Guide to Dating for advice on maximizing revenues and info on the best ad formats for the Online Dating vertical!
What are the best Online Dating Traffic Sources? 
Are you looking to buy dating traffic? Learn more about ExoClick's best traffic sources for dating offers: Social Media, Email Clicks, Members Area and Free Content Sites.
Members Area Traffic
Members Area sites are perfect for online dating offers because your ads are placed inside Members Areas in dating sites for active users who have gone through a signup process. Because Members Areas offer limited ad zones, your ads stand out more in them, achieving higher CTRs compared to free content sites.
Global daily volumes are 50 million.
Users sign up by giving their email address and creating their dating profile including highly valuable information such as their gender, age, sexual preferences, location, lifestyle, and interests: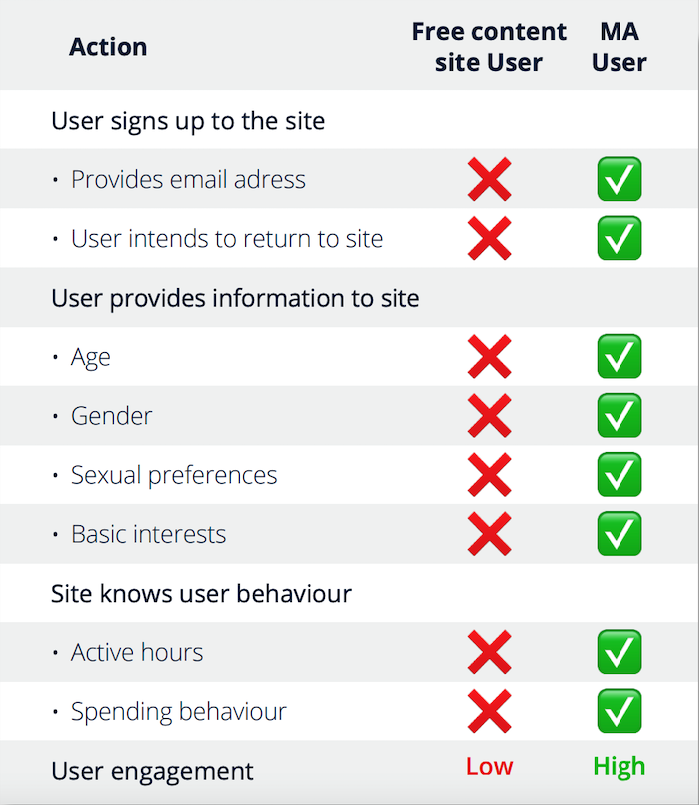 Members Area is also a great traffic source for online dating because daters spend time, sometimes daily, checking out the profiles of other dates. Additionally, if they are paying members, they have already made an online purchase, making them more likely to also pay for the services advertised in your offer.
90% of ExoClick's Members Area traffic consists of dating sites, with users which tend to have a higher purchasing power, making this traffic source highly valuable. 48.3% are English speaking countries, with the remaining traffic from tier 1 European countries. That makes 67% of Members Area traffic, combining both English speaking and tier 1 European countries.
There are 2 kinds of daters:
Paid member: These users have full access to the site and pay for a monthly subscription. They are more than happy to make online purchases.
Freemium member: These users have not paid for access. However, they have created a profile and have more limited access to all features, but still have access to your offers.
Ad Formats: The most popular ad formats for Members Area are:
Native Ads: Native ads contain an image, a Title, a Description and a Brand name. They are labeled 'Powered by ExoClick' so the end user knows it is an ad, which means that any clicks can be considered of high quality. Here are 3 variants:
In Profile Native Ads: In Profile Native ads specifically appear like a dating profile, displayed within the real profiles of your dating user pages. They still display the 'Ad' label to avoid confusion.
Native widgets:

ExoClick's Native Widgets

are great for user experience because they look like the content on a publisher's site and offer large volumes.
Native Inbox Message Ads: This Native format is only available for Members Area traffic. It appears as the top message of the user's message inbox.
Banners: These Display type ads have a higher CTR on Members Area sites compared to Free Content sites because they have limited ad spots, and really stand out, not being one of many more ads.
Popunders: This popular ad format is full screen, an ideal format to make a dating offer with great creatives pop!
Push Notifications: Consisting of an image or icon on the left and text on the right, dating site users have opted in to receive Push messages, making this a high quality traffic source.
Premium direct links: The Direct Link is a highly flexible ad format that directs clicks directly to your landing. They can be placed as Menu Tabs, Push Notifications and Back Button Offers.
Tip! All in English: Most traffic for Dating offers is made up of English speaking GEOs, so there is no need for multiple language ad copy or landing pages: everything can be in English.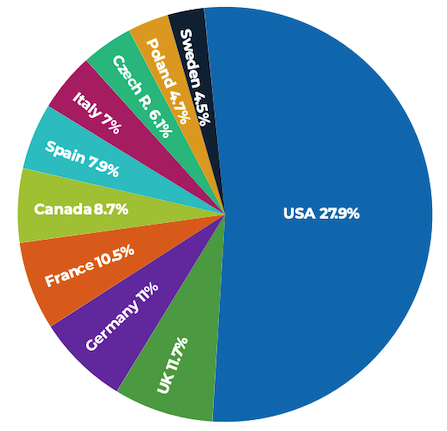 Tip! Portray your niche: Your creatives should reflect the dating niche you are targeting. For instance, if you are advertising offers for a dating site that caters for pet lovers, show it in your creatives and texts.
Tip! Use dynamic tags: Are you using Native and Push Notifications? Use dynamic tokens to change texts within your campaign depending on where your user is based, the device they are using, etc. Learn more here!
Tip! Keep Compliant: Different dating site publishers and verticals have different rules. Speak to your account manager or contact ExoClick's Customer Success agents to check before you run your campaign.
Devices: Mobile (50.3%) is the most popular device for Members Area users to access dating sites, Desktop is the second most popular with 43.9% traffic and last one is Tablet, with 5.5% traffic.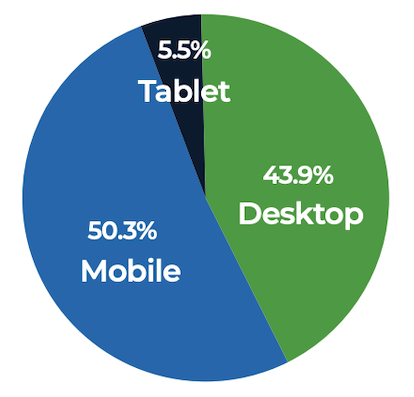 Social Media Traffic
ExoClick's new Messenger Apps and Social Media traffic source, allows advertisers to target social media users. This traffic source is great for dating offers because 4.62 billion people across the world use social media: Facebook, Instagram, Twitter, Snapchat, WhatsApp, Viber, Telegram, etc. These channels allow advertisers to promote ads on groups and chats to very specific interests groups. Bidding is in CPC.
According to Smart Insights, 424 million new users have gone online for the first time within the last 12 months. This means that new audiences are constantly joining social media channels, keeping the audience on these sites fresh. The best thing? Online Dating Chats and Groups are extremely popular.
Global daily clicks for this very new vertical are 500 K.
To promote their online dating offers using this traffic source, advertisers need to send the direct link to the offer they want to promote to the group Admin, who will in turn curate the text and creatives, and post the ad within their group chat. This workflow has a few key benefits:
#1 Time saving: Advertisers won't need to spend any time and resources creating content for their offers, being able to focus on tracking and managing their campaigns.
#2 Creative variety: Affiliates and admins use creatives of all kinds to push online dating offers for their social groups: static, videos, text messages, gifs, etc.
#3 Customized messages: Admins know their subscribers very well. When they create the content for advertisers' online dating offers, they craft them fully targeted to their audience's language, culture, background, interests and preferences in mind.
#4 High CTRs: This audience tends to refresh itself, and hasn't been burned by constantly seeing the same dating offers, which means that they are more likely to become interested and click, which generates a higher volume of conversions.
Ad format: Direct Link provided to group admins.
Devices: Mobile (91%) is the most popular device for Messenger Apps and Social Media traffic. Second one up is Desktop (8.5%), and lastly, Tablet (0.5%).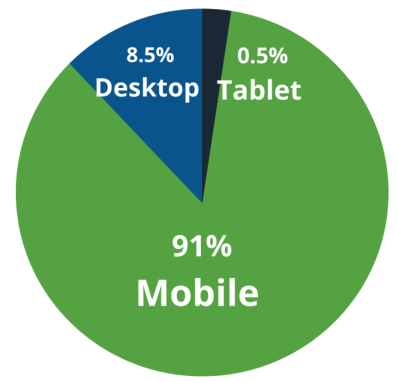 TIP! Know your niche: Social Media is an excellent choice to target very specific interest groups. To target the right chats and messenger groups, make sure to apply very adjusted targeting to your specific niche. For instance, if your dating offer is for Music fans who live in Sweden, you could target groups that discuss the latest tour dates and music events in specific Swedish cities.
TIP! It's all about brand positioning: This traffic source is also ideal for brand awareness and positioning. So whilst affiliates and admins can curate your ad's creatives for you, it is always a good idea to still provide them brand assets so that your ads are heavily customized to fully capture users' attention.
TIP! Test out different landings: Social Media audiences are there for the entertainment and enjoy fun content that is easy to engage with. That calls for editorial style landings pages, blog style, tips and tricks, etc. To make sure that you are catering to your specific audience, test out different landing styles to see what works best.
Email Marketing Traffic 
Email Clicks are another powerful traffic source for online dating offers: An email campaign is sent to dating site users' inboxes, which generates high value email clicks. These active users have opted-in to receive these emails, having subscribed to a specific site. The email they receive is a template featuring a subject line, a short text and a call to action (advertiser link) that directs them to your offer's landing page or sign up form. Bidding is CPC.
Global daily volumes are 740K daily clicks
Here are the 3 main reasons why Email Marketing is highly effective:
#1 GEO: The majority of traffic comes from Tier 1 English speaking GEOs such as US, UK, CA, AU and tier 1 EU.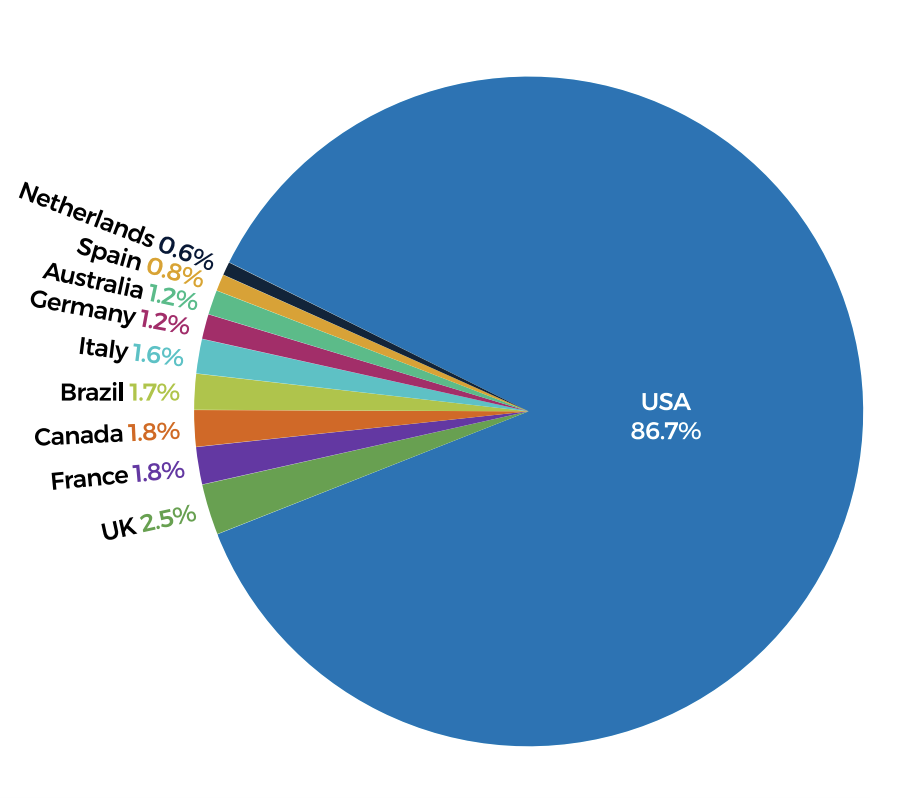 #2 Targeting: Through email campaigns you can apply deep targeting to a campaign and analyze the data to help you maximize your ROI, making the right decisions.
#3 Audience: Email users are high quality because they come prepared to join your online dating site, potentially to buy a subscription. They have read about your dating site, and they want to try it out!
Ad Formats: Email Clicks
Device: The most popular device for dating traffic for email clicks is Mobile, being 86.1% of all volumes. Desktop, 12.3%, and Tablet, 1.5%.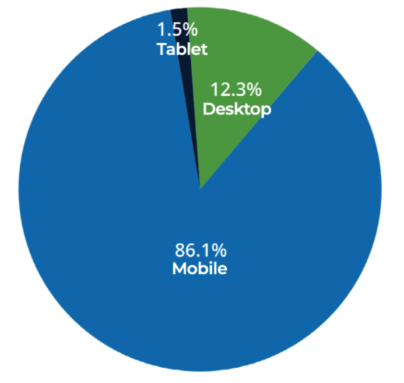 TIP! Use Day-parting to target mobile devices from early morning and early evening when users are commuting and relaxing at home. Use carrier billing offers to make it easy for end users to sign up to your dating product from a mobile device.
TIP! Use Smart CPC rather than a fixed CPC bid, in order to compete for each zone and ensure that you're getting the best quality traffic possible according to your budget. We suggest that you use a high Smart CPC and let the system adapt the CPC according to the zone prices.
Free Content Sites
Free Content sites traffic sources are viewable by anybody browsing the internet, without the need of signing up or giving any personal information such as emails and passwords. These sites provide users with content targeted to specific interests. This traffic source is extremely popular with huge volumes of traffic.
Global impressions for the dating vertical are 109 million.
ExoClick has traffic from Streaming platforms, gallery sites and cartoon sites. 42.5% of this traffic comes from Tier 1 countries, 16.91% are Tier 2, and  40,59% are Tier 3. Because this traffic source's audience is wider, it gives you a much wider reach for your dating offer. It consists of two subcategories:
RON: Run of Network free content sites traffic is very affordable, with high volumes. It's the best way to find out new converting traffic sources on a regular basis.
Premium: Free content sites with very high quality traffic, they are account managed with verified ad placements, therefore these ad zones that are more expensive to bid on than RON sites.
Here are three of the main ExoClick's Free Content site types to consider if you are planning to buy dating traffic:
Streaming Platforms: Live Stream platforms deliver on the human need for interaction, allowing users to interact with others, online. Everything about this vertical is 100% personal. Users join Live Streams and interact with the person that is doing the Stream. During the pandemic lockdowns, ExoClick saw a large increase of Streaming offers, because of the human need to interact across millions of people who remained locked down for months.
Gallery Sites: A gallery site is a website where the user can find several galleries of content that the user seeks out for entertainment purposes. These galleries can either be video or static images and are ideal for dating offers because they gather users that have specific interests in common.
Ad formats: Banners, Fullpage Interstitial, Instant Message, Push Notifications, Native and Video.
FullPage Interstitials display on desktop and tablet horizontally and on mobile vertically, and it's a rich media ad format so you can use a static image or video. They are a great alternative to Popunders because Chrome blocks some Popunders, but allows all FPIs. These two formats are used in combination quite often.
Devices: The most popular device for dating traffic for free content sites is Mobile (69.2% of all volumes). Desktop opens are 26.2% and Tablet 4.1%.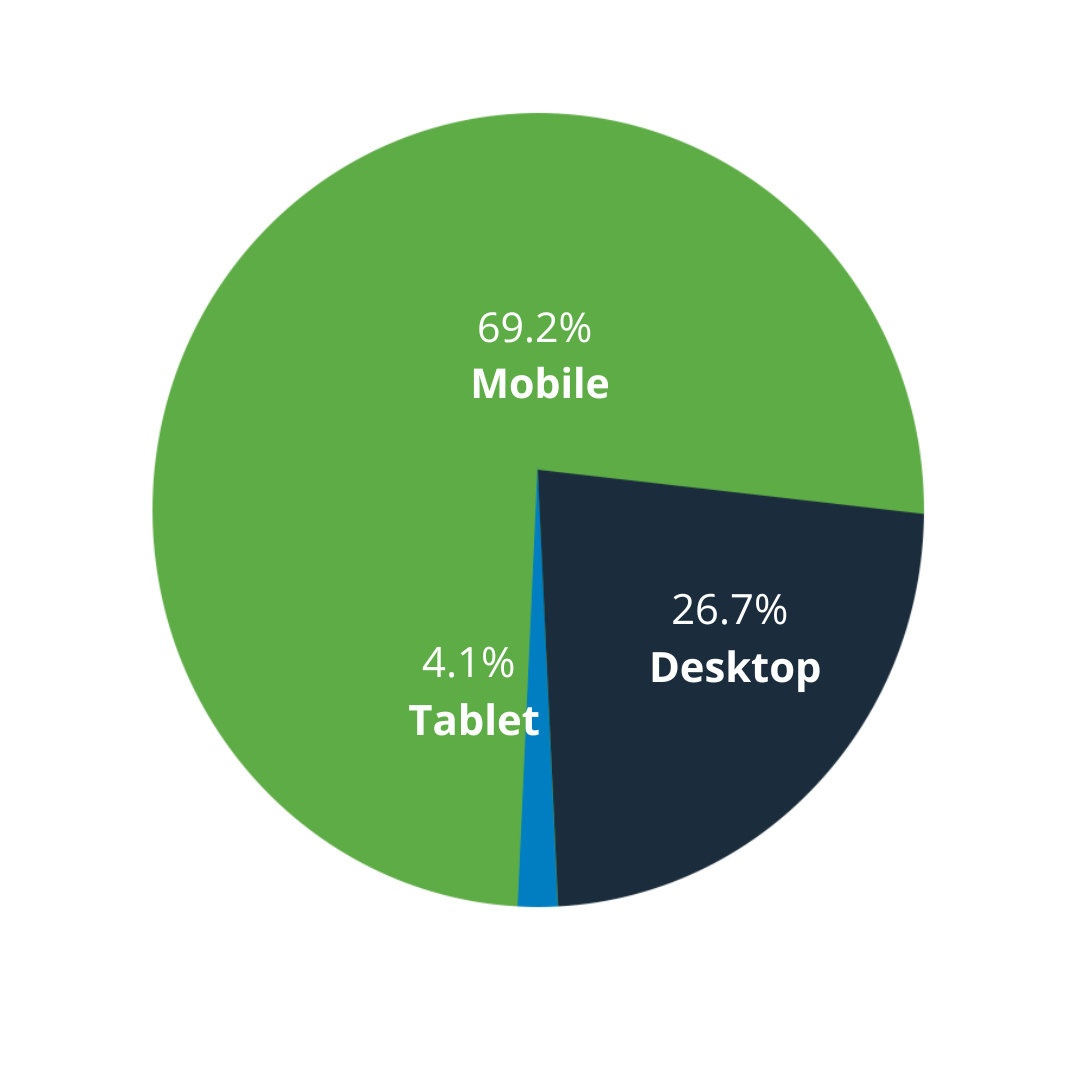 TIP! Younger daters are used to apps like TikTok, Instagram, etc, so use similar styles in the creative for your ads such as popular filter types and effects, the same brand colors (not the logos, that is copyright infringement) and fonts for your texts.
TIP! Short video content is super popular with this audience so test out video creatives. Try a video banner on a Fullpage Interstitial on mobile, it will show in portrait mode just like how they expect to see a TikTok video, or try Outstream video or Video Slider which are triggered in both portrait and landscape.
TIP! Take advantage of large volumes! With RON set a low bid because volumes are high, prices are low and you will be able to achieve conversions. Set up separate campaigns for
more expensive Premium traffic, then compare the results.
H2- Video advertising using ExoClick's traffic sources
Because of the popularity of apps like TikTok, Instagram and YouTube, video ads are becoming more and more essential in online advertising. They have a high CTRs because they are entertaining, instructive, and the end user can passively watch them. Video formats give you an opportunity to really connect with the end user. ExoClick currently offers 3 different video formats:
In-stream: Automatically plays when a user clicks on video content. Customizable with clickable
CTAs. Features a Skip ad button, allowing the end user to close the ad after 5 seconds. In-Stream ads have helped some of our advertisers seriously increase their campaign's performance, it's the case of our advertiser who increased their ROI by 36%.
Outstream: Triggered wherever the publisher has placed the ad zone on their site, to become
part of the user journey. Think of this format as a display ad that is video. Automatically plays on
mute unless the user unmutes the ad.
Video Slider: Video format that slides in from the bottom right of a web page once a website's
page has fully loaded and it is very eye-catching. Features a Close ad button. This other ExoClick's advertiser increased their ROI by 40% using Video Slider.
Are you promoting video campaigns but don't have ad creatives? ExoClick can create them for you with our video making service! To start using this free service please contact your account manager or a Customer Success specialist here.
3 Top Tips for online dating offers from ExoClick's account managers!
Tip! From Lee: "Speak the right language: Your creative ad copy needs to speak the same language as your audience otherwise they will not be responsive to click. For example if you are targeting an older niche your marketing copy might say "Meet a soulmate now!" For a younger age group you would say, "Hook up and hang out now!"
Tip! From Tatiana: "Different types of dating offers need a different marketing message: For example, test out online dating free trial offers, or one week free memberships, or free tokens to test out the site, offer discounted joint memberships for other sites you might be promoting. If it's a niche dating site such as if you are targeting over 50s, the ad creative should reflect activities that this demographic enjoy, such as wine tasting, dinner dates, short holidays, etc. For a younger demographic, you could portray outings at bars, clubs, etc. If it is related to sporting audiences, you could show paddle boarding experiences, hiking, etc.
Tip! From Alex: "Get real with visuals: Don't use stock images, everyone has seen them before, instead make your marketing material look like real life selfies, test with creatives using Snapchat/TikTok style filters, you don't need professional marketing material, try to make it as real as possible. The best converting creatives are with good looking, attractive but real looking people. Don't mislead your users by showing a supermodel of 20 years old in your creative, keeping it real allows the end user to think they can go on a date with her/him and not think that the profiles will be out of their league."
Why buy Dating Traffic using ExoClick's Traffic Sources?
According to Grand View Research, the Dating industry was valued at 7.5 billion USD in 2021 and is expected to grow at a compound annual growth rate (CAGR) of 5.5% from 2022 to 2030 – definitely a market worth investing in!
Using ExoClick's high quality traffic sources can generate high conversions for your dating offers. Because every campaign is different, our advertiser account manager advice is to test out and launch several campaigns across all traffic sources to find out which converts the best for you, or which combination gives your higher performance.
Want to buy Dating Traffic using ExoClick's Traffic Sources? Get in touch with our Customer Success team!