Advertisers: Is Outstream more cost effective than Banners?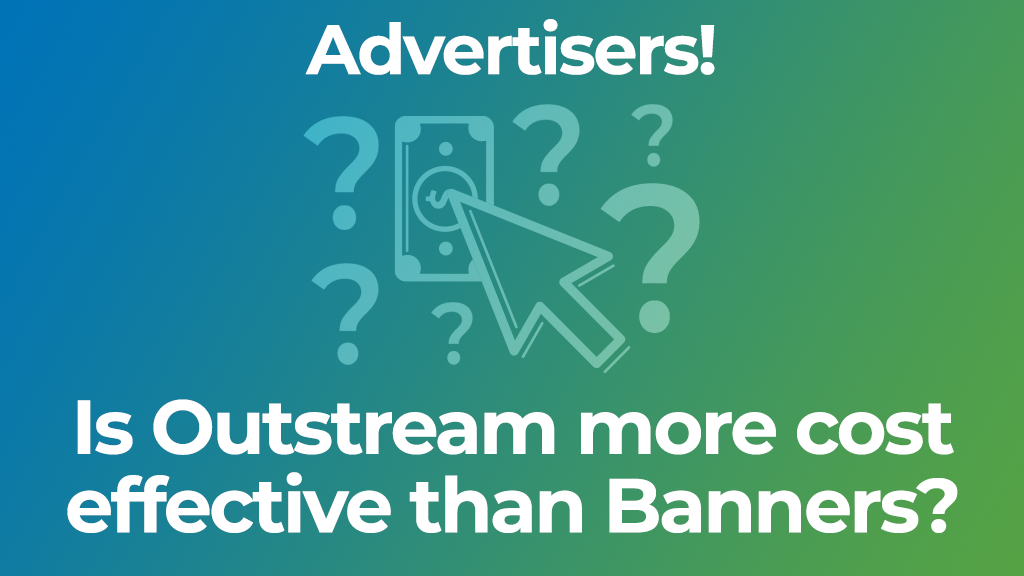 Advertisers are still reliant on Banner ads for their offers. They are available in several sizes and are ubiquitous on any publisher site. But what if I told you there is an even more effective display ad format that has a significantly higher CTR than banners, but is also much more cost effective than Banners. The format is Outstream, which is a display ad format that uses a video ad creative. 
Very cost effective
Outstream is great value, and we got our Business Intelligence department to prove it! They examined our network data and compared global eCPC prices for Outstream and Banner ads. On Desktop, eCPCs were -62.6% less expensive and on Mobile -63.6% less expensive for advertisers when bidding on Outstream versus Banners.  
Additionally, with a choice of bidding models: CPM, CPC and CPV you can test which bidding model works the best for you. With CPM you pay only for viewable impressions, when the video ad starts playing on the users screen, with CPC for each end user click and now, for the first time for a display ad format you can select CPV, where you only pay for Outstream ad views when an end user has watched 10 seconds or more of your ad.
Outstream also has a much higher CTR than Banners. Our Business Intelligence team examined the CTRs globally across our network for several verticals on both Desktop and Mobile:
CTRs and Verticals
Desktop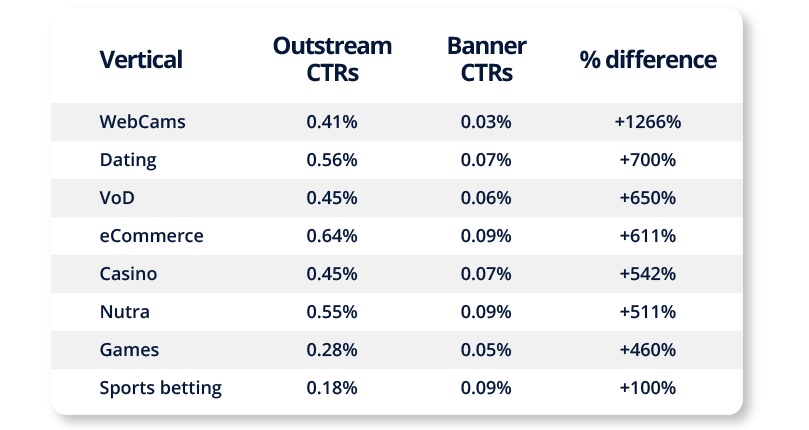 Mobile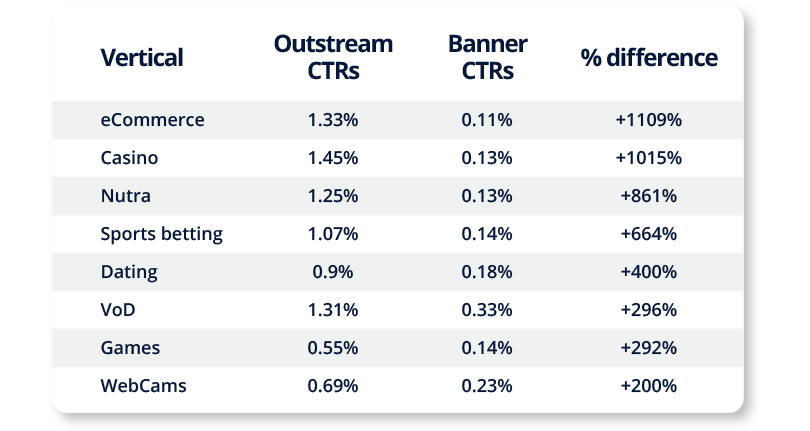 Why does Outstream have a much higher CTR?
Viewability: An Outstream ad loads only when it becomes visible within users view port. Viewable impressions provide a superior performance, less impressions but more clicks.
It's video: You are showing the end user a video ad compared to a static image, so you can really tell a story about your offer or product. You can reuse your In-stream and Slider video ads for your Outstream content. If you are new to video advertising why not try ExoClick's video ad making service by contacting our Customer Success team. You can also create your own video ads, check out our Ultimate Guide to Video Advertising for creative and optimisation tips for. Here are also some quick and easy video editing tools you can use: Creatopy, Veed's video editor, Shotcut, Inshot, the apps do not require any previous video editing experience, so you can quickly get your video ads made and start those campaigns. 
Your ad really stands out: ExoClick recommends to publishers that they should have no more than one Outstream ad per page and to place the ad zone below the fold on Desktop and below the middle on Mobile. This is because the Outstream ad then becomes part of the user journey as viewers explore a website's content, and your ad will be the only Outstream ad that a viewer sees, giving you a much higher view ratio. According to eMarketer 77% of agencies and 70% of advertisers prefer Outstream ads. 
Deep targeting: All targeting options are available for advertisers. Additionally you can use keyword targeting to reach users who are interested in a particular niche that is related to your offer.
Conclusion
So as you can see Outstream has a huge percentage increase in CTRs compared to Banners, and giving you a better win ratio as you are paying less for much higher conversion opportunities. Test out Outstream today for a highly effective way to convert your offers, check out our Advertiser Guide to using Outstream Video for tips and best practices.