Advertisers: 2018 is the year of user experience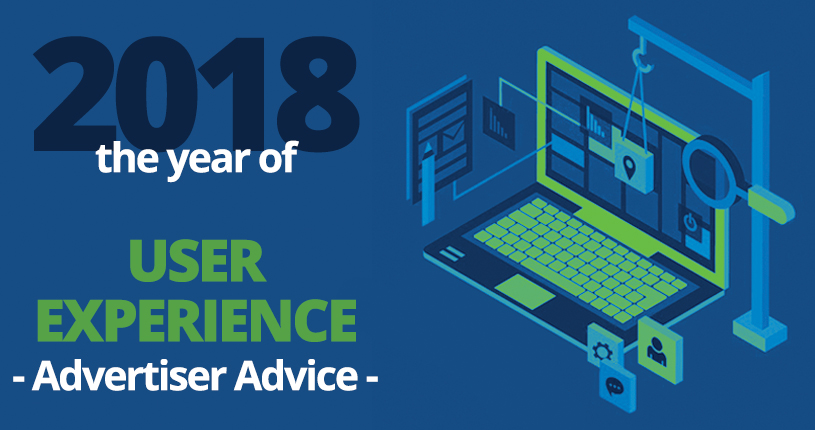 Google's new restrictions are trying to ensure that 2018 is all about user experience and for publishers and advertisers, this will be the key to success in 2018. Advertisers should use Google compliant ad formats and creatives which are designed to enhance the user experience and not distract the user from viewing the content of a publisher's site. Two formats that are are totally compliant are native advertising and pre-roll in-stream video. Here I give advertisers tips on how to maximise the impact of these formats.
Native advertising
Users interact with native ads 20% to 60% more than they do with standard banner ads. The format allows for a title, short description and image ensuring that the ad is viewed just like an article that would appear on the website being targeted. Once the user clicks on the ad he will be taken to the offers landing page. Here are some tips to ensure maximum CTR:
Make sure the title text and description fits in with the site's editorial content and style.
Never make the texts sales orientated.
If targeting different countries, provide texts in the appropriate language.
The image should be simple, with no animation, logos, branding, watermarks, CTA buttons or text. Match the image with the title and description.
The CTR and performance can vary a great deal from one creative to another, so test many different images.
For RON campaigns, use the CPC payment model so the CPM is automatically adjusted for every spot, including low CTR spots like footers.
Create specific campaigns for premium sites and use the Smart CPM model to ensure the best quality impressions.
Use an ad network that has deep targeting features to fine tune audience reach.
The offer's landing page should provide some form of content: text, images/videos and it should be in the form of an article or tutorial.
Tell a story first, use the page as a tool to educate the user about the product or service, provide customer testimonials, if it is a live cam product try interviews with some of the models. After the story, put the call to action at the bottom of the landing page. By making the landing page more lifestyle orientated it will increase conversions because the user will be more engaged.
Pre-roll in-stream video
Google considers that auto playing video ads with sound go against user experience, however pre-roll in-stream video ads are totally compliant. Creatively, this ad format has huge potential for advertisers. Telling stories through video is a highly-effective way to build excitement, inform, entertain, educate and motivate the audience. A video story can evoke emotion and create a memorable experience which not only raises the profile of a brand/product but also drives clicks from consumers who want to know more, and ultimately make a purchase.
A study by CodeFuel and Nielsen found that 43% of users will watch an interesting video ad and 39% will click on a video ad that has an interesting offer. Here are some tips for producing a great converting video ad:
Keep the message tight and offer entertainment value to users with as little disruption as possible.
Publishers can add a 'Skip' button giving their viewers the option to skip the ad after the first 5 seconds. So it is imperative to convey the message quickly, incorporate strong calls to action early on in your video and create content that encourages viewers to watch the video ad in its entirety.
Tell the story with and without sound, some users will have the video players volume icon set at 0 or muted.
Invest in a good quality production.
Ensure that the video ad is set at the correct screen resolutions as required by the ad network to ensure the ad shows well across all devices.
Use an ad network that gives a good range of statistics for CPV, ExoClick offers real time statistics on video impressions, more than 10 second video views and views ratio.
Use the CPC model for campaigns that have a very high View Rate but a low CTR.
Use the CPV model for campaigns that have a very high CTR Rate but a low View Rate.
Ensure that pixel tracking is implemented, it allows for a conversion to be tracked even when a user manually visits the site "type-in" shortly after seeing the ad, without actually clicking on this ad.
Using S2S tracking might be more accurate for other formats, but in case of In/stream there is a limitation: conversions generated without a click, for instance through "type-in" traffic, won't be attributed to the video campaigns
Use a network with deep targeting features especially if you want to reach specific niches and implement retargeting to track users.
In conclusion, don't see Google's new restrictions as a hindrance, see them as an opportunity by getting creative and testing out these two very effective and compliant ad formats. Find out more about these two formats here.