Publishers! Benefits of using Sub IDs on your Email Click ad zones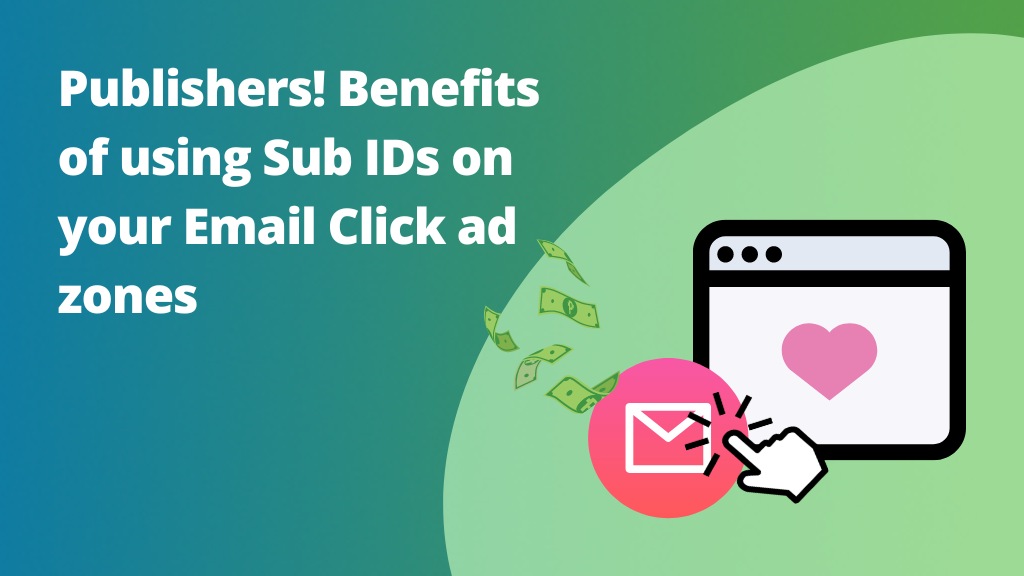 Are you a Dating website publisher wanting to monetize your email sign ups? Then, Email Clicks are the ad format for you: Publishers have the freedom to create an email template that all advertisers will use to target your email lists. Available on CPC for advertisers, it works by sending an email to the end user which contains a call to action (Smart Link) that directs the user to the advertiser's landing page or sign up form. Email Clicks Sub IDs can help you monetize the Email Click format in a more optimized and segmented way which also attracts more advertisers. So, curious to learn more about using Sub IDs on your Email Click ad zones and how to set them up? Then, continue reading!
What are Email Clicks for publishers?
Wondering how to monetize email traffic? Email Clicks are a very effective way to monetize your email sign ups from these end users who have opted-in to your Dating Members Area website with their email, whether they are currently active users or have been in the past. If you are a publisher working with ExoClick wanting to monetize your Dating traffic with Email Clicks, here is how this format works in 3 simple steps:
Step 1: Your Account Manager will send you a Smart Link with hand-picked advertiser landing pages or sign up forms for offers that match your vertical preferences
Step 2: You create your email template, which should feature a subject line, a short text and a CTA containing the Smart Link. It can be as simple or as complex as you want!
Step 3: You can now insert the Smart Link into your email template and send the campaign to your end users' inboxes, generating high value Email Clicks.
As you can see, it is a very simple ad format that can help you monetize your email sign ups!
Benefits of using ExoClick's the Email Click format
Monetizing opted-in website users with Email Clicks is a great way to increase your revenues whilst sharing extra relevant content with your website's and users outside your website and keeping them engaged. Here are some 4 key advantages:
#1 Revenue increase and diversification: Monetizing Email Clicks traffic provides an additional source of income for your website and helps you increase revenues. Also, it helps you diversify your income sources, reducing dependency on a single channel and providing more stability to your business.
#2 High conversion rates: You are sending highly targeted advertiser offers directly to your subscriber base, who are already interested in your website's content and are more likely to click, making this format high converting, which is great news for your ad revenues!
#3 More advertiser demand: Email Clicks are a great medium to generate conversions, since email marketing is one of the very few promotion mediums that allows you and your advertisers to communicate directly with your audience, making their ads high visibility. This will increase advertiser demand, making your ad zones more competitive.
#4 New ways to engage your audience: Monetizing Email Clicks allows you to continue engaging an already interested audience with more content outside your website with content that matches their interests, keeping them engaged with your brand. Also, it is a great opportunity to re-engage inactive users and take them back to your website!
With that in mind, the best way to monetize Email Clicks is by choosing a dedicated ad network such as ExoClick that finds the best matching advertiser offers for you and your website.
Why use ExoClick to monetize your email traffic?
So, why monetize email traffic with ExoClick? By monetizing Email Clicks with ExoClick you will not only gain access to the industry's largest network of active advertisers and to high quality email traffic sources from all relevant GEOs around the world, but you will get to manage and monitor your ads with a highly intuitive and easy to use platform filled with useful publisher tools, as well as getting expert advice on hot to monetize your email sign ups from our team of Account Managers. Here's what's in it for you:
#1 Hand-picked advertiser offers: ExoClick's Email Clicks Smart Links are hand-picked by our Account Managers to suit your brand's needs, allowing you to display high quality and highly targeted ads to your subscribers, matching their interests, and leading to higher engagement, conversion rates and ad revenues.
#2 We make it extra easy! Once your Email Clicks ad zone has been set up in your ExoClick Admin Panel, all you need to do is add the Smart Link that your Account Manager has given you to your email template, and then send the email campaign to your mailing list. It is a very quick and easy to use ad format that allows you to start earning ad revenues straight away!
#3 Real-time analytics: You will have access to customizable dashboards with real-time analytics tools, so that you can always know what's working and what's not, making sure that your ad zones are always bringing you the best results.
#4 A dedicated team for you: By joining ExoClick you will have a dedicated Account Manager and 24/7 Customer Success team at your disposal, to help you out with any concerns or questions you may have.
#5 IAB and Google Compliant ads: Our hard-working Compliance Team makes sure that every ad served on your website including Email Clicks is fully compliant with the IAB and Google, as well as safe, of great quality, and offering a great user experience. To ensure your website's optimum performance and that your audience and brand reputation are safe at all times.
#6 Detailed optimization tools: The ExoClick platform offers plenty of monitoring and optimization tools such as our Adblock traffic monetization solution, Campaign Manager and more, to make sure that you and your advertisers always reach your marketing and sales goals.
One of these tools is using Sub IDs on your Email Clicks ad zones. Following we will tell you what are Sub IDs, why use them, and how to set them up from your admin panel:
What are Sub IDs and why is it important to use Sub IDs on my Email Clicks campaigns?
So, why is it important to use Sub IDs on my Email Clicks campaigns? In addition to adding sites and ad zones, you can use Sub IDs to segment the traffic further, for instance by traffic source. Put in technical terms, a Sub ID is a string of numeric characters or custom tags generated at the end of a redirect URL that records a user or source based variable. So, if you are a publisher monetizing Email Clicks with ExoClick, you can enable Email Clicks Sub IDs to segment and differentiate your traffic and identify these sections inside of your Admin Panel to gain further insights on your zones.
Because of this sectioning of the traffic, Sub IDs also enable your advertisers to deep dive and optimize lower performing ad zones without interrupting high performing zones in their Email Clicks campaigns. This means that performing ad zones or sections of traffic (Depending on how many Sub IDs have been set) will be left running for as long as possible, without interruptions, continuing to generate profit and not experiencing losses. This is great news for you, because your ad zone won't be paused in order to optimize an underperforming one, and it will continue to make a profit.
To make it easier to understand, here are two case scenarios:
Case 1: An advertiser bids for a zone that doesn't have an Email Clicks Sub ID set up. His ad campaign isn't performing great so he needs to optimize, so he pauses the entire campaign or blocks this specific zone in order to do so. How does that affect you as a publisher? Because your zones are now paused in his campaign, you are losing revenues until they are restarted!
Case 2: Another advertiser buys a zone that has 4 Sub IDs set up. As he observes, two of them are performing great. The other two, however, need optimizing. So the advertiser only needs to pause the two underperforming sections, but he will not pause the entire zone, keeping his campaign live, and potentially spending more money on them.
Also, now that the traffic has been segmented more efficiently, advertisers can gain a much deeper understanding of the traffic they are showing their offers to, and split ad and landing variations by segments. This will help them test and optimize more efficiently, which also benefits you because their campaigns will generate profit quicker.
How to implement and using Sub IDs on your Email Click ad zones in 4 steps
So, wanting to using Sub IDs on your Email Click ad zones in order to monetize your email sign ups? Continuing on we will tell you how to quickly set them up in 4 steps:
Step 1: To start with, you will need the parameter corresponding to your ad format, which for Email Clicks is '&sub=. If you want to also implement them for other ad formats or bidding strategies here are 3 other ways in which you can find the right parameter:
Step 2: Now, you need to set a number for your Sub ID, which should be a numeric value between 4 and 10 numbers, not starting with 0 or letters. Important! The MaxValue is set to 2147483647 (Int32). As an example for this guide, let's say your chosen Sub ID is "12345678''
Step 3: Now you can create your Sub ID tag by adding the ad format parameter and the Sub ID value together, which should look something like '&sub=12345678', and you can add it to the Smart Link that you will send to your advertiser, which will look something like 'http://emaildomain/splash.php?idzone=XXXXX&el=&sub=2397492'
Or, if this is an RTB zone, you will need to add it to the ad zone's source code: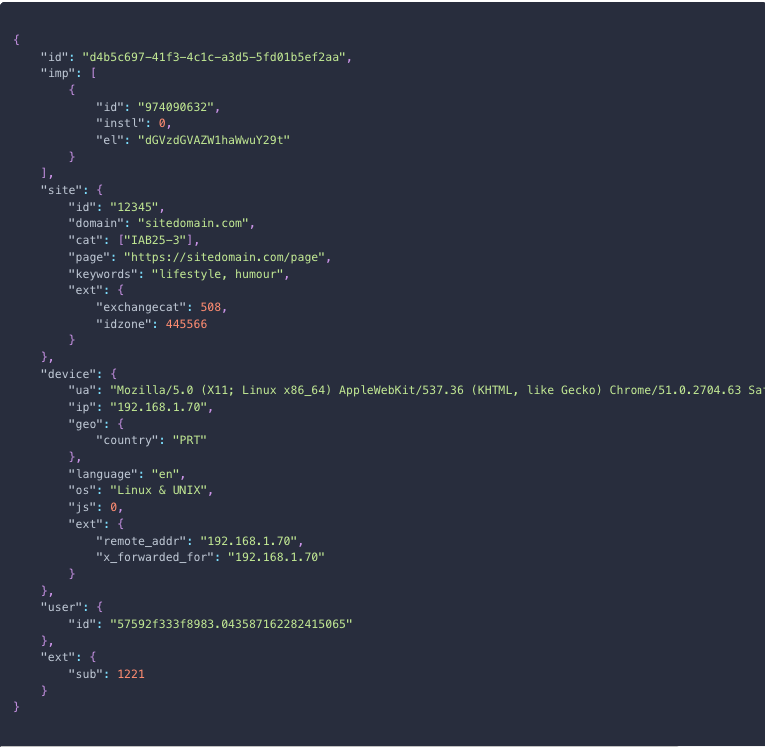 Step 4: Send your Sub ID tag ('&sub=12345678') to your Account Manager for them to check that it has been set properly and is working correctly. You will also be able to access and monitor the Sub ID segments from the Statistics tab, in the Sub IDs sub-tab.
If you want to add more Sub IDs, you will need to repeat the process for each new Sub ID that you want to add.
Conclusion 
Do you have any more questions on How to monetize email traffic or want to know more about ExoClick's high quality email traffic sources? ExoClick's Email Clicks are a great ad format to monetize your email sign ups on your Dating site because it opens the opportunity to send advertiser offers through Smart Links directly to highly engaged end users via email, offering the potential to drive high conversions to your advertisers. This doesn't only create high demand for your Email Clicks ad zones, but also maximizes your ad revenue earning potential! Why not get in touch with our Customer Success team or your Account Manager to test out this high converting ad format now?