Pre-roll in-stream video format: campaign settings and our recommendations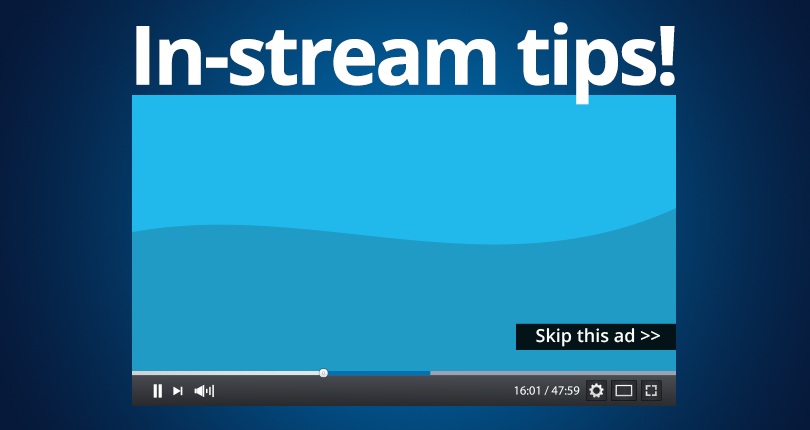 How it works
ExoClick serves 20 million daily in-stream video ads on +500 premium sites in our Marketplace. Our in-stream video ad format is compatible with all major video players and automatically plays when a consumer clicks on a website's video content. It is customizable with clickable calls to action and has a very high conversion rate. See a demo here.
1. In-Stream pricing models
An advertiser can select one of two pricing models:
CPV (cost per view) – Suitable for campaigns having a very high CTR but a low view rate. Here the advertiser sets the cost which is triggered when 10 seconds of the video ad has been displayed to a user at normal speed. Note, when a campaign is set on CPV the advertiser is not charged for clicks.
CPC (cost per click) – Suitable for campaigns having a very high view rate but a low CTR. The cost is the price when the visitor clicks on the in-stream video ad.
Tip: at the beginning of the test, launch a campaign with a minimum bid (CPV or CPC), but increase it as necessary, in order to get more traffic from Premium sites. Several Premium sites have higher win bids.
2. Devices
Create separate campaigns for Desktop and Mobile because performance metrics (CTR and view rate) & optimisation strategies vary for each device type.
3. Technical requirements
Technical requirements for video ads:
Type: MPEG-4 video (video/mp4)
Video Codec: H.264
Audio Codec: MPEG-4 AAC
Video File Size: up to 50MB.
Maximum Duration: Minimum 15 seconds, no limitation on maximum duration but consider the file size limitation above.
Tip: We recommend you to make a video of 20 to 30 seconds.
4. Marketing materials
Include a logo or brand name and a CTA (call to action) such as "Click Here", "See more pictures", "Get a promo code", etc (otherwise the user does not always understand what to do next after viewing the video ad.)
Do not add a "Skip ad" button within the video ad, this "button" will be implemented by the publisher.
Tip: Typically the user can skip the video ad after 5 seconds of viewing and start watching the video content he originally clicked on. So ensure that the CTA appears in the first 5 seconds of the video ad.
5. Video background music
Make an A/B test of the video ad with and without music. There is a lot of royalty free music available online, try these sites:
Epidemic Sound, Beatsuit, Art List
Tip: Use a style of music that is related to the offer's vertical, for example, sensual music works well for dating products.
6. Conversion tips
Convey the message quickly, incorporate strong calls to action early on in your video.
Keep the message tight and offer entertainment value to users with as little disruption as possible.
Create content that encourages viewers to watch the video ad in its entirety.
Tell the story with and without sound, some users will have the video players volume icon set at 0 or muted.
Ensure that the video ad is set at the correct screen resolution to ensure the ad shows well across all devices.
Tip: Creating a good quality production gives the brand/product extra credibility.
7. Conversion tracking
Pixel tracking
According to our case studies between 40-60% of conversions come from browser type-ins shortly after users have seen a product's video. This makes the conversion difficult to track, therefore, pixel tracking should always be implemented on the targeted page. This allows for a conversion to be tracked even if the user hasn't actually clicked on the video ad.
S2S tracking
Avoid S2S tracking because conversions generated without a click, won't be attributed to the video campaigns.
Get more information on in-stream conversion tracking here.
8. Video production tools
For advertisers who don't have access to high-end video editing software, there are some cheap and easy to use programs available that still give professional results:
Shotshack
 allows you to create 100 videos for $5 with access to free stock photos, videos, graphics and templates.
Creatopy
 costs $17 a month and also gives you access to free stock photos, videos, graphics and templates.
invideo
 which costs $360 per year and features quick video templates and a free to use massive video library and easy to use effects.
Mobile Apps
Android Quik – It's free but the Quik logo is added at the end of the video. You can cut that part by using this online tool.
iOS Videoshop – $2. You can edit videos and create videos with pictures, text, and music easily.
If you have any further questions about ExoClick's pre-roll in-stream ad format please contact your account manager or email help@exoclick.com