ExoClick's eCommerce traffic for Black Friday and Cyber Monday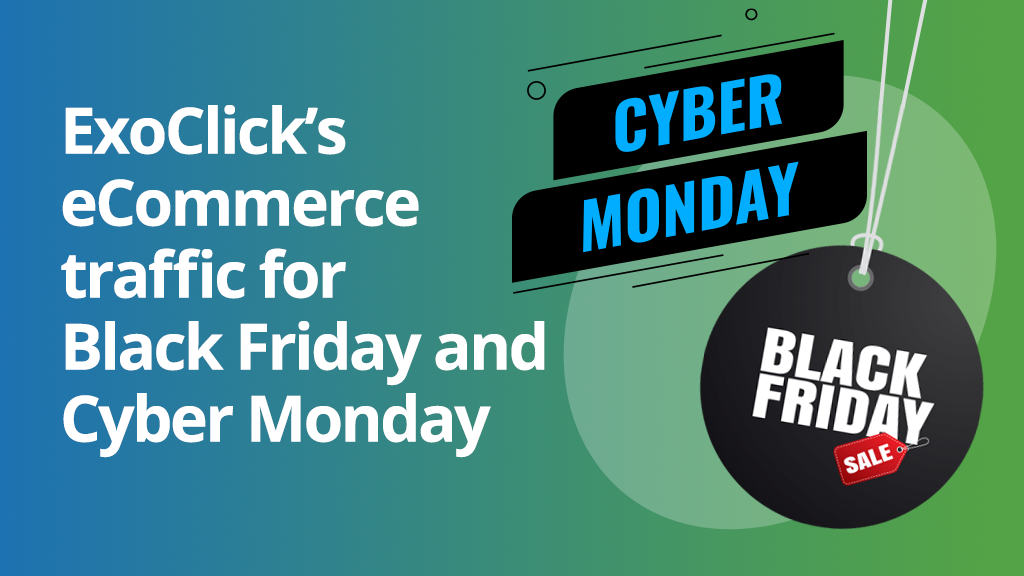 2022 is set to be a big year for online shoppers looking for discounts for digital products and eCommerce bargains. This year's Black Friday (25 November) and Cyber Monday (28 November) are just a few weeks away! These dates grant consumers the opportunity to purchase their favorite products and services at heavily discounted prices. The Black Friday and Cyber Monday period is also great for product owners and affiliates because consumers are actively looking for deals, and shopping for Christmas. The few days surrounding these 2 events focus a lot of traffic into a very short period of time, turning it into one of the best sales events of the year to target ExoClick's best traffic sources for eCommerce offers.
Massive increase in eCommerce traffic volumes
ExoClick's Business Intelligence looked at traffic volumes for the best performing eCommerce traffic, comparing the period of the 13 Nov to 19 Nov with the Black Friday & Cyber Monday weekend from the 20 Nov to 26 Nov. eCommerce experienced an overall increase of +109.34% on Desktop and +363.42% on Mobile.
Key stats for Black Friday and Cyber Monday:
According to SaleCicle

, American consumers spent $8.9 billion online during Black Friday 2021.

According to Moosend

: Shoppers spent $10.7 billion on Cyber Monday 2021 and during Black Friday and Cyber Monday 2021, online traffic was up by +34.2% compared to 2020.
A lot of physical shops closed during the pandemic and joined the online model, which means that most of the shopping has been happening increasingly more, online.
Due to the cost of living crisis, online users are especially eager to find online deals and discounts for products and pre-buying for Christmas gifts.
Expert Tips to promote your offers during Black Friday and Cyber Monday!
Black Friday is traditionally for online shopping for physical products and Cyber Monday offers discounts on digital products. Here are some great marketing tips for eCommerce traffic and digital product offers to give you inspiration for this huge global online consumer event:
#1 Refresh all of your promotions: The most obvious tip is, aside from creating special promotions for the event, to also refresh your existing ones to make them look like completely new ones. This should make it more exciting for your existing customers and audience, who most likely have come across your existing campaigns a few times.
#2 Adapt your creatives: Give a refresh to your creatives and customize them to reflect the Black Friday and Cyber Monday theme! Make sure that both your visual and written content reflect the holiday and the discounts that your consumers could get.
#3 Create special Black Friday landing pages: Here you can upsell a range of products that you promote and list each one under the header The Best Black Friday and Cyber Monday deals and discounts! That way you can upsell other products that you have to a consumer who has clicked on an ad for one of your products.
#4 Put some focus on attracting new clients: Black Friday and Cyber Monday are great dates to capture the attention of new customers, capturing the best performing traffic for your eCommerce offers. One, because the general public is more active than usual, focused on finding deals and trying new products and services. Two, because you can offer the opportunity to test out your services at a discounted rate to these audience members who were already curious, but not committed enough to pay a full rate – give them a trial run to make them want to purchase the full service!
#5 Create product packs: If you have a range of different products to push you can create special Black Friday packs. For example if you have a VoD product and a Paysite product you could offer a Black Friday promo with a special discount if they sign up for both products.
#6 Free gifts and gift cards: Offer an additional free gift as a deal for customers when they buy one of your services or products. For example, if a consumer signs up for your online game, offer them a discount on another product you are pushing, for example, 1 week free subscription to a VoD site. You could also promote gift cards with a few of your services available to be purchased as a present, or 'buy one, get one for your friend' – This last one could work very well for subscription based sites.
#7 Paid Subscription and Deposit Deals: If you are promoting dating traffic or in general members area traffic with paid Subscriptions for premium content, this might be the best time to promote them with Black Friday deals, for instance offering the first 3 months half price, or the first month for free, etc. Also, if your offer is around online games that require a First Deposit, you could offer to double the first deposit, paying $20, and they get another $20 to use in the game. Or make their first $10 free – 'Get $10 extra when you make your $20 deposit!'.
#8 Offer time sensitive discounts: This is a no brainer to push potential customers to buy, you can either do a 24 hour discount for Black Friday or maybe you want to run it for 96 hours to run the promo to include Cyber Monday also.
#9 Run promos before Black Friday: You can offer discounts by calling it Pre-Black Friday discounts and run them for the week before Black Friday and tap into the global hype around this special bargain offer season. Then retarget users that showed interest in your pre-Black Friday offers during the Black Friday/Cyber Monday weekend.
#10 Use video to promote your online store on Black Friday: Apps like TikTok, and Instagram Reels have massively grown in popularity, and Influencer Shopping featuring short videos promoting products and brands are a big part of today's marketing budgets. Make the most of these trends during Black Friday and Cyber Monday using ExoClick's video formats: In-Stream, Video Slider, and Outstream.
#11 Review last year's performance: Check your stats for what worked and what didn't work last year, then optimize this year's campaigns and offers to only promote offers that worked. This will also help you match the right traffic to your offers that worked well last year.
#12 Extend your promotions: Launch new campaigns straight after Black Friday and Cyber Monday to extend your discounts for another week, using texts like, "Did you miss out on Black Friday? Well we have extended our discounts for another 48 hours!"
Do you want to know more about ExoClick's premium quality traffic for eCommerce and digital product offers? Contact your Account Manager or the Customer Success team here to buy eCommerce traffic!