Publishers! Increase CPMs using Responsive Display Ads with Async & iFrame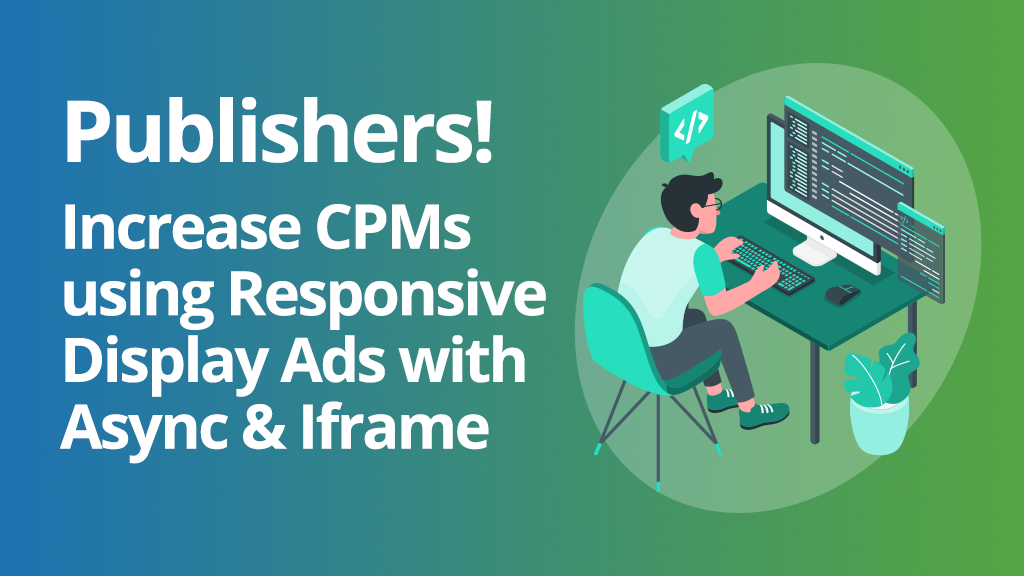 Hey Publisher! Have you made sure that your site codes are up-to-date and contain Async tags and the latest version of iFrame? More and more ExoClick Publishers are getting around to updating their website's scripts using the latest Admin Panel codes. Some after their Account Manager's recommendation, others because they realized that their ad zones run on unoptimized code such as old Standard or JS tags, affecting overall site and ad performance. Another main reason to optimize these tags is to enable RDAs, which will help you attract more advertisers to bid on your ad zones and increase CPM. In this blogpost we will explain how to increase eCPM by updating your tags as well the benefits of Responsive Display Ads.
Responsive Display Ads and their key benefits:
A Responsive Display Ad or RDA is a Banner ad that automatically adapts its size, format and appearance to fit any standard IAB Banner display ad placement. RDAs are available to use through the ExoClick's platform, and they are created automatically from an Advertiser's uploaded assets such as images, videos and texts (title, description and brand). The ExoClick  platform combines and adjusts them so that the final ad creatives fit all of the following Publisher Banner display ad zone specs:
160×600
300×100
300×250
300×500
728×90
900×250
Here are some examples of Responsive Display Ads: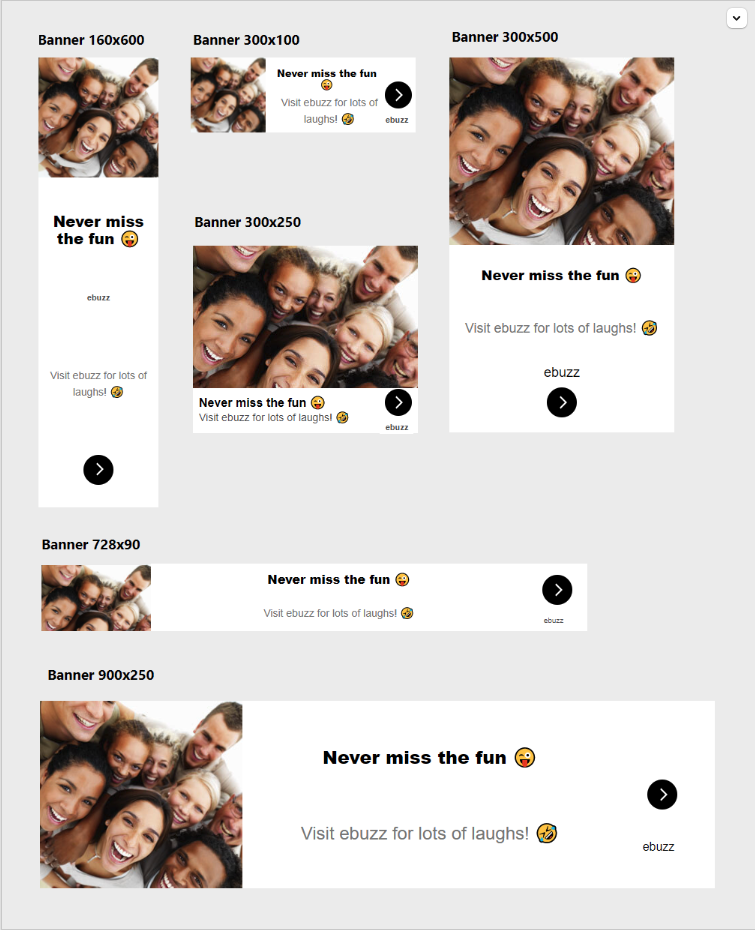 Now, let's see what the Benefits of Responsive Display Ads are:
Once your site's new codes are created, Responsive Display Ads will be automatically enabled on your Admin Panel, by default. Here are the key benefits of using this ad format:
#1 Higher eCPM and revenues: Advertisers love RDAs because they are built for performance, reach and scale. With RDAs, advertisers can quickly and easily optimize their campaigns using multiple assets at the same time, which will display in different formats and sizes across multiple sites. Also, RDAs offer higher CTRs than other banner formats. So offering your advertisers the possibility to use Responsive Display Ads on your site contributes to your banner zones becoming more competitive, creating a higher demand and bringing higher bids, leading to higher CPM and, in turn, creating a positive impact on your site's revenues.
#2 Attract more Advertisers: Because some Advertisers have limited design resources for ad creatives, Responsive Display Ads are extremely attractive to them. Using RDAs through the ExoClick platform allows them to create a large range of ad variations and sizes to test out on different sized banner ad zones instantly, and with minimum resources and time. Because RDAs allow different sizes and formats running at the same time, an Advertiser can launch and run more than one campaign type (As stated before, RDAs are compatible with Native and Banner campaigns) in the same zone simultaneously, using their assets to their full capacity, increasing reach and optimizing results. Enabling RDAs leads to more demand for your various Banner display ad zones.
#3 Great end user experience: RDAs are fully responsive and they will fit seamlessly with your different ad zone sizes, avoiding creatives that are squashed or pixelated, and providing a great browsing experience on your site as a result. Once again, this has a positive impact on your site's user retention.
#4 Aligned with IAB and Google: As mentioned above, RDAs are guaranteed to meet the industry standard ad weight because the ExoClick platform automatically generates them to be fully aligned with the IAB industry standards and Google Chrome's recommendations, making them fully compliant.
Now, let's take a look at iFrame and Async tags, which are needed to activate Responsive Display Ads:
Benefits of updating your iFrame and Async tags – a Gateway to RDAs
Aside from being the main way to activate RDAs on your site, using Async and the new iFrame tags brings a series of performance benefits to your site and its ad zones. Bear in mind that Google rankings of Publisher sites are heavily based on their performance. To achieve a good Google score, it is important to keep your site's code updated, clean and functional. Also, your site's code will affect the quality of your ad displays:
#1: Make sure that your ads display correctly: Starting from bare basics, iFrames enable your site to load independent HTML elements, such as videos, forms, widgets, and ads. Making sure that your iFrame tags are updated to their new version is key to make sure that your Advertisers' ads continue to display properly on your sites' ad zones!
#2: Enable your site to load ads asynchronously: Async tag enables other content on your site to load while the ads are also loading, increasing performance when used on well-optimized sites. This will also lead to increased site loading speed, improving user experience and attracting and retaining audiences.
#3 Enable multiple ad zones with one single request: Gain the ability to use a single request to activate multiple ad zones on the same page with Async tags, also increasing efficiency, speed and performance of your ad zones.
#4 Keep it clean and compliant! Avoid using outdated JavaScript features which many developers are moving away from, keeping your website clear of unnecessary code that will just add to the noise. Also, Using Async and iFrame is the gateway to use ad formats (such as RDAs, as mentioned), which are fully compliant with the IAB Standards and Google and can play an important role in improving your Google rankings.
You can get the latest Asynchronous and iFrame scripts from your sites & zones section in your Admin Panel. If you need help setting them up, contact your Account Manager.
Next up we will look at 2 Publisher sites which decided to update their sites' codes to Async and iFrame and enable RDAs, what their Impressions, CPM, Revenues and CTRs were before the change, and how they increased 10 days after – Let's Dive in and see how to increase eCPM!
Case Study #1
To access the Benefits of Responsive Display Ads, this Publisher decided to update their ad zones' script from Synch to Async tags after being advised by their Account Manager that it was the only way to enable Responsive Display Ads on their site.
They changed to Desktop and Mobile Banners with sizes 300×250 and 300×100.
10 days after implementing the changes, Global eCPM by 13.51%, Revenue by 16.34%, and CTRs by 26.67%.
Here are the CPM and Revenue increases for the top 5 performing GEOS: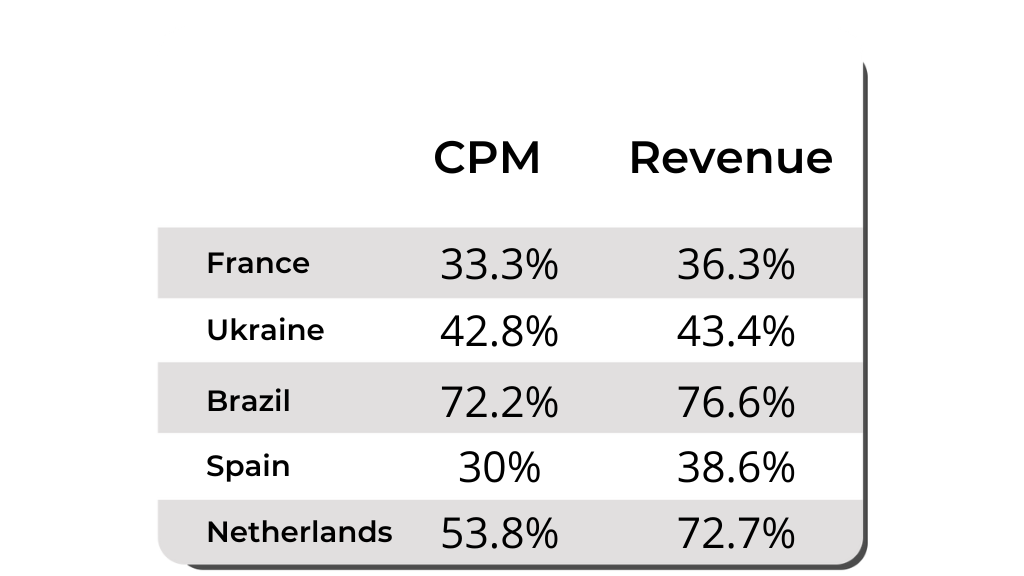 Case Study #2
This Publisher wanted to improve their site's performance and attract more advertisers to increase their overall revenues, and was advised that implementing Async tags and offering the RDA format as a possibility to their advertisers would get the job done.
They implemented mainly 300×250 and 300×100 Desktop and Mobile, and also some Desktop 728×90.
10 days after the change Global , eCPM by 22.58%, Revenue by 21.75% and CTR by 18.75%.
Here are the CPM and Revenue increases for the top 5 performing GEOS: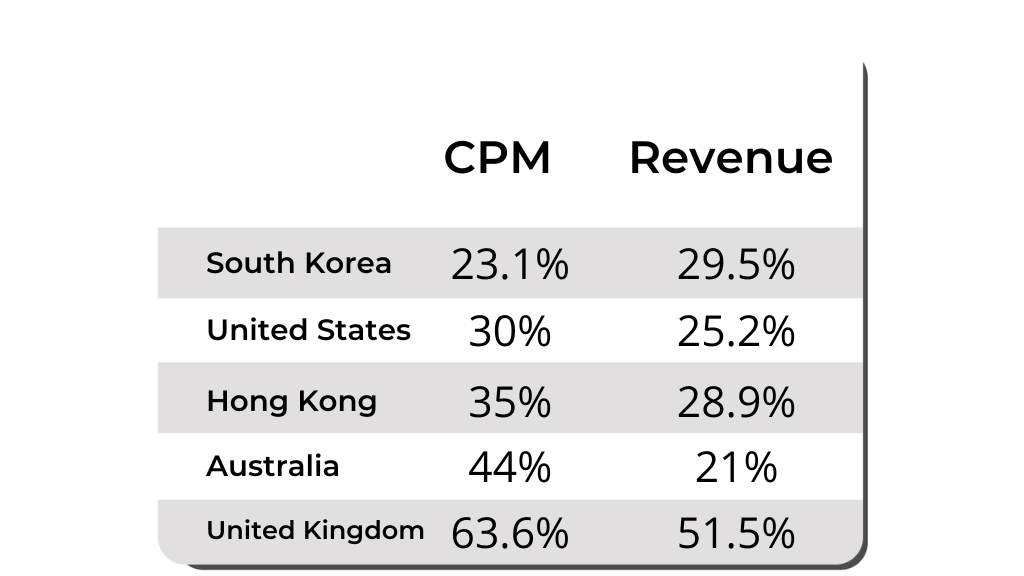 For further information on updating your ad zones' scripts and enabling RDA zones, please contact your account manager or a Customer Success Specialist here.