Publishers! ExoClick aligns banner advertising sizes with IAB standards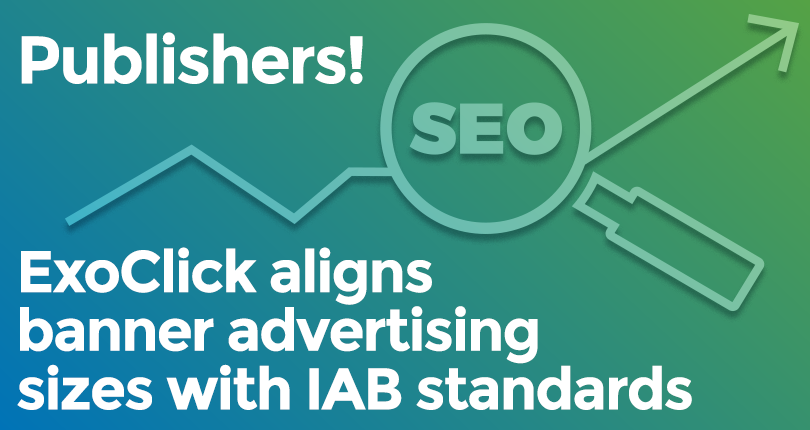 From February 2020, ExoClick is changing the maximum weight that it will accept from advertisers for all banner creatives to 150KB, this is to ensure that banner ads are aligned with the IAB's industry recommendations as well as Google ones. This applies to ALL types of banners.
Maximum Banner File Size Changes:
Current Banner Maximum File Size: 1MB

New Banner Maximum File Size: 150KB
Further ways ExoClick is reducing banner sizes:
Animated GIF banners are heavy files, therefore ExoClick will automatically convert GIFs into lower weighted MP4 files, this will also improve the quality of the creative shown.

PNG files are a heavier format compared to JPEG files, therefore ExoClick will automatically convert PNGs to JPEGs in our system before they are served on your website.
Please note: All existing campaigns will keep running normally for now, even if some banners are over 150KB. However, advertisers will NOT be allowed to upload new banners that exceed 150KB for new campaigns from February. Advertisers will be given until April 1st to update all their creatives, at which point, all banners over 150KB will be disabled from the system.
Advantages for Publishers
Website loading speed is now having a major impact on how Google ranks websites on its search engine. By reducing the maximum size for ad creatives your website will load faster and therefore improve your SEO rankings, additionally this will provide your end users with a better experience and bring you more organic traffic due to better SEO ranking. Publishers can use these to check the performance of their website(s):
ExoClick is committed to ensure that the advertising shown on your website is optimised for Google's SEO.