EXOGROUP's Team Building Event 2018 in Ibiza!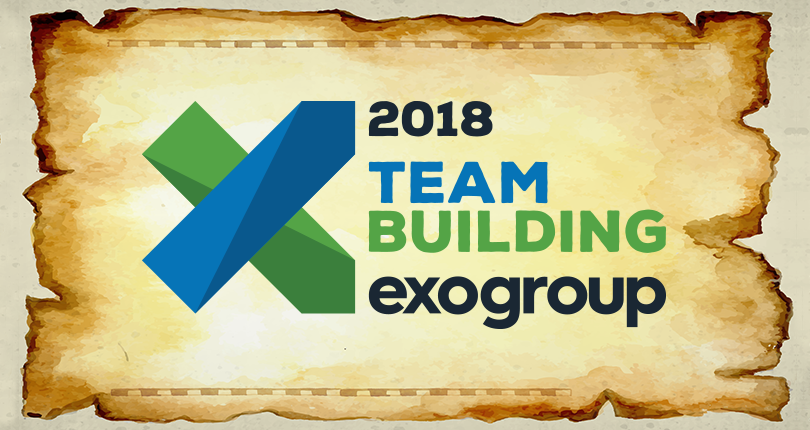 ExoClick is part of EXOGROUP, and every year we hold a team building event that brings together all of the talented people that work in our offices around the world. In June this year the team building was held in Ibiza! We brought together 130 people made up of 33 different nationalities from our offices in Dublin, Barcelona, Madrid, Valencia, Porto and Toronto. The theme was Pirates under the headline 'This Crew Is The Glue!' and it was the biggest and best team building ever!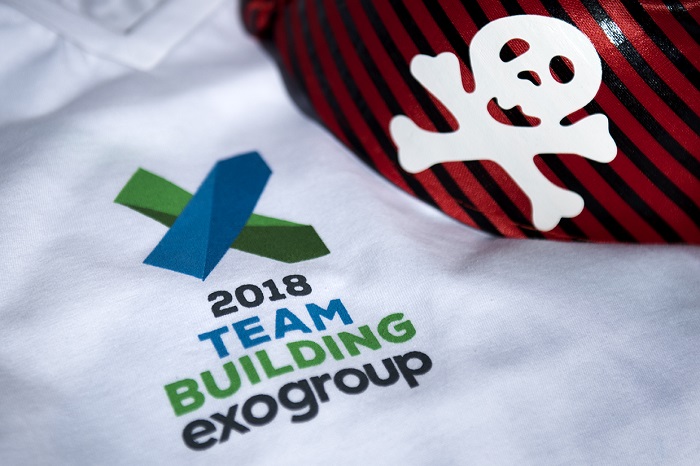 We stayed at the 5 star Grand Palladium Palace Resort & Spa for three days of learning, bonding, fun and activities.
Day one kicked off with the EXOGROUP Management presentation followed by individual company presentations from ExoClick, MobileCashout, AdSecure, EXADS, and EXOGROUP's HR and the newest member of the EXOGROUP family our latest acquisition Playfulbet.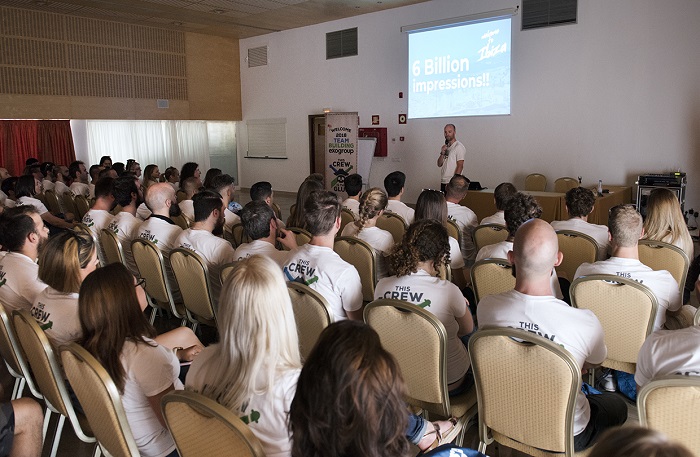 (When we reached 6 billion daily ad impressions our founder and CEO Benja said he would take us all to Ibiza, and here we are!)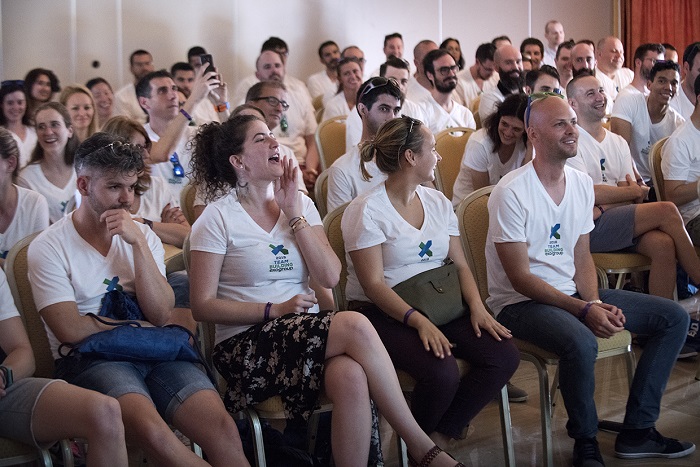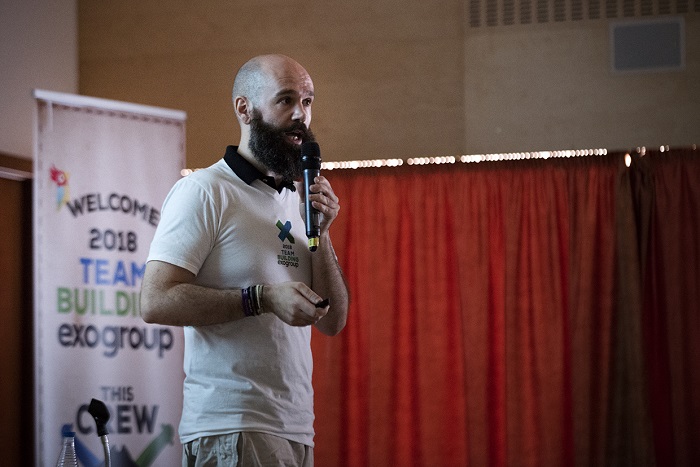 (AdSecure's Mat talks online ad security)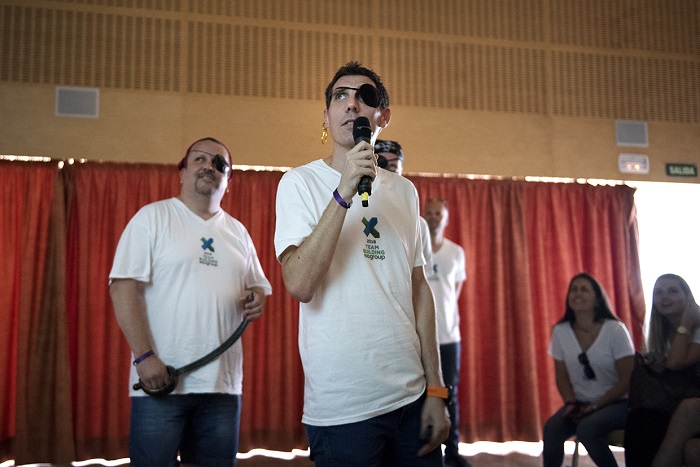 (MobileCashout's Managing Directors Fran and Juanjo took the Pirate theme very seriously!)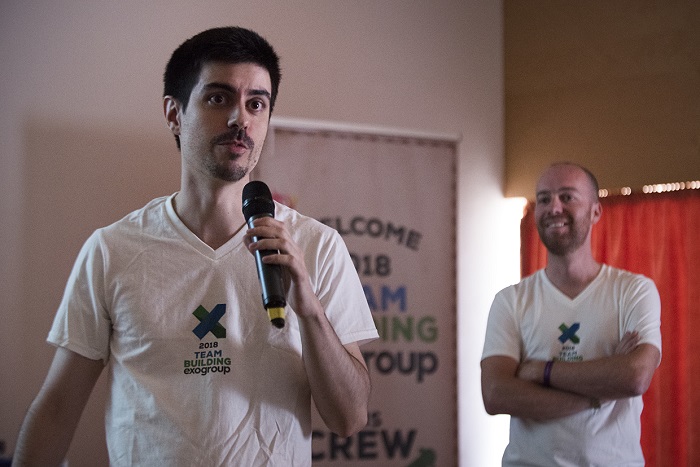 (Playfulbet's Founder and Marketing Director Pol Ruiz introduces his company to EXOGROUP)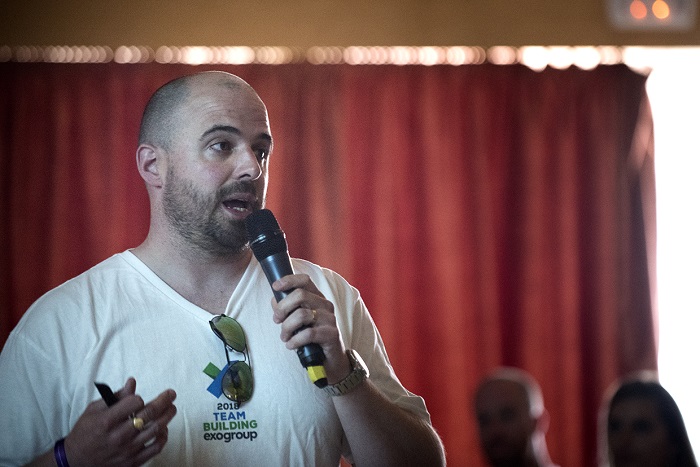 (EXADS CTO Craig talks ad tech)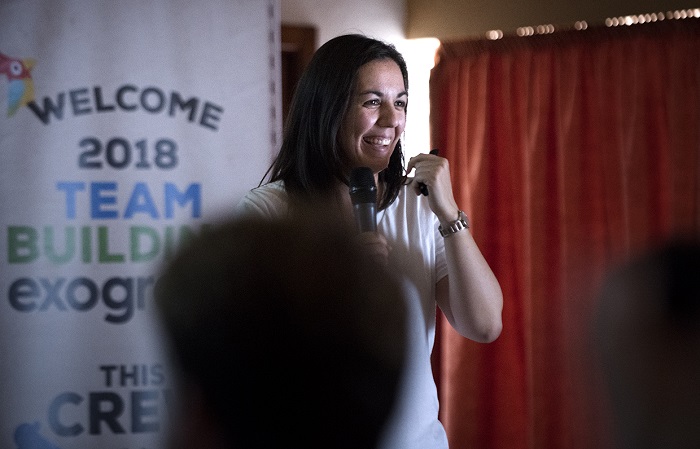 (HR Director Ana updates us about employee growth)
This was followed by presentation training sessions in Business, Business Intelligence, Ad Tech, Marketing from trainers across the group of companies.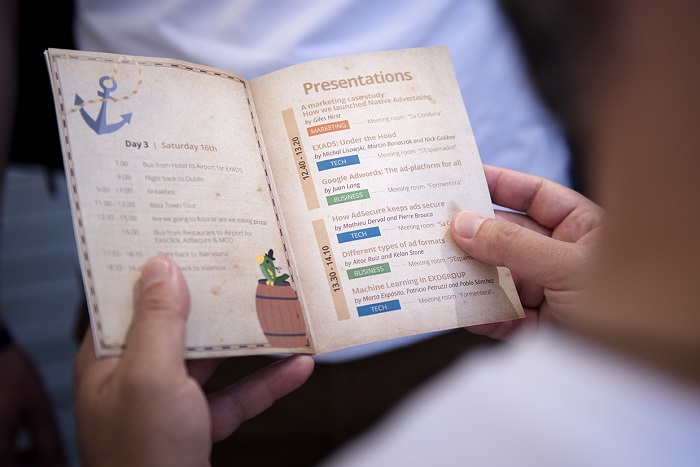 (The training presentations we attended)
After lunch we invited motivational speaker Enhamed who is blind and a Paralympic champion swimmer who taught us that nothing can hold you back from achieving your dreams!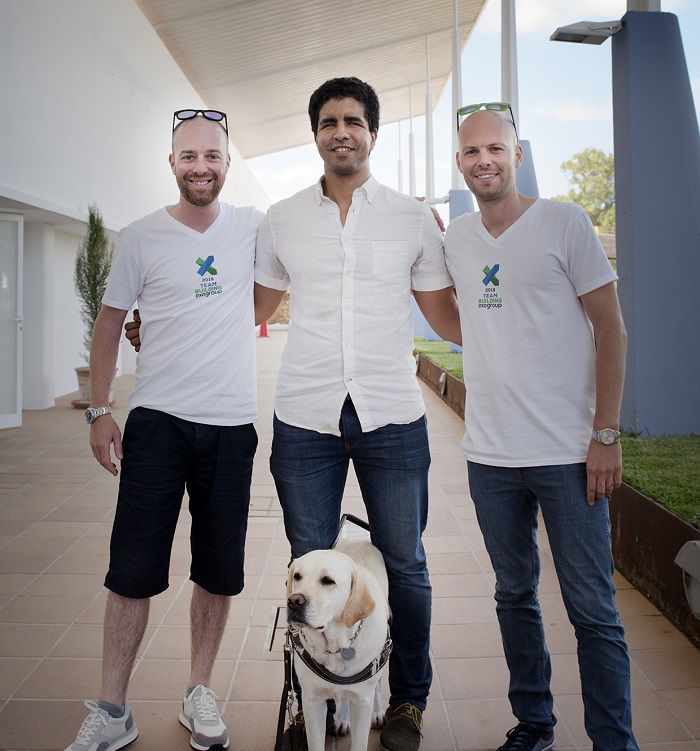 (Enhamed with Benja and Adrien and his guide dog Adele)
Then we posed for our annual team photo!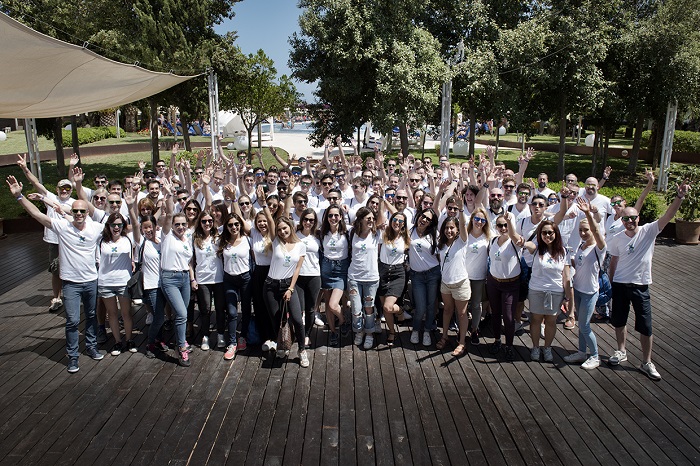 (We are EXOGROUP!)
After absorbing all that new knowledge we chilled out by the pool, had dinner and hopped on a coach to take us to our own VIP area at Pacha's F**k Me I'm Famous with David Guetta! The night was long and the Moet and spirits flowed and the EXOGROUP Crew lit up the dancefloor!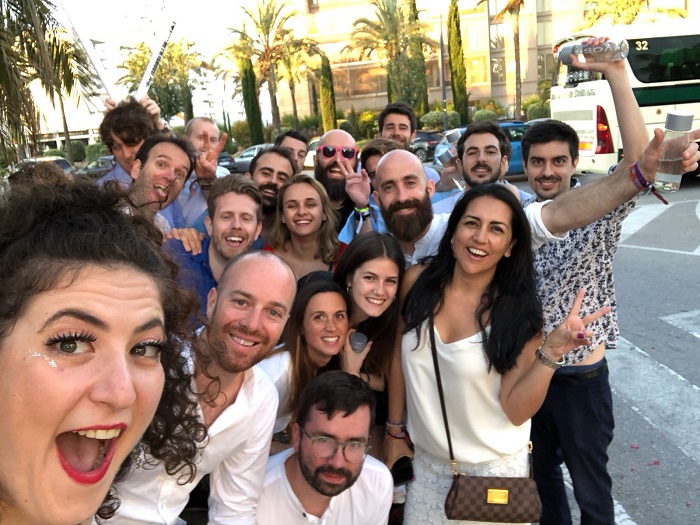 (These guys made it until 7am!)
After a few hours sleep on day two, we continued our Pirate theme and joined a crew of Pirate's who sent us on a Treasure Hunt.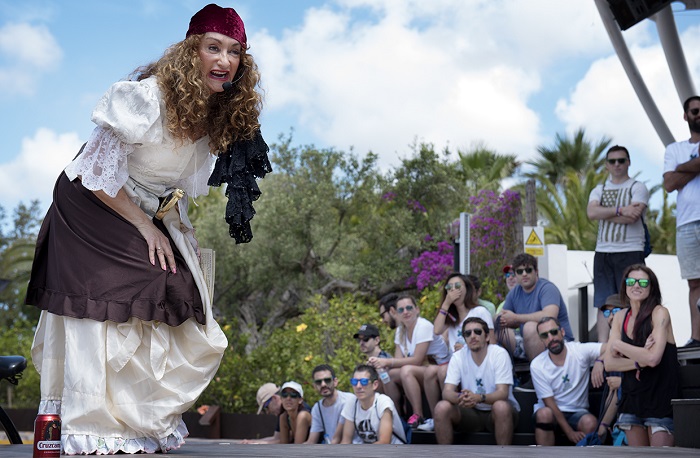 (Ahoy, mateys!)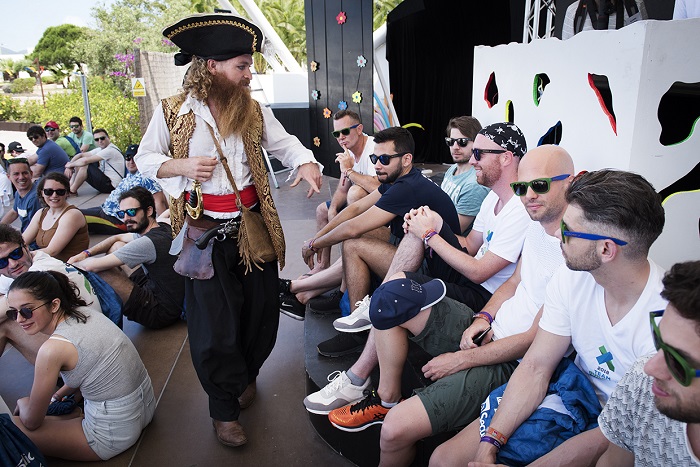 (Well shivver me timbers!)
In teams, we collected clues exploring the island's nature reserve until we found the treasure!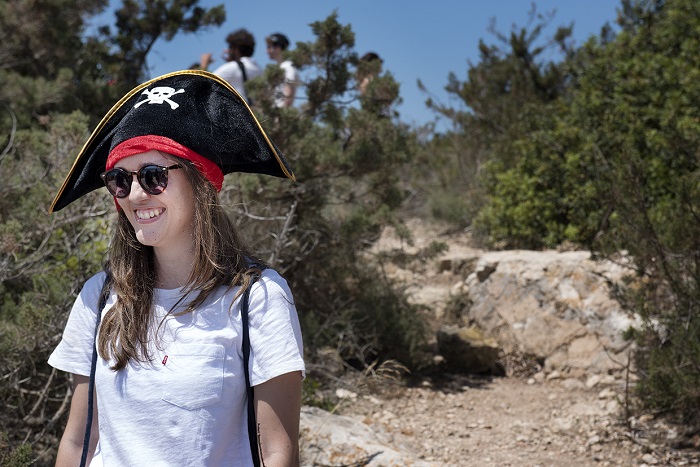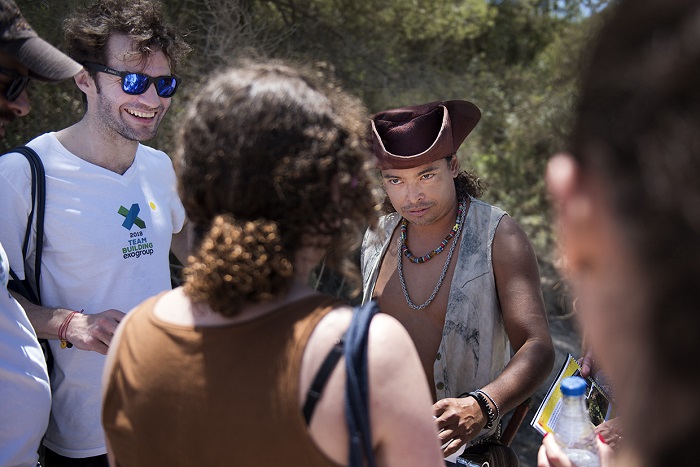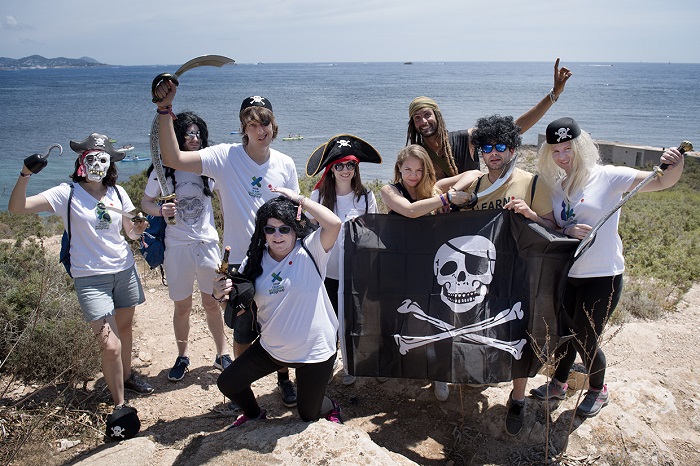 After lunch we got more VIP treatment at the beachside chiringuito 'Tanit Beach' We raised the EXOGROUP flag and our party energy was refreshed with mojitos and the sound of the Balearic beats coming from the resident DJ.
The evening was spent watching the World Cup in the hotel's Sports Bar.
Day three included a cultural trip to visit Ibiza Town, then we hit the port for a delicious pizza lunch. Before jetting off back to our respective cities.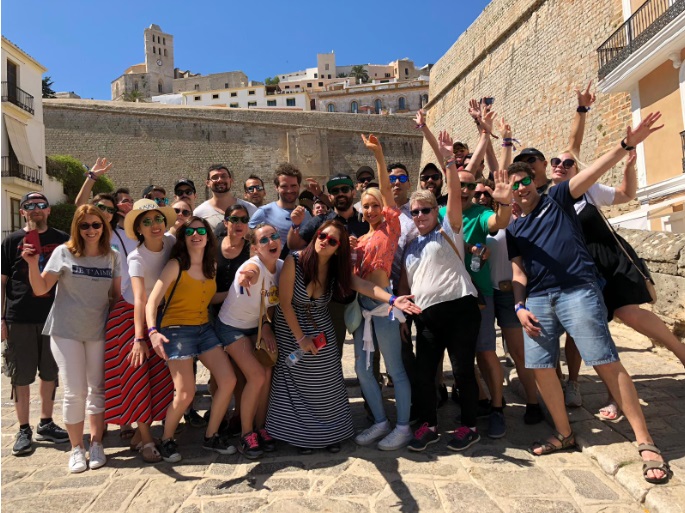 (Exploring Ibiza Town)
We are EXOGROUP! And we've created a special video of our team building Ibiza spectacular! Check it out here!
If you would like to work at EXOGROUP and expand your career as well as being part of our next team building visit our Careers page!