Instant Message versus Video Slider ad format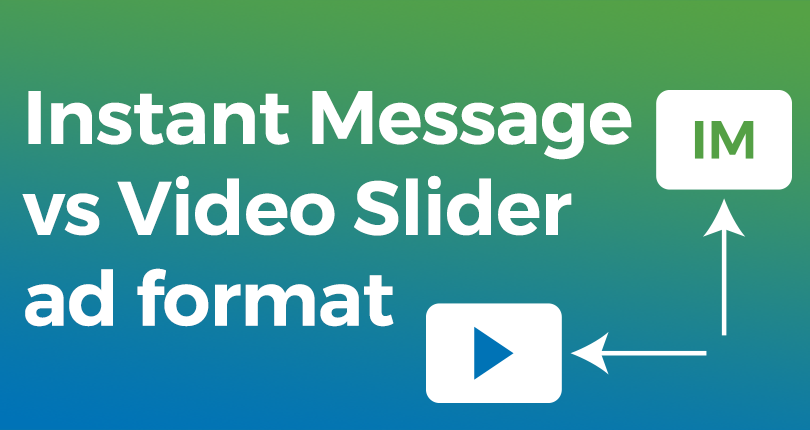 Both of these ad formats work in a similar way, they are both shown to the end user by appearing from the bottom right of the screen. Both formats are eye catching and offer higher visibility due to their movement on the webpage. Because of each format's position, only one can be used on a web page at a time, which means publishers need to decide which format to use.
Instant Message has been around for some time now and is most commonly used for dating products. The Video Slider was introduced on ExoClick's platform in June 2019. For advertisers the creative will differ for each format with the Instant Message using a static image and the Video Slider using video content. Although it is more effort to create video content for the Slider, the effort is well worth it. To show you the CTR between the two formats ExoClick's Business Intelligence department has evaluated the global CTRs across a range of verticals on Desktop and Mobile.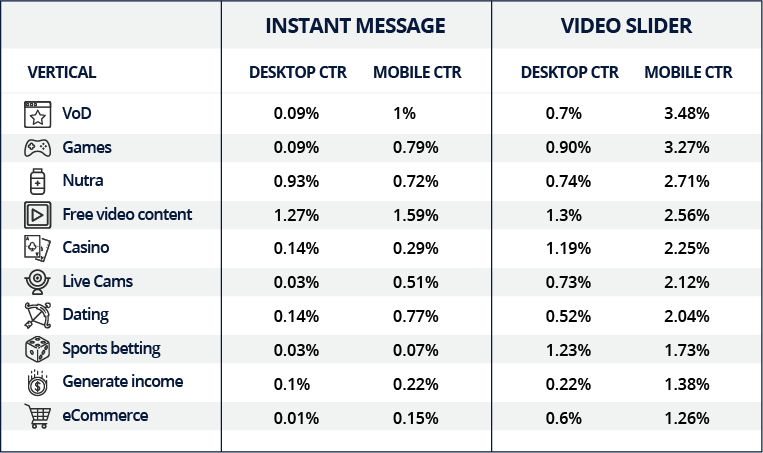 As you can see the Video Slider format is giving much higher CTRs, especially on Mobile.
Video ad creatives
In fact the advertising industry is moving more and more into short format video ads and statistics show that consumers prefer to watch video ads. Video ads offer a unique way to inform and entertain a target customer about your product compared to a static image with text. For example, your video ad can be a tutorial/product review, tell a story about your product, make it like a news story, make your video entertaining to encourage sharing and talkability and of course, add a CTA. Not long ago, slick, highly produced video ads were the gold standard, but the rules have changed, today video content shot on a mobile phone that feels raw and authentic can sometimes perform better than highly produced content.
   For Advertisers
Each year Wyzowl produces its

Video Marketing Statistics report

, here are some key takeaways:

66% of consumers prefer watching a video to reading about a product.

90% of consumers watch videos on their mobile devices.

84% of consumers say that they've been convinced to buy a product or service by watching a brand's video.

92% of marketers who use video say that it's an important part of their marketing strategy

87% of video marketers say video has increased traffic to their website.

80% of video marketers say video has directly helped increase sales.
You get more statistics and data to analyse because Video Slider is available to bid on CMP, CPC and CPV, whereas Instant Message is only available on CPM.
For Publishers
To help you decide which format will bring you higher revenues here are some key takeaways:
The Video Slider has a higher CTR, which means a higher CPM value, therefore higher revenues.

Advertiser demand for video ads zones is growing as marketeers are seeing successful results from video ads

If your Instant Message ad zone isn't performing as well as you would like, why not replace it with the Video Slider ad format

Because of the higher CTRs on Mobile why not test Instant Message on the desktop version of your site and the Video Slider on the mobile version of your site and see if revenues increase. 

If your website only features galleries, the Video Slider is a great way to start monetising video ads
In conclusion both Publishers and Advertisers should thoroughly test the Video Slider and see if the format increases revenues/conversions compared to the Instant Message format.
Further reading about video advertising:
How to use video advertising to convert your offers
For Publishers: Tutorial: How to set up a Video Slider ad zone
For Advertisers: Tutorial: Setting up a Video Slider campaign