How to create a Push Notifications campaign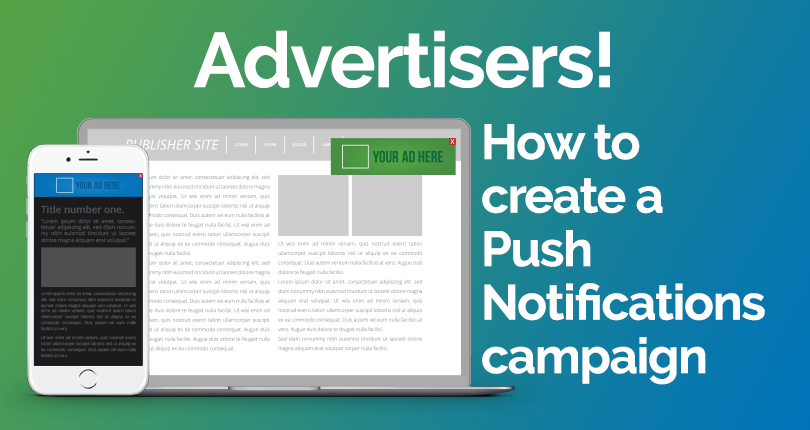 The Push Notification ad format is now available from ExoClick, in this platform walk through we show you how to start your first Push Notification campaign. But first some useful information:
How do Push Notifications work?
Users that visit a website can opt in to receive Push Notifications
All website's opted in users are now available to advertisers
Users receive Push Notifications via their desktop, tablet or mobile devices, even when they are not browsing the internet
When users click on the Push Notification they are directed to the advertisers landing page
Push Notifications are available via CPC or CPM
Push Notifications have many advantages
Directly reach high quality users who have opted in to receive Push Notifications
Because Push Notifications appear within the screen of the user's device, advertisers get maximum viewability and a high CTR
Use ExoClick's full range of targeting options to fine tune user reach
How to create a Push Notification campaign
Setting up Push Notifications is the same as setting up a standard campaign:
Step 1
In your admin panel click 'Campaigns' and the green 'NEW CAMPAIGN' button

Step 2
Give a 'Name' to your campaign, select Push Notifications from the drop down 'Ad Format' menu. Then use the toggle buttons to select your 'Categories.'
Below 'Categories' you will see that you can add your variations. Remember only mainstream material is allowed on push notifications. Click the blue 'ADD VARIATIONS' button.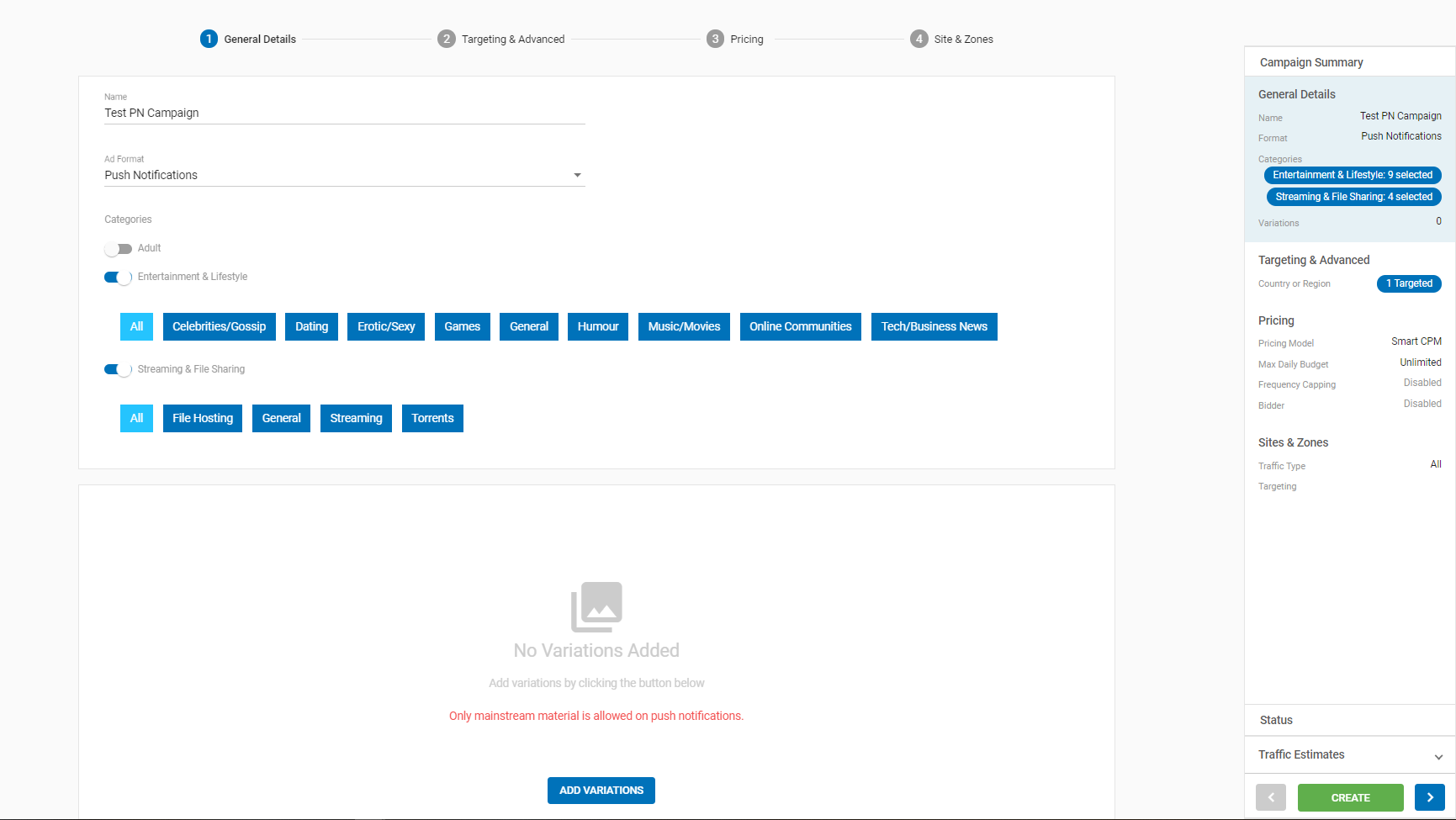 This will open a pop up window as seen below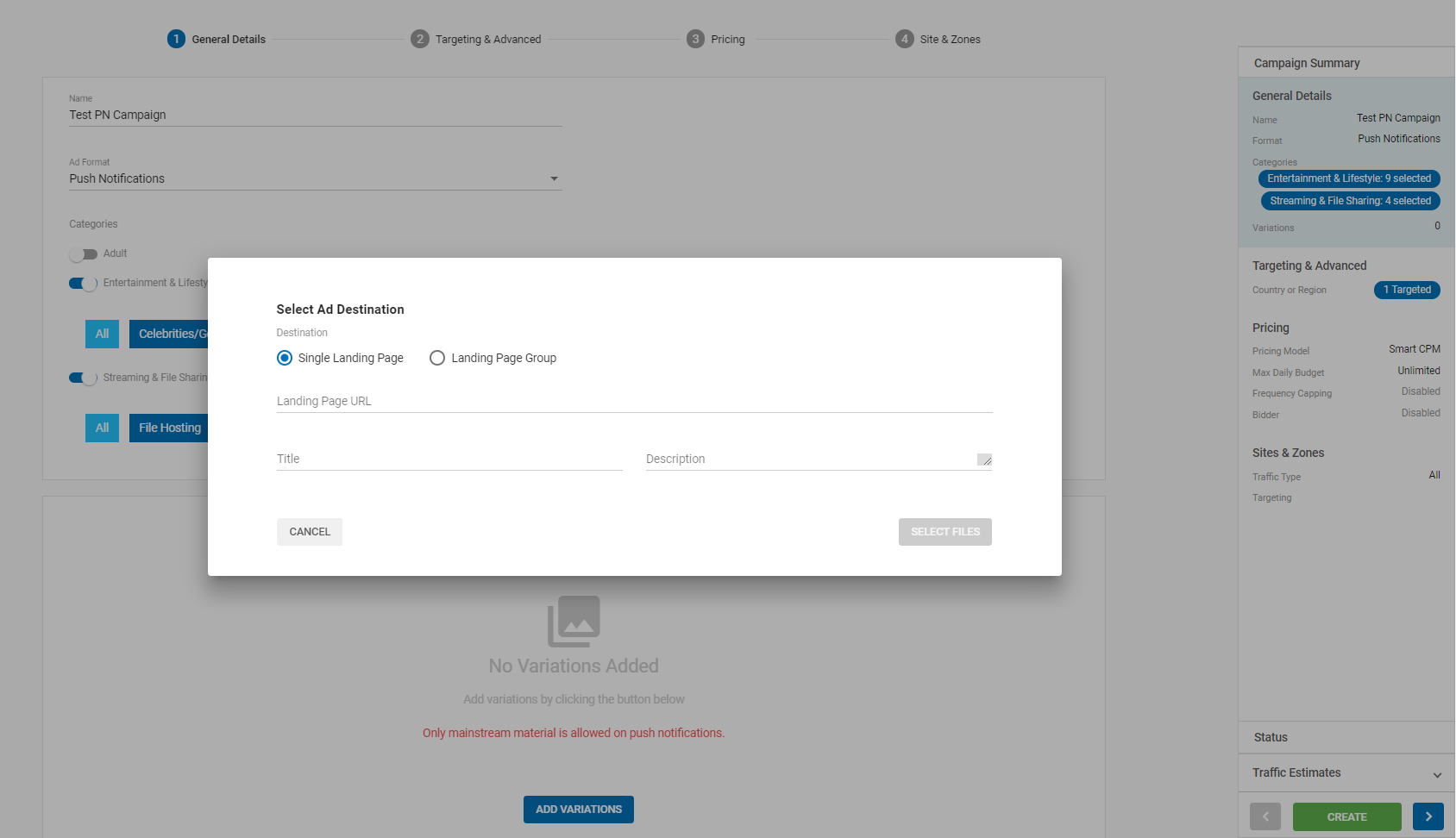 Step 3
Add your 'Landing Page URL', then your push notification texts that will be displayed to the end user. Add a 'Title' and a 'Description'. You can include emojis in your campaign texts which increase end user engagement. Check out this blog post 7 emoji tips for push notification campaigns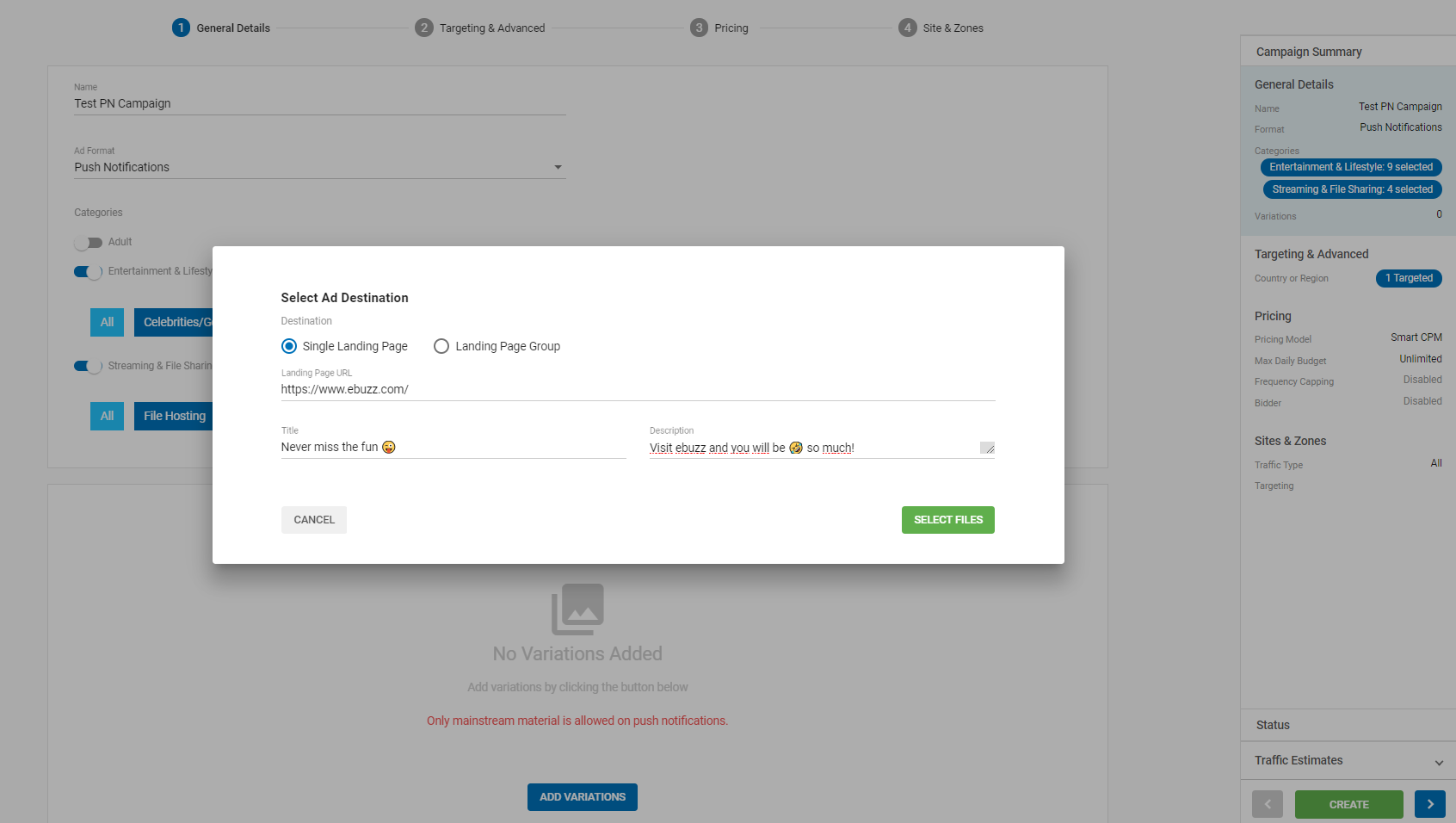 Please note: Push Notifications work on the following browsers/devices:
Desktop: PC / OS X : Chrome, Firefox, Opera

Mobile devices : Chrome, Firefox, Opera, Edge, Samsung Internet
Safari (OS X, iOS) does not allow web push notifications
Push Notifications won't work on HTTP sites, only with HTTPS sites.
Here is a guide to help you know the maximum number of characters allowed for titles and description texts across a range of browsers.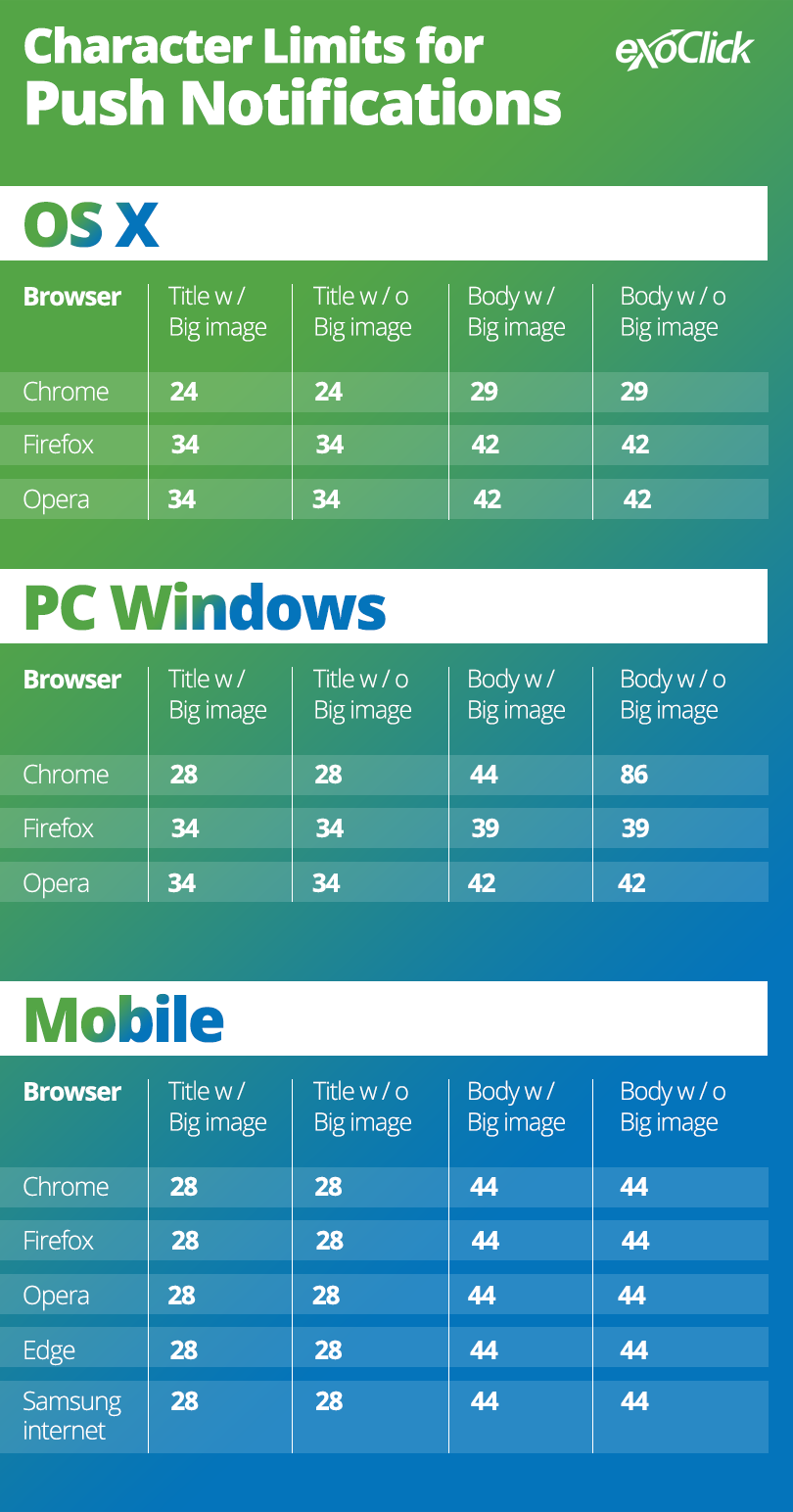 Step 4
Now you need to add your image which should be a 192x192px in format JPEG, PNG or GIF. Click the green 'SELECT FILES' button which will open a new box 'Select Ad Assets' displaying your image creatives.  You can use the filter options in the box to help you search for the image you want or upload a new image. Then click on the image you wish to use. Then click on the green 'ADD 1 VARIATION' button.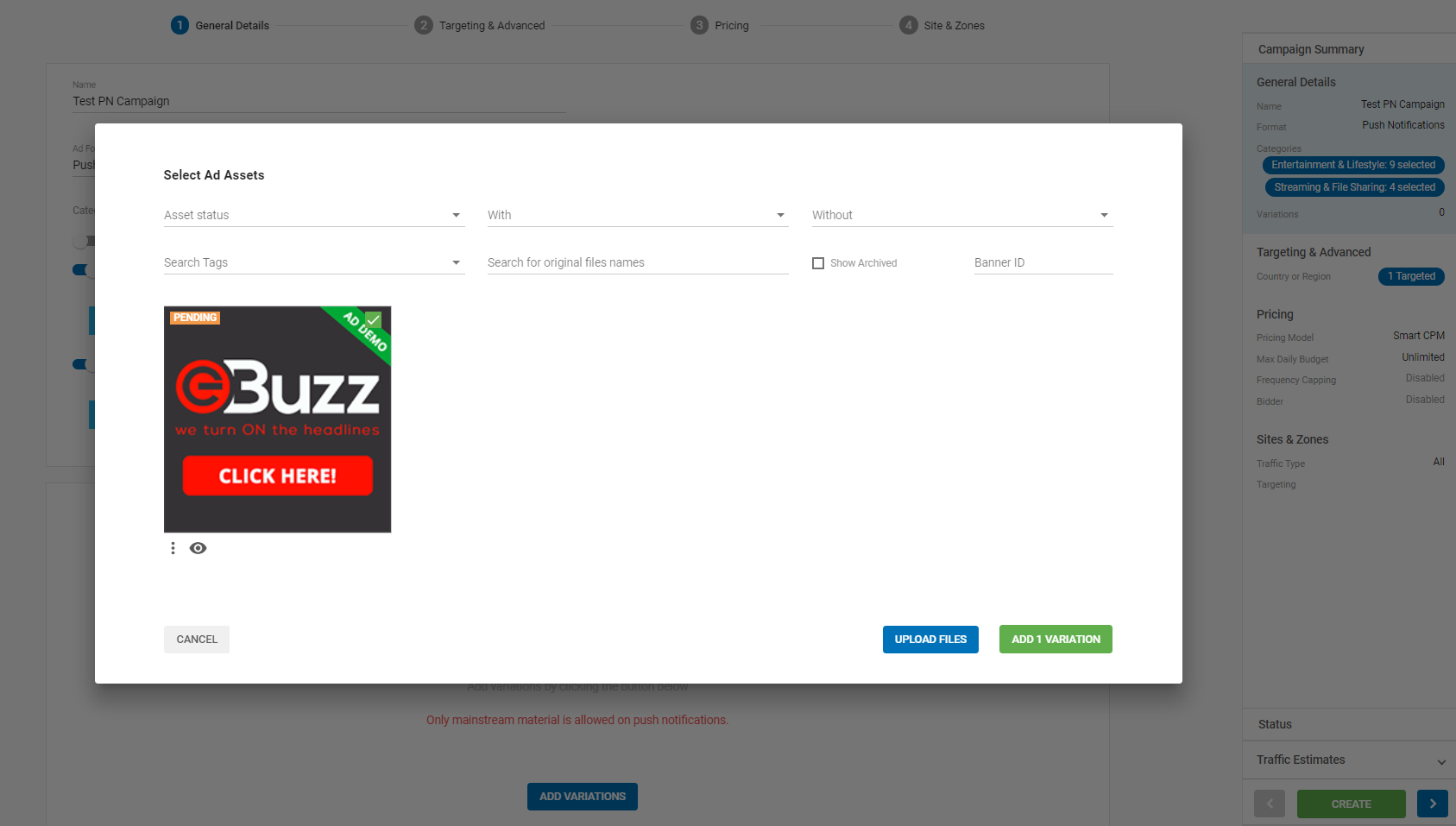 Now your variation, text and description are in the system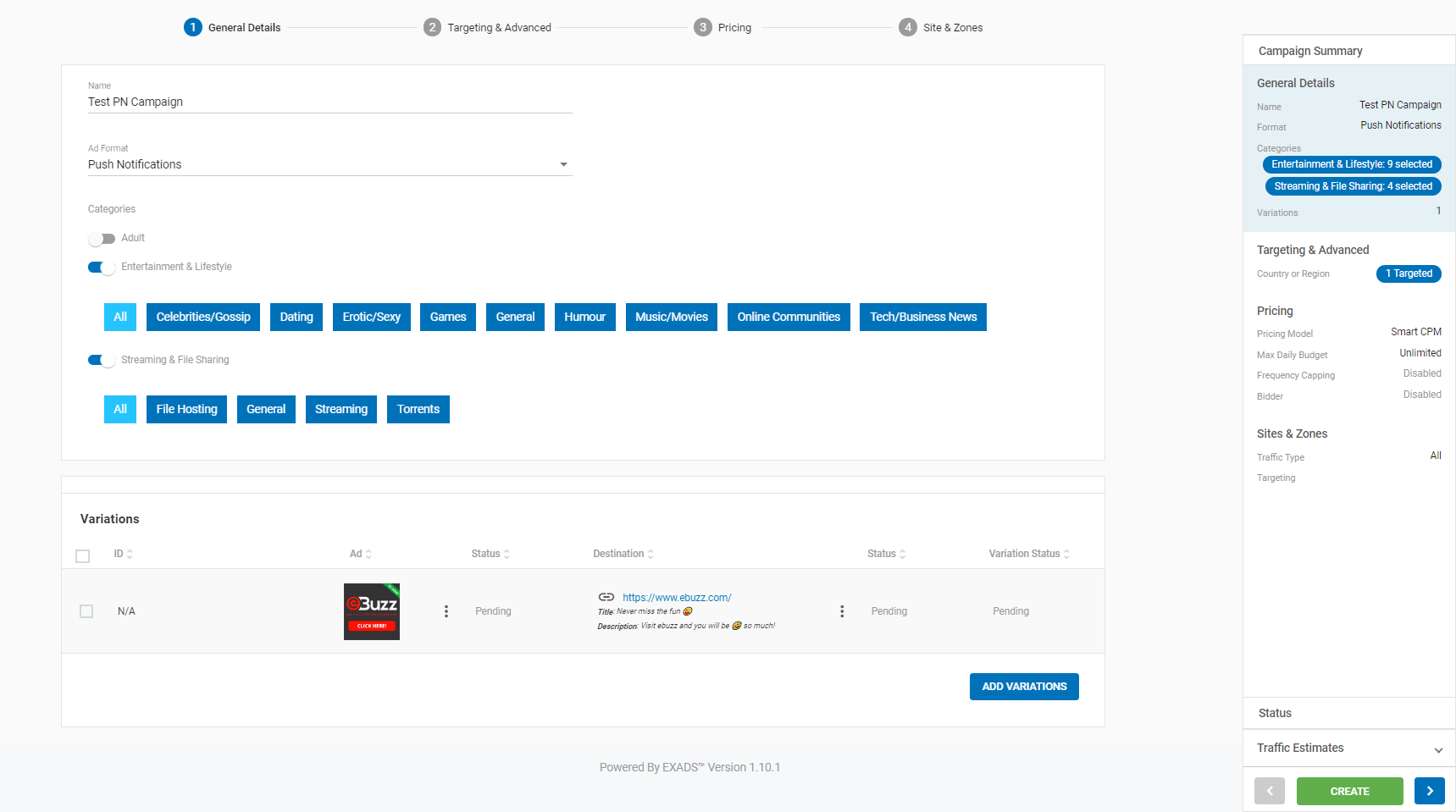 Step 5
Now go to 'Pricing' and select select Smart CPM, CPM or CPC, and then select your Frequency Capping, minimum bid and your Max Daily Budget and Budget Delivery Mode. Additionally you can activate The Bidder for automatic optimisation.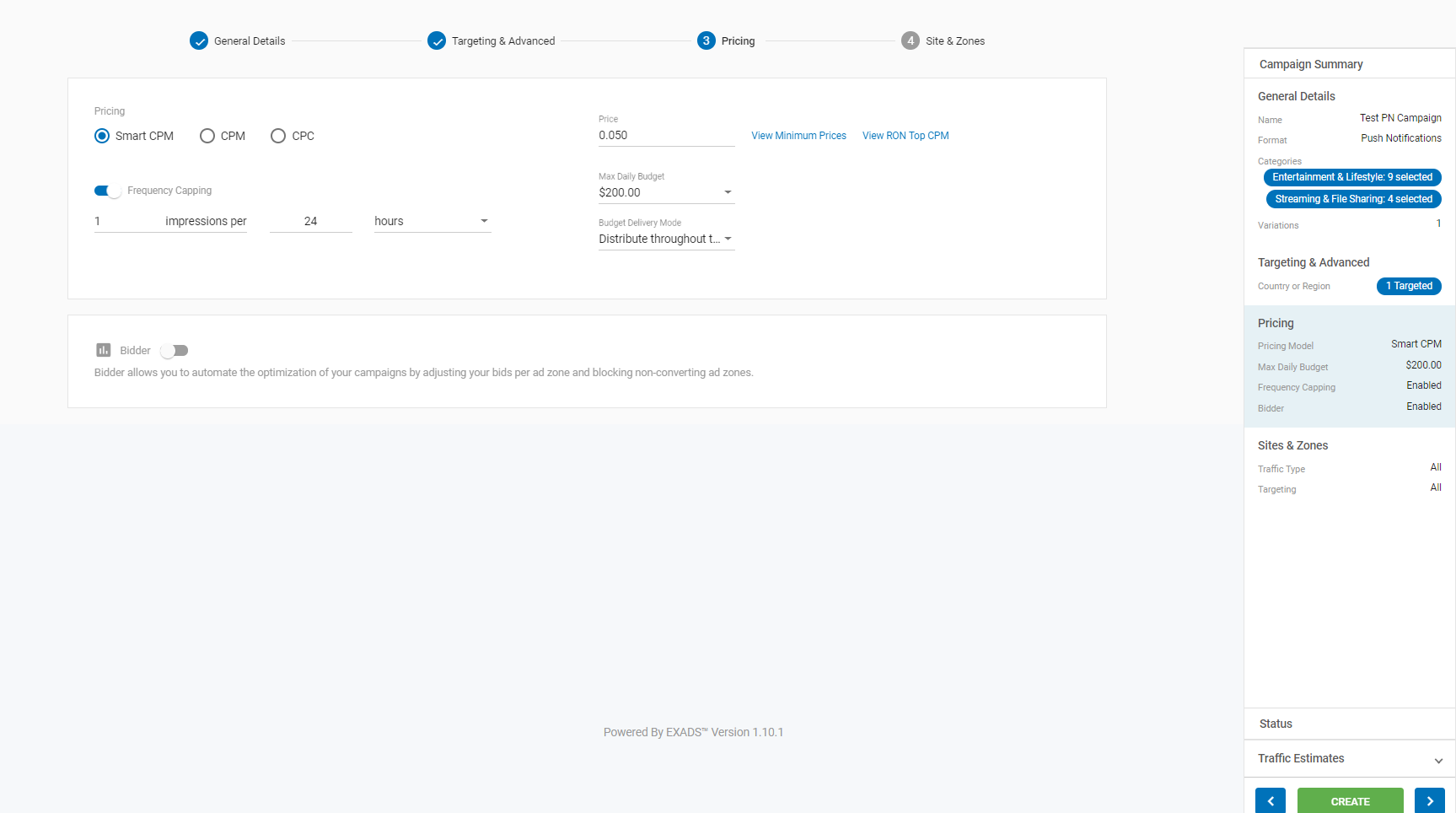 Step 6
Now move on to 'Site & Zones' to choose the subscribers sources you want to target, then click the green 'CREATE' button at the bottom right of the screen.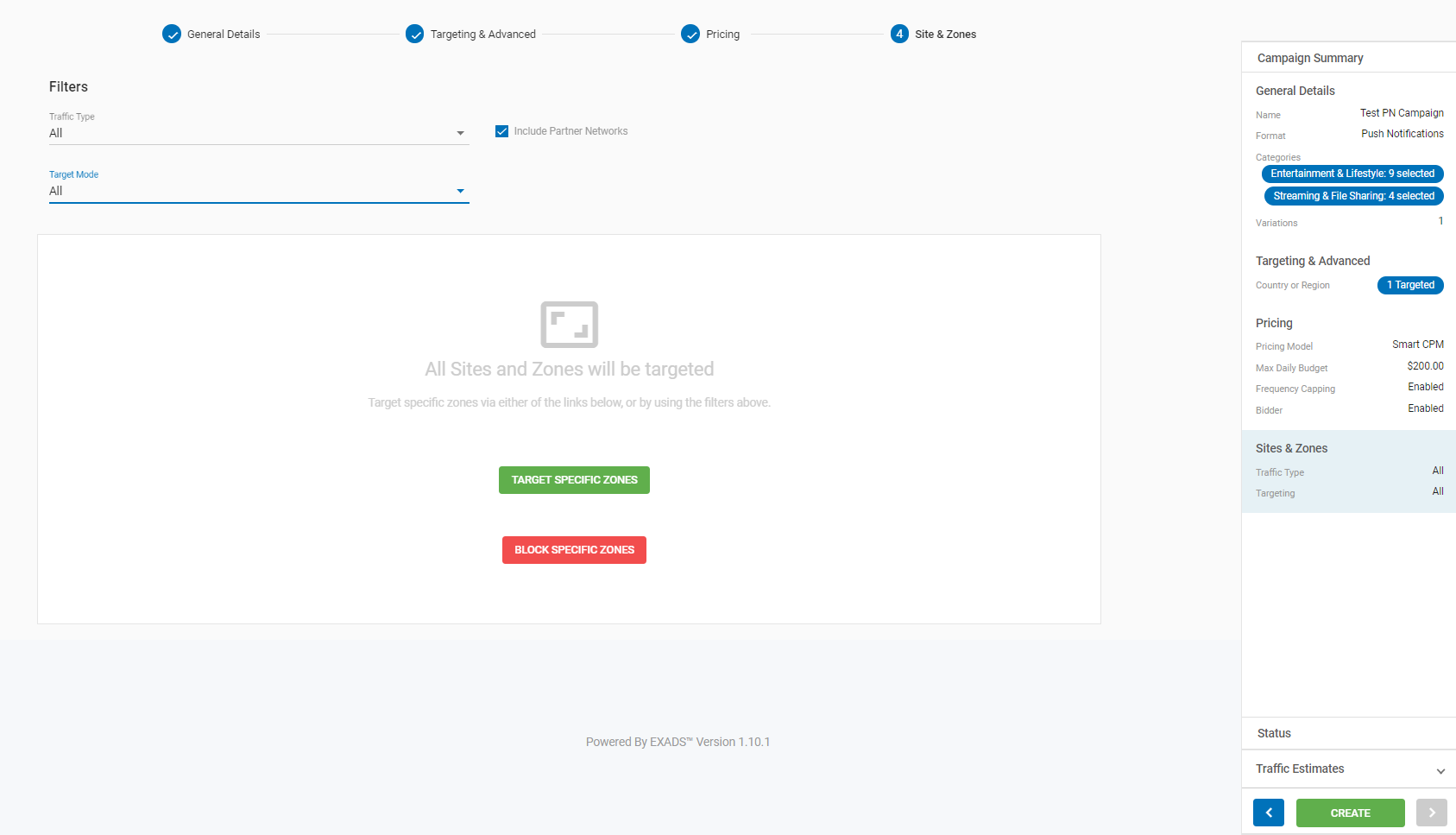 And that's it! If you have any problems with setting up your Push Notification campaign, please contact your Account Manager or a Customer Success Specialist here.