3 reasons why you should be using Video Advertising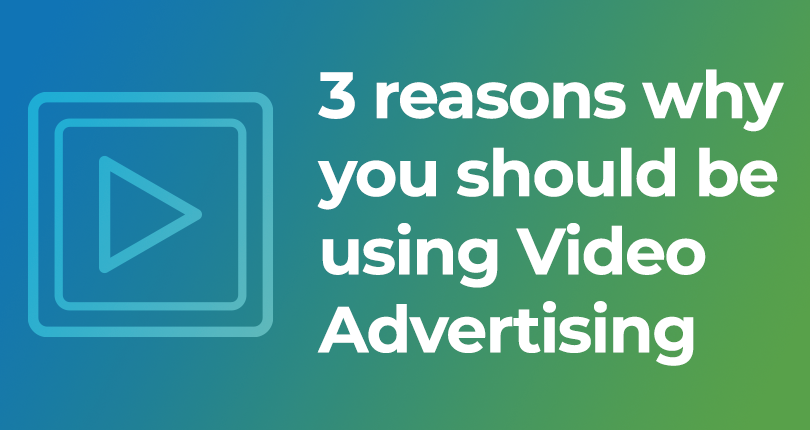 Among all of the different digital ad formats out there, video is the one that has shown the most growth. Our culture is driven by the fast consumption of short video content on social networks such as Snapchat, TikTok, Facebook, Twitter and Instagram, so consumers have become totally accustomed to their news feeds being filled with videos from various sources.
Trends have changed and end users are now more accustomed to seeing amateur style videos alongside high quality video content, therefore the barrier to producing video advertising content that drive clicks is no longer reliant on high production values. 
1. Video is the future
Each year Wyzowl produces its Video Marketing Statistics report, here are some key takeaways:
66% of consumers prefer watching a video to reading about a product.

90% of consumers watch videos on their mobile devices.

84% of consumers say that they've been convinced to buy a product or service by watching a brand's video.

92% of marketers who use video say that it's an important part of their marketing strategy

87% of video marketers say video has increased traffic to their website.

80% of video marketers say video has directly helped increase sales.
There's more…
According to Brightcove's Video Index report Q4, 2019:
55% of total video views were on smartphones, 37% of views were on desktop

69% Android versus 39% iOS for video views on phones & tablets

62% of all retail & marketing video views were on smartphones
2. ExoClick has video ad formats to reach your audience
So how do you reach these video content consumers? As well as offering Video Banners formats, ExoClick offers two specific video ad formats:
In-Stream Video – Works with all major video players and automatically plays when an end user clicks on a website's video content (pre-roll). Once the video ad starts playing a 'skip ad in 5 seconds' button is shown to end users on the bottom right of the screen, just like Youtube ads. This is why with this format it is imperative to make your video content compelling to the end user in the first 5 seconds. This format has the highest CTR and is available on CPM, CPC & CPV this format has a very high conversion rate.

Video Slider – Similar to the Instant Message format but displays a video instead of just an image. Once a website's page has loaded the end user will see the ad slide in from right at the bottom of the page, which makes this format very eye catching to the end user. As many consumers are used to seeing Dating offers from the Instant Message format coming from the bottom of the screen, this format is especially suitable for Dating offers. Available on CPC, CPV and CPM.
What is CPV? CPV=Cost per View. The cost is triggered when ten seconds of the video ad have been displayed to the site visitor at normal speed. This model is suitable for campaigns that have a very high CTR but a low View Rate
ExoClick network data: We looked at Q1 2020 for network business intelligence statistics by comparing In-Stream & Video Slider impressions: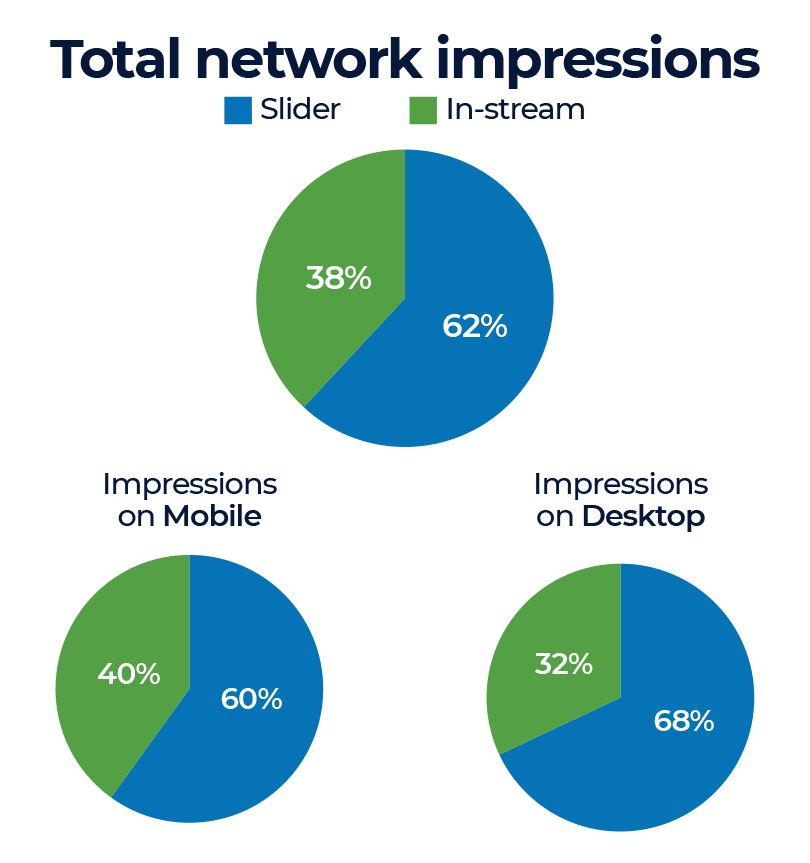 3. Video brings a significantly higher CTR
We delved deeper into our business intelligence data to look at the global average CTR differences between three formats: Traditional Banners, Video Slider and In-Stream Video using different verticals.
Video formats versus Banners CTRs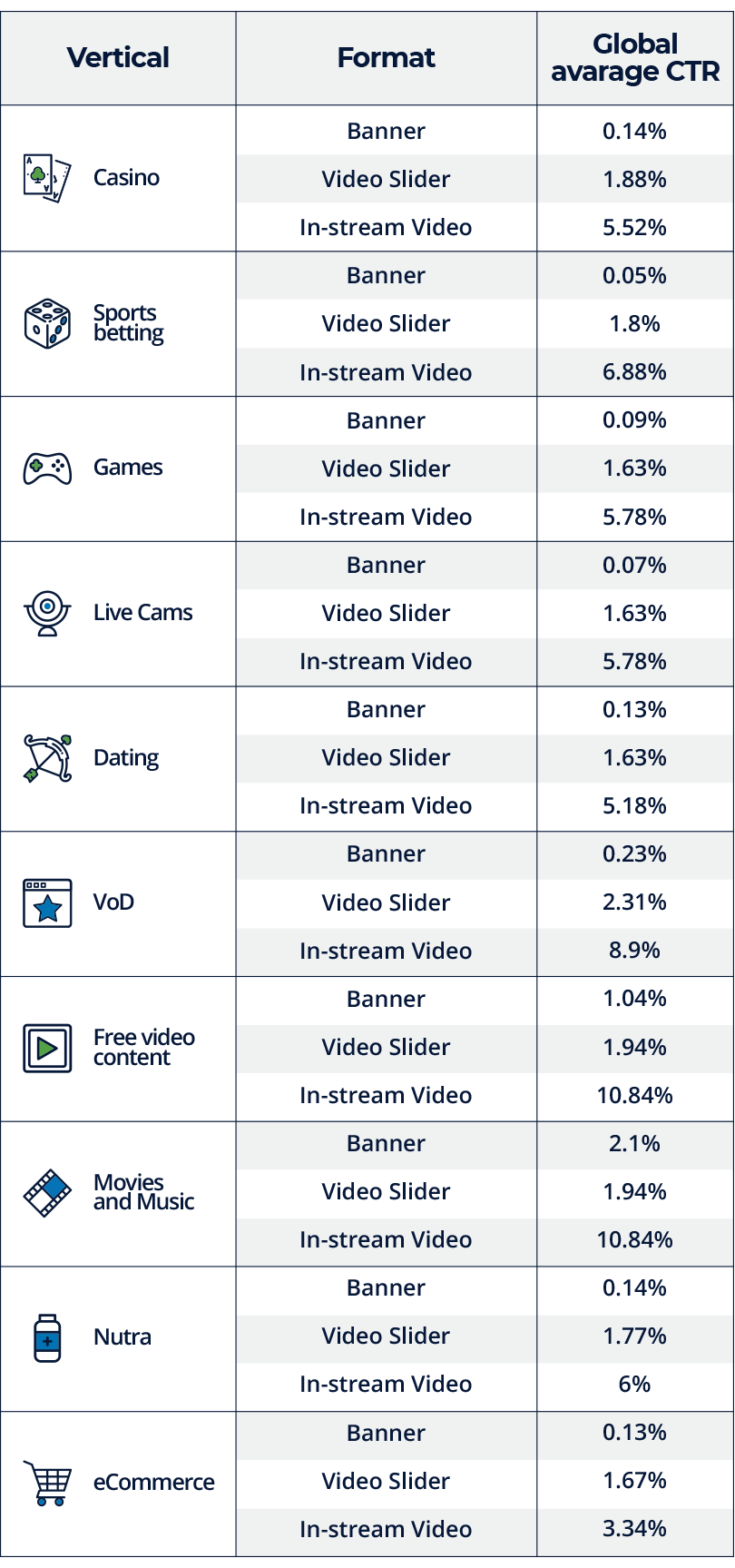 As you can see In-Stream Video has the highest CTR due to the fact that the format becomes part of the video content that the end user has clicked on to watch. Video Slider has an average 10% higher CTR than traditional banner formats because it is very eye-catching to the end user because it slides in from the bottom right of the screen automatically showing the video ad.
Conclusion
Although video advertising is more expensive than banner advertising, it really does bring in a significantly higher CTR, making the additional investment worth it. Video ads are the perfect platform to help you tell a story about your offer or brand and the ability to use compelling video content to communicate your message and engage the end user. If you haven't tried video advertising yet, we recommend that you start to test both the In-Stream and Video Slider ad formats with different offers, across different GEOs and test which offers work best on desktop and mobile. For further optimisation tips contact your account manager or a Customer Success specialist here.   
Further reading
Instant Message versus Video Slider ad format
How to use video advertising to convert your offers
How to beat the pre-roll skip ad button